We often hear of diet restrictions for babies under the age of one, but what happens after age one? Are certain items still off limits? Can certain foods be offered in moderation? How will portion sizes be affected? Let's talk about some food diet changes that occur after your little one's first birthday.
This post may contain affiliate links. If you shop with one of our links we may earn small a commission.
Honey
Before age 1, babies cannot have honey or any processed foods containing honey. Honey before age 1 can cause infant botulism, a type of food poisoning. Honey is often found in many types of foods such as breads, cereals, sauces, etc., so always make sure to read labels before offering an item to your baby.
After age 1, honey and items containing honey may be offered. If you do decide to offer honey after age 1, it is best to offer it in moderation as it is high in sugar.
Milk
Up until 12 months of age, breastmilk and/or formula will serve as baby's main source of nutrition. Under the age of one, babies need anywhere from 600 to 900 calories a day and a majority of this comes from breastmilk/formula. Small amounts of milk are fine to offer when cooked into recipes, but milk should not be offered as a replacement for breastmilk/formula.
After age 1, milk may be offered as a beverage. If your baby has a sensitivity to dairy, try dairy free alternatives like oat milk or coconut milk.
Sodium
Before age 1, babies only need a small amount of salt in their diets, the majority of which comes from breastmilk/formula. Babies have immature kidneys at this age and cannot handle excess salt intake. It is recommended to avoid offering foods with added salt to your baby. I personally believe in offering things in moderation and did occasionally offer certain foods that contain added salt (ex: pasta sauces), but I tried my best to limit this.
After age 1, the maximum amount of sodium recommended increases to around 800mg per day. Even though the recommended amount increases, it is good to continue to offer salted items in moderation.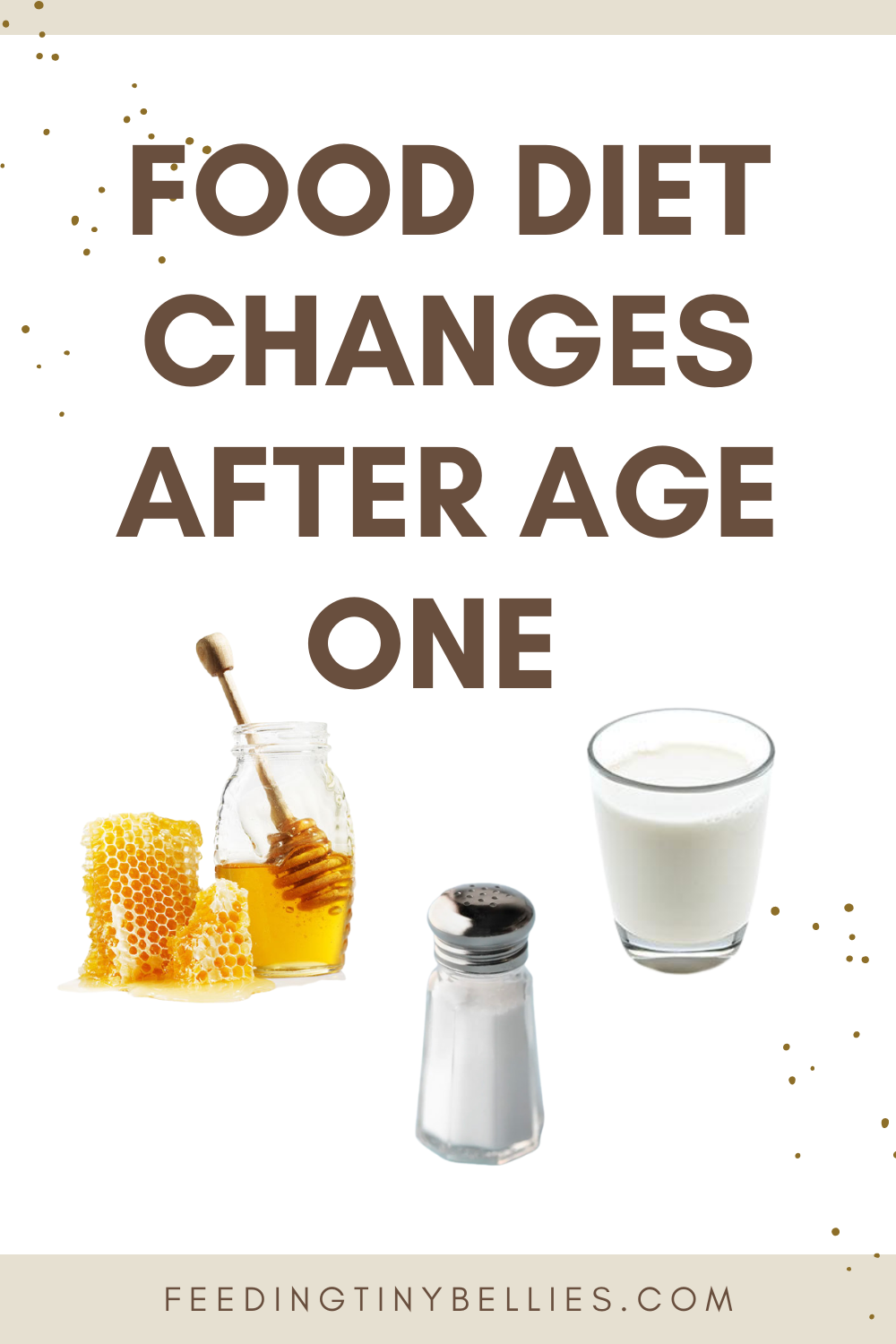 Portion Sizes
You may think that your baby's food portion sizes will increase after the age of 1, but that is not necessarily the case. They may begin to eat more or they may begin to eat less!
Continue to start with smaller portions and offer more if your baby seems interested. This eliminates potential food waste and helps your baby not feel too overwhelmed initially.
As long as your baby is following his/her growth curve, then they are consuming the right amount for what their body needs.
Meals and Snacks
At age one, the goal is that your little one is now eating 3 meals and two snacks a day. Continue to offer balanced meals from each of the basic food groups. Your little one may not eat all of these meals and that is ok! It is your job to offer balanced meals and your little one's job to decide what and how much to eat.
Appropriate Cuts
Continue to offer foods that are appropriately cut. Round foods should continue to be smashed or quartered prior to serving. Choking still poses a risk at this age and choking hazards should still be avoided. Continue to have your baby eat while seated and supervised by an adult.
Congratulations on your little one turning one! The first year is definitely challenging, but oh so rewarding!
You may also like: