Packing a school lunch can seem intimidating. Trying to keep things interesting with variety while trying to pack things your little one will actually eat can be a struggle. Here are some ideas for lunchboxes that are both nutritious and easy to put together that will have your little ones excited for lunchtime!
This post may contain affiliate links. If you shop with one of our links we may earn small a commission.
Jump to:
How To Build A School Lunchbox
When it comes to packing a school lunchbox, try your best to include a variety of food groups to provide essential nutrients. Aim to pick at least one from the following food groups:
A Source of Protein (ex: chicken, turkey, beans, eggs, nut butter (if allowed), etc.
Fruits and Vegetables - Aim for colorful options for a range of vitamins and minerals (ex: apples, berries, grapes, carrots, cucumbers, tomatoes, etc.).
Energy-Dense Foods - Foods like whole grain bread, wraps, or pasta provide fiber and energy to keep your little ones feeling full.
Tips For Food Safety
Use insulated lunch boxes and ice packs to keep perishable food items safe. Thin icepacks like these cool coolers are great to pop into a lunch bag before placing the lunch box inside. Also, consider allergies when determining what to pack. Be mindful of any food allergies or dietary restrictions your child (or other children at your child's school) may have. When it comes to serving foods, make sure food items are approparipately cut for your little one. Things like grapes/cherry tomatoes should be quartered for young children to prevent choking.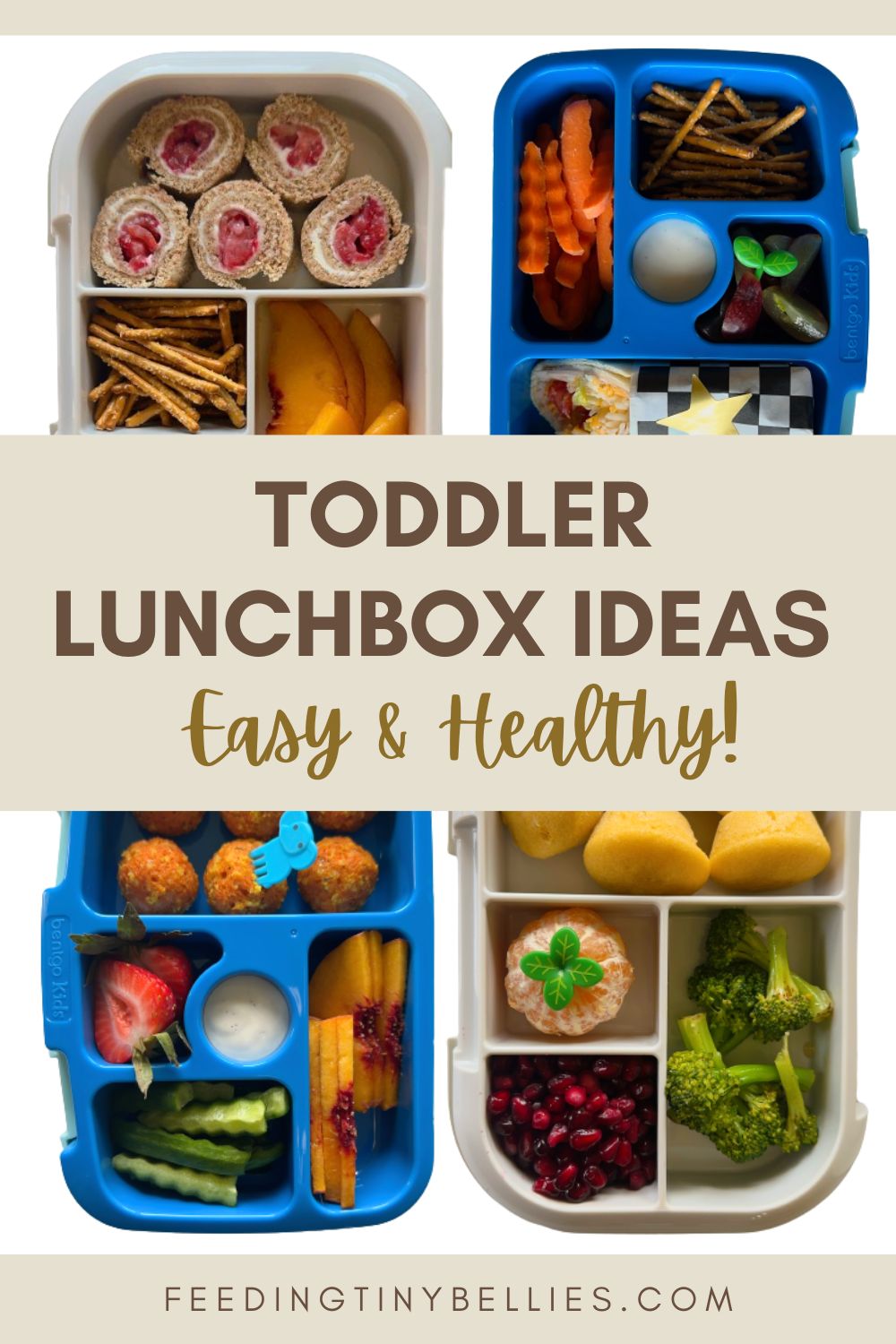 Tips For Encouraging Your Kids To Eat
Encouraging your child to eat their packed school lunch can be a challenge and oftentimes, you may find that a good amount of their lunch comes back home. Here are some strategies to get them excited about lunchtime!
Involve Them In The Menu Planning: Let your child have a say in what goes into their lunchbox! Discuss options and ask for their preferences. I like to make a menu chart with options and allow my son to pick an item from each category to build his own lunch. He loves having a say and I love having one less thing to worry about!
Food Art Fun! Small special touches in foods can make such a big difference for our little ones! Using shape cutters to cut out fun shapes in fruits and veggies, crinkle cutters, fun food picks, and themed lunches are small details that can make opening up a lunchbox so much more exciting! Including a fun note is another simple way to add a small touch that will bring a smile!
Adjust Portions. Start with small portions and make adjustments as needed based on how much your little one eats. Overwhelming portions can discourage eating, so start small.
Offer Variety. I love lunchboxes with several compartments (especially for young kids) because the mini compartments encourage little ones to try out different foods and textures.
What To Do With Leftovers
It is likely that your little one may come back home with items left behind in their lunchboxes. There may be days where most food is eaten and other days where most food comes back untouched. If certain food items are still fresh when they return, you can always save and reserve them another time! I love incorporating leftover fruits and veggies into smoothies for an afterschool snack as another way to repurpose leftovers.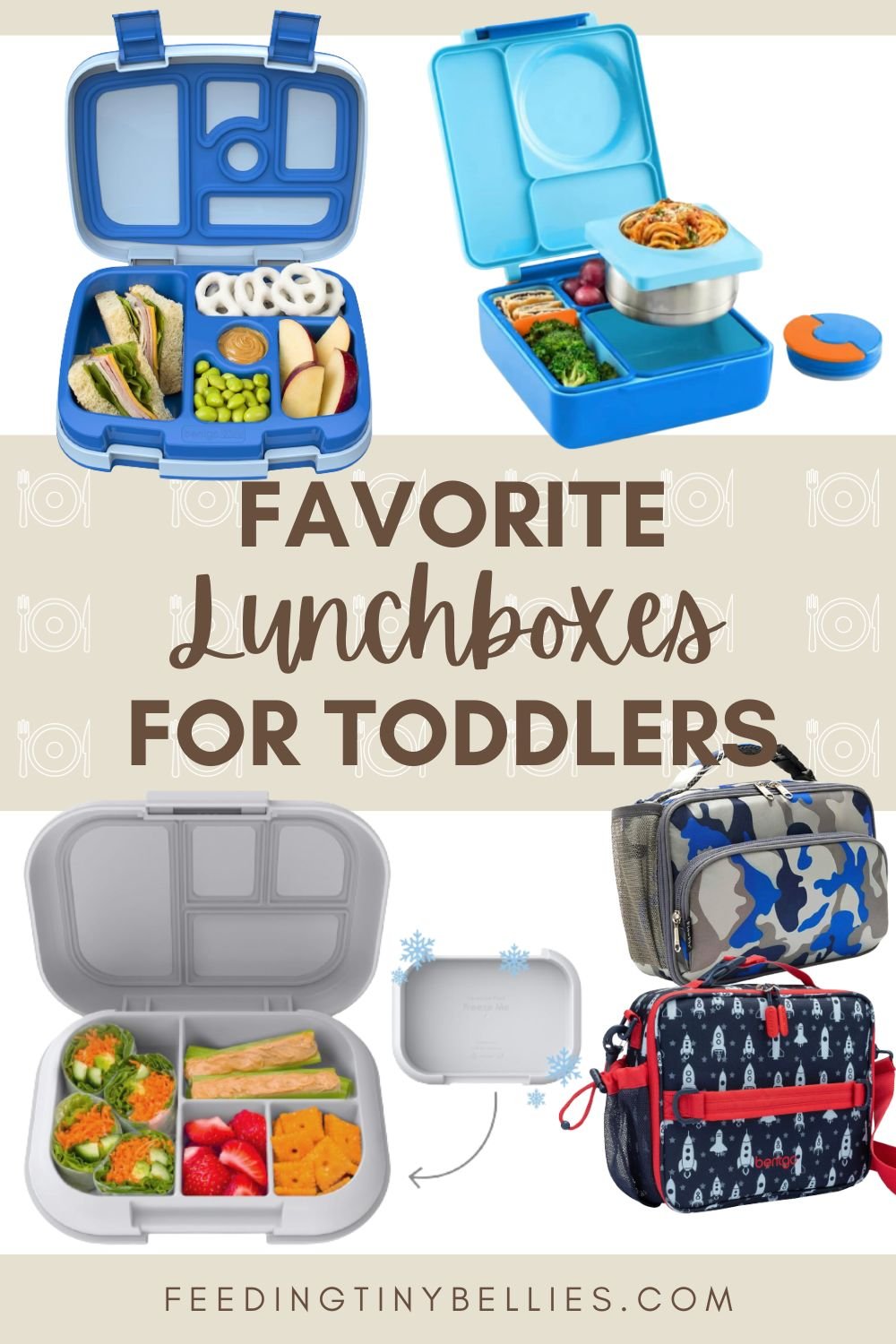 Favorite Lunchboxes/Bags For Kids
Peanut Butter And Jelly Sandwiches
A classic lunch item that most kids tend to love! If your little one is allergic to nuts, you can swap peanut butter out with a nut-free spread like sun butter or granola butter. Using fun shape cutters makes these classic sandwiches so much more fun!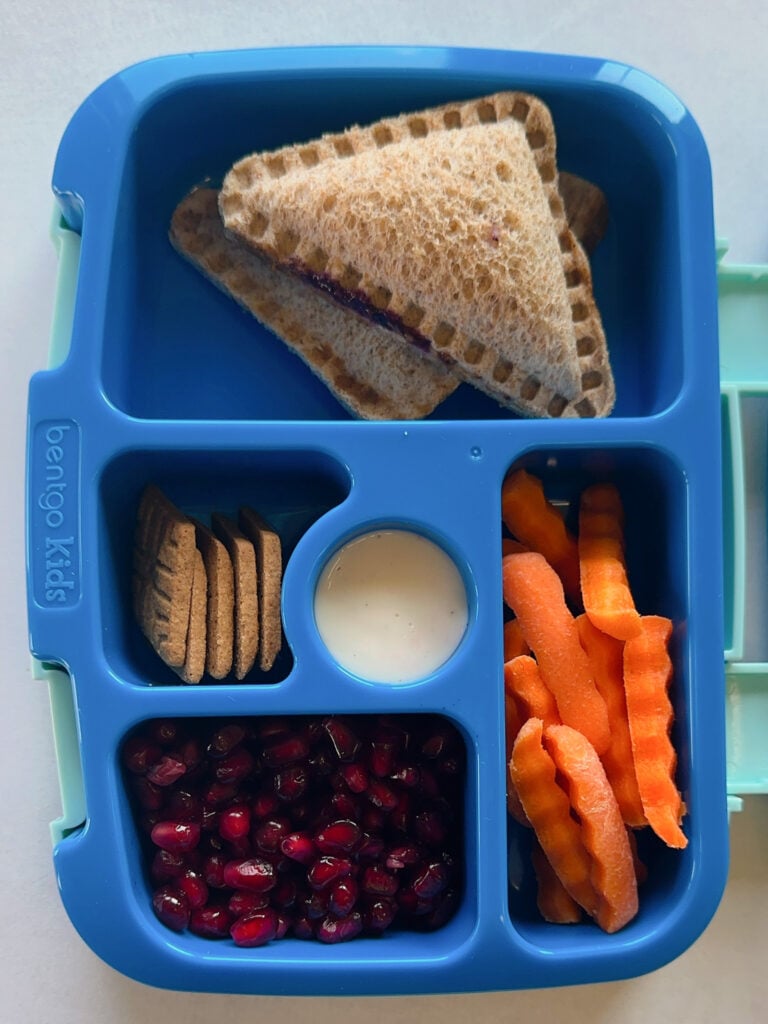 Croissant Sandwiches
Using croissants instead of sandwich bread as the base of a sandwich can add a fun change to a lunchbox. The buttery flakiness of a croissant pairs well with a classic turkey and cheese to bring it up a notch!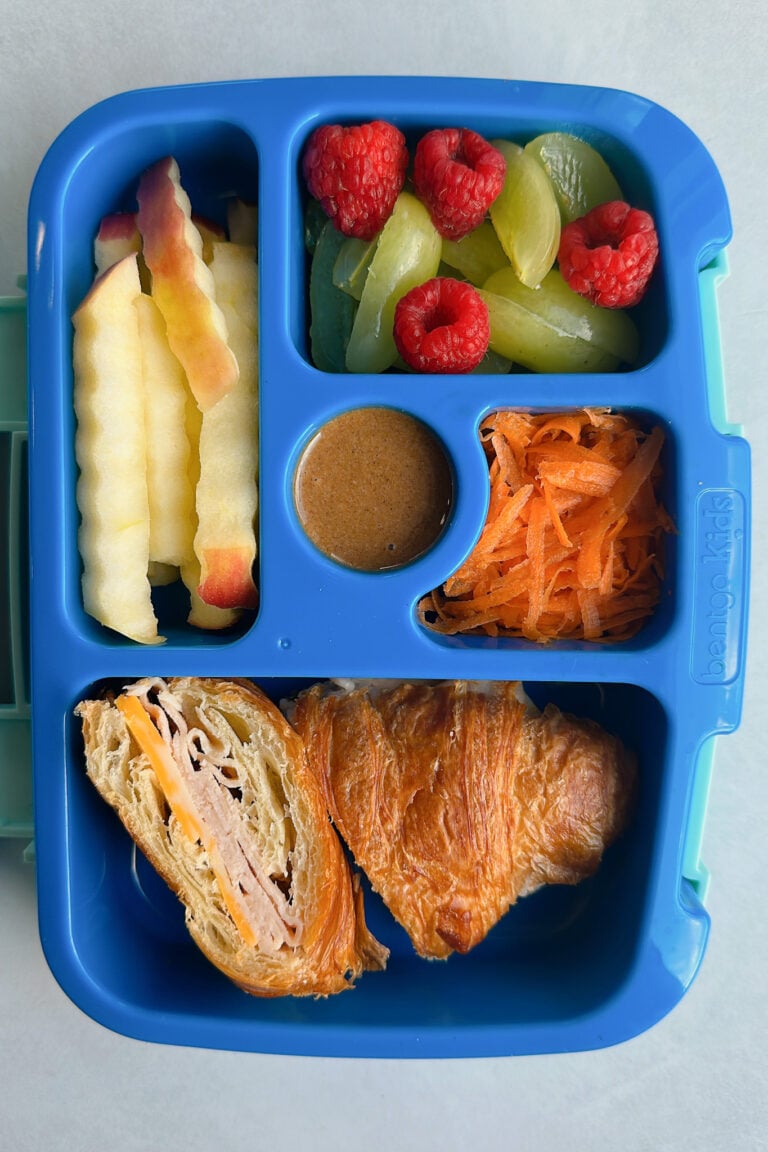 Strawberry Cream Cheese Rollups
The fruity combo is perfect for lunch! Use a rolling pin to thinly roll out a slice of spread, top it with a thin layer of cream cheese and sliced strawberries, and roll it into a tight log. Slice into pieces to pack in the lunchbox! Feel free to swap strawberries with your favorite berries to change the flavor profiles.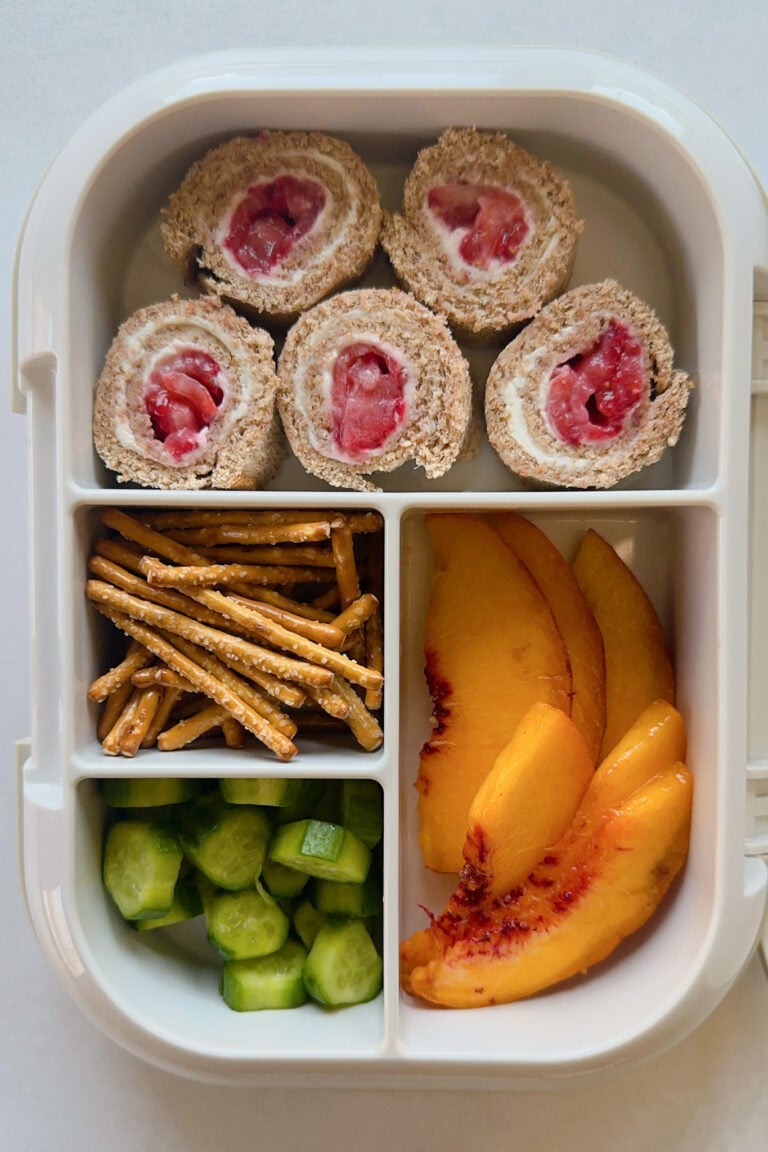 Homemade Cracker Lunchachbles
Lunchables are so easy to recreate at home and this combo of crackers, cheese, and turkey makes for a fun do-it-yourself lunch!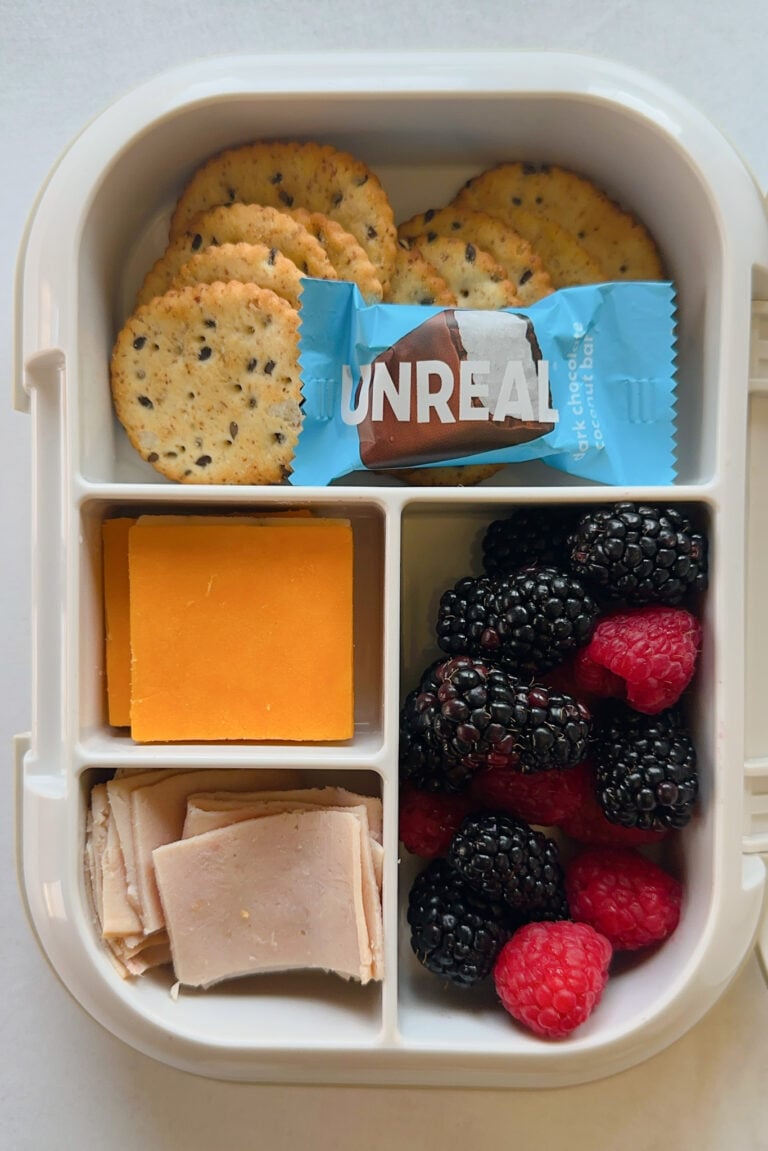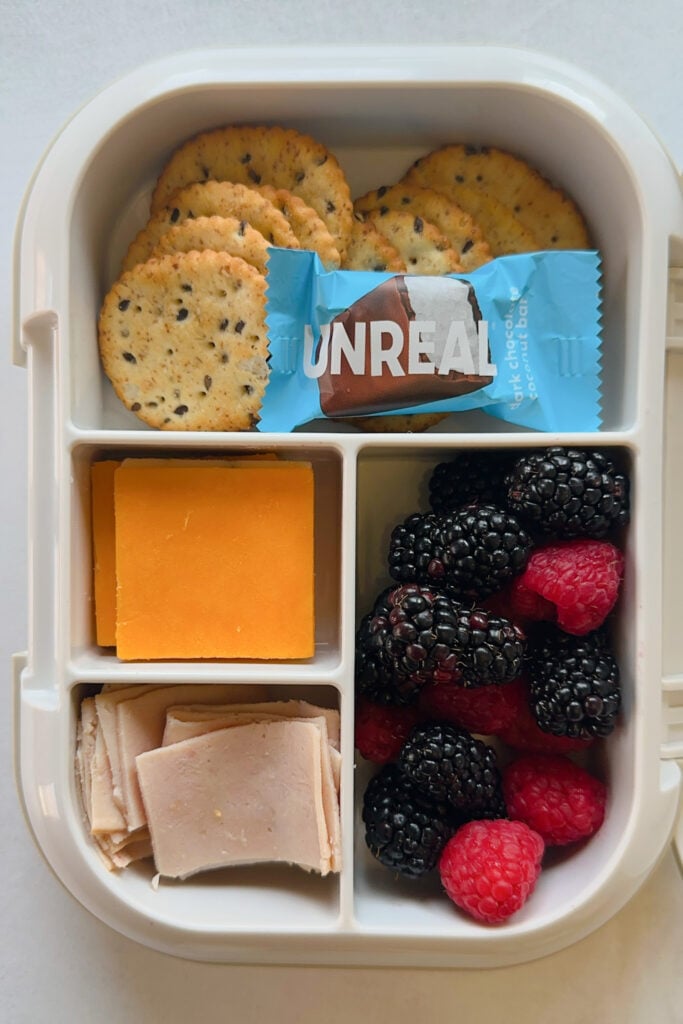 Granola Butter Rollups
Granola butter is a great alternative to traditional peanut butter for a fun sandwich twist! It is 100% nut-free and a great spread option if your little one attends a nut-free school! I love sprinkling a few hemp-heart seeds as a simple nutritional boost!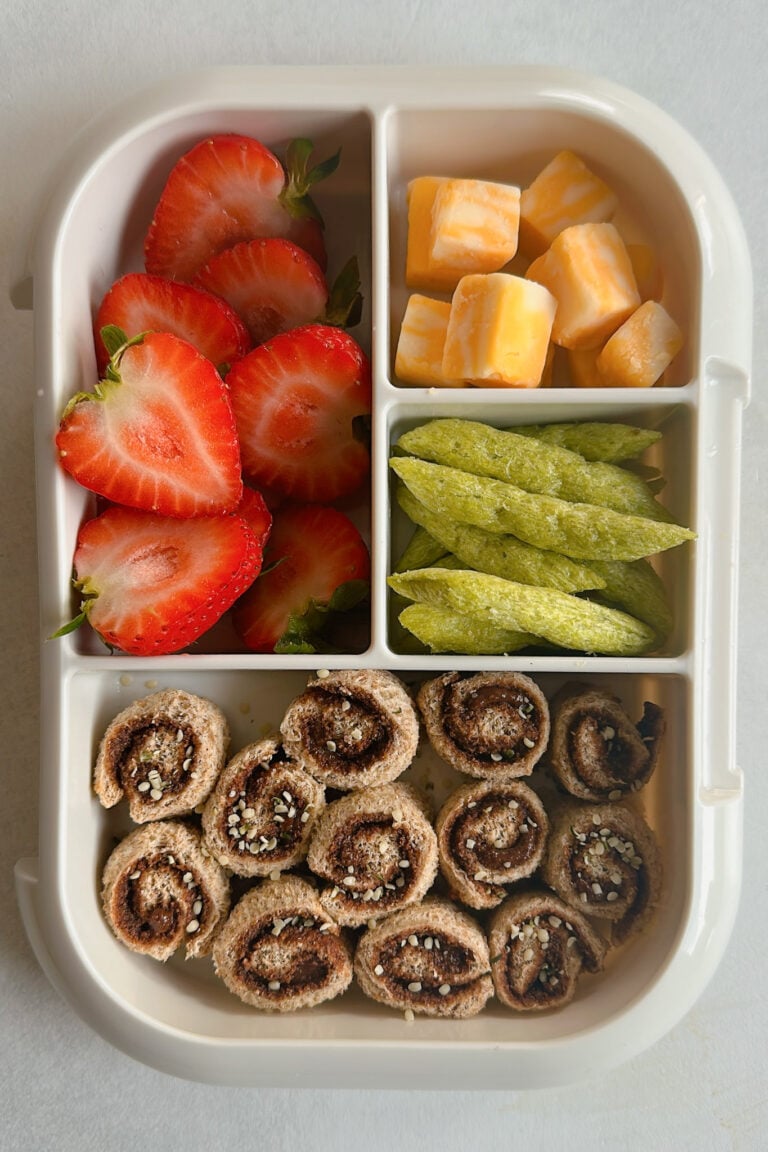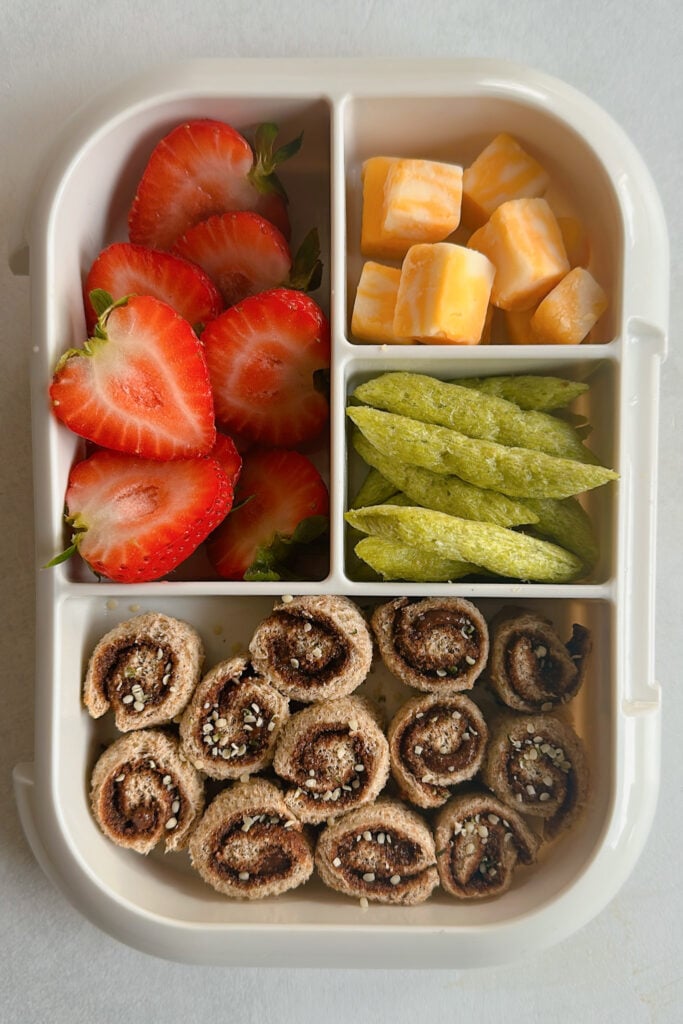 Homemade Nacho Lunchables
Nacho Lunchables are another classic combo and so simple to recreate! Pair some tortilla chips with a salsa dip, some cheese for protein, and fruits for a fun meal!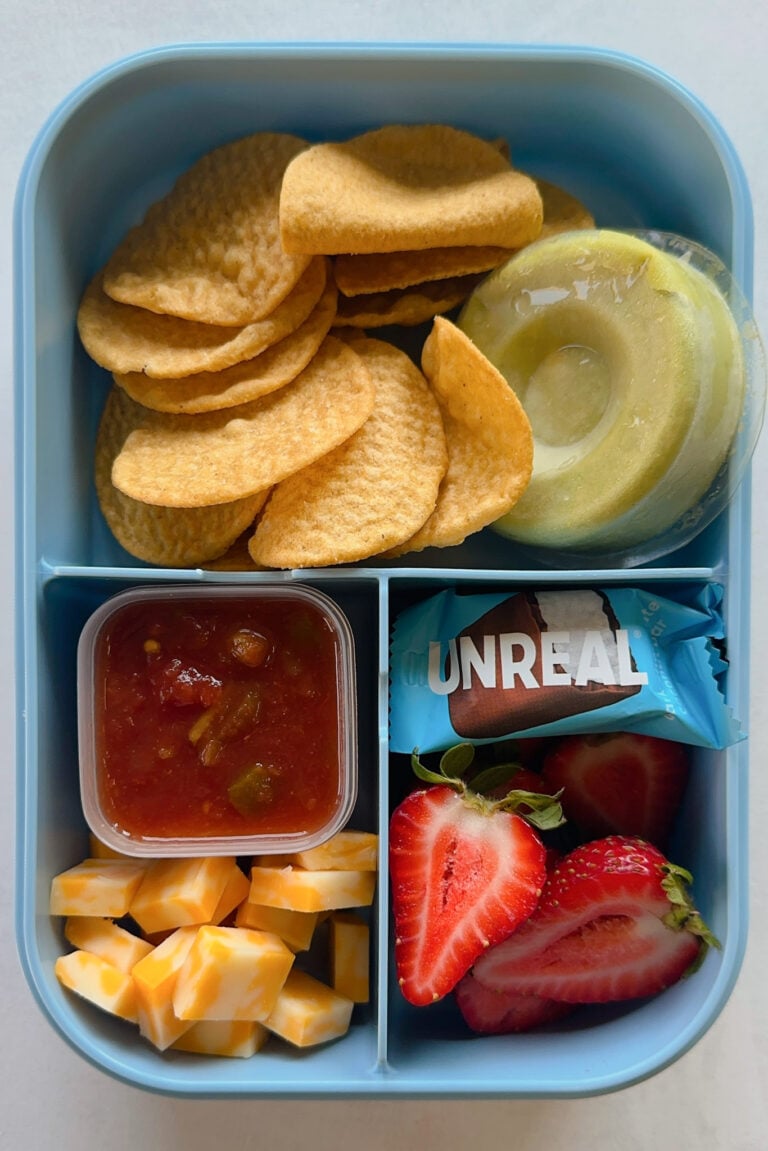 Corn Muffins
These corn muffins are easy to batch make and great to pack in lunchboxes. They are soft and fluffy whether served warm or cold. Feel free to mix in some extra veggies into the batter!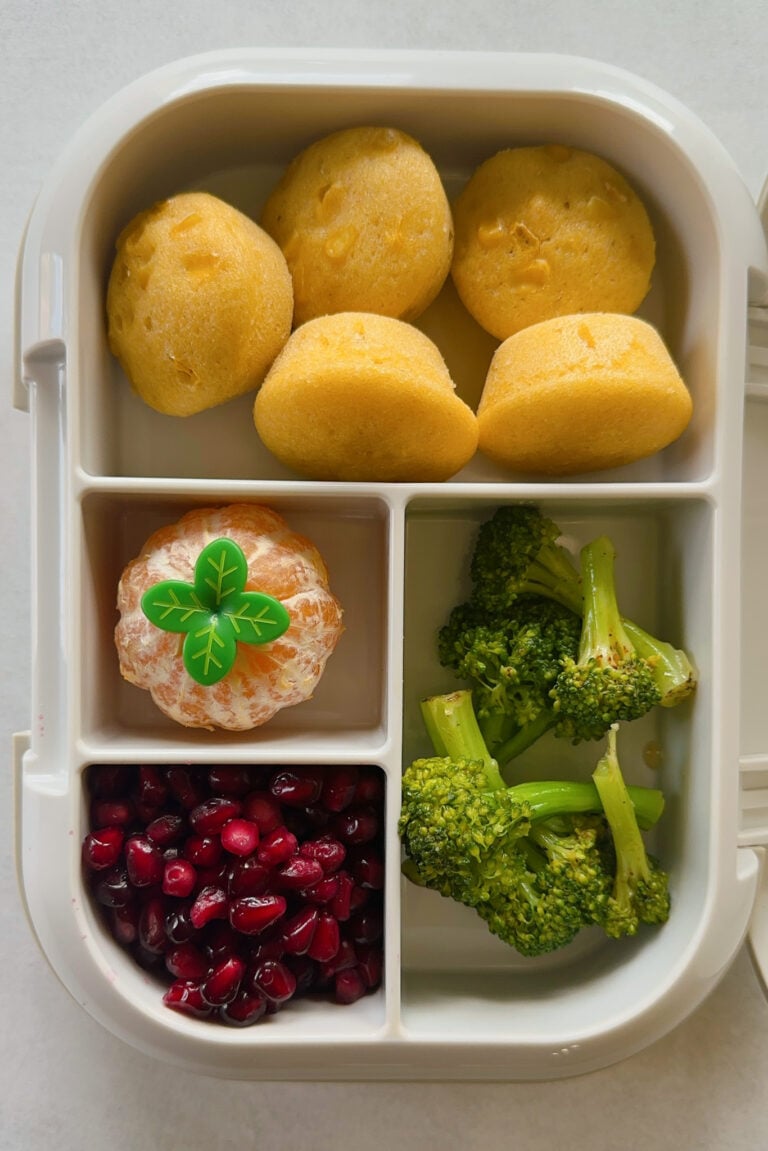 Turkey And Cheese Rollups
Something about rollups makes them so fun to eat! The bite-sized portions make them easier to manage than a larger-sized sandwich and they pair great with a side dip!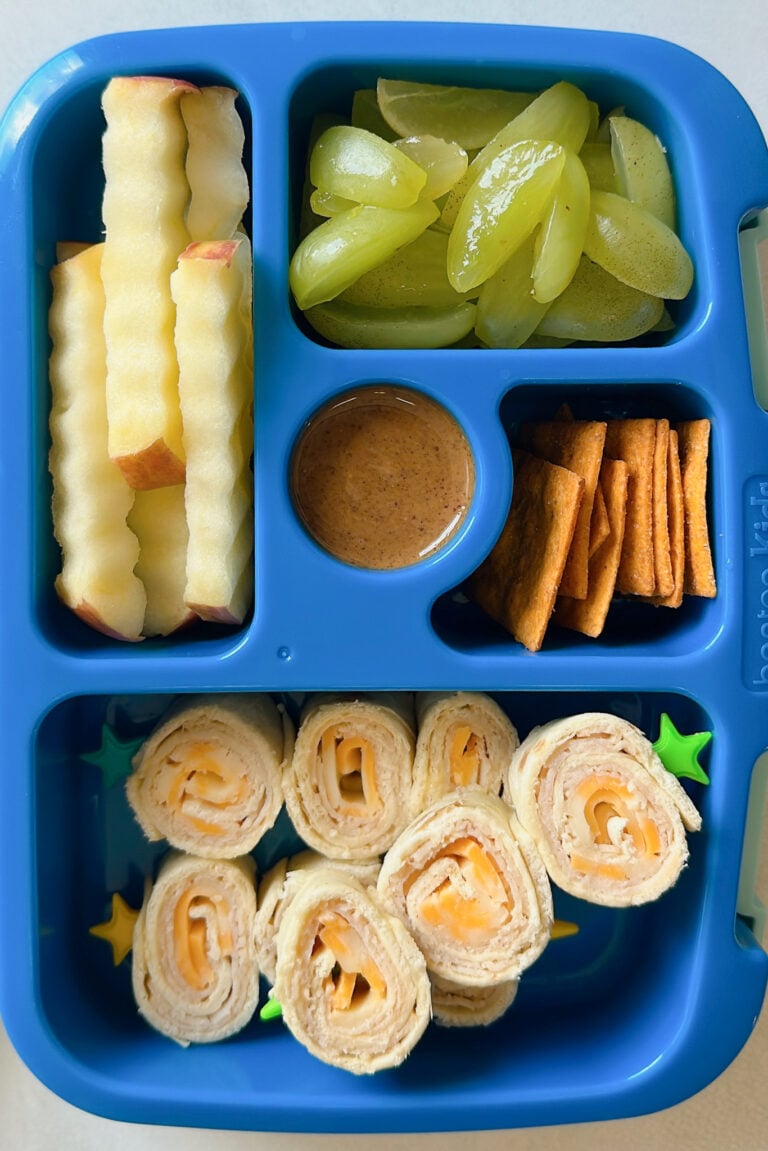 Breakfast For Lunch
You can never go wrong with a midday brunch! Lunchtime is early in the day at many schools, so breakfast for lunch is a great option! These eggless waffles, spinach pancakes, and apple oat bites make perfect options to pack in the lunchbox!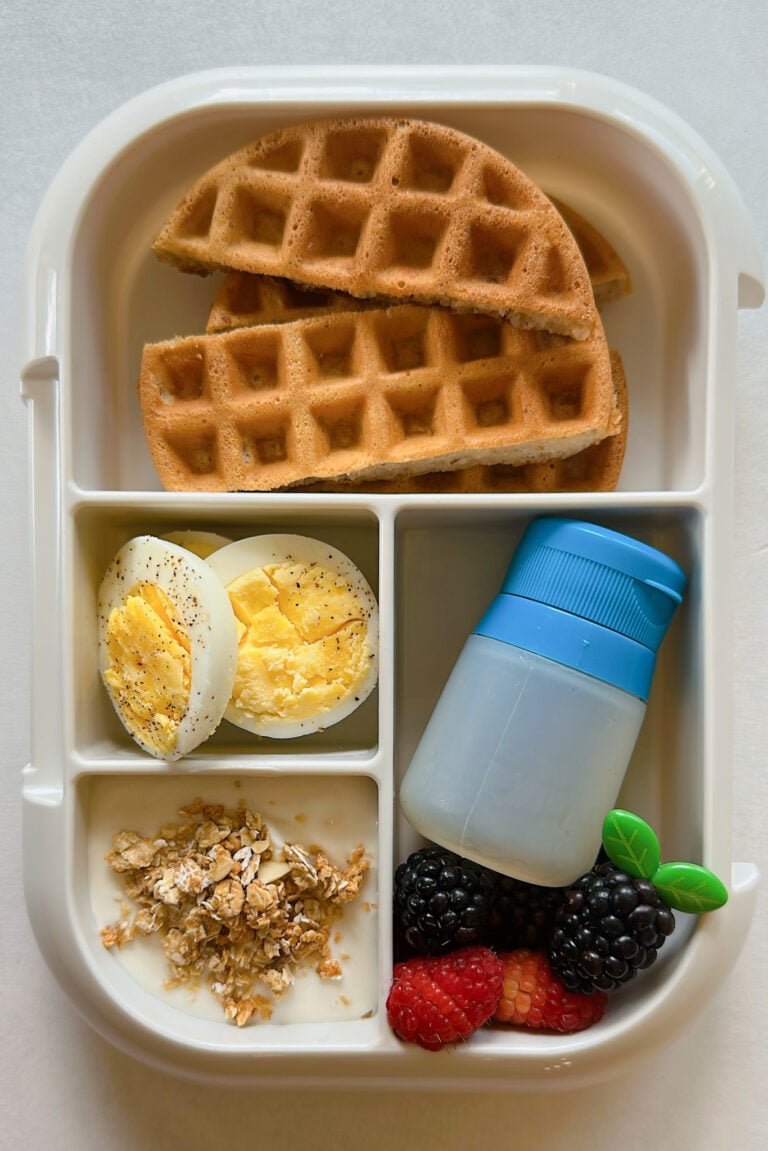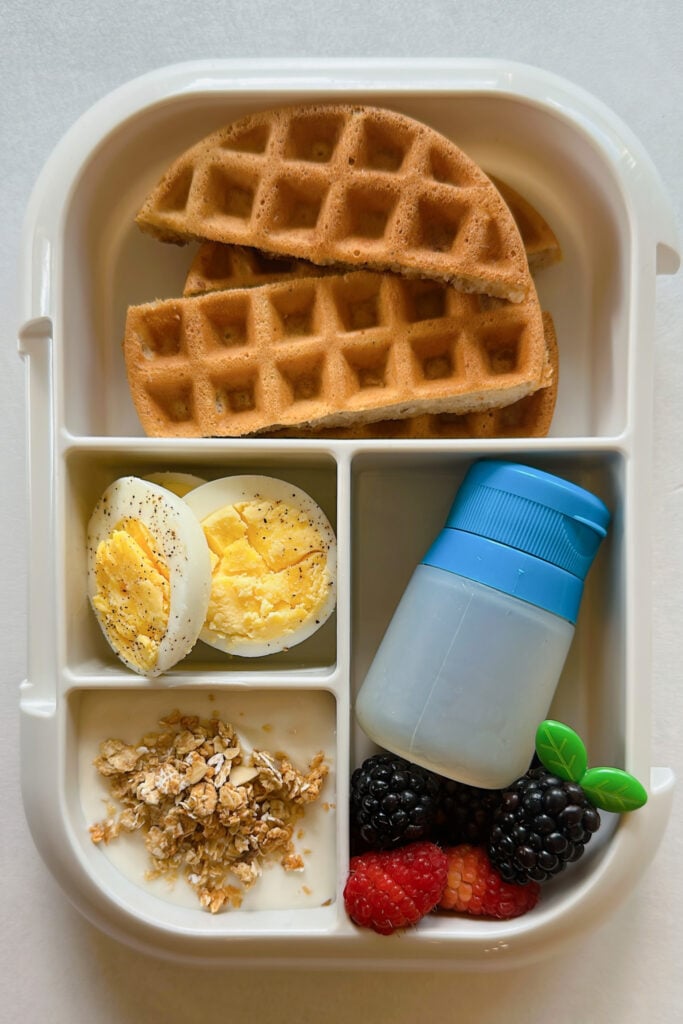 Crispy Chicken Wraps
Crispy chicken wraps are great served cold and simple to whip up! I love popping a few chicken nuggets in the air fryer for a few minutes and pairing it with cheese and lettuce in a wrap for a simple-to-prep lunch.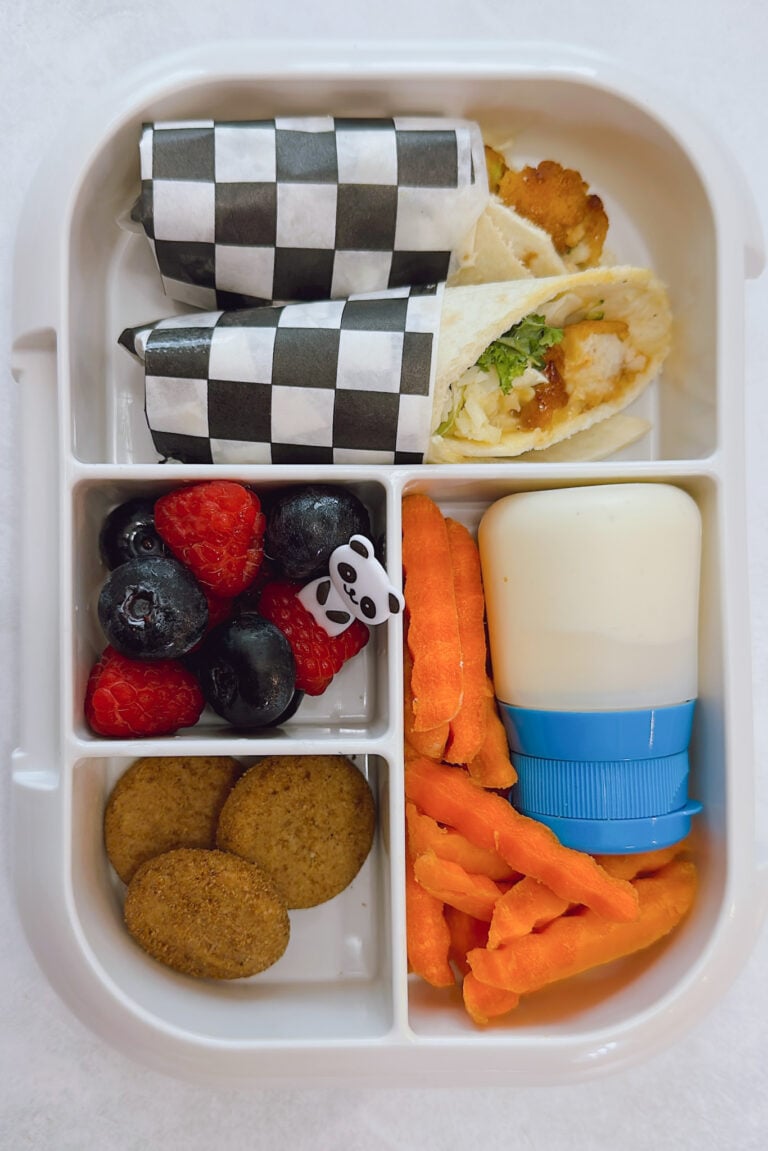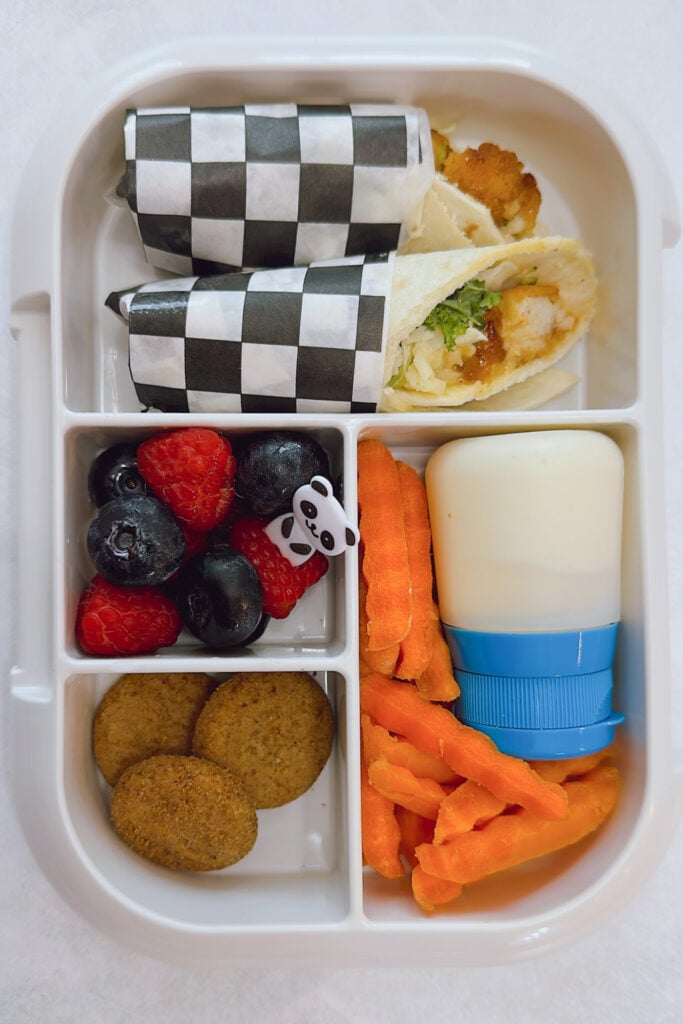 Cheesy Carrot Bites
If your little one doesn't mind eating cold veggie bites, these carrot balls are a great option. They're a fun way of incorporating veggies into a meal and pair great with a dip on the side!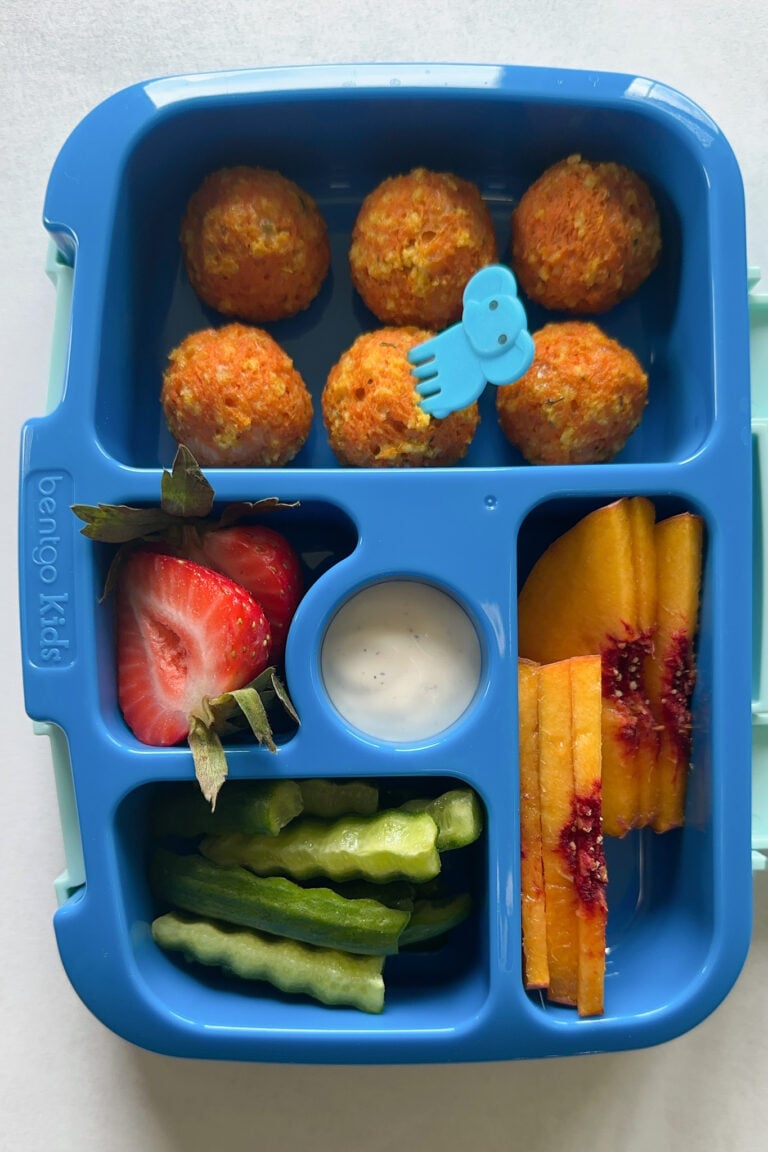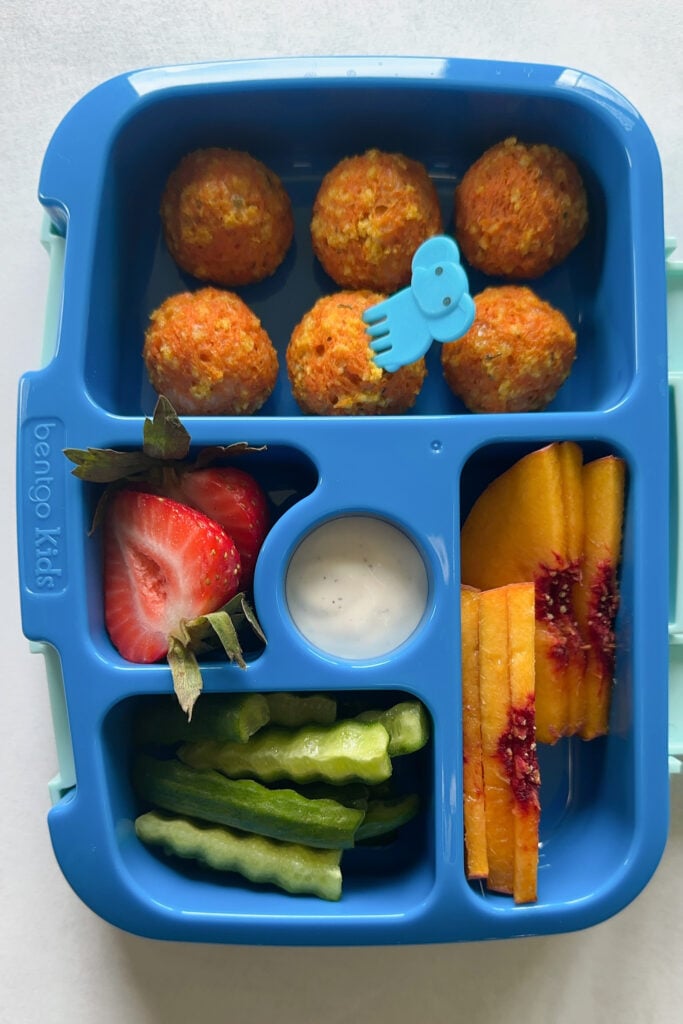 Almond Butter And Banana Sandwiches
Almond butter and banana are a fun, classic combo, and sealing them in a sandwich helps prevent browning. These fun sandwich cutters and sealers make sandwich-making so much more fun!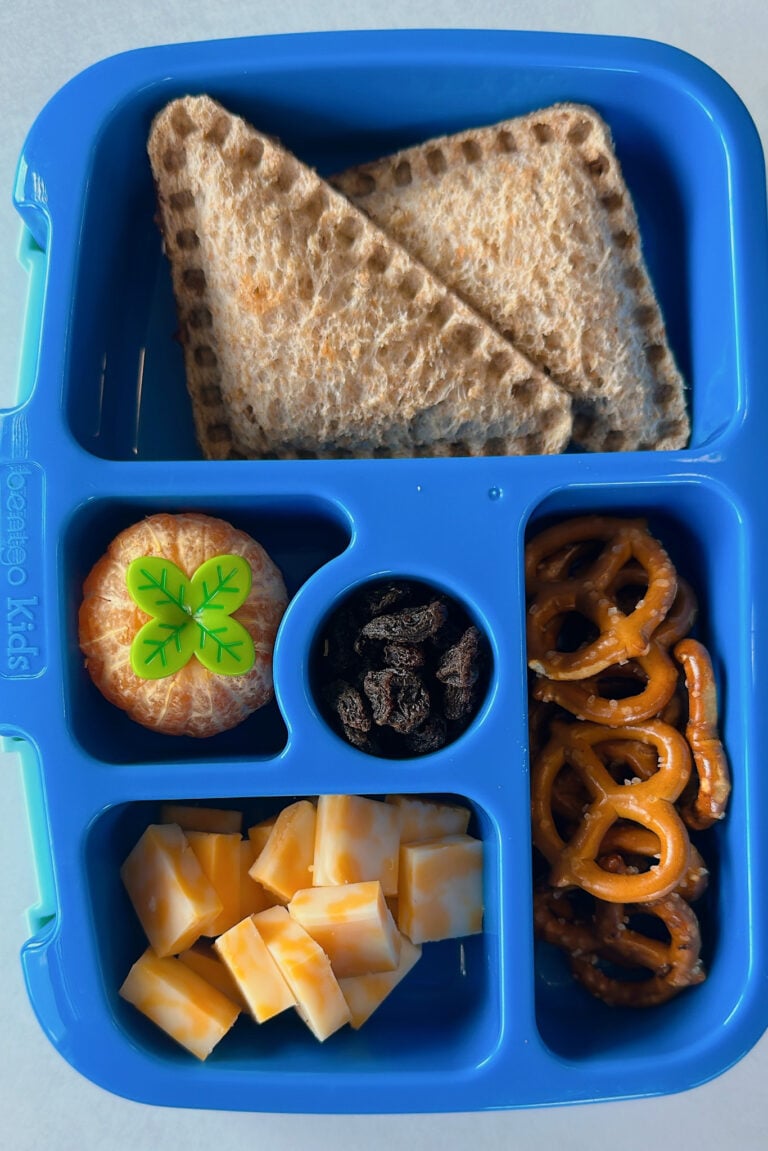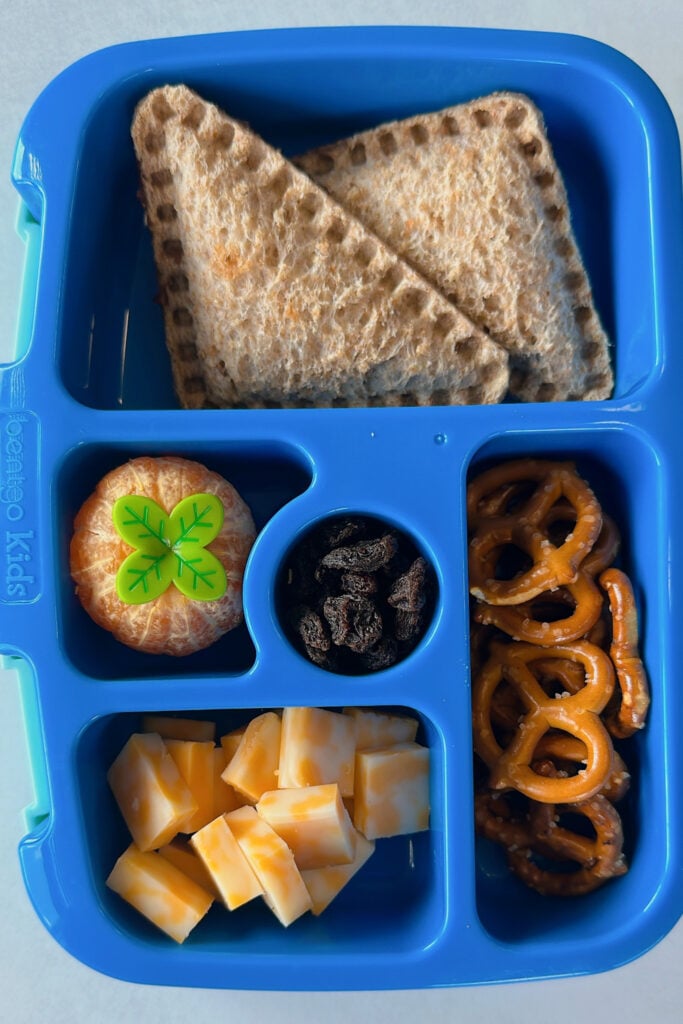 Spaghetti And Meatballs (Hot Lunch)
Dinner leftovers make the best lunches! These meatballs come out juicy and tender and the texture remains the same when served the next. You can keep them warm in a thermos lunchbox for your little one to enjoy, or serve them cold!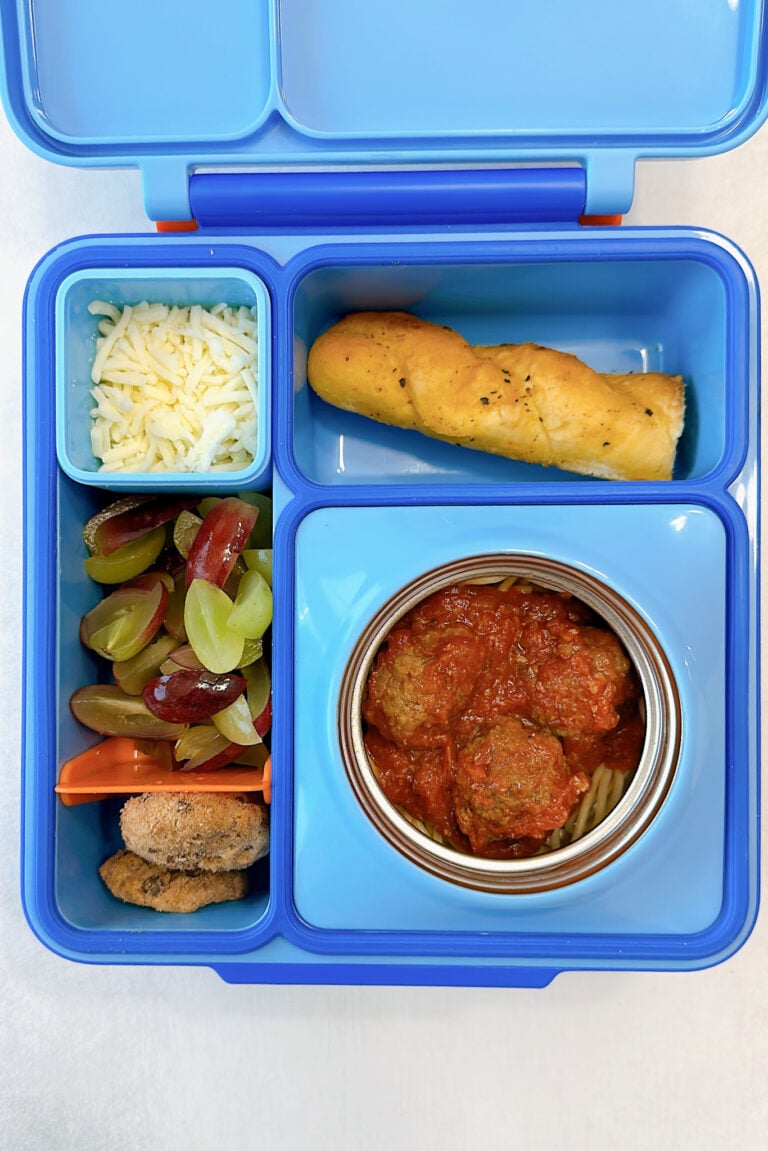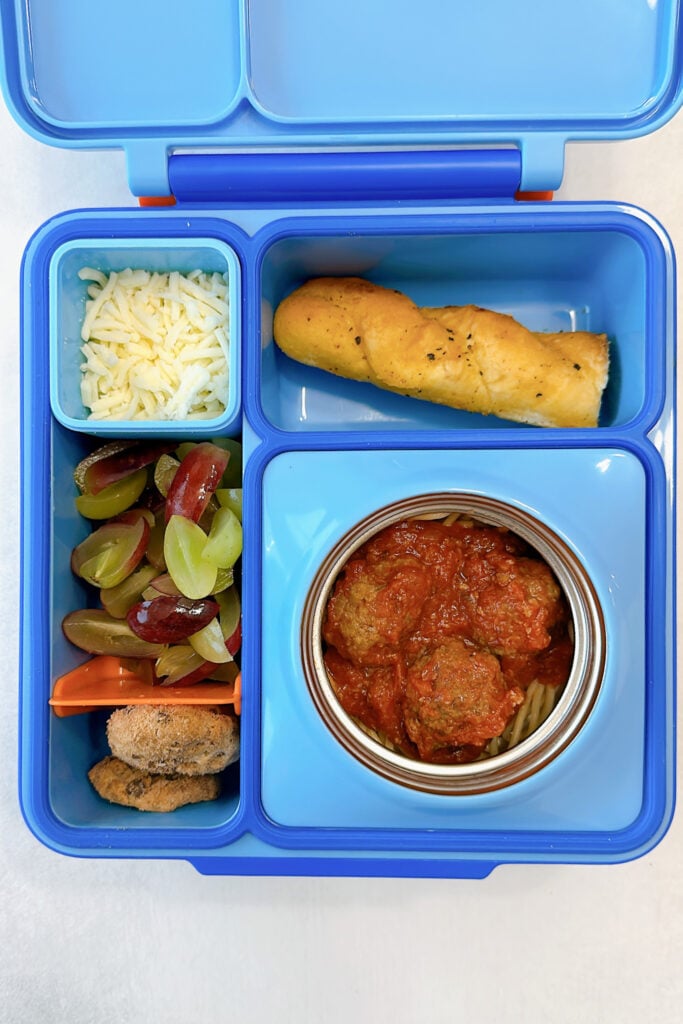 Hummus Bowls
Add some hummus, pita bread, cucumbers, tomatoes, and corn to a lunchbox for a colorful balanced meal! Naan dippers are the perfect size to fit into small lunchboxes for little ones.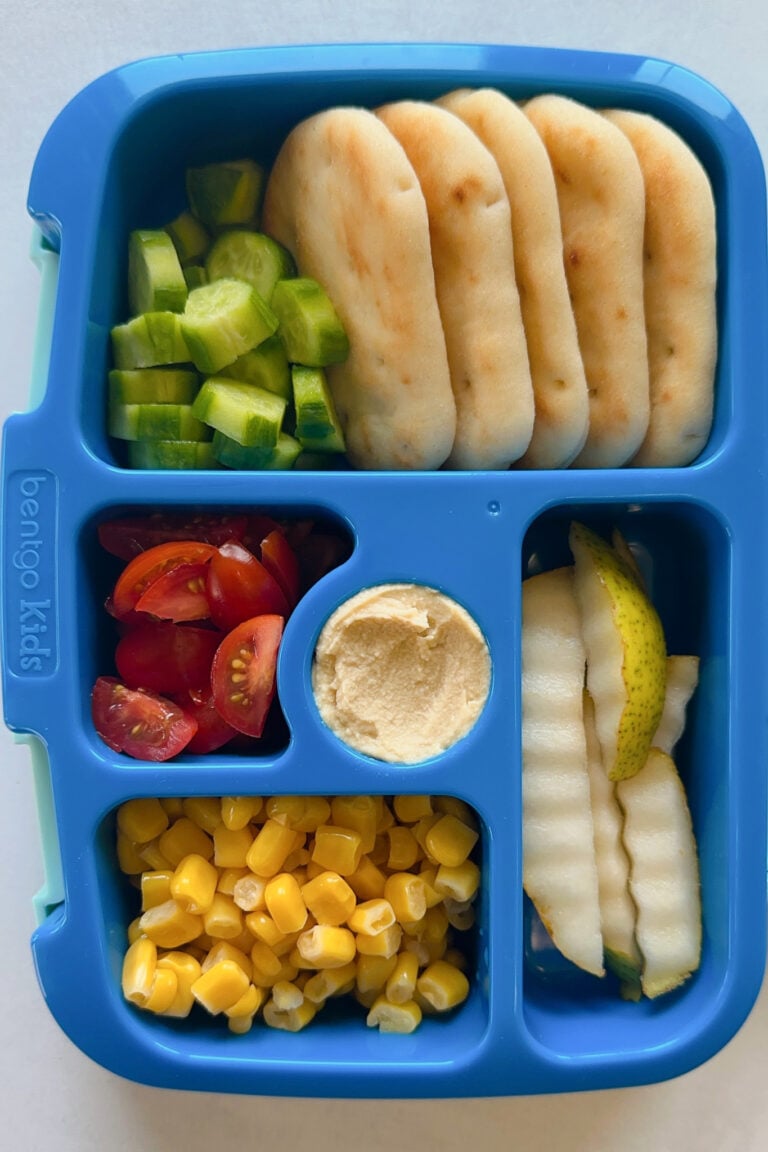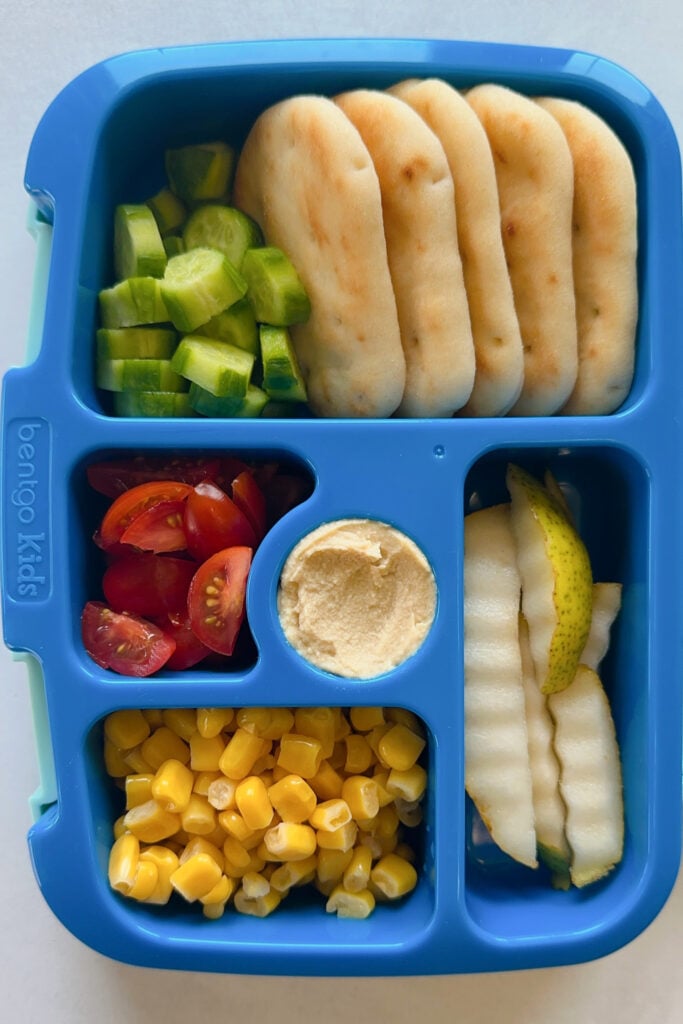 Build Your Own Taco (Hot Lunch)
Another fun 'leftovers for lunch" idea! Pair leftover ground beef with some tortillas, lettuce, and cheese for your little ones to have a mini "build your own taco" station for a fun lunch!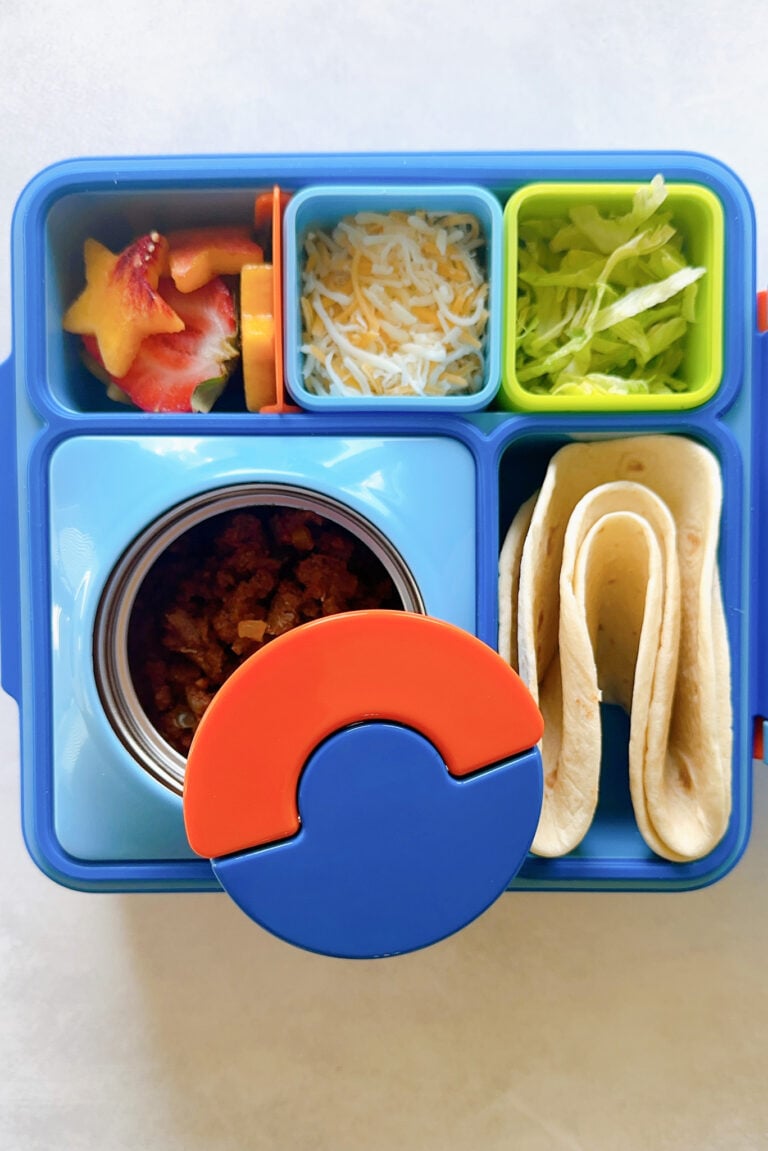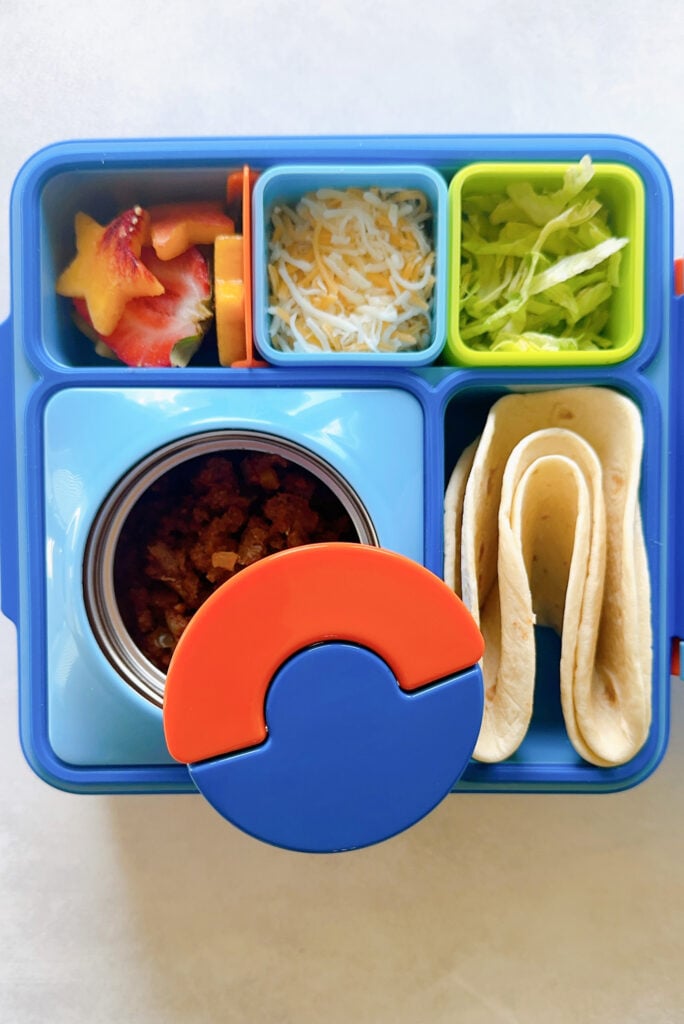 Turkey And Cheese Wraps
Mini wraps are easy for little ones to hold and make a great, simple lunch! I like using fun sandwich wrappers for a fun touch and serving a dip on the side to prevent it from getting soggy.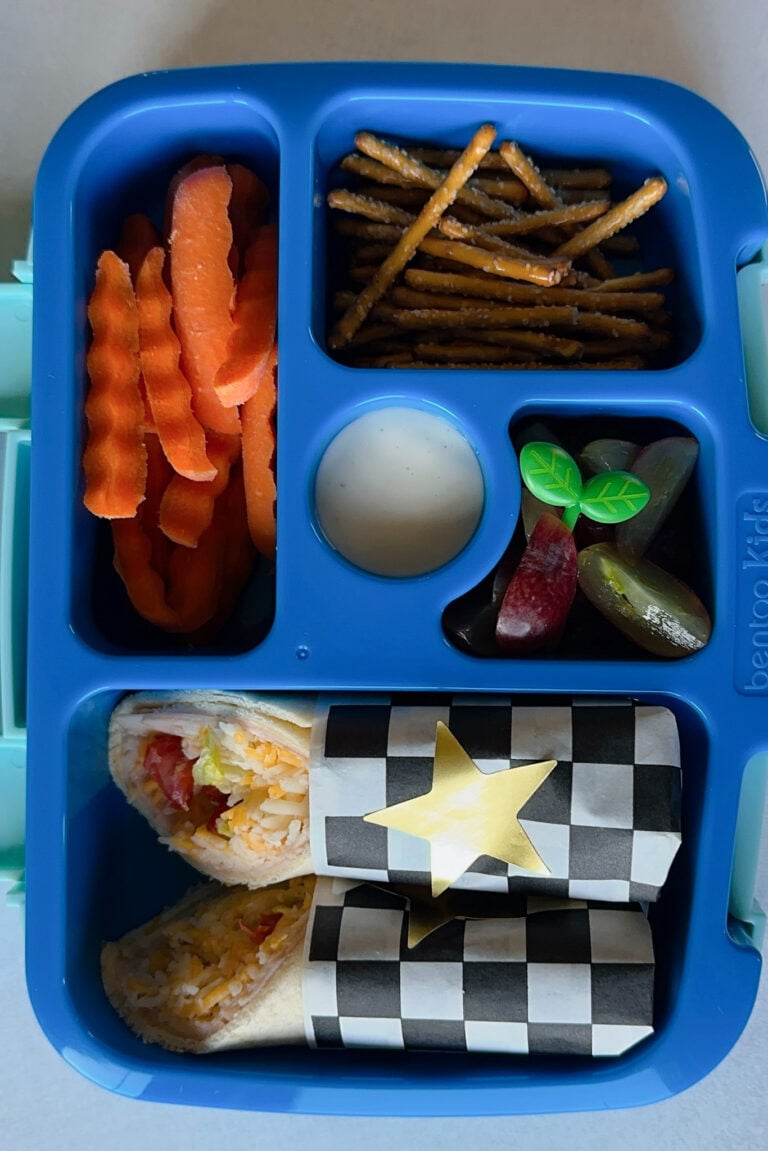 Broccoli Bites
The cheesy broccoli bites are a fun way of incorporating some veggies into lunchtime. They can be served warm or cold, with a dip, or as is!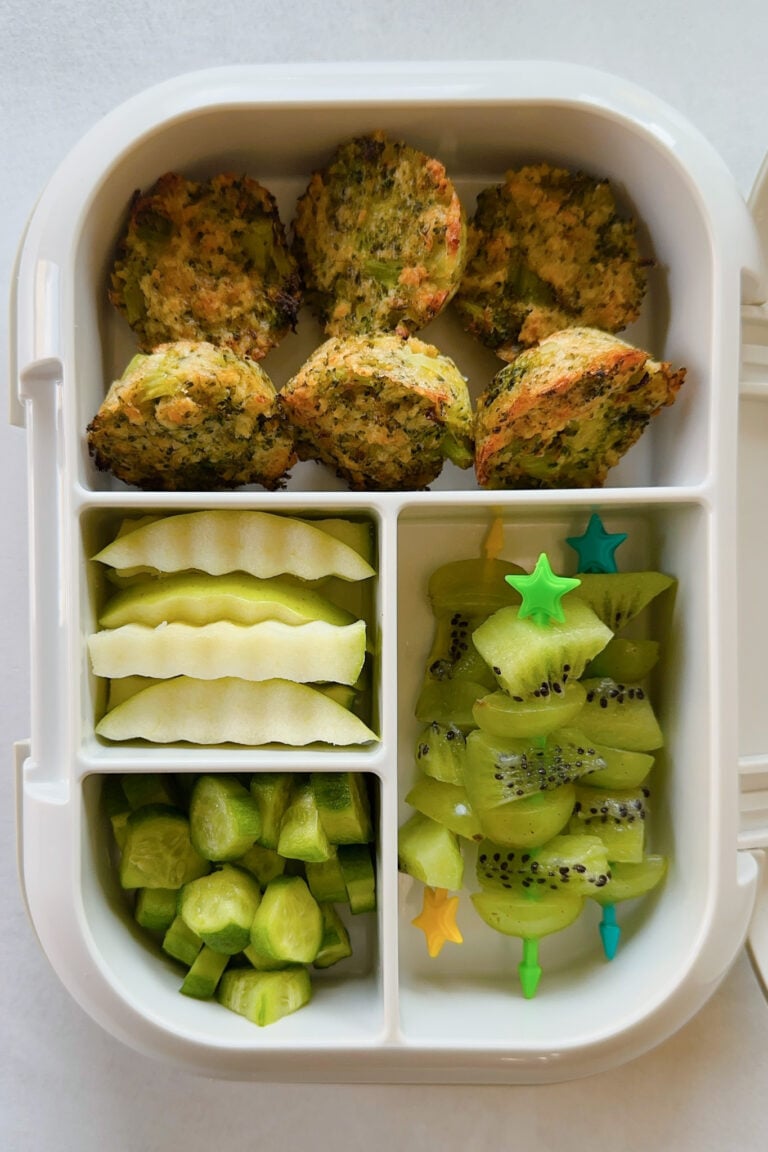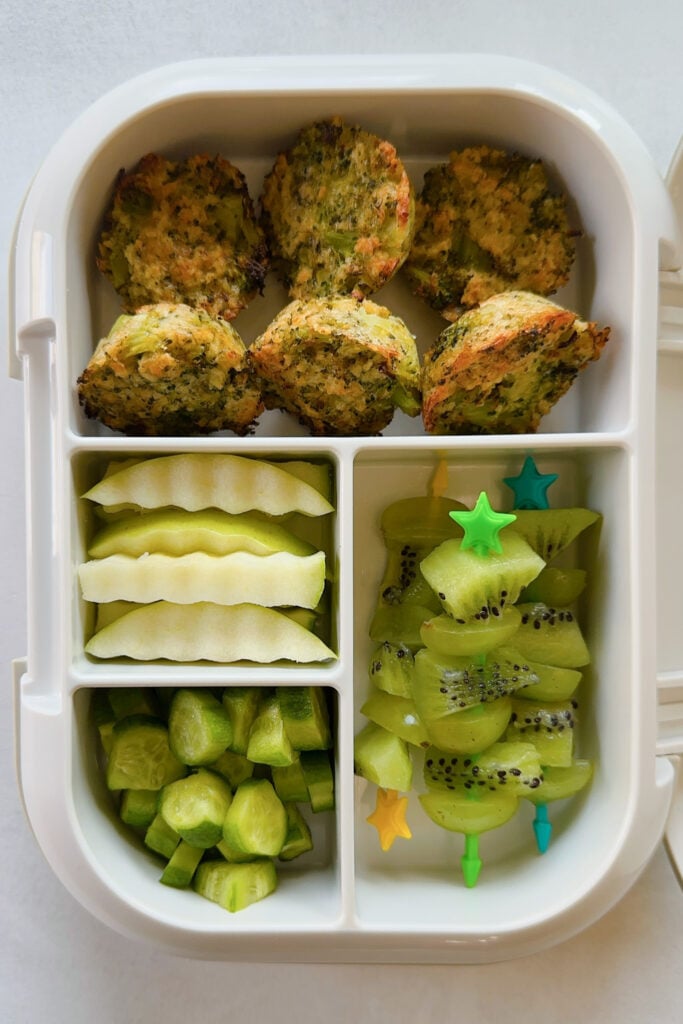 Homemade Pizza Lunchables
Who doesn't love a fun pizza lunchable! This classic lunchable is easy to recreate with some naan rounds, pizza sauce, and shredded cheese! Add in your little one's favorite topping for a fun touch.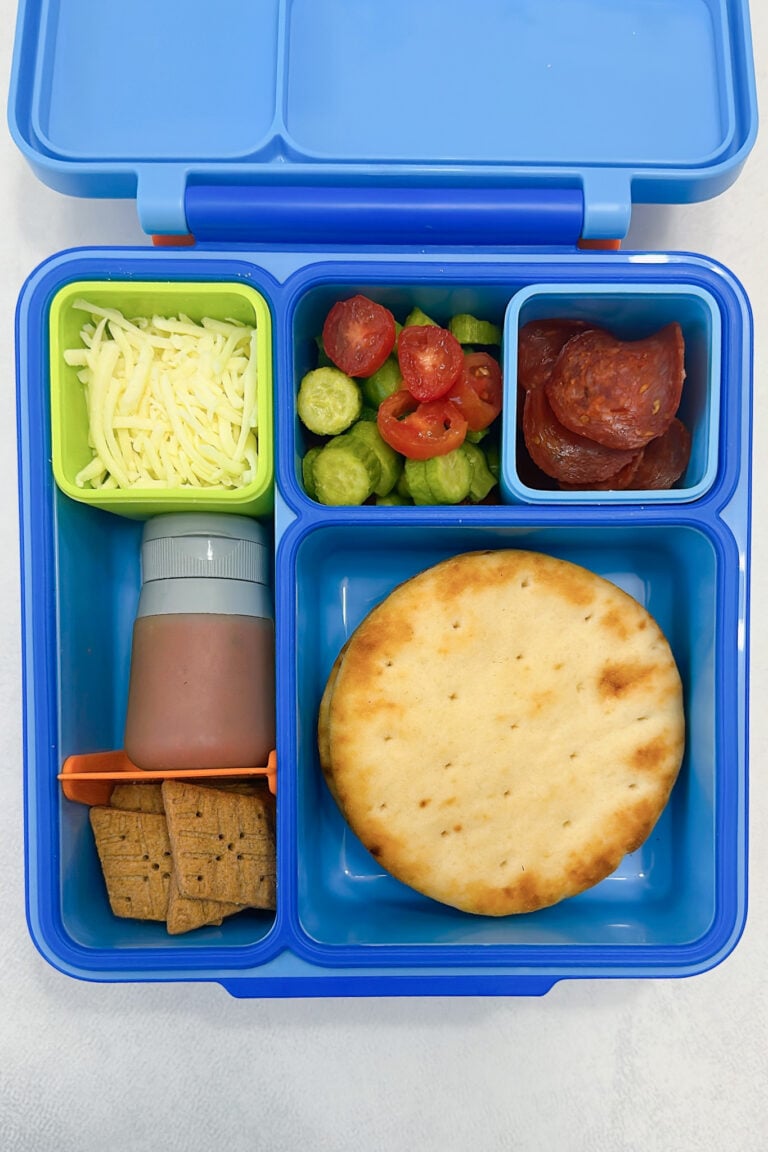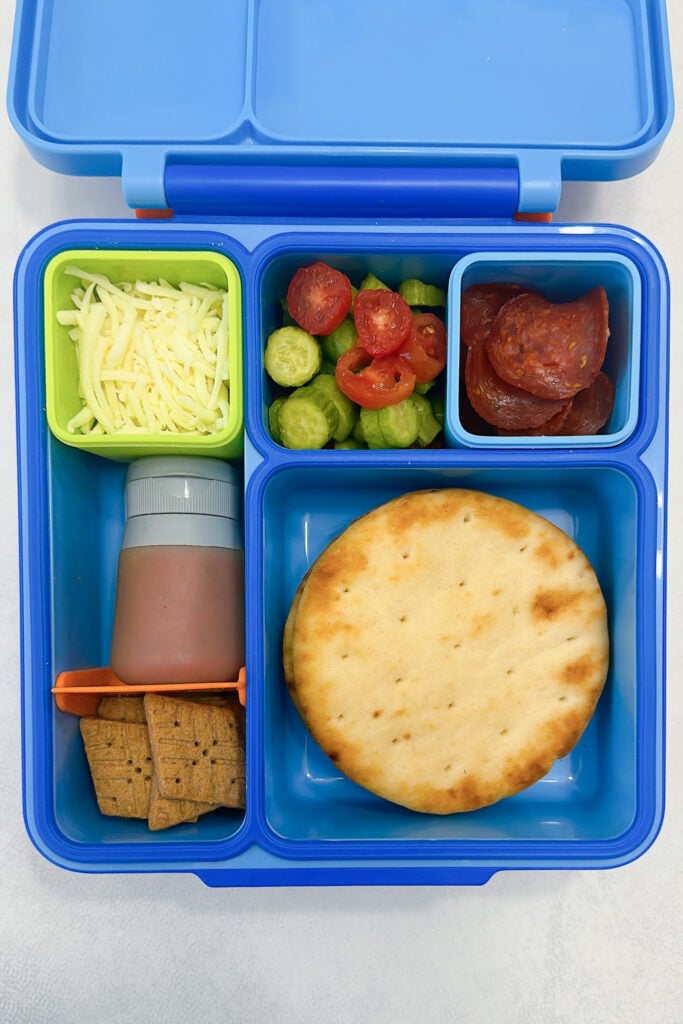 Bagel And Fruits
Mini bagels are the perfect size for little hands. And a reminder that you don't have to send veggies in every lunchbox! Fruits are vegetables have similar nutritional profiles, so don't feel obliged to send both if your little one isn't the biggest fan.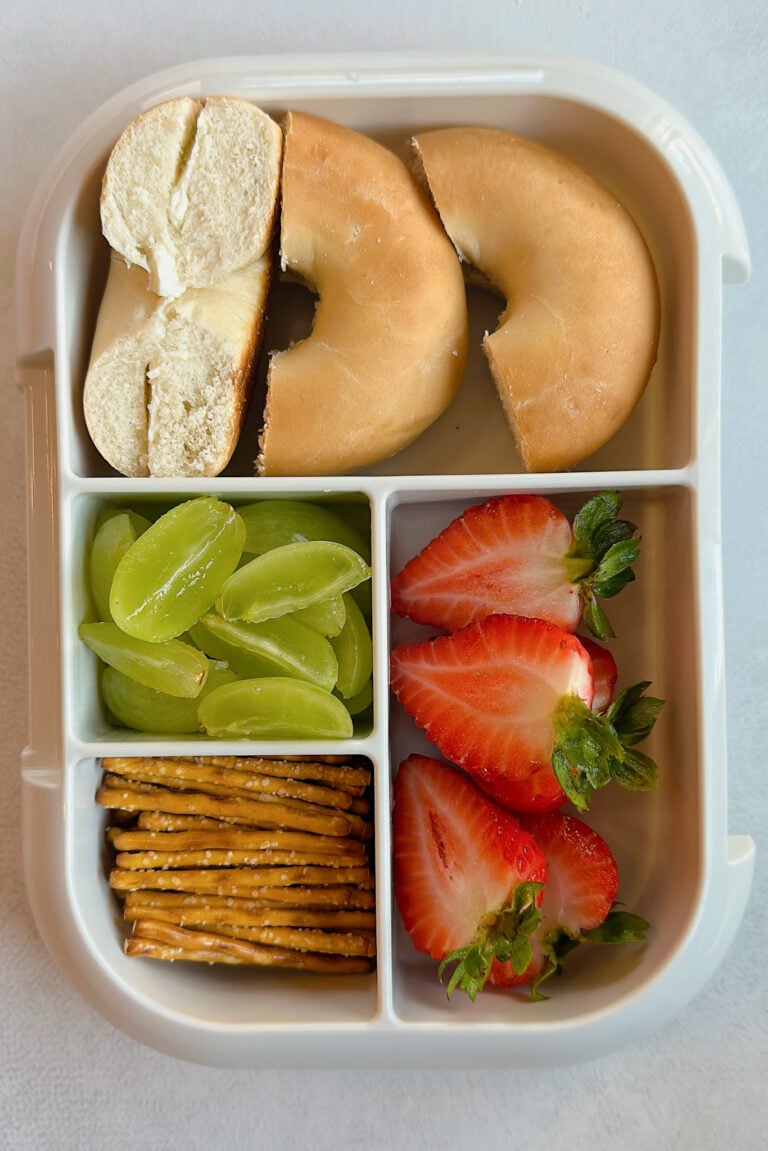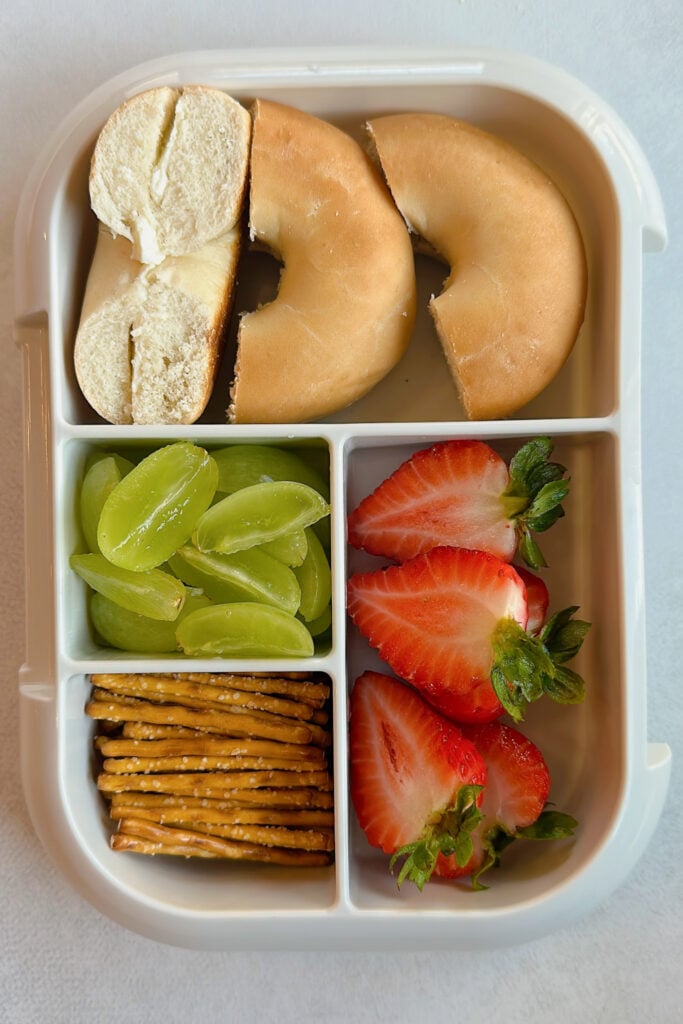 Cream Cheese Carrot Rollups
Cream cheese and carrots pair well together as a fun way for these rollups! The cream cheese adds creaminess and the carrots add a nice crunch for a tasty, bright-colored lunch!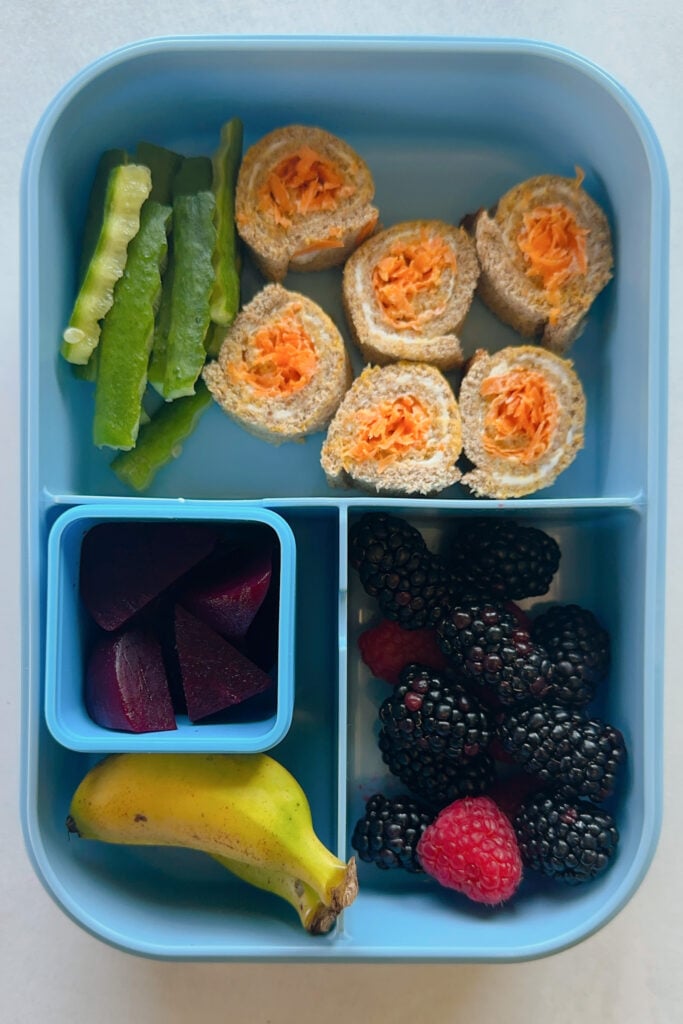 Mini Sandwiches
If your little one seems overwhelmed by large sandwiches, try mini ones! Their small size makes them more manageable to eat, especially if they have a limited amount of time to eat!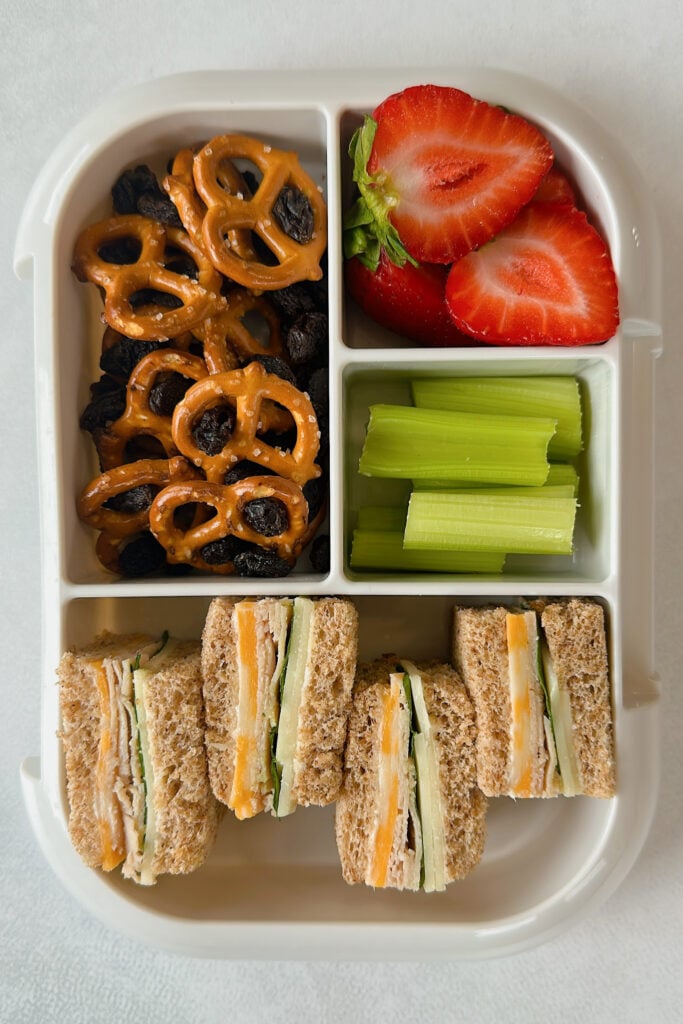 Chicken Salad
This chicken salad uses Greek yogurt as the base and has a crunch from red onions and apples. Pair it with some pita bread and fruits for a balanced lunch!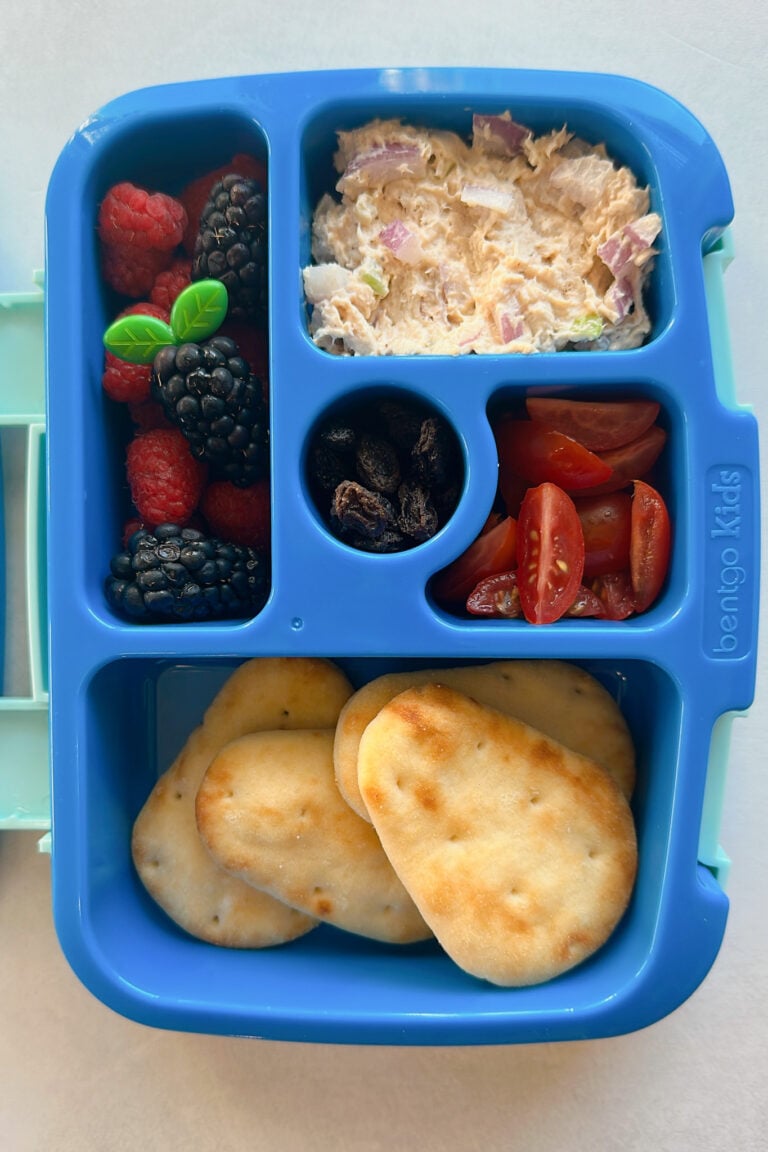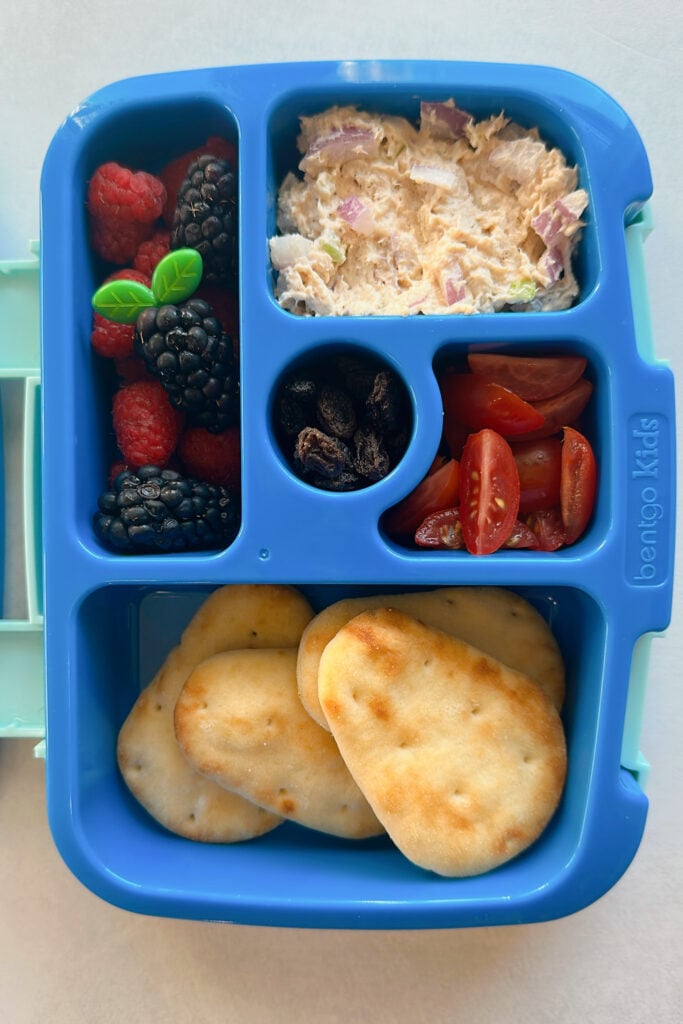 Chicken Salad Rollups
If your little one isn't a fan of chicken salad as is, you can try serving it as rollups! Roll some of the mixture in a tortilla and slice it into pieces. I love using mini skewers for a special touch!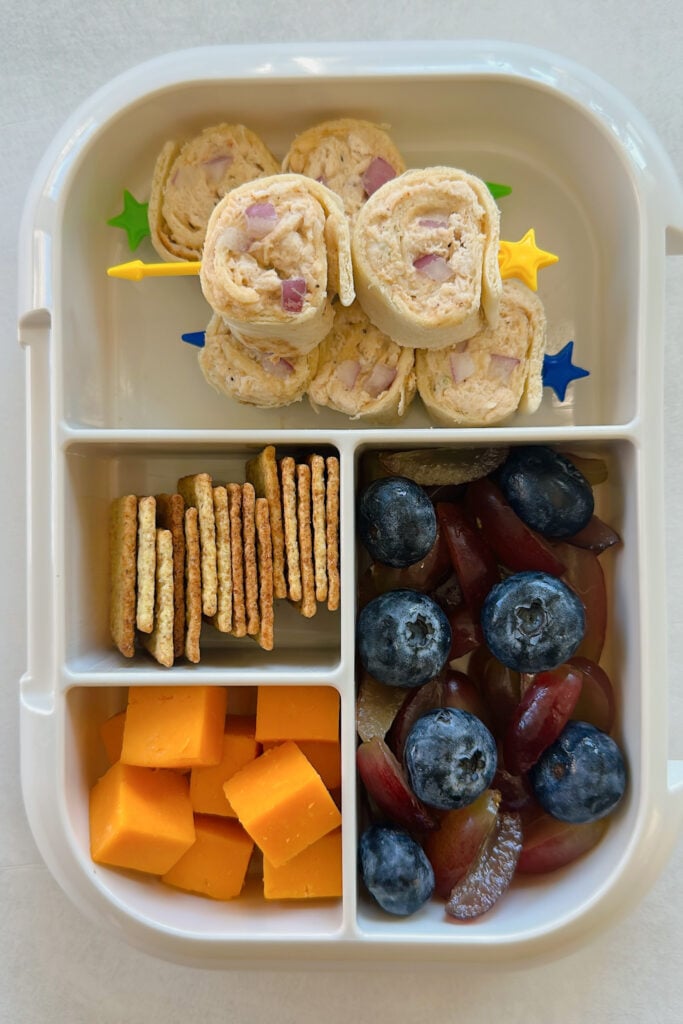 Peanut Butter And Jelly Rollups
A fun way to serve up a classic! Peanut butter and jelly rollups have the same fillings as a classic pb & j, rolled up into mini bite-size pieces. Swap peanut butter with a nut-free spread (ex: sunflower seed butter, granola butter) if your little one attends a nut-free school.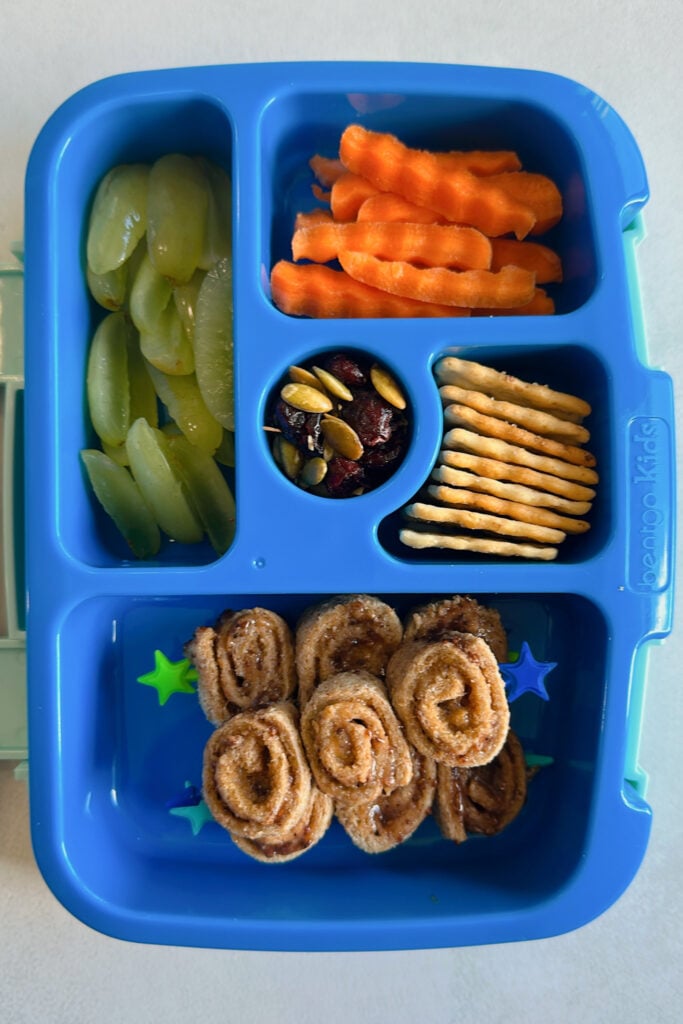 Turkey And Cheese Sliders
Slider buns are the perfect size for little ones! When making mini sandwiches, place sauces between meat/cheese so that it doesn't directly touch the bread. This helps prevent it from getting soggy so that it'll be crisp and fresh for lunchtime!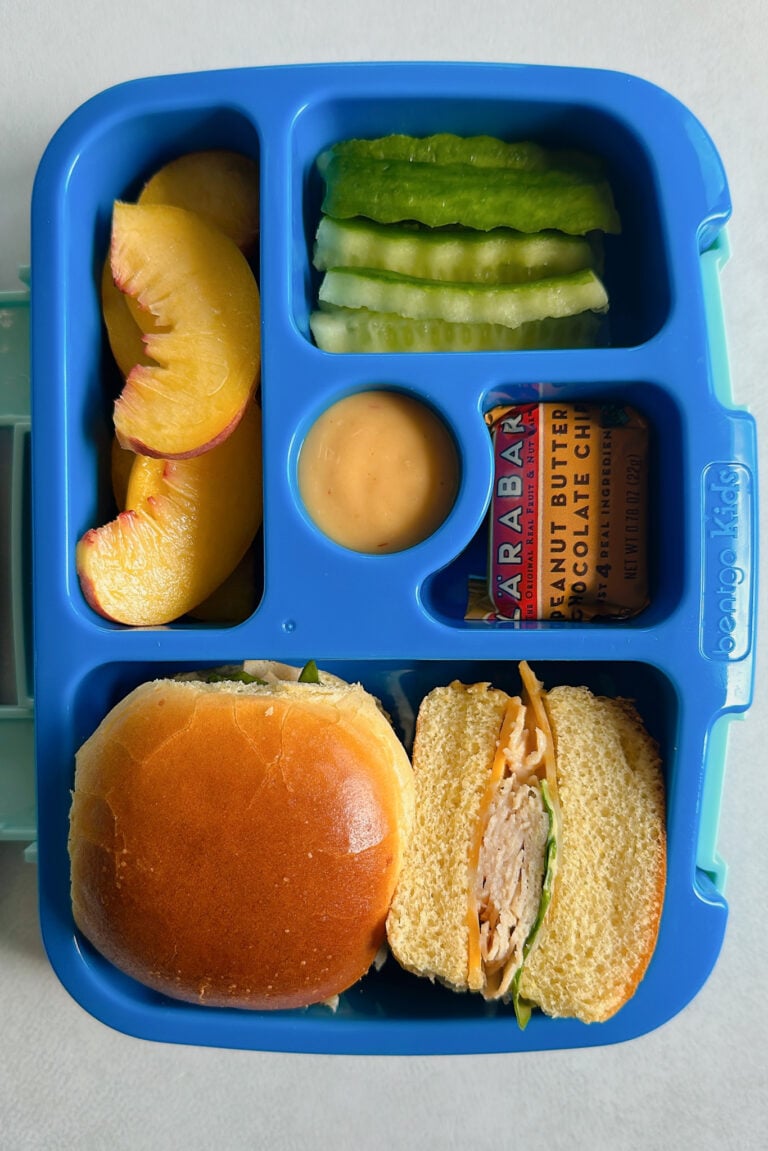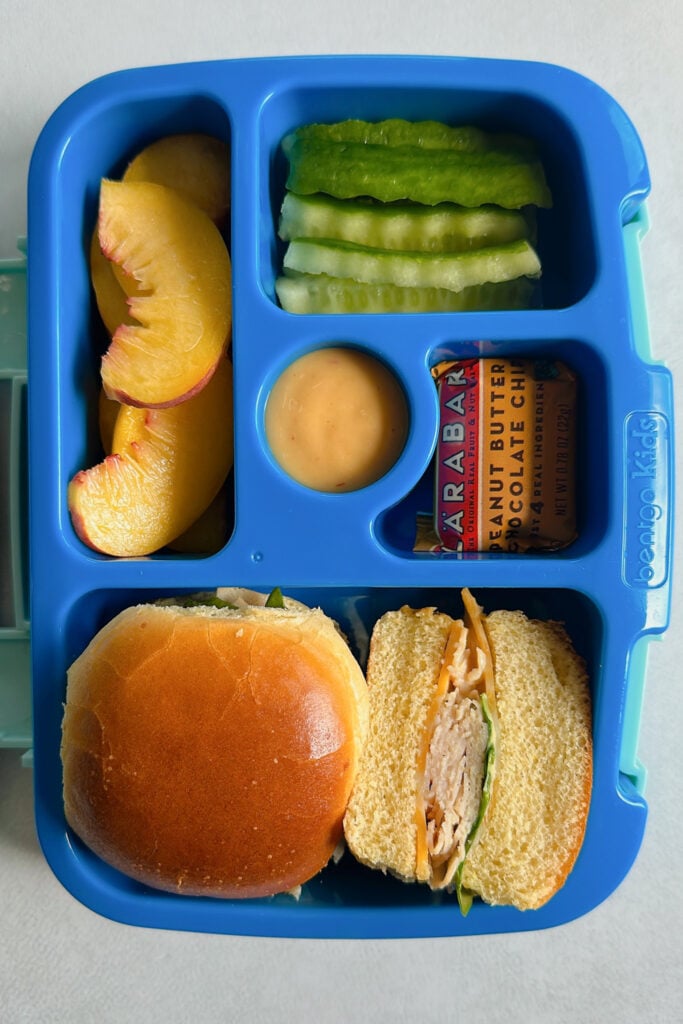 Frequently Asked Questions
What are the main things to pack in a kid's lunchbox?
When packing a school lunch, aim to include a source of protein, fruits or vegetables, and a high-energy food like bread or another source of cards.
What should you NOT pack in a kid's lunchbox?
If you don't have a way of keeping your child's lunchbox chilled, stay away from high-risk foods for food poisoning/foods that do not keep well at room temperature. Also, be mindful of allergies and avoid packing high-risk allergenic foods (ex: nuts if your child's school is nut-free).
How do you prevent apples from browning in a lunchbox?
My favorite way to prevent apples from browning is to use a saltwater soak. Mix 1 cup of warm water with ½ teaspoon of salt until combined, and add sliced apples into the saltwater mixture for 5 minutes. After 5 minutes, drain and rinse the apples well and then dry them well. The apples will stay fresh in a lunchbox without browning!
I hope that you found these ideas for lunchboxes helpful for some inspiration for meals for your little ones! Happy lunch packing!