Hi, and Welcome!
I'm Lily, a food blogger, wife, and Mama to my three boys, Myles, Levi, and Kai.

I have a bachelor's and master's degree in mathematics and teach secondary education mathematics. Although teaching math and recipe development may seem like two completely different realms, they share so many similarities!

Something about the mathematics behind determining exact measurements and calculating meal ratios is so satisfying, and I love merging my two passions to create different meals in the kitchen!
We welcomed our first son Myles in November of 2018.

At that time, I knew very little about the concept of baby-led weaning. We went the traditional route by introducing purees and he quickly became bored with purees and was showing clear interest in the foods that we were eating.

This made me interested in other possible feeding methods, so I started looking into various feeding approaches.

As I researched different feeding approaches, I kept coming across something called "baby-led weaning." If I'm being honest, I thought it had to do with babies weaning themselves off of breastmilk/formula!

I kept wondering what all the hype was around weaning babies off of milk! I quickly realized that I was wrong and that it had to do with introducing finger foods early on.

Once I realized this, I was immediately intrigued and wanted to learn more.
Baby-Led Weaning With Baby #2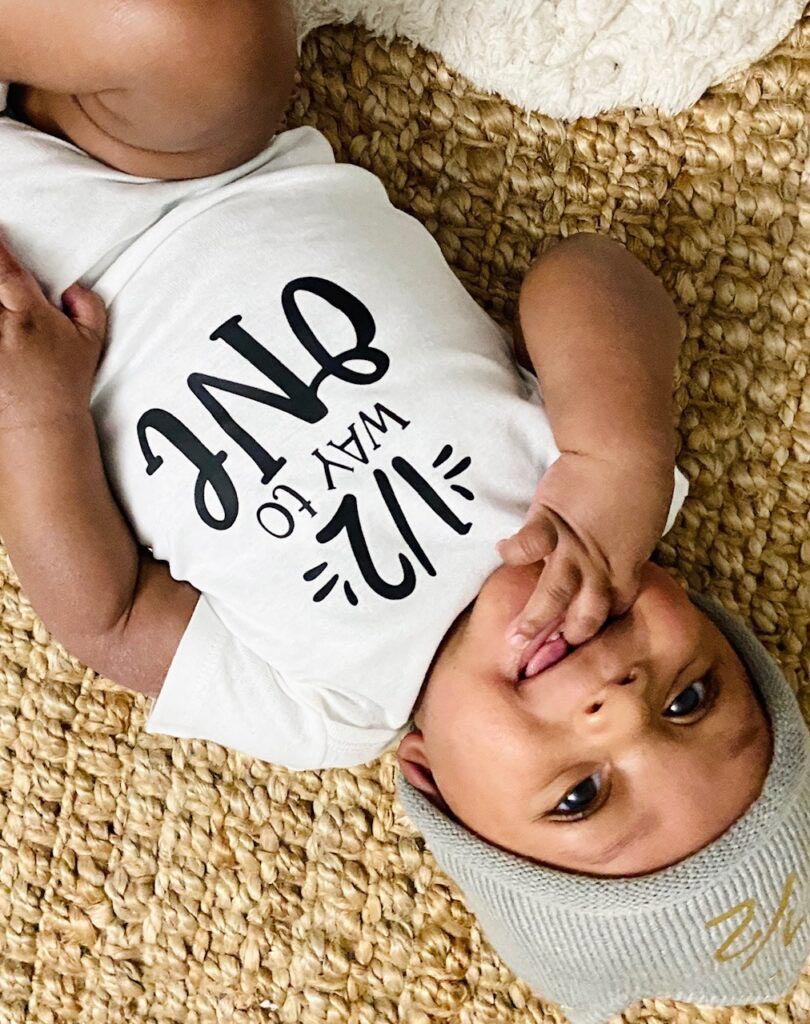 While pregnant with my second son, I continued researching more about baby-led weaning.

I was so fascinated at the idea of a baby self-feeding early on. The thought of not having to make separate meals for everyone in the family sounded right up my alley, so I definitely wanted to explore this.

In September of 2020, we welcomed our son Levi and I couldn't wait for him to reach 6 months of age so that we could jump into baby-led weaning.

I'll admit, the first few weeks were super scary and nerve-wracking. There were several times that I was worried that he wouldn't be able to handle certain foods, but boy was I wrong!

His little gums were so strong and he was able to take on so many textures at an early stage.
Fast forward to the present…
I educated myself on all aspects of baby-led weaning and followed through the journey with Levi. Baby-led weaning is a fun process, but things can definitely get challenging when it comes to figuring out what to make for your little ones. Sometimes, life gets busy and it feels impossible to manage everything around us. Making efforts to get balanced meals on the table is another thing to add to the list of never-ending tasks.
With this in mind, my goal is to create simple recipes that are baby, toddler, and family-friendly.

I create recipes with baby in mind, but that can easily be adapted for the entire family.

Maybe you are just beginning your baby-led weaning journey and don't know where to start, or maybe you're well into the feeding journey and are looking for some meal ideas and inspiration.

Regardless of what stage you are in, I'm so happy that you are here!

If you have any questions, ideas, or just need some reassurance, feel free to send me a message!
While you are here
Check out these delicious recipes.