Packing a full lunch for your child each day may sometimes feel overwhelming, but it definitely doesn't have to be! Here are some simple toddler lunch ideas for daycare to pack for your little ones!
This post may contain affiliate links. If you shop with one of our links we may earn small a commission.
PACKING FOR DAYCARE
Packing lunches for daycare can sometimes feel stressful. Although some daycares provide food, many of them don't and require that meals be sent. Some daycares require parents to send a full lunch along with two snacks. This can be a lot to plan for in addition to managing everything else that goes on throughout the day. Here are some toddler lunch ideas for daycare to help make the process a little easier!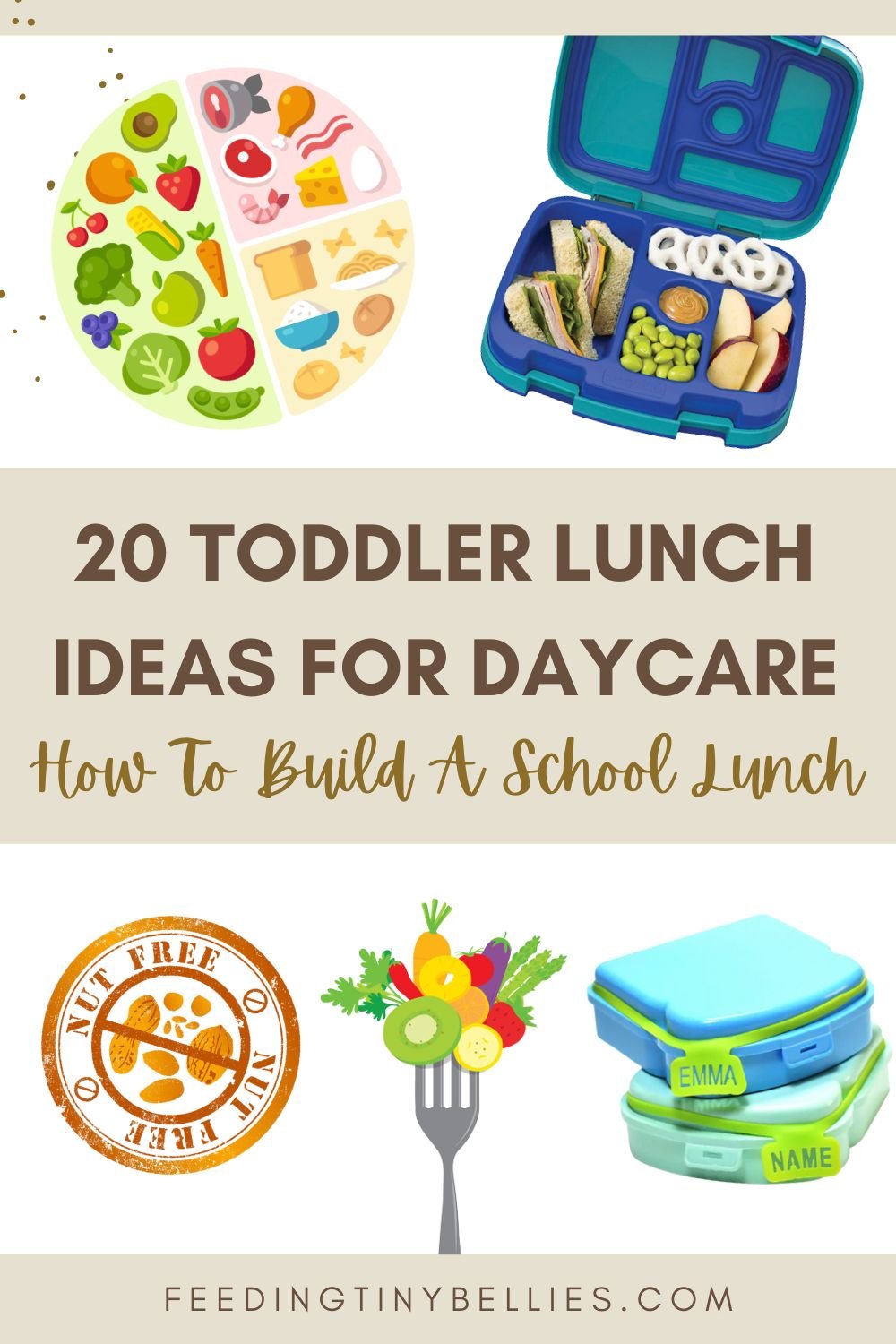 TIPS FOR PACKING A DAYCARE LUNCH
When packing a lunch for daycare, there are a few important things to keep in mind:
1. QUALITY LUNCHBOX/CONTAINER: Get a good quality lunchbox container to store the food. No child wants to be told that their lunchbox is leaking liquids or open a box to be greeted with poorly packaged foods. Invest in a good quality lunchbox/air-tight container to pack food items. Also, make sure that your child practices opening their lunchbox/container at home so that they feel confident doing so in school.
2. LABELING: Clearly label your child's food/lunchbox so that there is no confusion! It's not uncommon for two or more children to have the same lunchbox, so be sure to label your child's items so that everyone is on the same page.
3. ICE PACKS: Use ice packs for food items that need to stay cold if your daycare center does not provide the option to refrigerate meals. Foods like egg salad, chicken salad, etc. need to be kept cold to prevent bacteria from growing and spoiling the food.
4. SAFELY PREPARE FOODS: Make sure foods are appropriately cut and prepared for your child's age. For example, grapes should be quartered for young toddlers to prevent the risk of choking.
5. COMMUNICATION: Communicate with your daycare teachers and staff! Make sure that they are on board with your style of feeding and find out if they have any dietary restrictions. For example, many daycares are nut-free and require you to send nut-free lunch and snack options with your child.
6. COOLING/REHEATING: Check with your child's daycare to see if they are able to refrigerate or reheat foods. Many centers do not offer the option to reheat foods which may limit the variety of foods you are able to send with your child. If reheating is not an option, you can consider investing in a thermos, but be mindful of your child's age and ability to safely handle using one.
7. INCORPORATE VARIOUS FOOD GROUPS: Try to incorporate various food groups (ex: protein, carbs, healthy fats) so that your little one stays full for longer.
8. SEND A VARIETY: Send a variety of items to give your child options. If you send only one item and your little one doesn't like that one item, they will likely remain hungry. Try to aim to pack a main course and at least two other food items from different categories. It's not uncommon for your child to return home with several items untouched, but the more exposure you provide to different items, the more likely they are to try out different foods.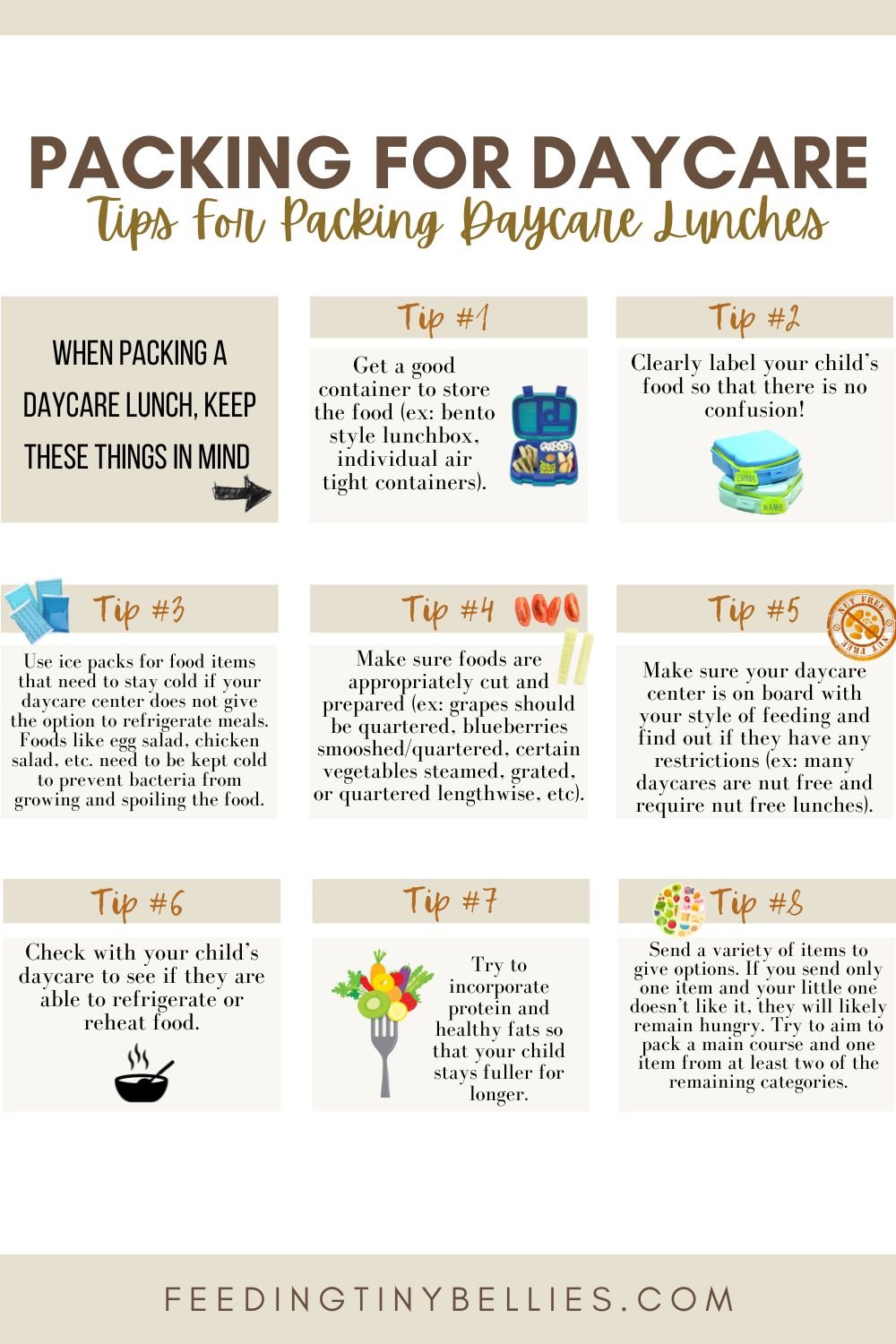 BUILDING A SCHOOL LUNCH: TODDLER LUNCH IDEAS FOR DAYCARE
Building a school lunch doesn't have to be complicated! Aim to have one main course, and at least two other side options (ex: fruit, vegetable, snack, or treat). It is also great to include a drink option on the side.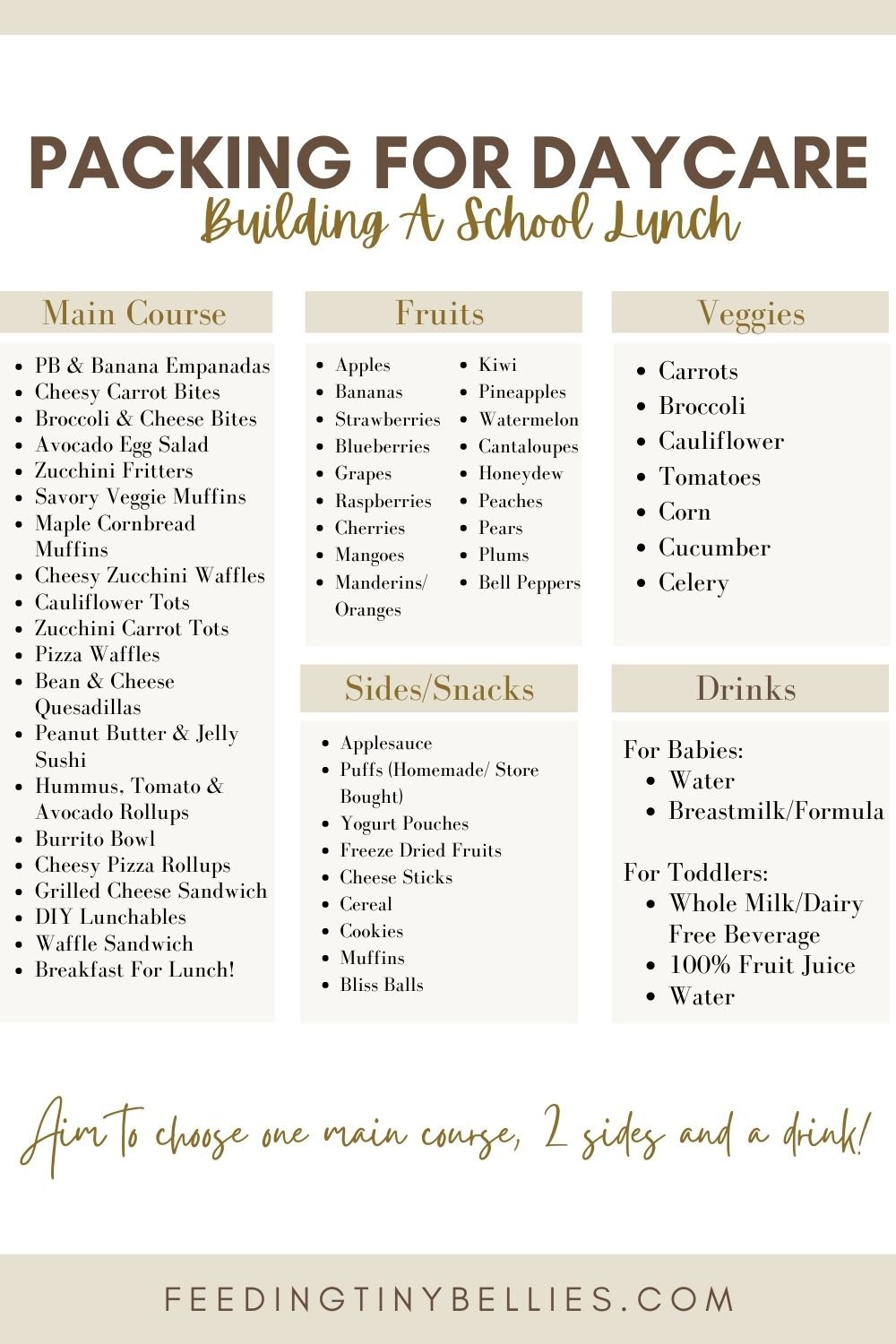 MAIN COURSE IDEAS
The main course is the main component of your toddler's daycare lunch. Here are 20 lunch ideas options that you can choose between when planning your little one's meal!
1. EMPANADA SANDWICHES (HOMEMADE UNCRUSTABLES)
Empanada sandwiches are always a go-to lunch option. They are simple to make and can be customized with your little one's favorite fillings. Swap peanut butter with a nut-free alternative if your daycare center is nut free.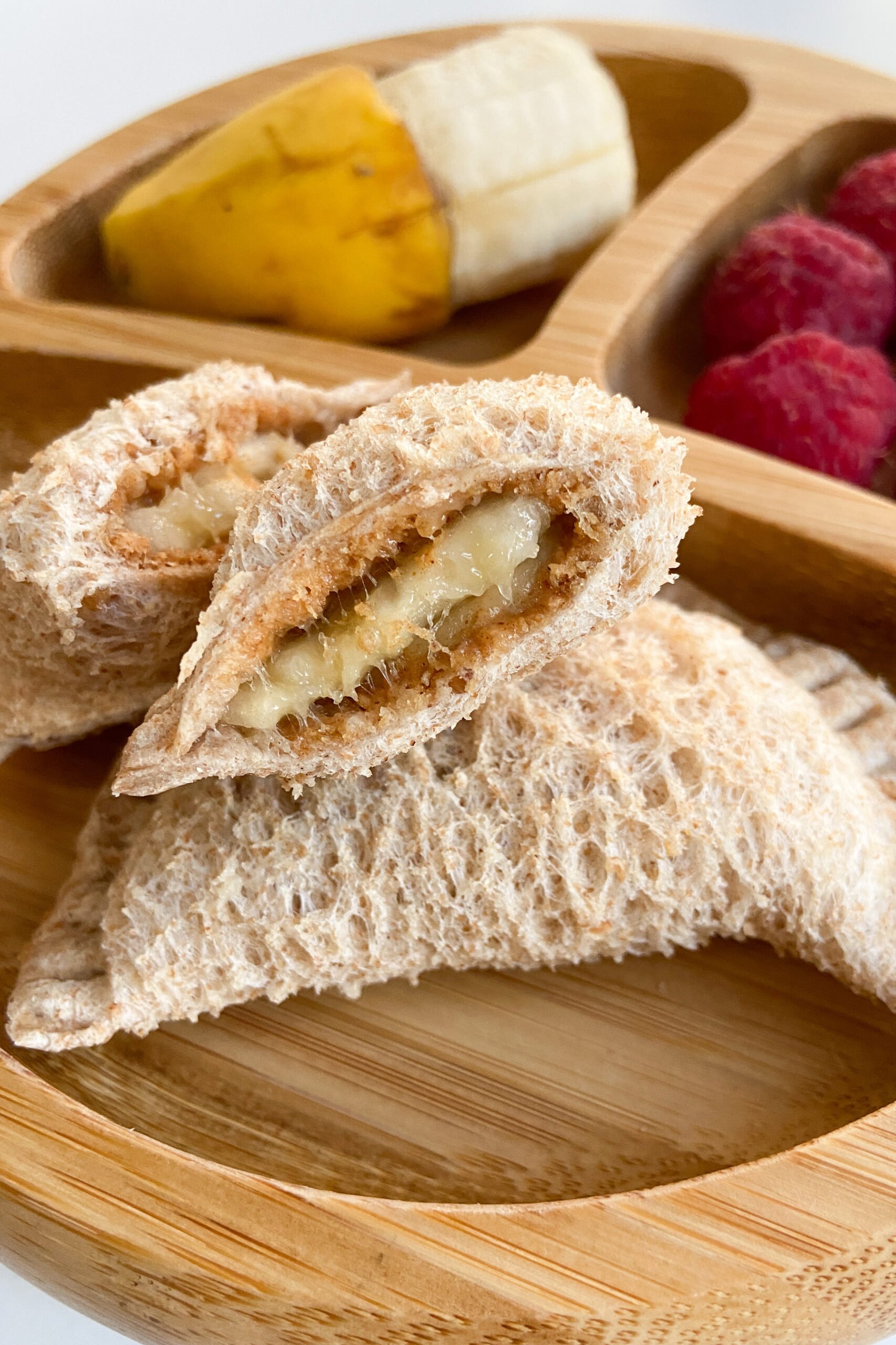 2. CHEESY CARROT BITES
Cheesy Carrot Bites are a fun way to incorporate more carrots into your little one's diet. Serve them with a dip or on their own for a fun bright orange lunch!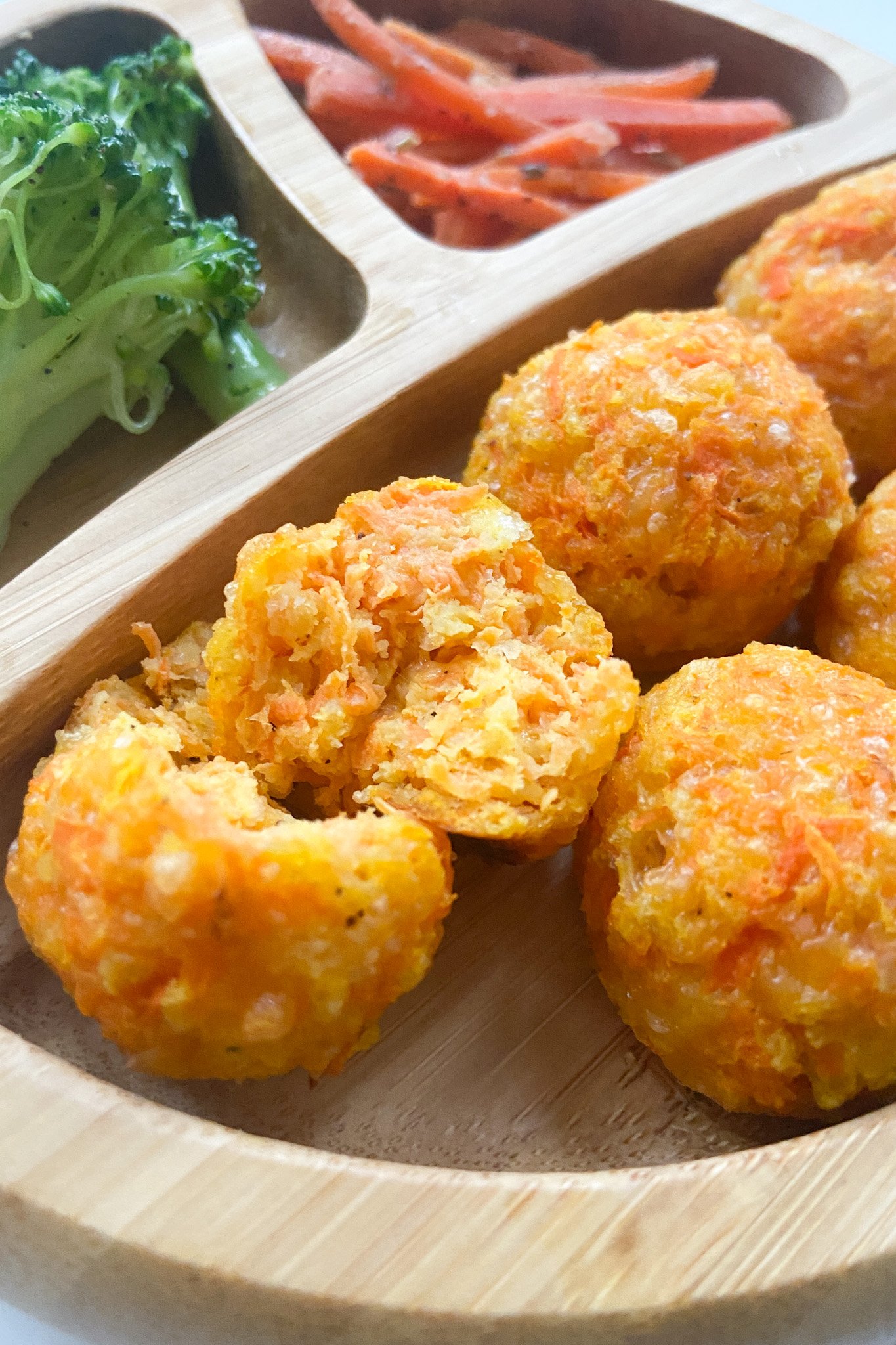 3. BROCCOLI AND CHEESE BITES
Broccoli and cheese bites are a great way to incorporate veggies into handheld bites. They can be heated into the morning and served at room temperature for lunch!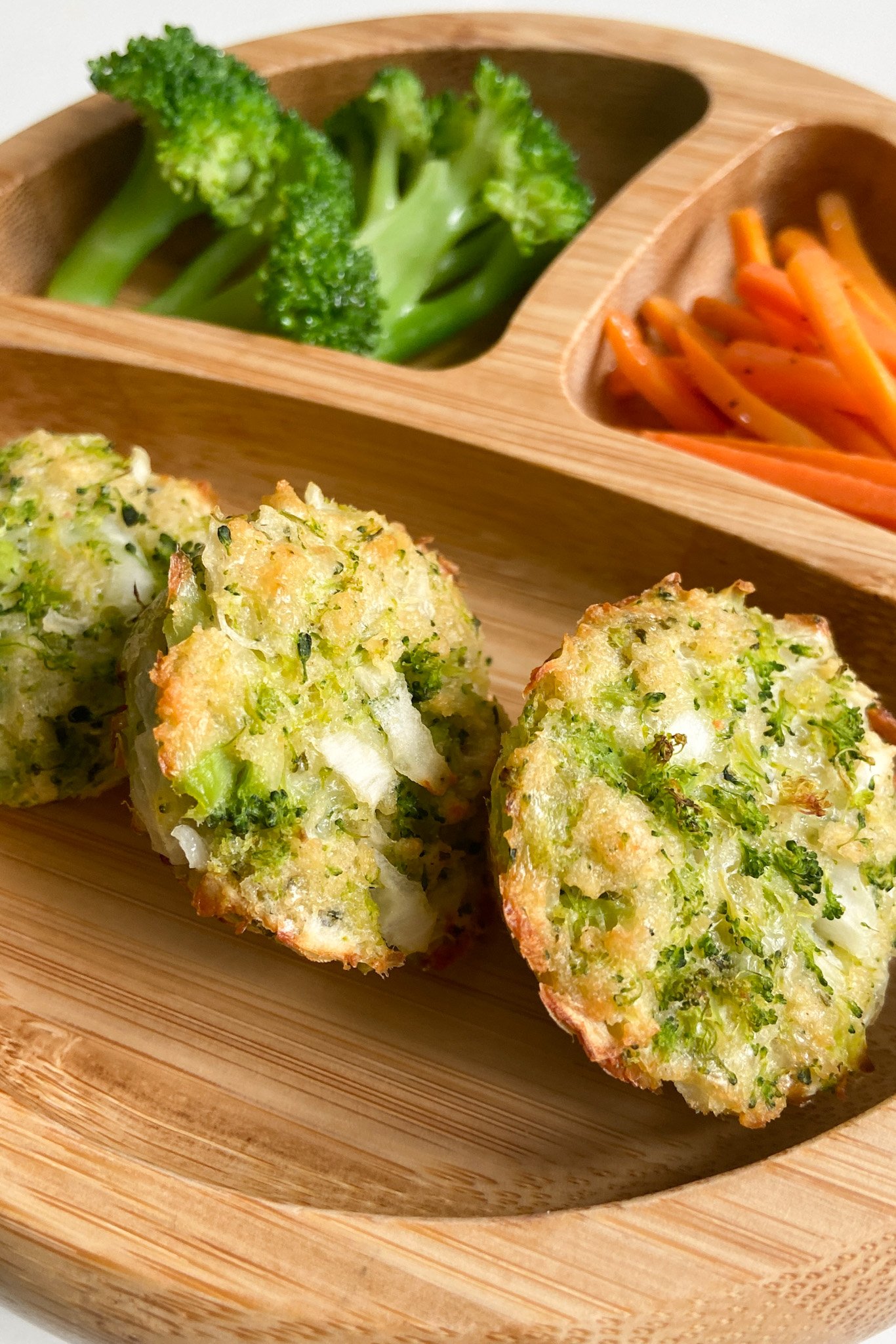 4. AVOCADO EGG SALAD
Avocado egg salad is a great combo for serving healthy fats and protein! It can be quickly prepared the morning of, just make sure not to forget the squeeze of lemon juice to prevent browning!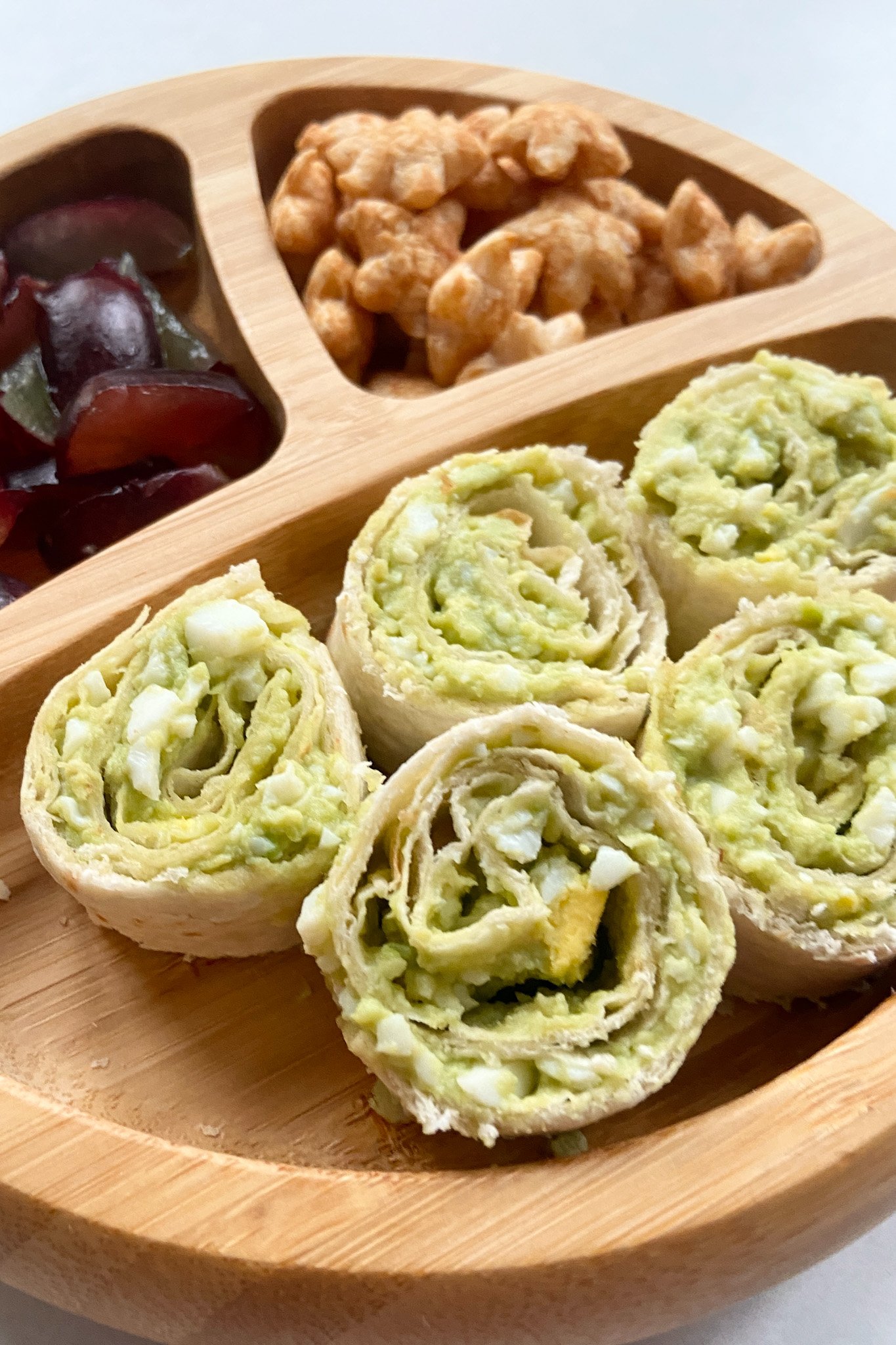 5. ZUCCHINI FRITTERS
Zucchini fritters are a flavorful way to enjoy the vitamin-packed veggie! They are soft textured and can be served with a dip for some variety!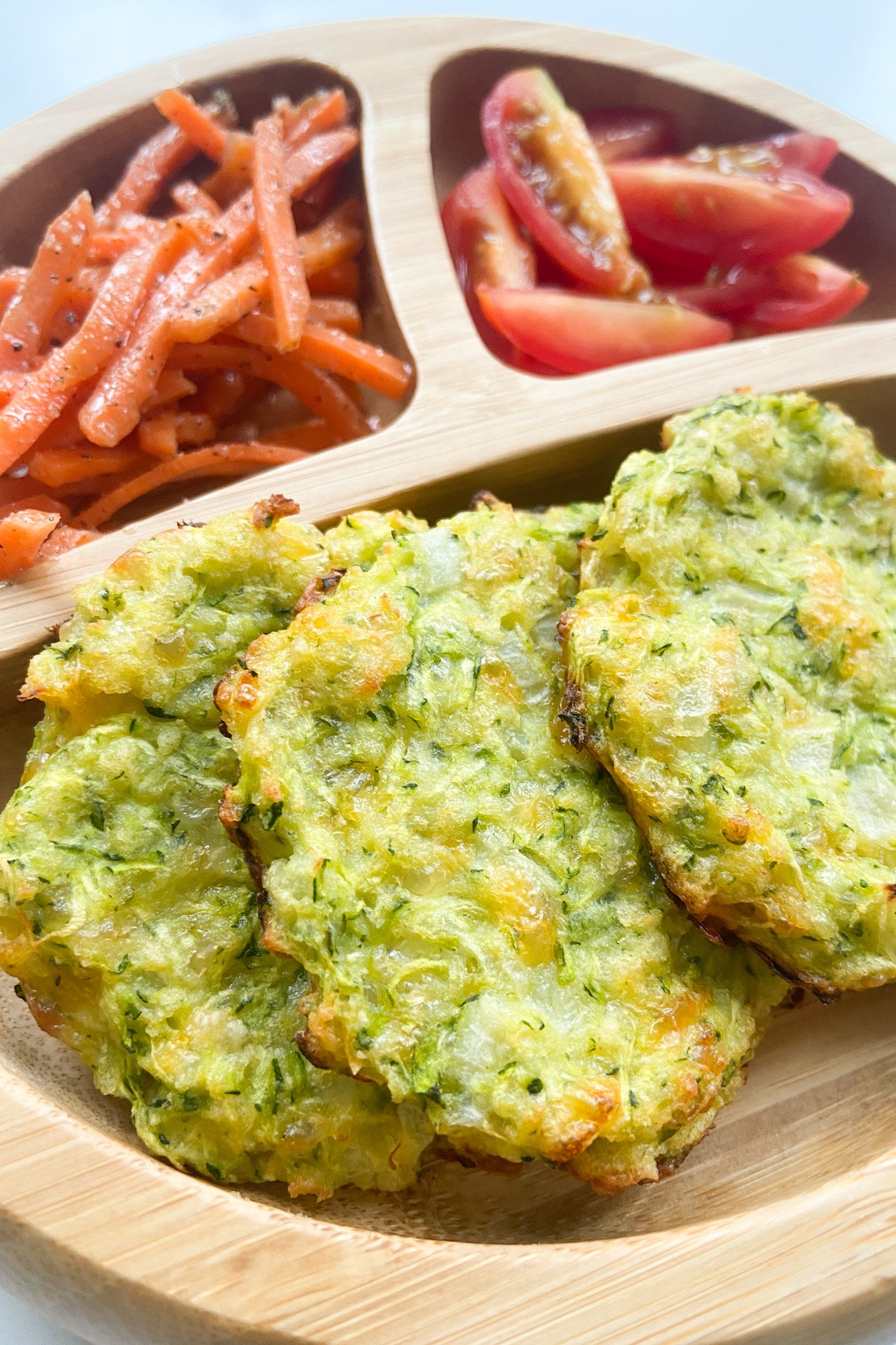 6. SAVORY VEGETABLE MUFFINS
Savory vegetable muffins are completely customizable and a great way to use up any vegetables you have on hand. They are mess free and perfect for packing in lunchboxes!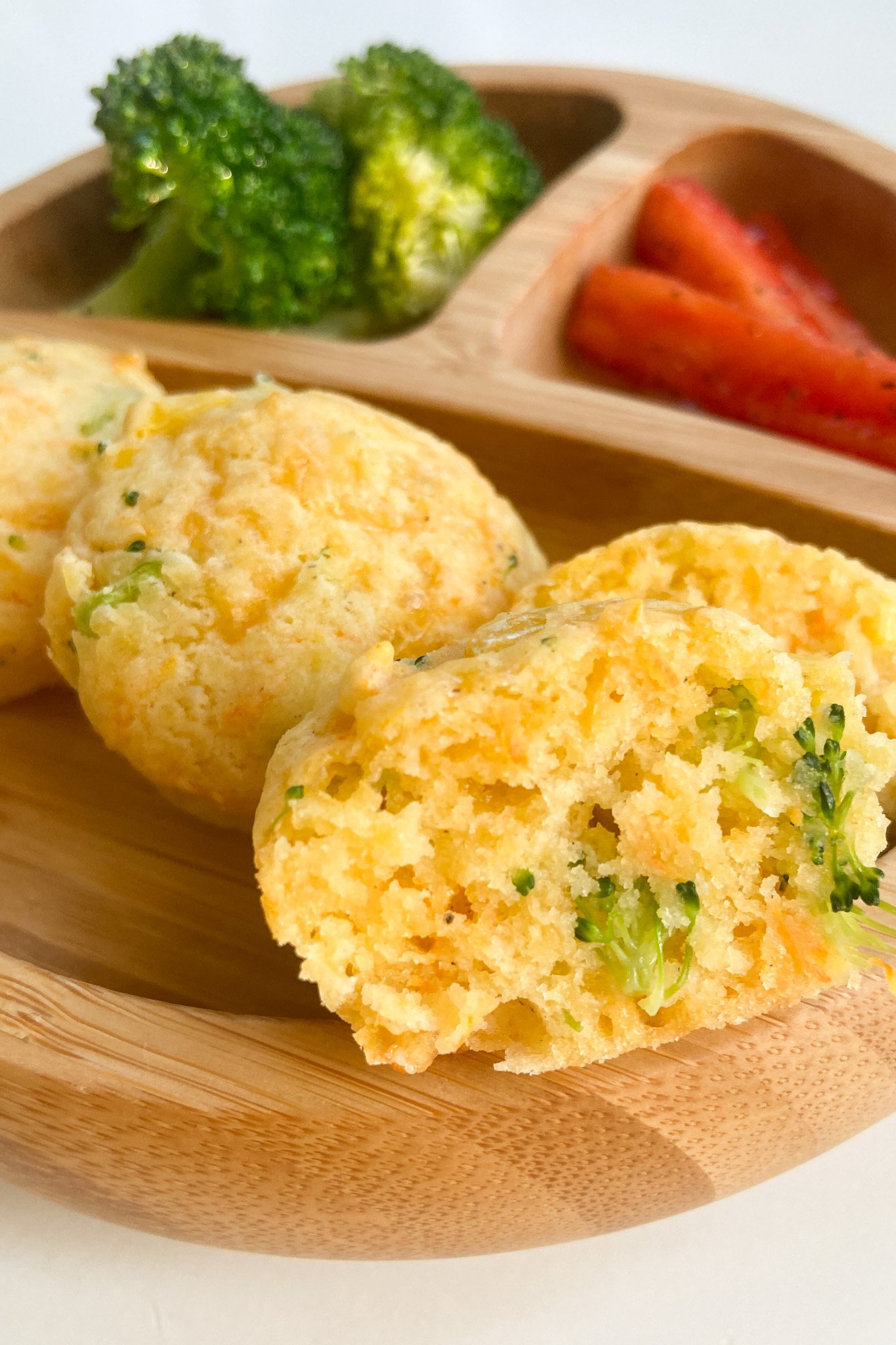 7. MAPLE CORNBREAD MUFFINS
Maple cornbread muffins are perfect for little hands and can be baked as is or with added corn kernels for added sweetness.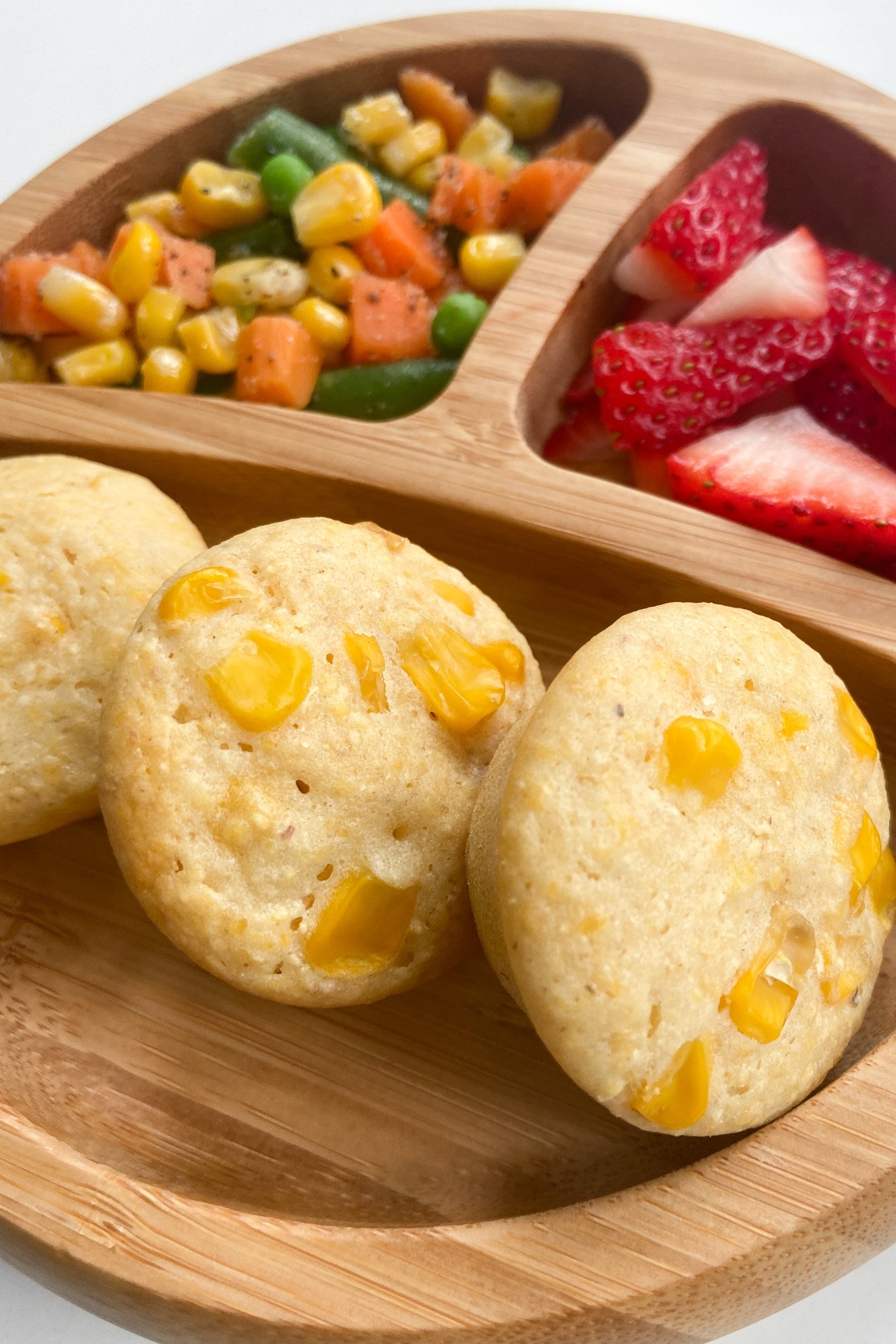 8. CHEESY ZUCCHINI WAFFLES
Who says waffles need to be sweet? These cheesy zucchini waffles are a savory twist to a classic waffle and make a great daycare lunch!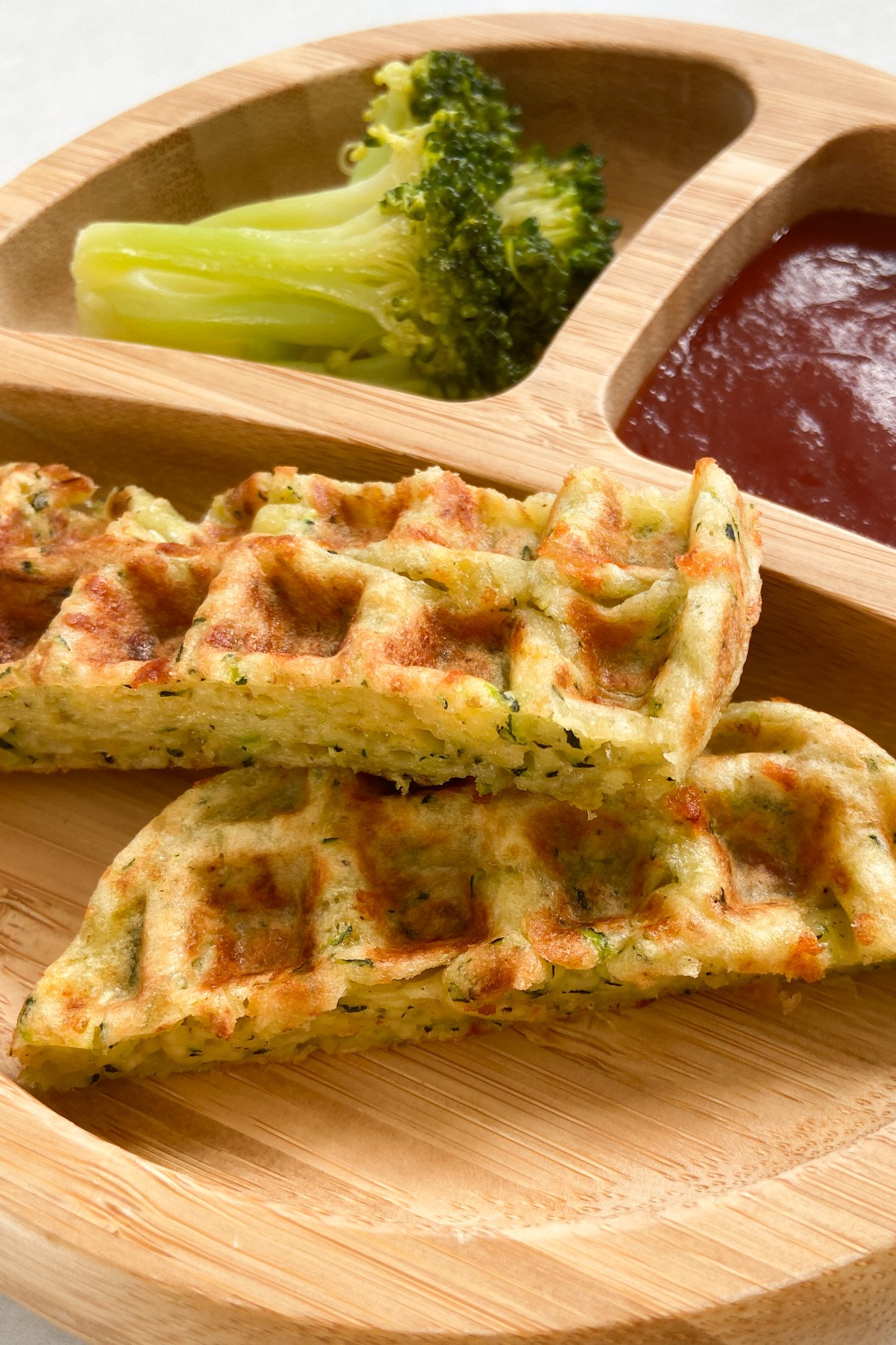 9. CAULIFLOWER TOTS
Cauliflower tots are a fun twist on classic potato tots! Serve with a side of ketchup and your little one may end up preferring these over original tots!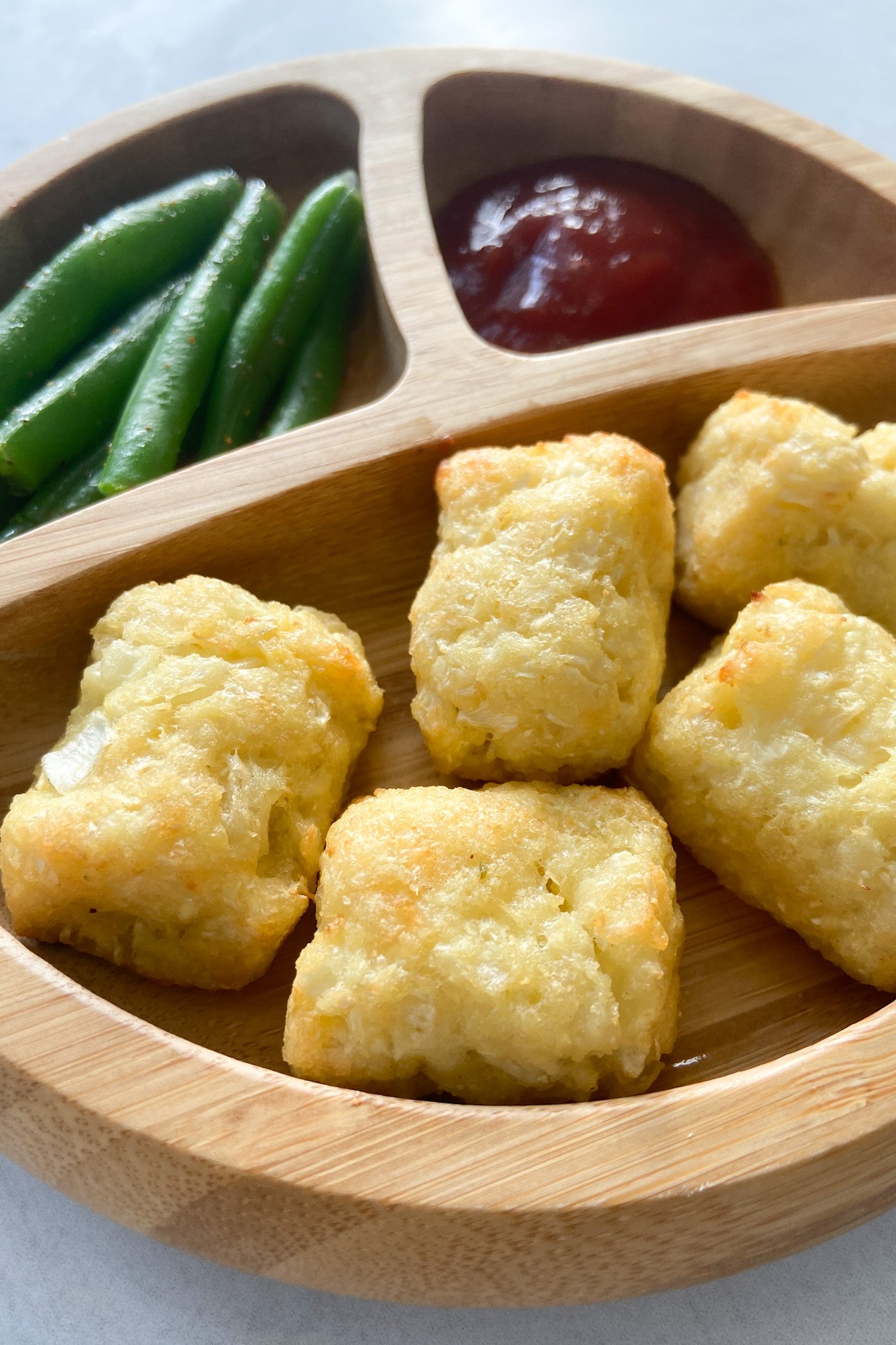 10. ZUCCHINI CARROT TOTS
These zucchini carrot tots are another fun veggie tot packed with flavor. Grate the veggies as large or small as you like according to your little one's preferences.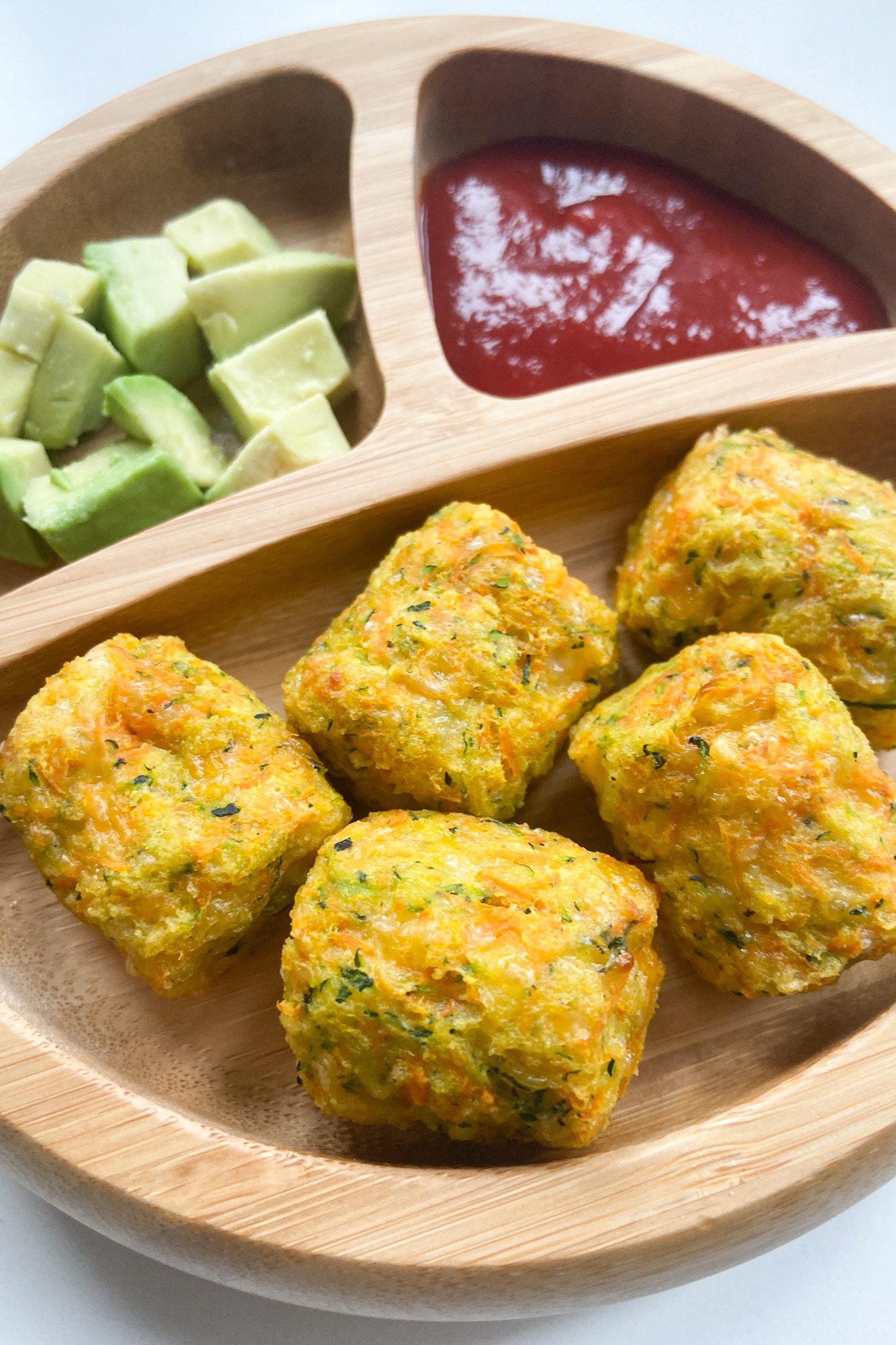 11. PIZZA WAFFLES
These pizza waffles are another fun take on savory waffles. Serve with a side of marinara sauce for a less-messy take on pizza that is easy for little ones to eat!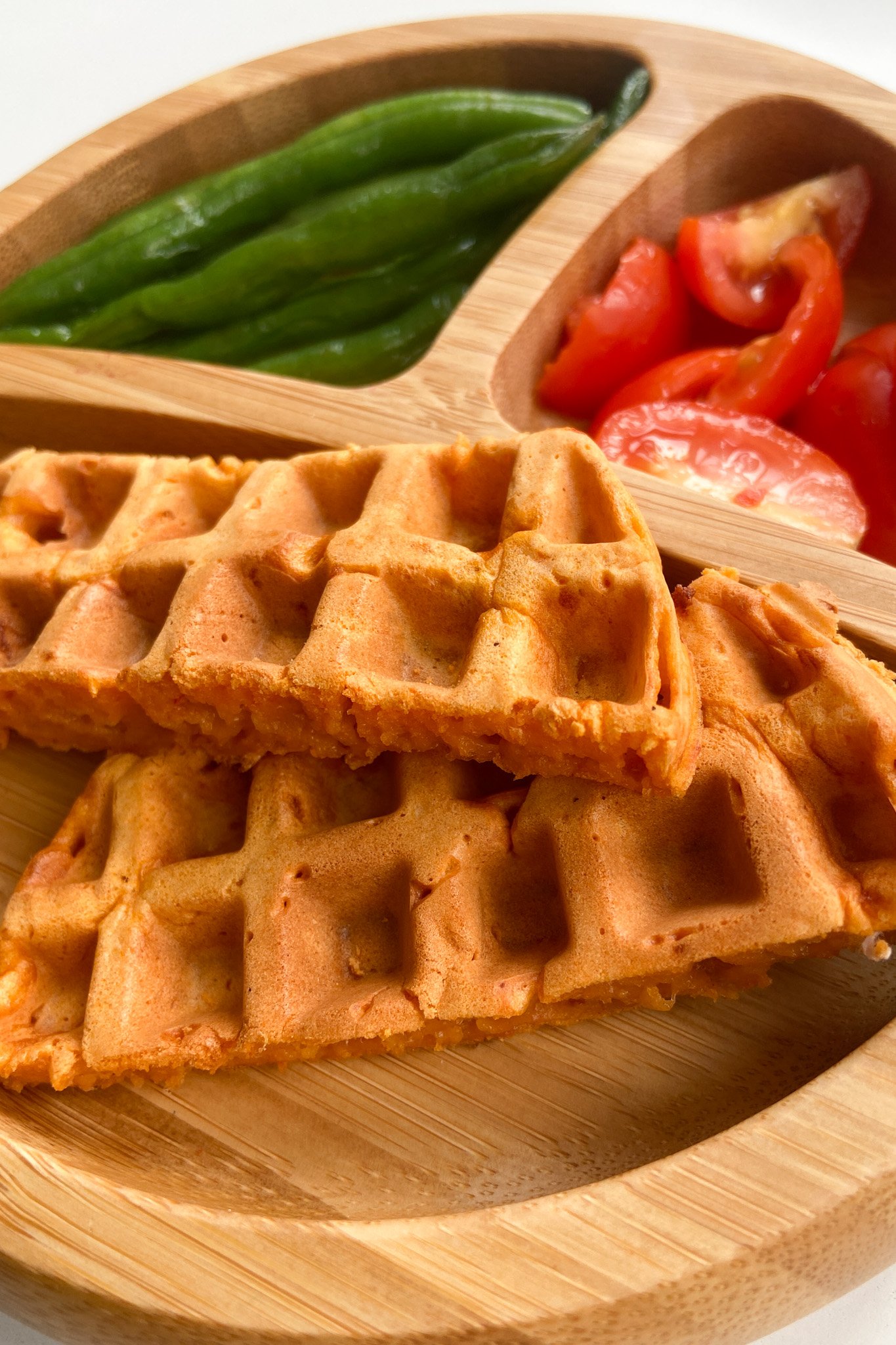 12. BEAN AND CHEESE QUESADILLAS
Quesadillas are quick to prepare and filling them with beans and cheese makes for a protein-rich lunch. To make them, simply sprinkle a little shredded cheese and a few tablespoons of precooked beans on one side of a wrap, and cook on a pan with a little melted butter on medium heat for a few minutes per side. Use cookie cutters to cut out fun shapes from the quesadillas to make them a little more fun and visually appealing for your little ones!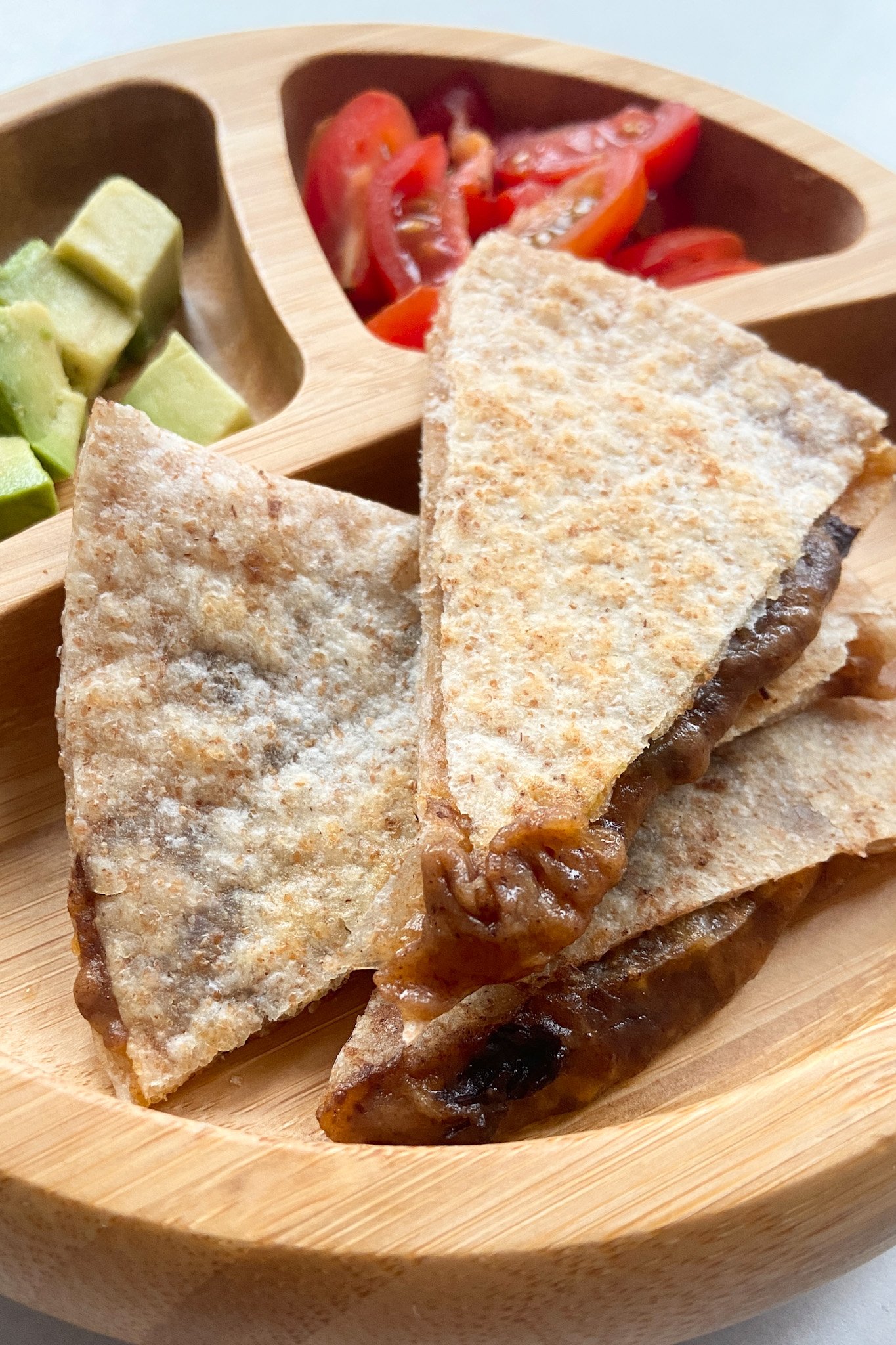 13. PEANUT BUTTER AND JELLY SUSHI
Peanut butter and jelly is a universal staple but can get boring when served the same way. This peanut butter and jelly sushi is a fun classic! To make these "sushi," cut the crusts off of a slice of bread and roll it out flat. Spread a little nut butter/seed butter and jelly/smashed fruit on the bread and roll it into a log. Slice it into 1-inch pieces and serve! Feel free to sprinkle some shredded coconut or flax seeds on top for some added nutrition!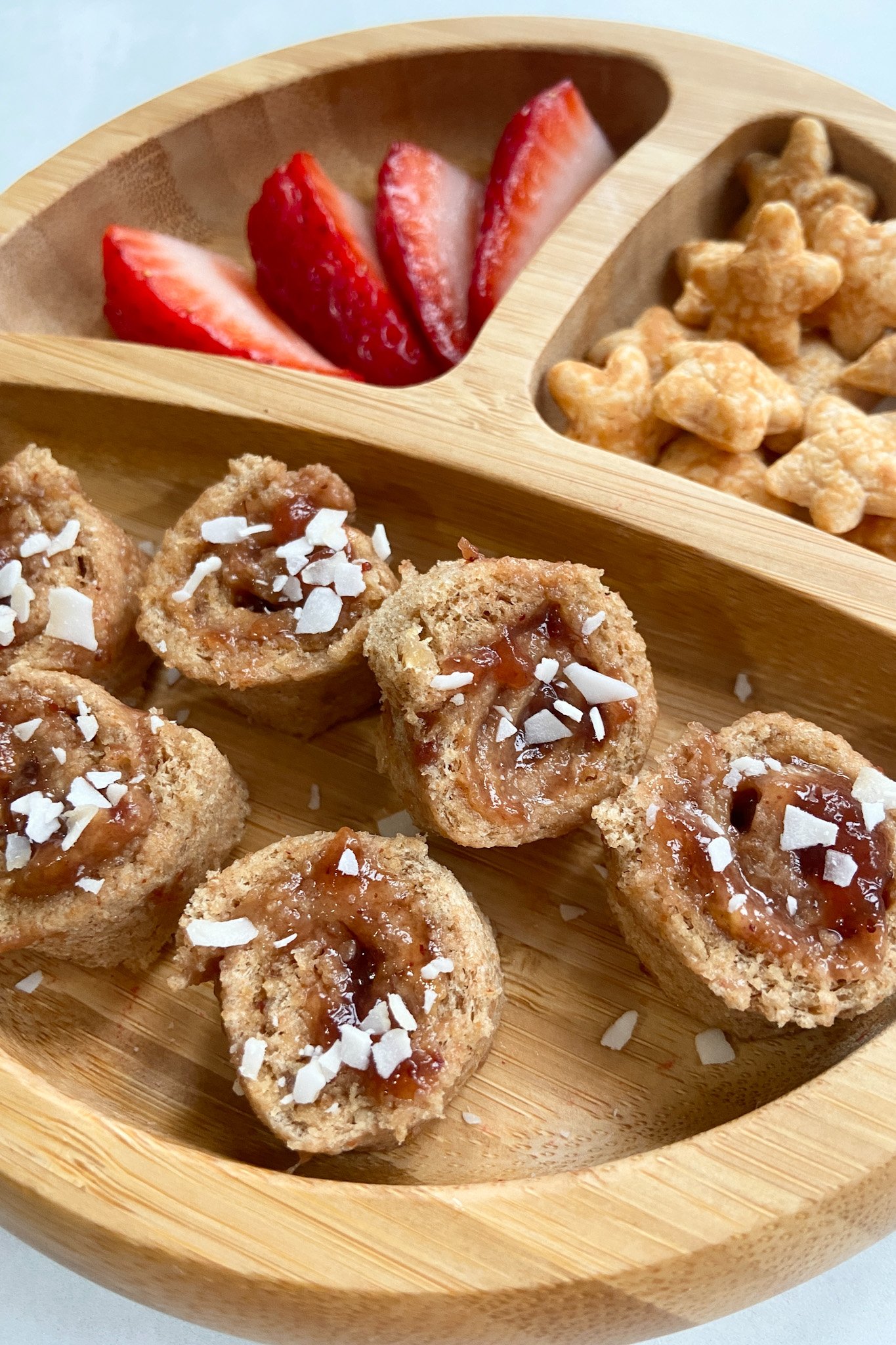 14. HUMMUS, TOMATO, AND AVOCADO ROLL-UPS
Hummus is made with chickpeas which are high in protein and fiber. Pair it with some tomatoes and avocados for the nutrient-packed meal! To make these roll-ups, spread a little hummus on a tortilla and top with a few slices of tomatoes and avocados. Roll the tortilla into a log and slice it into pieces to serve.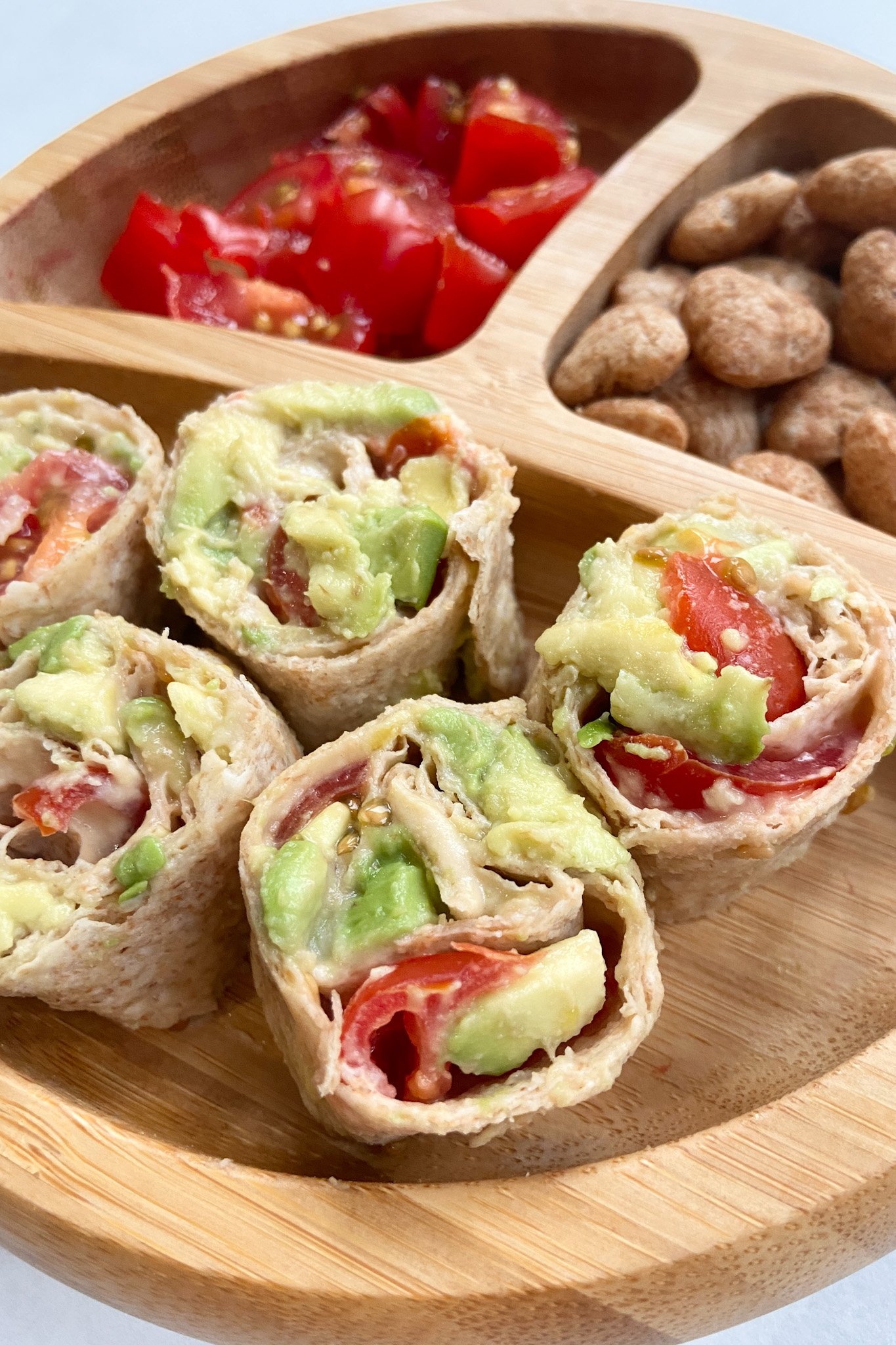 15. EASY BURRITO BOWL
You can feel free to add rice to these burrito bowls, but these are made with simple shelf-stable ingredients! Combine beans, corn, tomatoes, red onions, and cilantro together for this filling, Mexican inspired dish.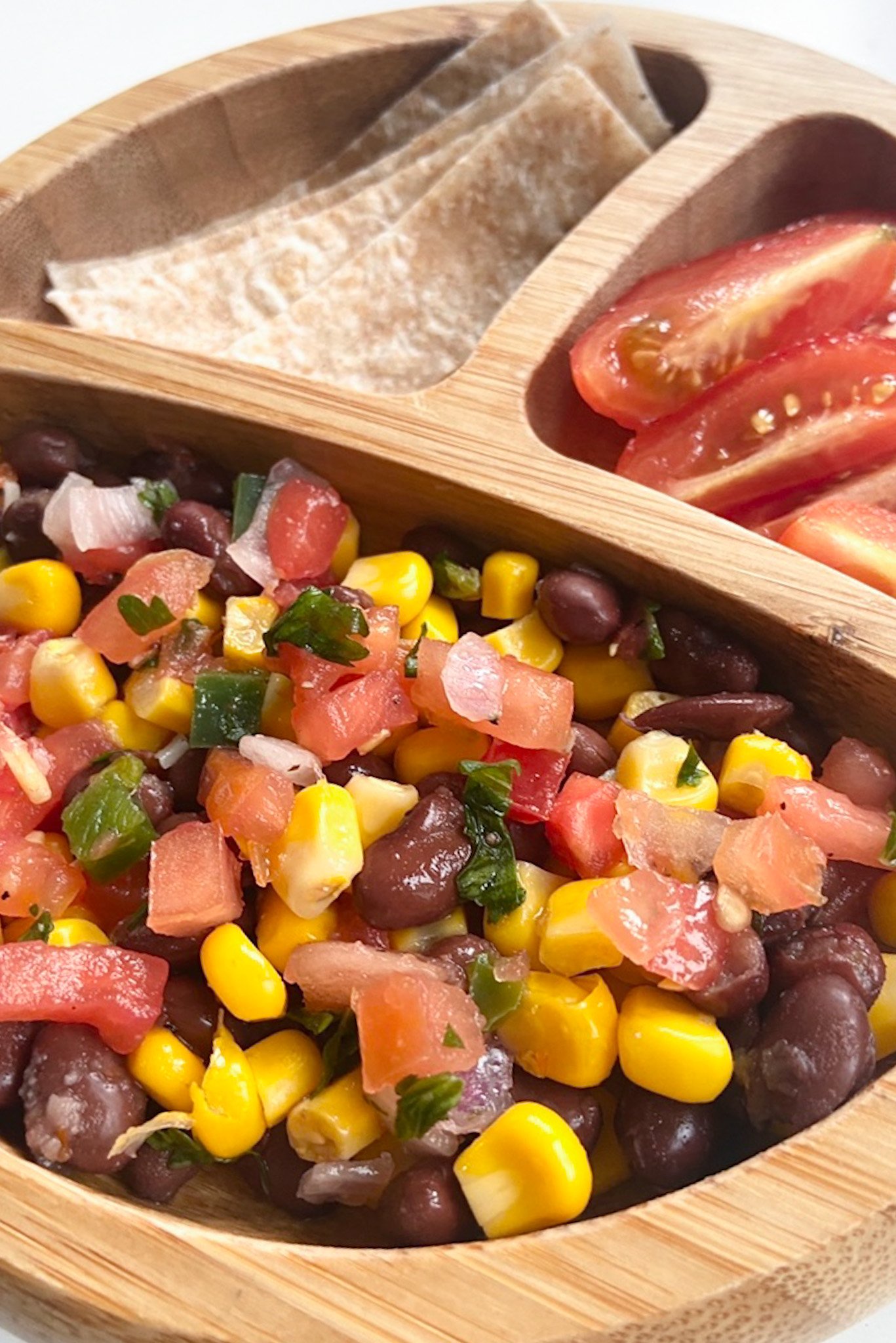 16. CHEESY PIZZA ROLLUPS
These easy pizza roll ups are a fun, mess-free way for your little ones to enjoy it! You can fill them with all of the same toppings that you love on your favorite slice of pizza and serve them with a dip or on their own!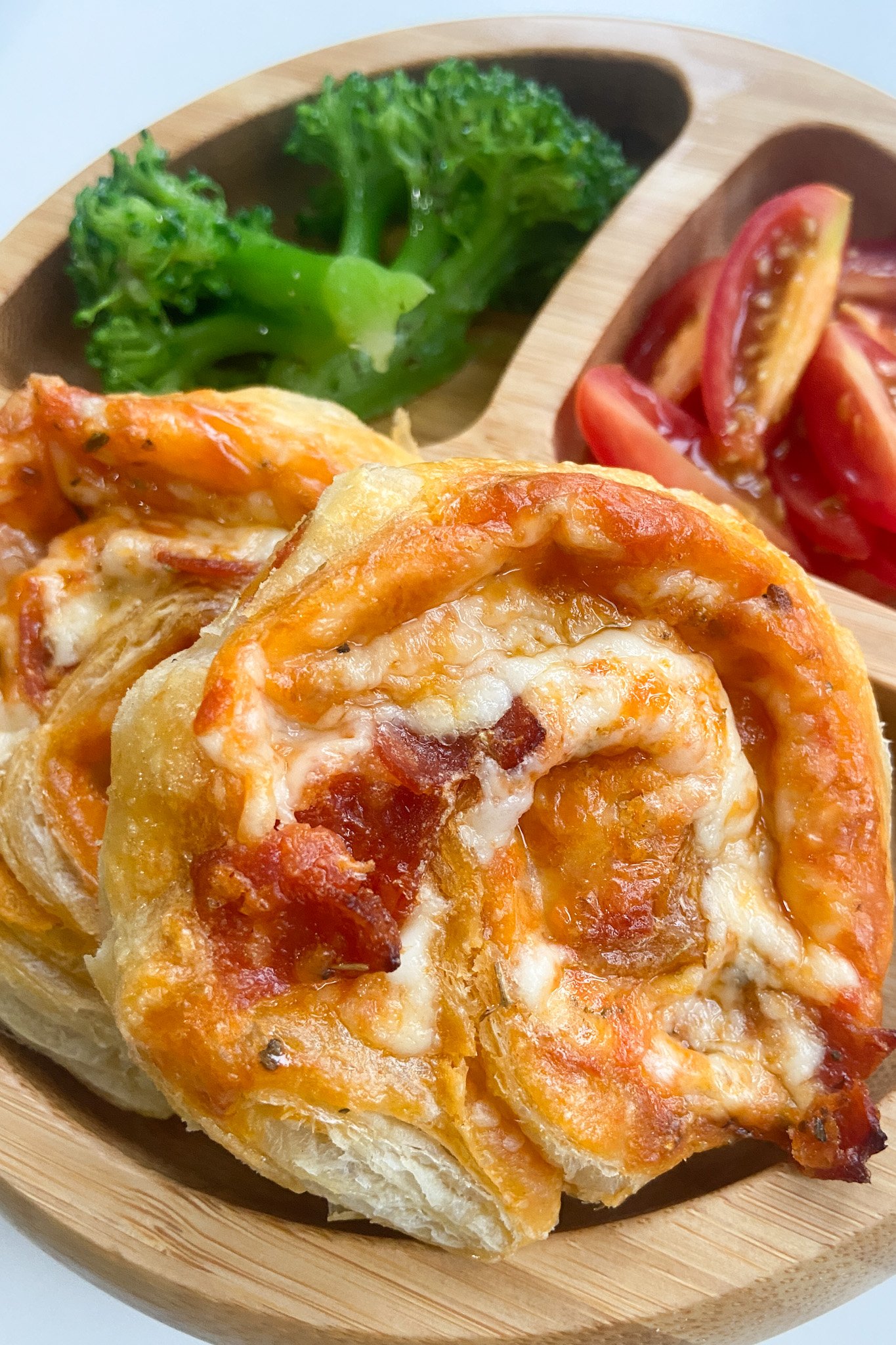 17. GRILLED CHEESE SANDWICH
A grilled cheese sandwich is a lunch classic! You can serve it with a side of tomato soup or on its own with some fruits! Feel free to cut up the sandwich into fun sizes and shapes to make the meal a little more interesting for your little one.
18. DIY LUNCHABLES
Pack up some crackers, cheese slices, and turkey for some fun DIY Lunchables! This may seem more like a snack than lunch but crackers, cheese, and turkey provide great sources of carbs and protein for this meal!
19. WAFFLE SANDWICH
A waffle sandwich is a fun take on a classic sandwich but grilled in a waffle maker. Heating the sandwich is a waffle maker gives it those fun waffle lines
20. BREAKFAST FOR LUNCH!
Who says lunch items have to be savory? Feel free to serve up your little one's favorite breakfast items such as muffins, pancakes, and waffles! Check out the full breakfast index for some fun breakfast for lunch ideas!
SIDE IDEAS: VEGETABLES
Veggies are a great option to serve alongside the main course. Here are some veggie items that can either be served raw or at room temp that you can pack to send! If your child isn't a fan of veggies, especially raw veggies, try sending along a dip for them to taste them with!
Carrots (Shredded or thinly sliced)
Broccoli
Cauliflower
Grape Tomatoes (Quartered)
Corn
Cucumber (Sliced into sticks)
Celery (Thinly sliced)
SIDE IDEAS: FRUITS
Fruits are another great option to serve alongside the main course. If your little one isn't a fan of veggies, rest assured that fruit contain some of the same nutrients!
Apples (Thinly sliced)
Bananas
Strawberries (Quartered or served whole if large)
Blueberries (Smooshed or quartered for young toddlers)
Grapes (Quartered)
Raspberries
Cherries (Pitted and quartered)
Mangoes
Manderins/ Oranges
Kiwi
Pineapples (Thinly sliced or small chunks)
Watermelon
Cantaloupes
Honeydew
Peaches
Pears
Plums
Bell Peppers (Thinly sliced)
SIDE IDEAS: SNACKS & TREATS
Everyone loves a good snack or treat! These are some quick snack ideas to serve that can either be homemade or storebought!
Applesauce
Puffs (Homemade/ Store Bought)
Yogurt Pouches
Freeze Dried Fruits
Cheese Sticks
Cereal
BEVERAGES
Things don't have to get complicated when it comes to sending drinks for your little ones! Pack a nice cold beverage for them to wash down their meal with and you are good to go!
For Babies: Babies don't need much other than breastmilk or formula. Feel free to send a few ounces of water with your little one, but breastmilk or formula should be their main beverage.
For Toddlers: For toddlers, you can alternate between sending whole milk/non-dairy beverages, 100% fruit juice, or water.
I hope that you found this guide and toddler lunch ideas for daycare helpful as you navigate packing quick nutritious lunches for your little ones!