Meal planning can be a great way to organize meals for your little ones to serve throughout the week. Here is a sample baby-led weaning meal plan with an accompanying grocery list that the whole family can enjoy!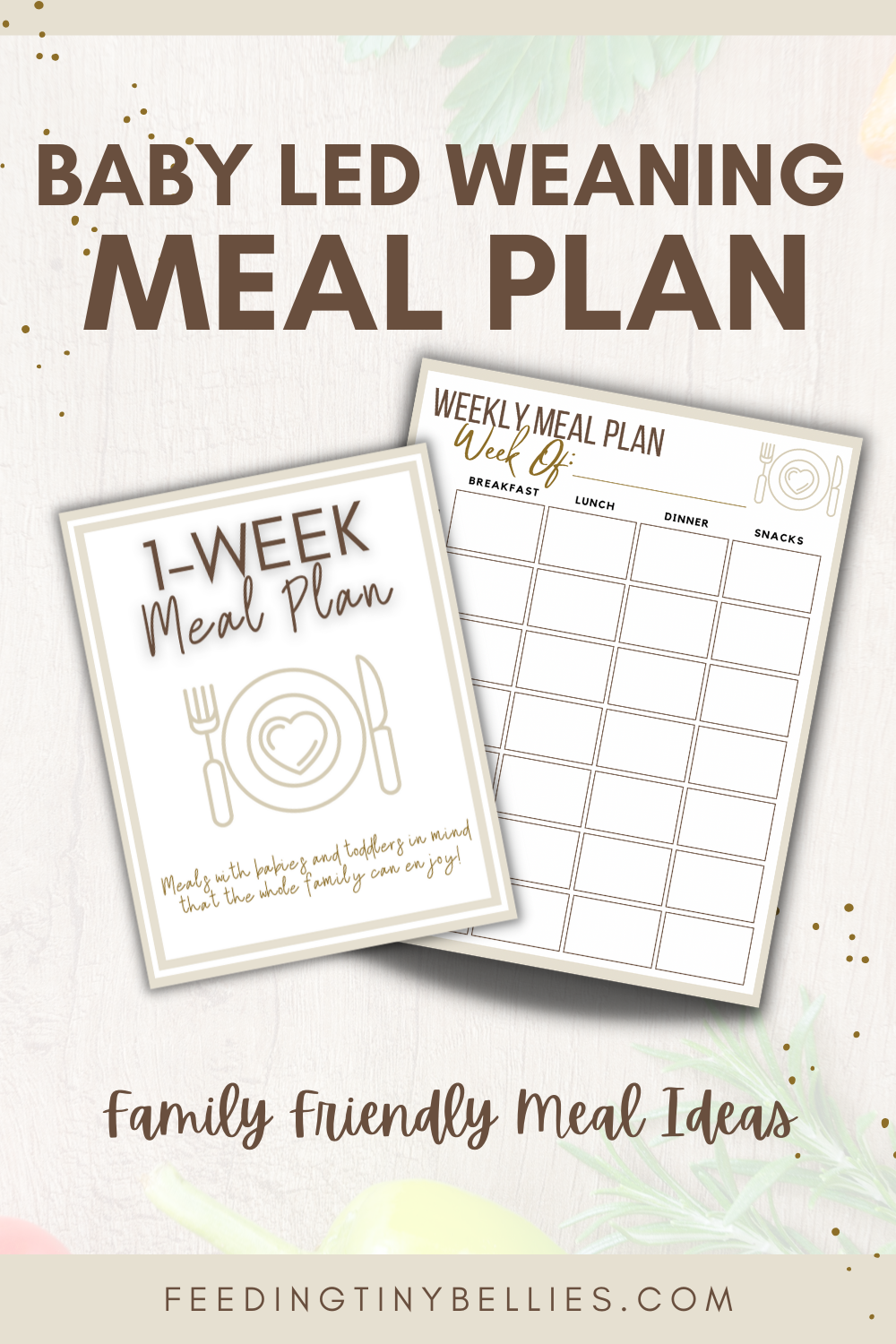 This post may contain affiliate links. If you shop with one of our links we may earn small a commission.
BABY LED WEANING MEAL PLAN
I know that meal planning isn't for everyone, but something about making a plan of what to eat throughout the week can sometimes help us feel a little more organized and sane as parents. Of course, meal plans don't have to be set and stone as plans change and life happens, but it is nice to have an idea of meal ideas and groceries that are needed for those meals. Here is a sample of how I plan meals for the week for the entire family.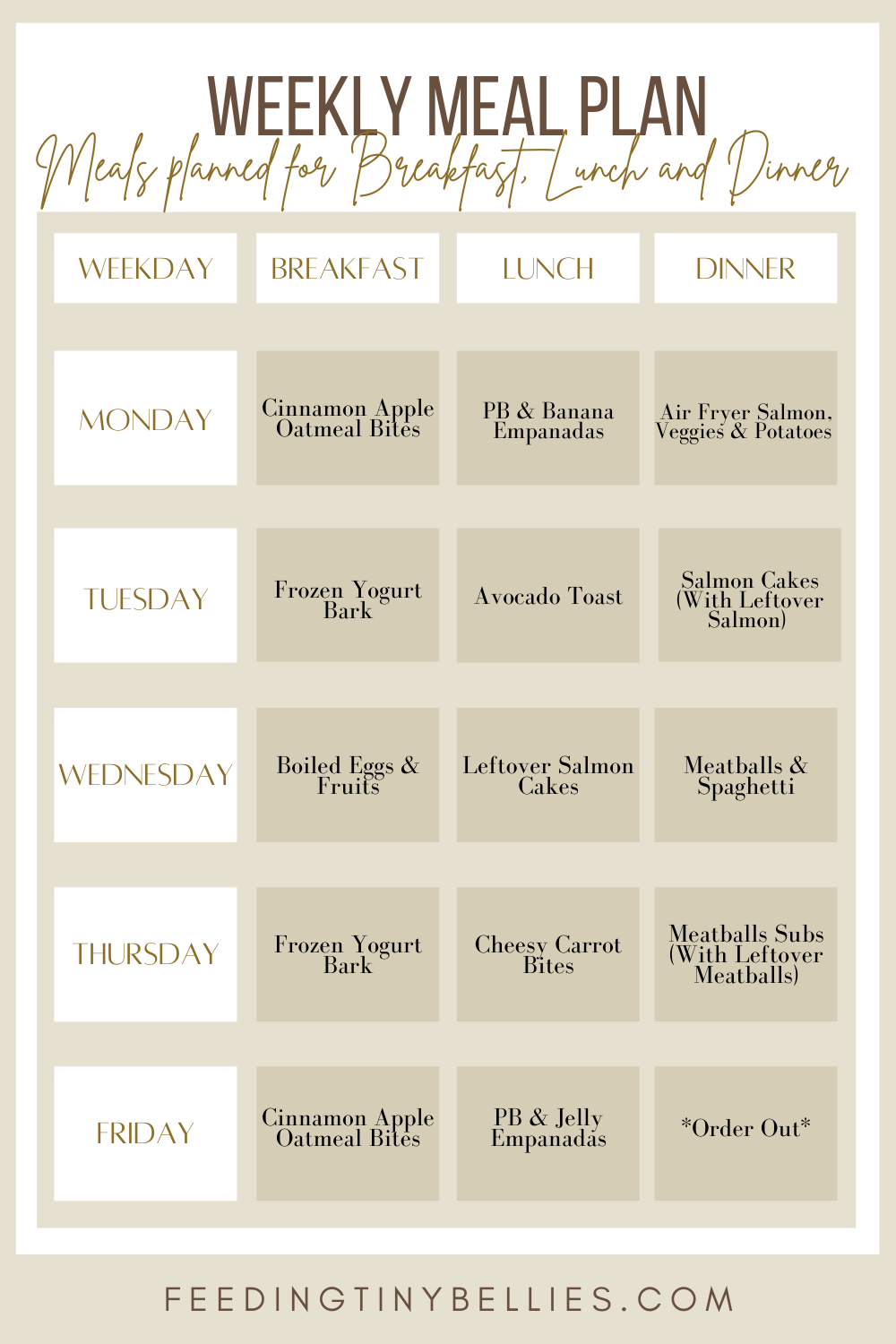 BREAKFAST RECIPES
When it comes to breakfast, I love keeping things simple with premade, frozen recipes that can be easily reheated. I have Cinnamon Apple Oat Bites listed for breakfast options on Monday and Thursday of this week. These bites are something that I would have prepared and frozen the weekend before and simply reheated to serve my boys in the morning. I also love that these are great for the adults to eat as well! My husband and I can quickly grab a few of these bites in the morning for a great serving of oats.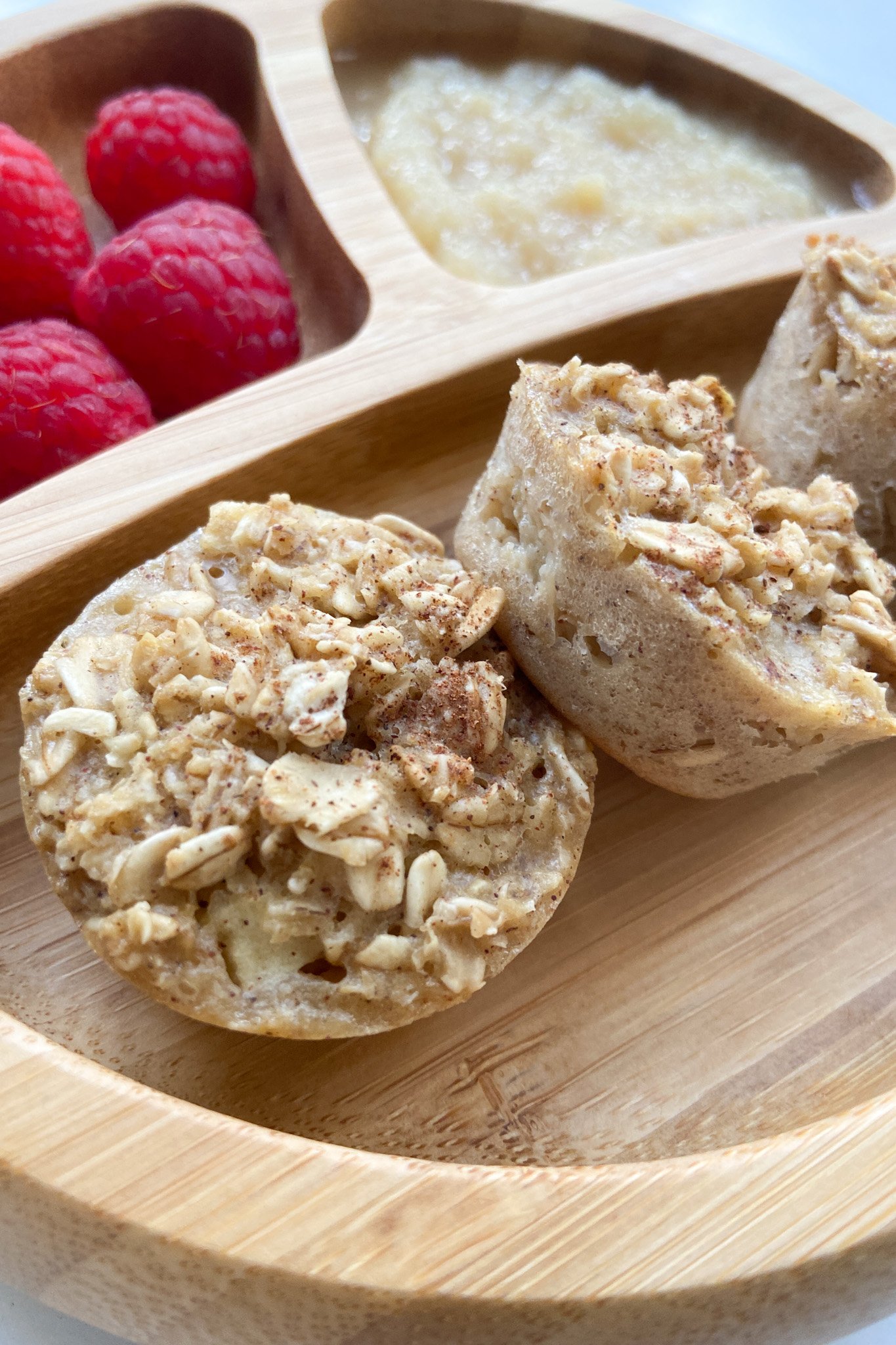 Frozen Yogurt Bark is listed for breakfast on Tuesday and Thursday. This bark is a less messy way of serving yogurt. It can be loaded up with fruits, granola, coconut, and nutritional seeds (ex: flax seeds and chia seeds) to make them more filling and nutritious.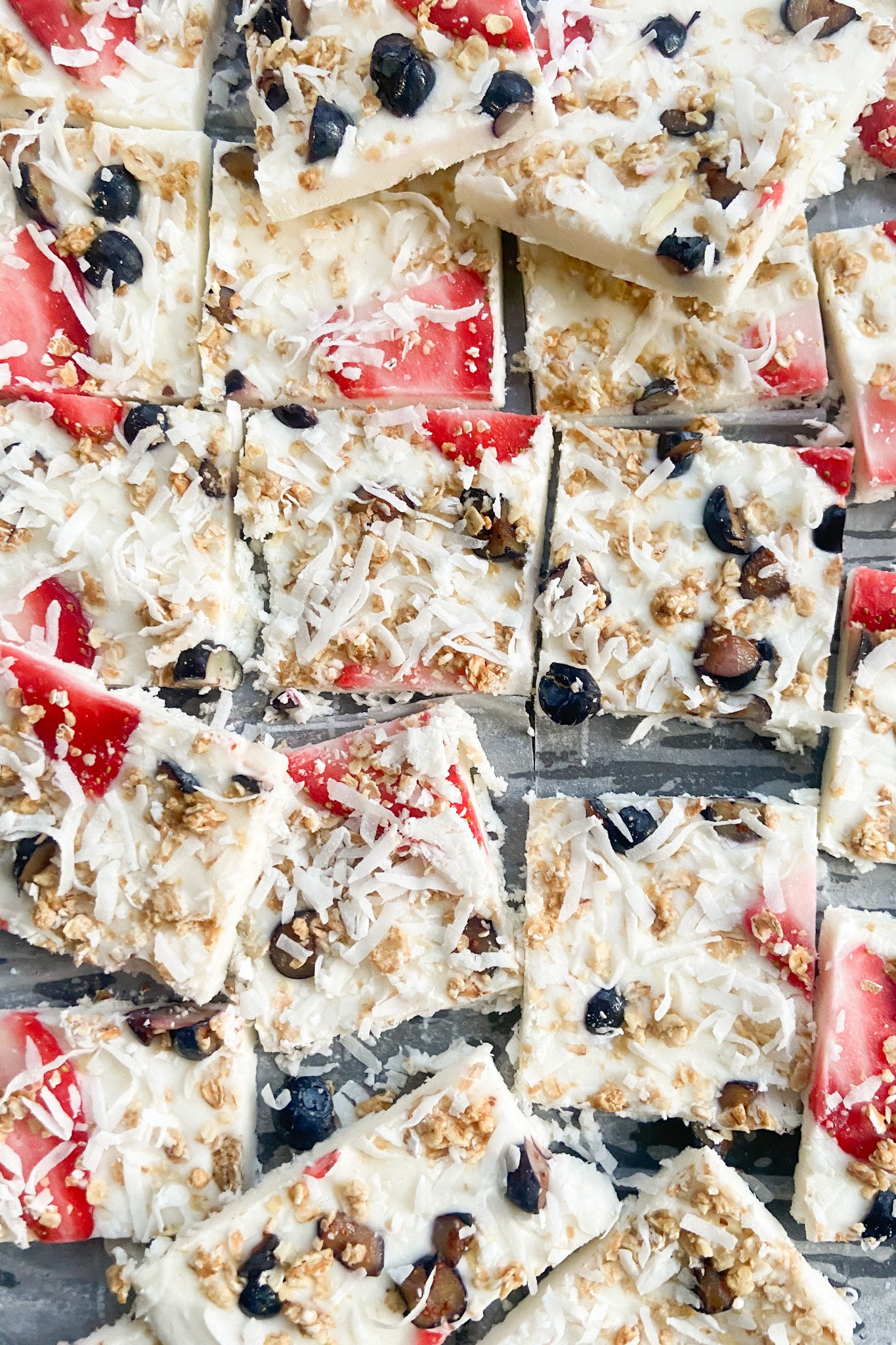 Boiled eggs are on the menu for Wednesday. I wanted to break up the sweet breakfast treats with an easy source of protein. Boiled eggs are always a quick option. Serve them with a side of fruits for an easy meal!
LUNCH RECIPES
Empanada sandwiches are always a go-to lunch option. They are so easy to make and can be customized with your little one's favorite fillings. They are on the menu on Monday and Friday with slightly different fillings to switch it up!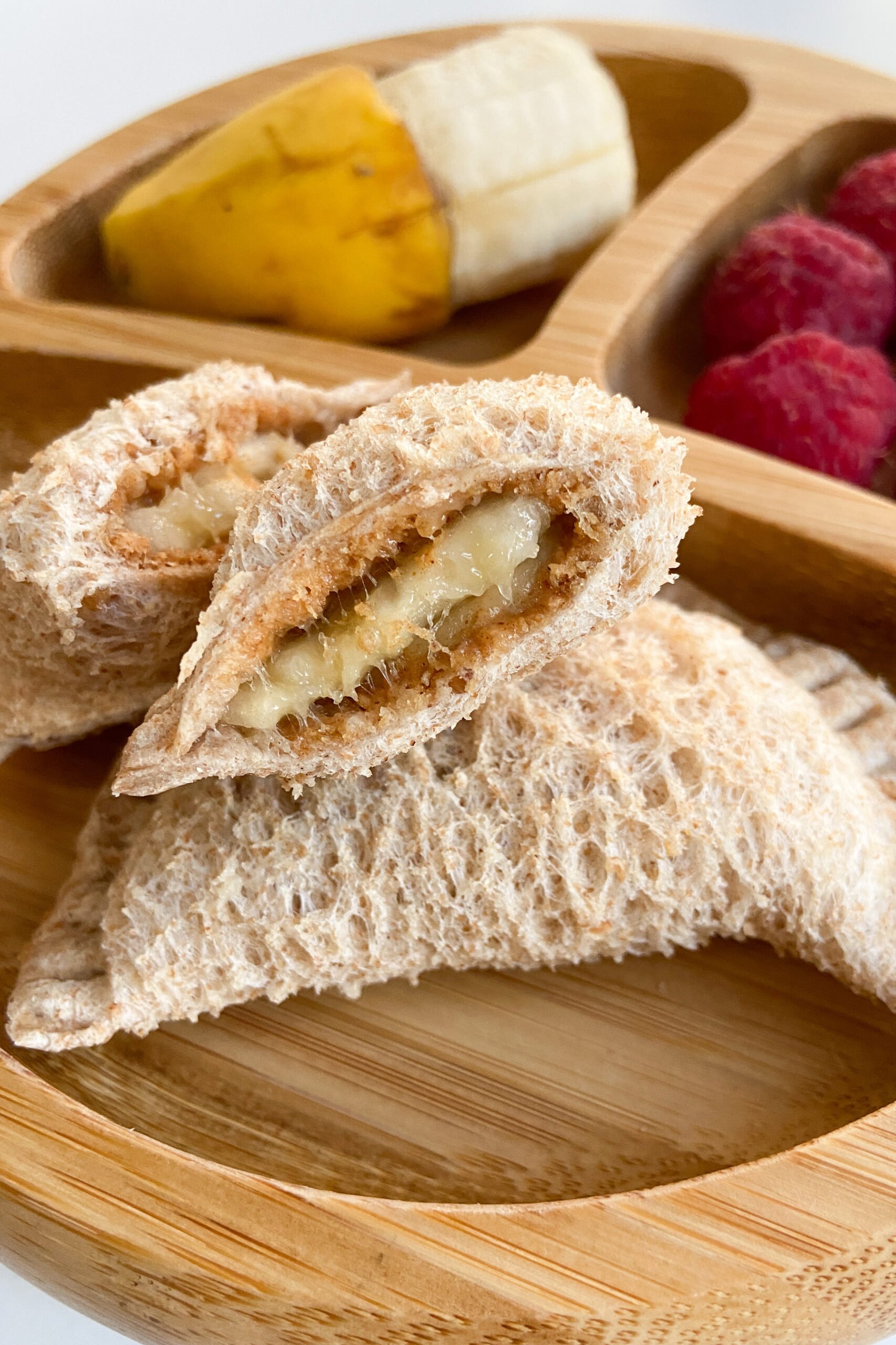 Avocado toast is another simple option that can be prepared in minutes. Keep it simple with some smashed avocado on some toasted bread or get creative with a few extra fun toppings for added flavor!
Leftover Salmon Cakes are on the menu for Wednesday and they are hands down my favorite way to use up leftover salmon filets. I'm all for using and repurposing leftovers because the more leftovers, the less cooking required the next day. Win-win 😉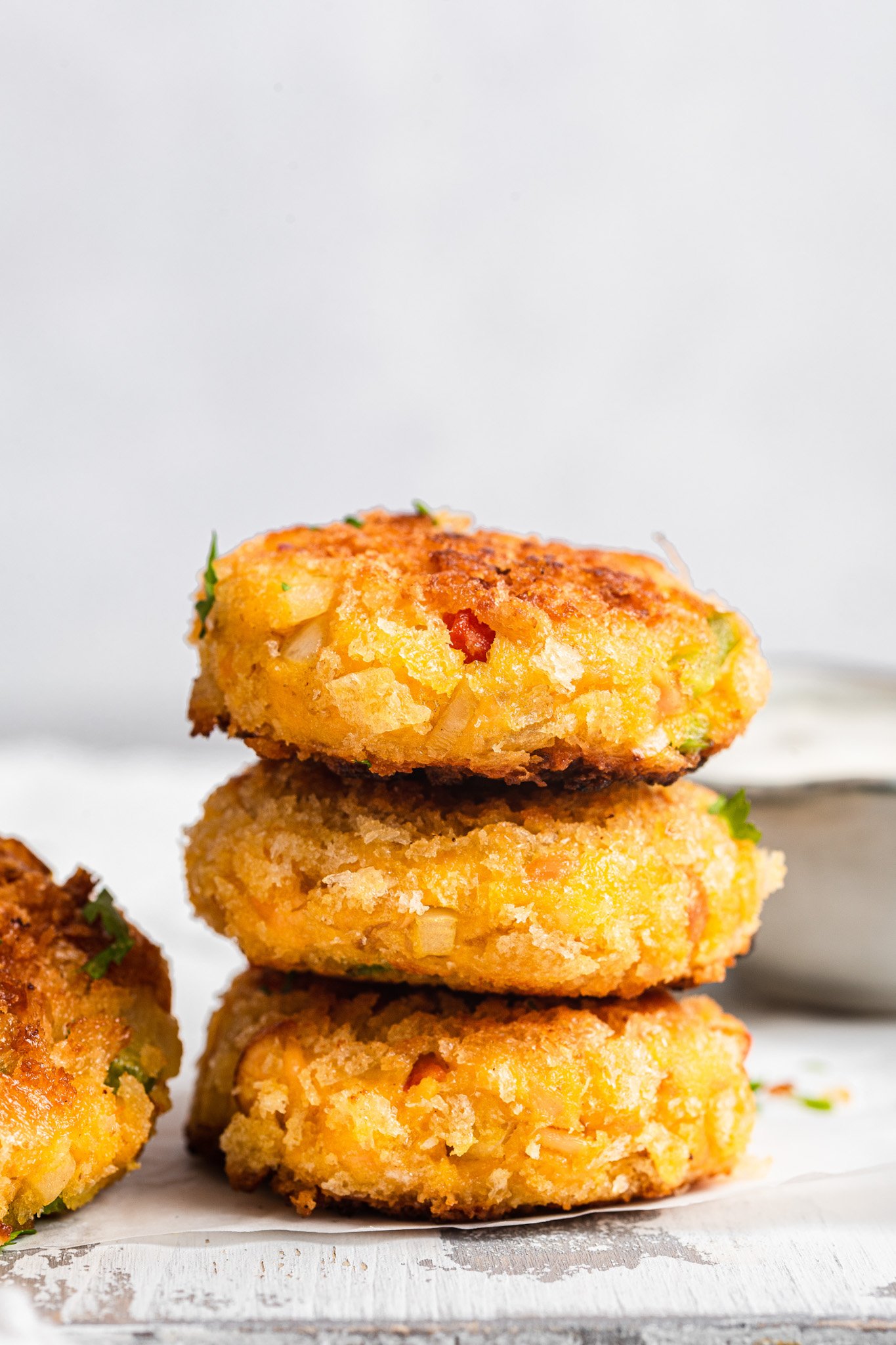 Cheesy Carrot Bites are one of my boys' favorite lunch items and I've been making large batches to store and freeze for easy reheating. Serve them with a dip or on their own for a fun bright orange lunch!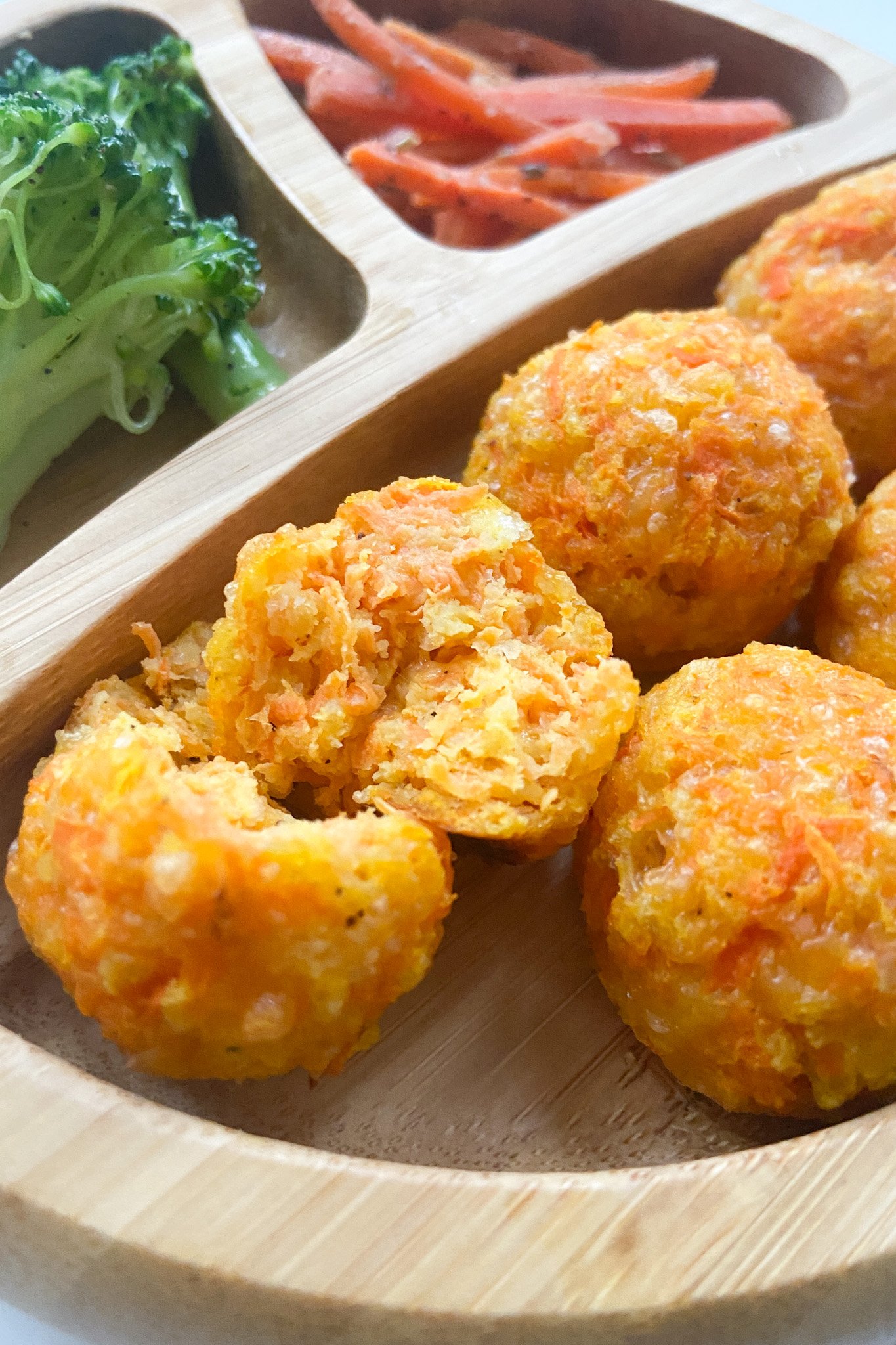 DINNER RECIPES
Air frying has changed the meal prep game for me big time and there is always at least one meal I make with it each week. On Monday, salmon, green beans, and potatoes are on the menu and are all made in the air fryer. Click the links above to grab each recipe!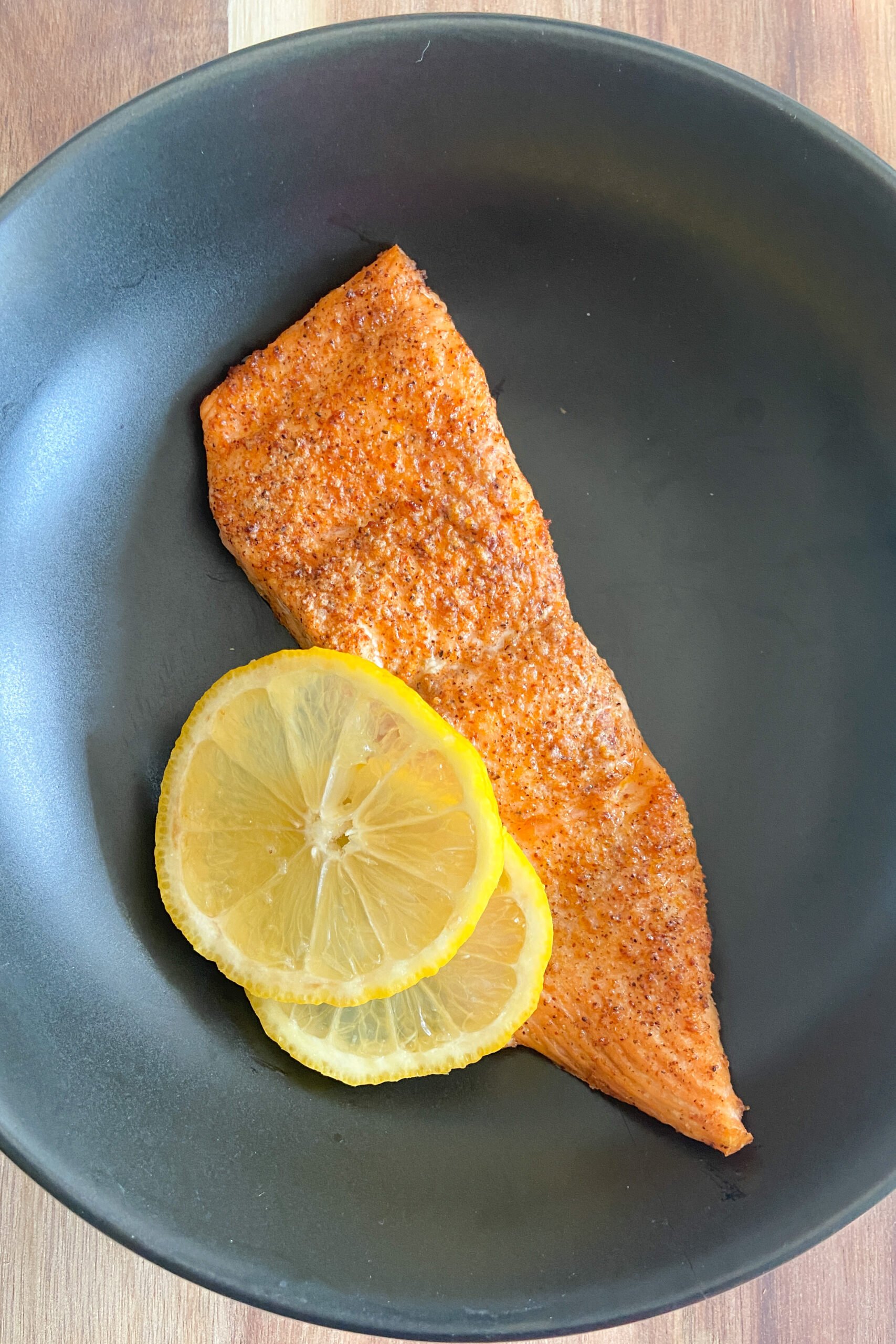 The salmon cakes mentioned in the lunch recipes above are on the menu for Tuesday night. I try to make enough fish on Monday night so that I will have enough leftover to last for dinner and lunch the next 2 days.
Spaghetti and Meatballs are on the menu Wednesday night and are a family favorite. These meatballs are so easy to make and come out juicy every time right out of the oven. Serve them in sauce over pasta or on their own with a side of veggies!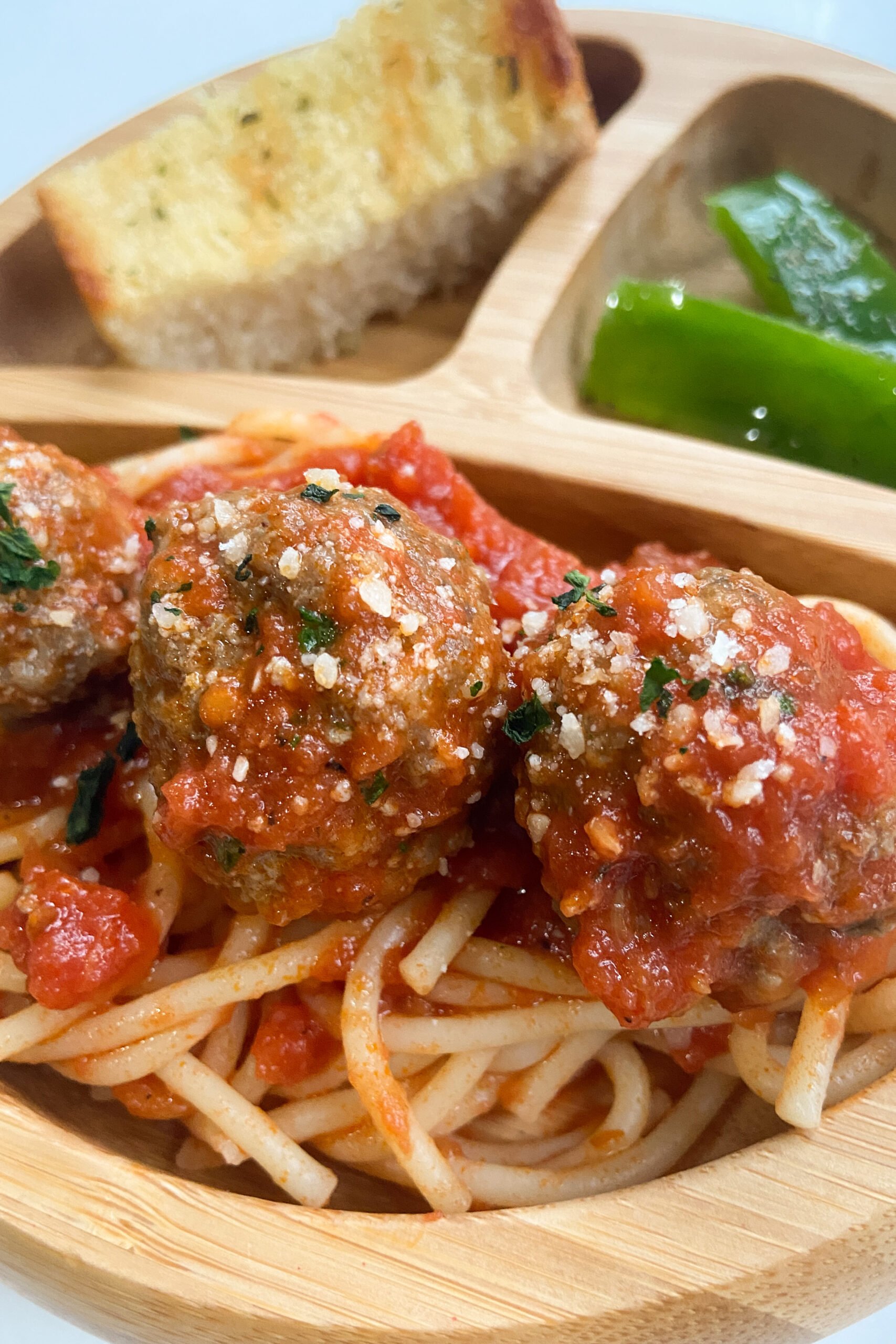 As the leftover queen, I make sure to make enough meatballs to have enough for leftovers the next night. Meatball subs are on the menu for Thursday night and I usually serve the boys a deconstructed version with a side of bread and veggies.
I usually like to give myself a little break on Friday nights and we order out a new meal. On the weekends we like to make a full hot breakfast and eat together as a family.
GROCERY SHOPPING LIST
Once I fill in meal ideas for items I'd like to make throughout the week, I put together a grocery list of items I'll need for each recipe. I check off items that I already have stored in my fridge or pantry and limit the list down to only the items I'll need. I've found that doing this helps me to pick up only what I need when grocery shopping because I tend to get carried away and overspend when I don't have a detailed list.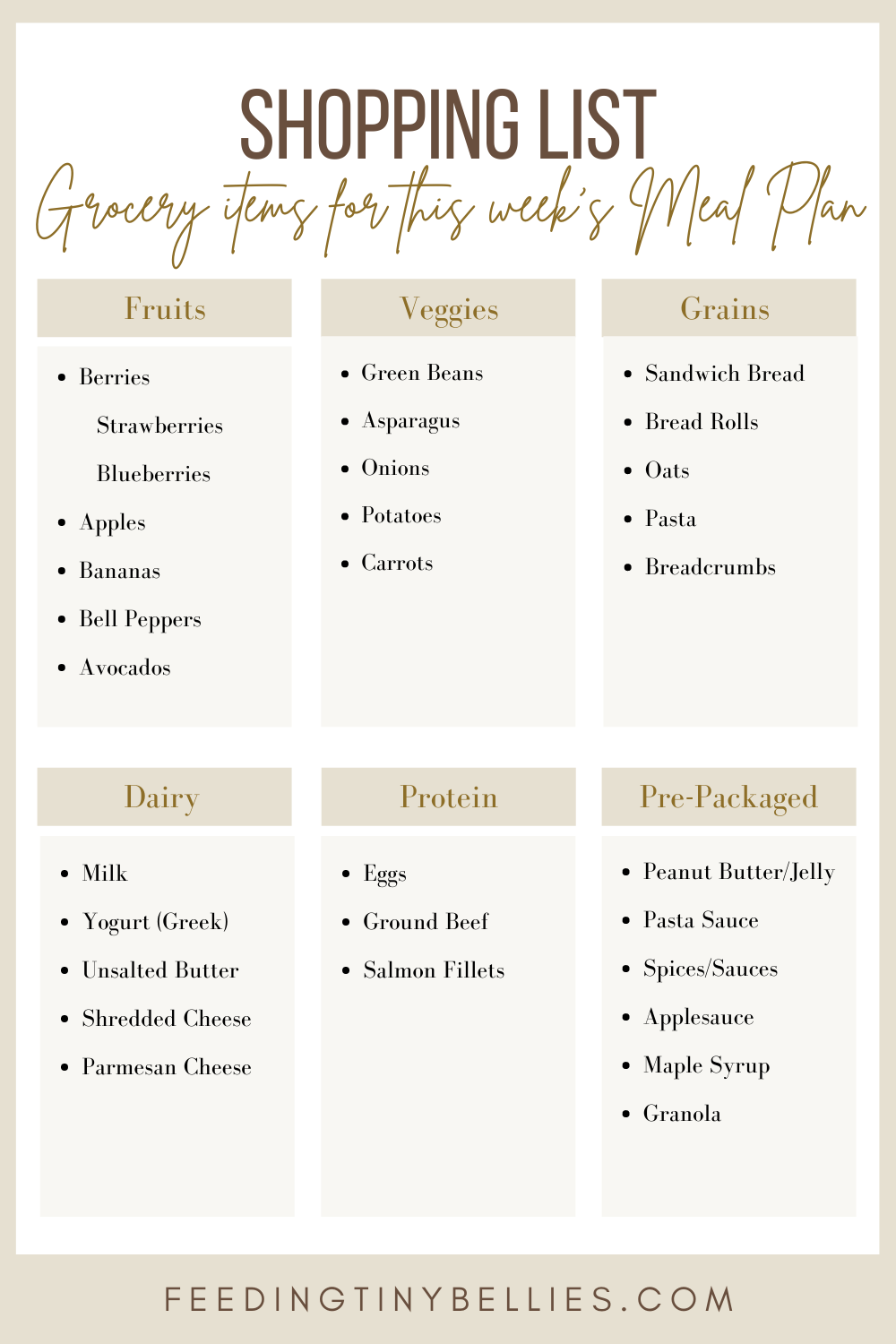 Here is a sample of what the grocery list would look like for this week's meal plan. Keep in mind that many of these items would last beyond one week and can be used in several recipes and meals down the line.
SO, EVERYONE EATS THE SAME THING?
You'll notice that all of the recipes above are meals that the whole family can eat. I rarely ever make separate meals for my little ones. Foods should be modified appropriately according to your little one's age, but that doesn't mean that they can't enjoy the same meals as everyone else! Meal planning with the whole family in mind definitely makes the process much easier, so don't feel like you have to make a separate meal plan just for your baby!
MEAL PLAN TEMPLATES
Some people do great with digital lists, but I've always been a writer and love writing out lists and plans by hand. I print out and laminate my weekly meal plan templates and use a dry erase marker to fill out meal ideas for the week. If anything changes, I erase and replace and stick the template back on the fridge so that my husband is in the loop of what we'll be eating as well.
I also print out and laminate my grocery list templates to fill in groceries by category. I find that organizing my category helps me get in and out of the store as soon as possible since common items are grouped together.
Check out my Etsy shop if you are interested in using these templates for your weekly planning!
I hope that you found this baby led weaning meal plan helpful and a guide you can use to make meal planning and prepping for your little ones a little bit easier!