We all have those days where we are absolutely exhausted and the last thing we want to do is pull out several pots and pans to put together a meal. Here are some easy toddler meals that are great to put together in a pinch!
This post may contain affiliate links. If you shop with one of our links we may earn small a commission.
As much as I love coming up with different meal ideas for our family, there are days when I am TIRED and just want to lay on the couch and take a nap. There are days when there is so much going on and I'm running on survival mode while trying my best to handle everything around me. Even in survival mode, there are many ways to prepare nutritious, balanced meals that require little to no effort at all. Here is a list of items that are great to have on hand as well as some ideas for easy toddler meals!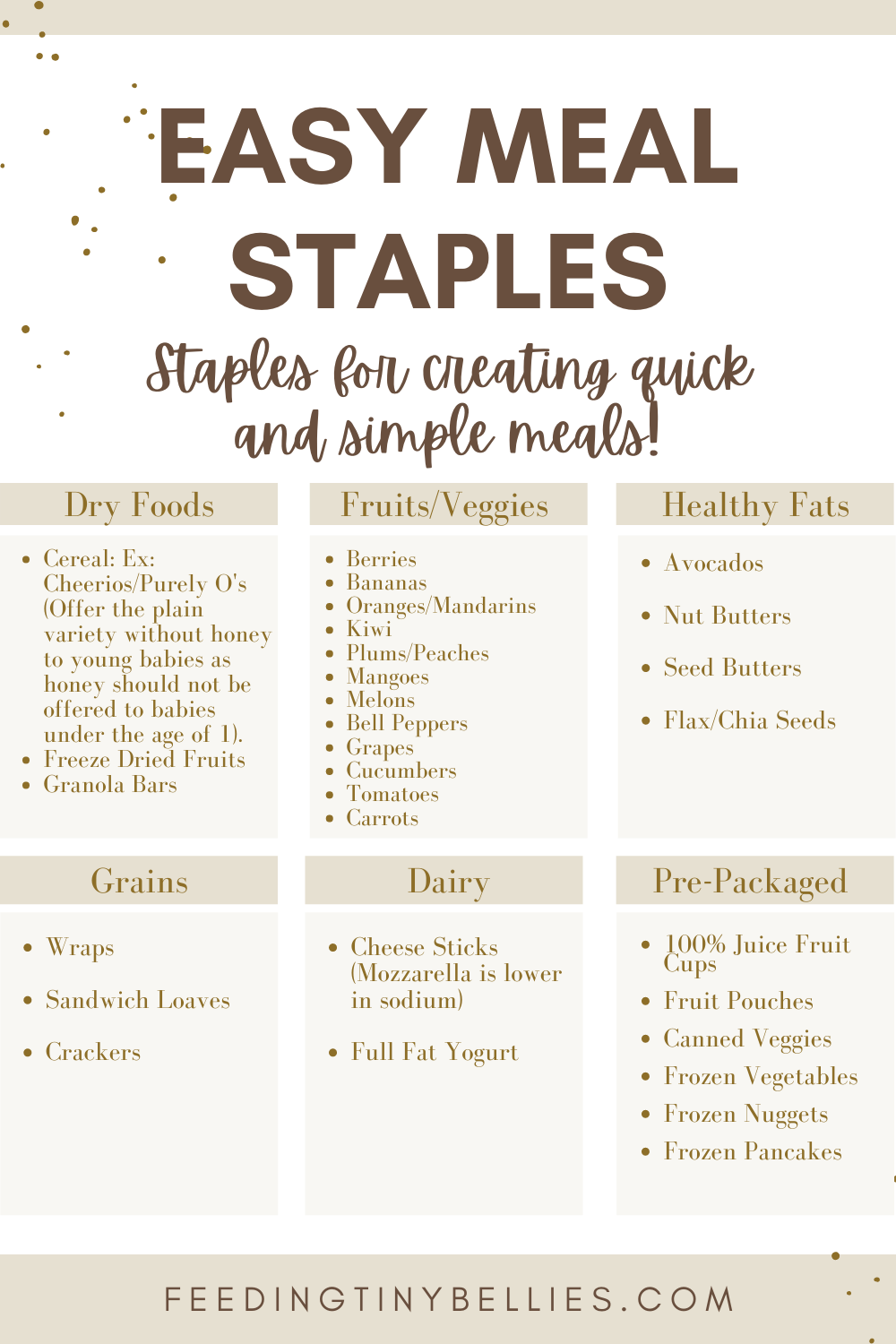 FRUITS/VEGGIES
Fruits and veggies are king when it comes to easy sides. Fruits and vegetables are great sources of vitamins, minerals, and fiber. I try to make sure to have some type of fruits and veggies always available in my house. Fruits and vegetables come in all forms: fresh, frozen, freeze-dried, canned, etc. It is great to have a mix of all types so that you won't worry about running out of options if something runs low.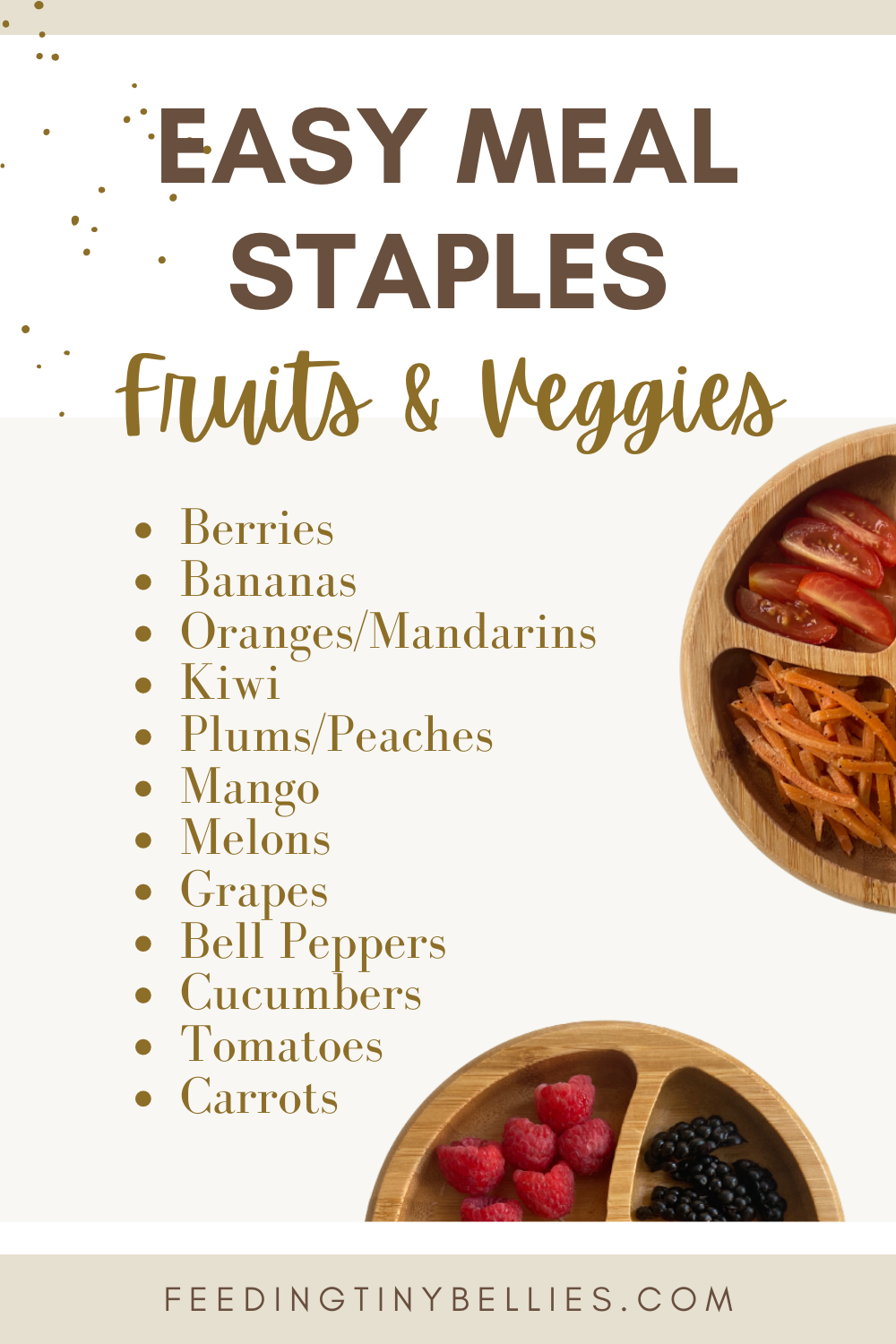 DRY FOODS
Dry foods are great to stock up on because they usually have a long shelf life and are great to use for a quick meal or snack. Some great dried foods to have on hand are cereal, freeze-dried fruits/vegetables, and crackers. Crackers are a source of carbs and can be paired with a protein for a balanced meal or snack. Freeze-fried fruits/vegetables have an extremely long shelf life (if properly stored) and are a great way to expose your little ones to different textures. Cereal is always a great easy option to serve with milk for breakfast, or on its own for a snack! (Note: Milk should not be offered as a replacement to breastmilk or formula to babies under the age of 1).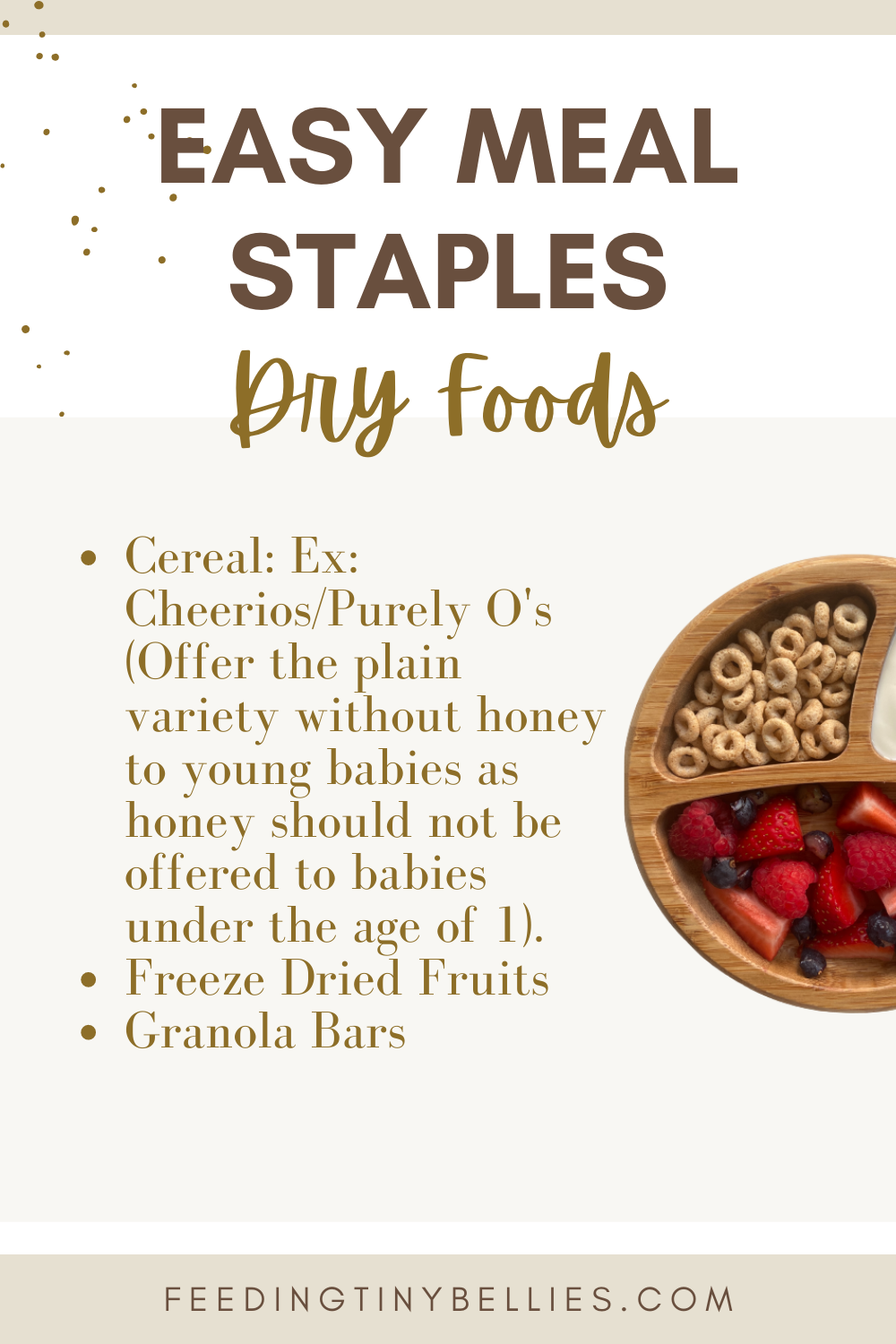 HEALTHY FATS
Healthy fats are such a key component of our diets, so try to incorporate them into meals when possible. Nuts are rich in healthy fats which makes nut butters a great option. Seed butters are a great alternative for those with nut allergies. Avocados are also a great source of healthy fats and can be frozen to preserve freshness! Flax and chia seeds are small, but mighty sources of fats. They can easily be sprinkled directly on foods or incorporated into baked goods for added nutrition.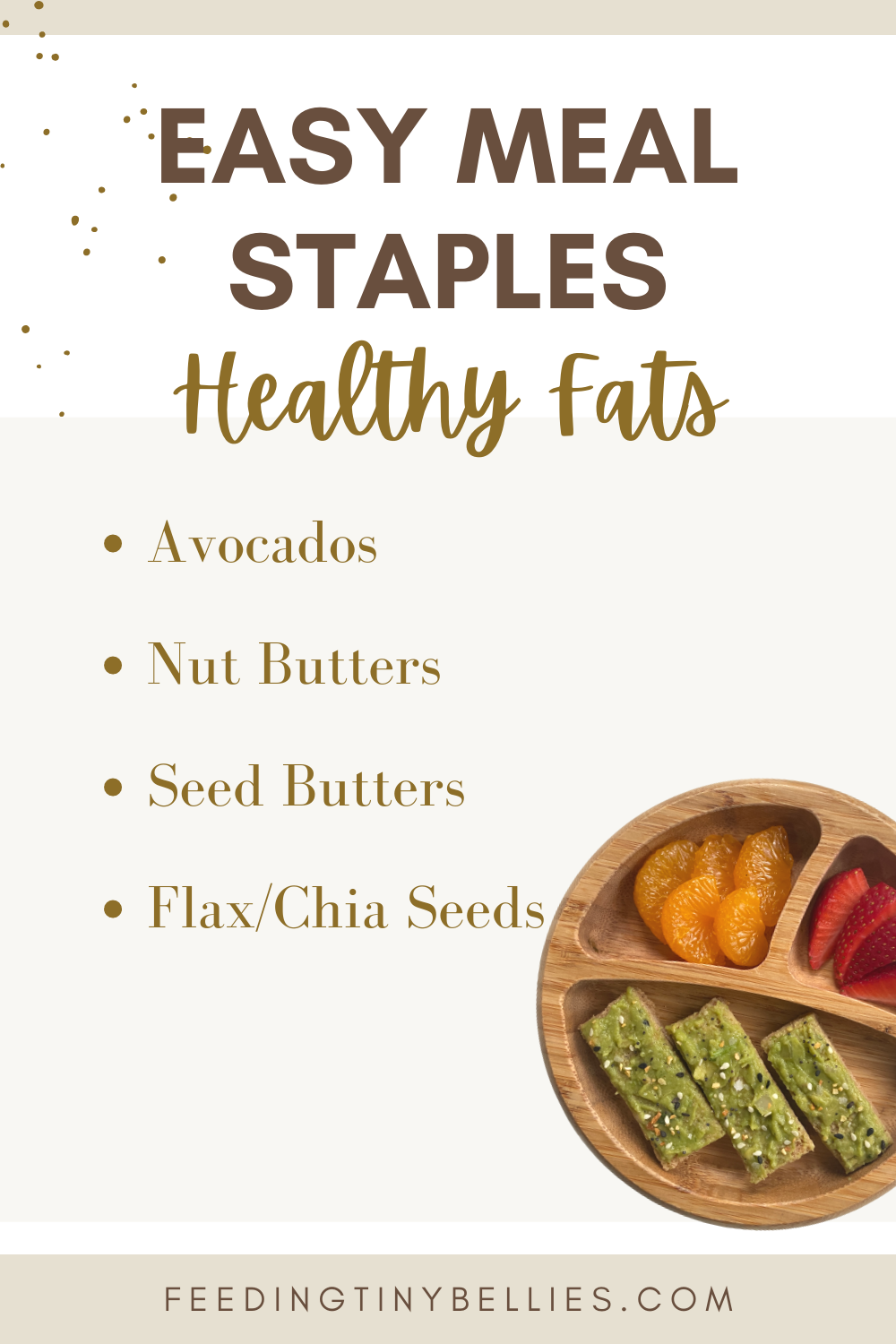 GRAINS
One of the first things that come to mind when we think of an easy lunch is a sandwich. You can never go wrong with a classic sandwich which is why bread is something great to always have on hand. When searching for types of bread, try to pick up brands that are low in grams of sugar and are high in fiber and protein. Wraps are also a great grain for whipping together a quick quesadilla or roll–up!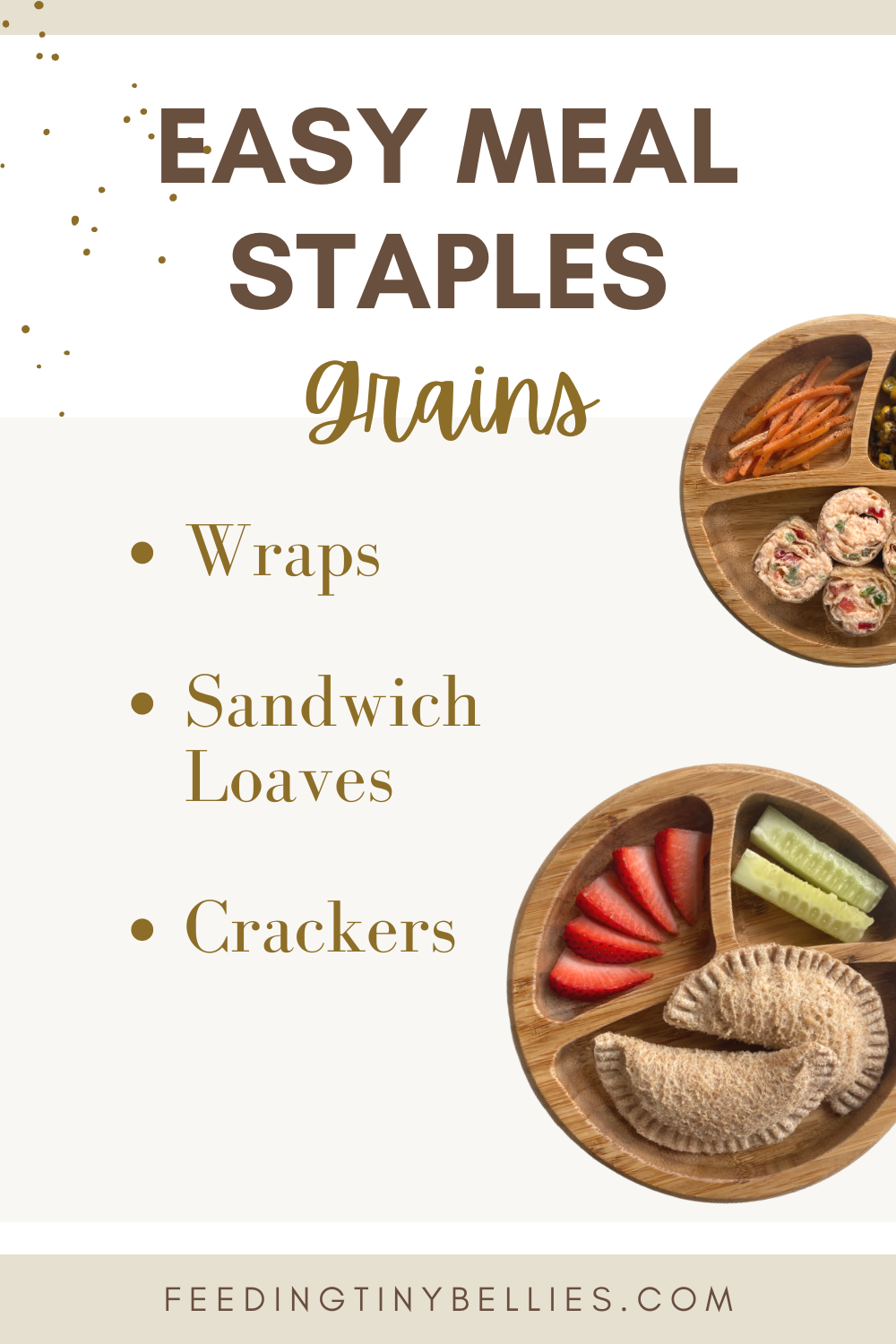 DAIRY
Cheese sticks and yogurt are great go-tos for easy meal and snack options. Yogurt and cheese are both high in protein and fats.
PRE-PACKAGED
I love stocking my fridge and pantry with pre-packaged items. Whether it's something that I can grab right out of the pantry and serve as is or something I can quickly reheat, I love a good easy option.
One great pre-packed item is fruit cups. Purchasing fruits in different forms is great just in case you're out of fresh fruit and don't have a chance to run to the grocery store. Fruit cups have a longer shelf life and can be offered as is or incorporated into recipes or smoothies. Look to purchase those labeled "in 100% fruit juice" as other varieties tend to have added sugars. Fruit pouches like applesauce are also great to have on hand to serve as a snack or side.
When it comes to frozen foods, frozen veggies (ex: frozen corn, frozen mixed veggies, frozen green beans, etc.) are lifesavers. They can easily be reheated when needed to stir into meals or served as a side. Frozen chicken nuggets and pancakes are also great to stock up on to microwave/air-fry for a quick meal. I make homemade versions of these to freeze as well, but store-bought ones are always great to have on hand for when those run out!
Canned goods like canned beans and corn also tend to have a long shelf life. and they can quickly be reheated to serve as well.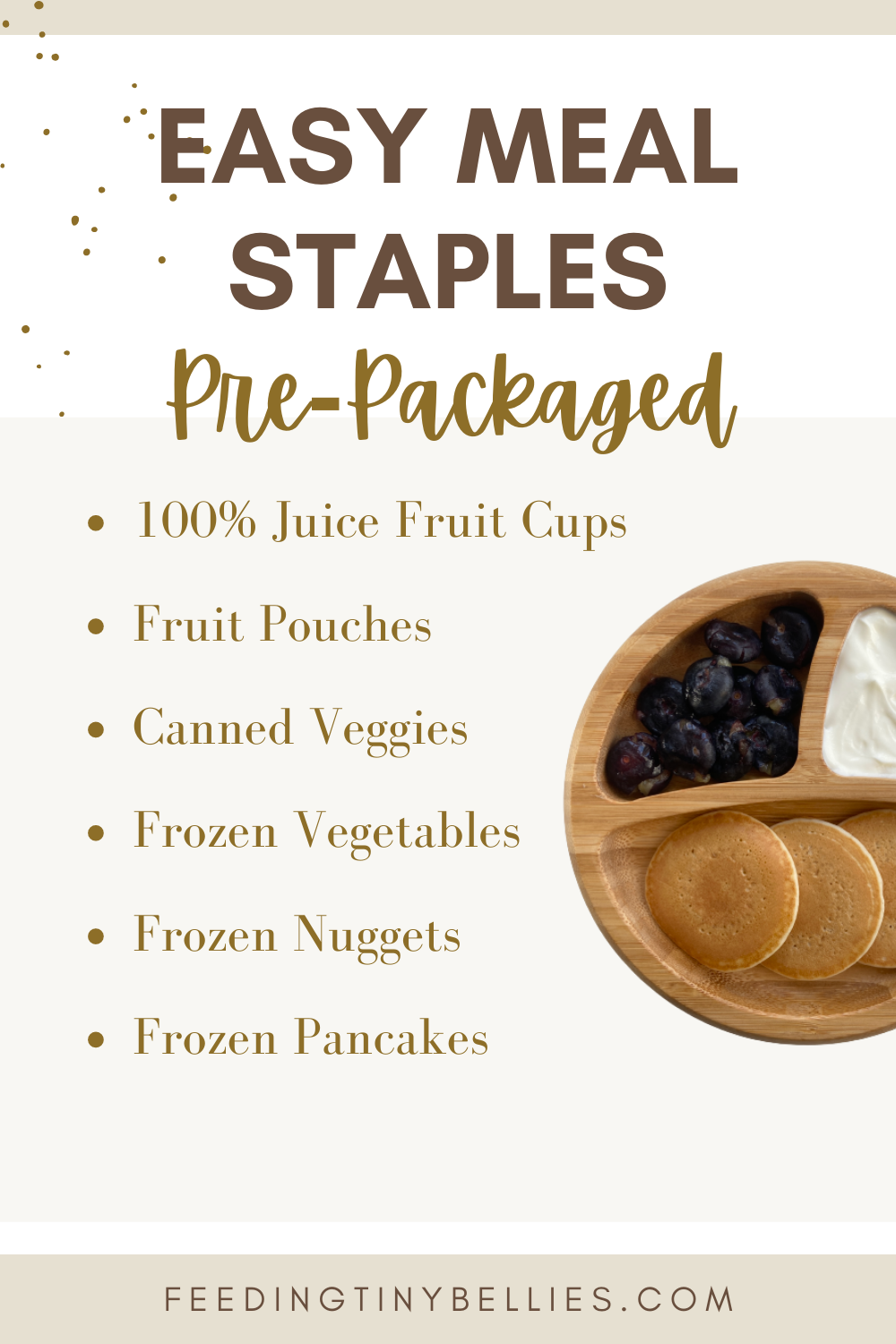 WHAT MY TODDLER ATE IN A DAY
Below is a sample of what my youngest toddler ate in a day. It was one of those days where I was extremely exhausted and just needed to get meals on the table. These meals may seem pretty basic, but they contained fats, carbs, protein, and essential vitamins! Meals don't always need to be super fancy to hit key food groups 😉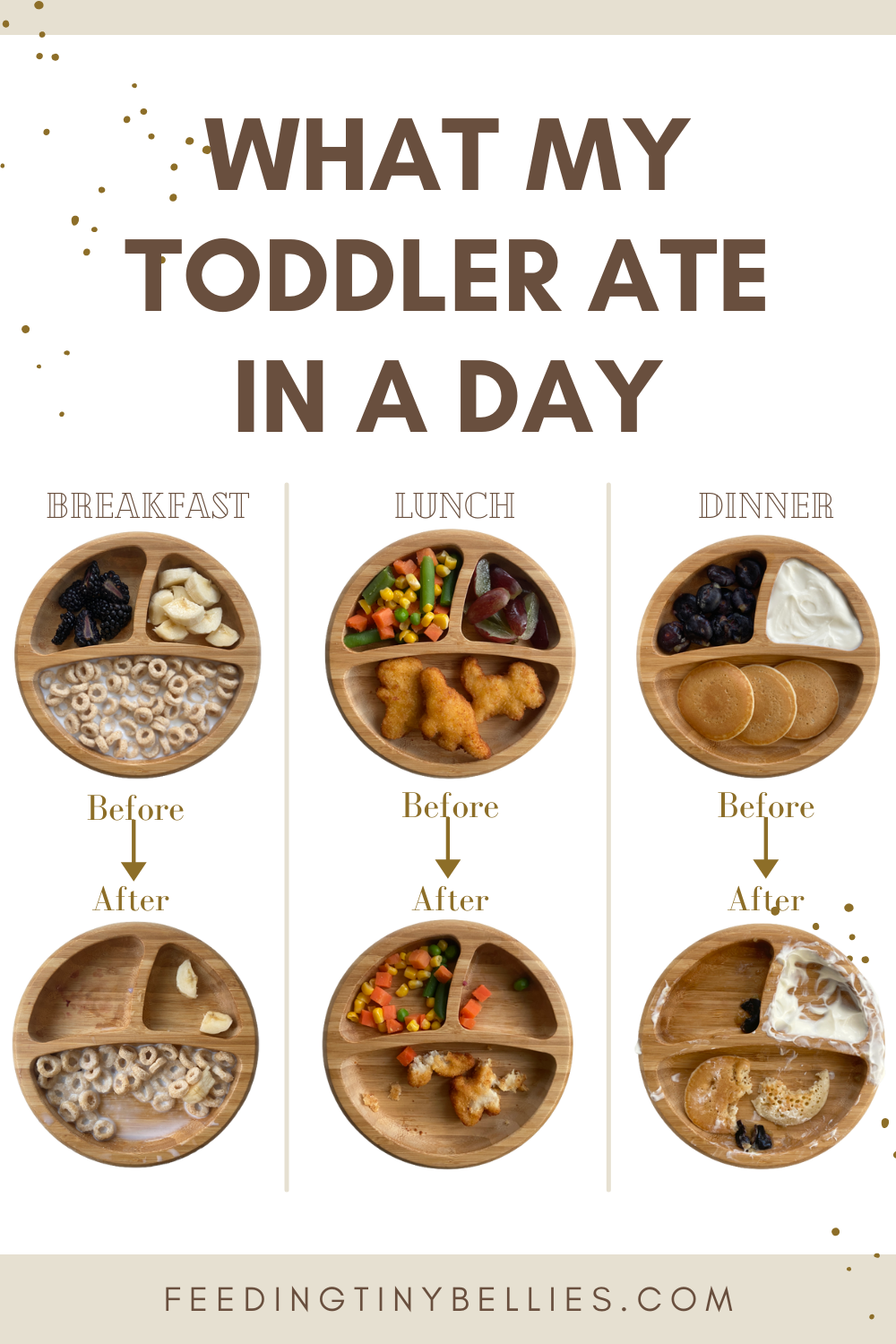 IDEAS FOR EASY TODDLER MEALS
Here are some simple breakfast, lunch, and dinner ideas that I like to create using the items mentioned above. I try my best to incorporate healthy fats, carbs, and protein into a meal, but it doesn't always happen. Feeding kids is hard and trying to figure out what to make is only one of the many challenges we may encounter. Take it one day at a time and do the best you can with what you've got 😉
Easy Breakfast Ideas For Babies And Toddlers:
Cereal & Fruit
Yogurt & Fruit
Frozen Pancakes (Premade or storebought)
Overnight Oats
Frozen Muffins (Premade or storebought)
Frozen Waffles (Premade or storebought)
Breakfast Cookies (Premade or storebought)
Breakfast Bars (Premade or storebought)
Smoothies
Boiled Eggs and Applesauce
Easy Lunch/Dinner Ideas For Babies And Toddlers:
Avocado Toast
Peanut Butter & Jelly Sandwiches
Ham & Cheese Sandwiches
Cheese & Crackers
Grilled Cheese
Boiled Eggs
Chicken Salad
Wraps
Roll-ups
Quesadillas
Pizzas (Premade or Storebought)
Chicken Nuggets (Premade or storebought)
Easy Tacos (with canned goods)
Breakfast for dinner!
Love this list? Check out this Ultimate Grocery Shopping List for babies and toddlers! I hope that you find these lists helpful for coming up with ideas for easy toddler meals!