Grocery shopping can be overwhelming, especially when it comes to buying products for our little ones. There are so many items at the grocery store and so many labels that can make it hard to sort through different options. I put together this shopping list of my go-to items for baby-led weaning that are also family-friendly.
This post may contain affiliate links. If you shop with one of our links we may earn small a commission.
When it comes to grocery shopping, I try to pick up items that have no added sugar, little to no salt, are rich in nutrients, vitamins, and healthy fats, and are great for a baby's overall development. I also try to pick up items that are good to have on hand to be able to put together a quick meal. I hope you find this list helpful as you navigate the journey of baby-led weaning/toddler eating!
Jump to:
Fruits
If your baby is anything like mine, you probably go through a TON of fruits. Fruits are so beneficial for babies and are packed with great vitamins and nutrients. These are some options to have on hand: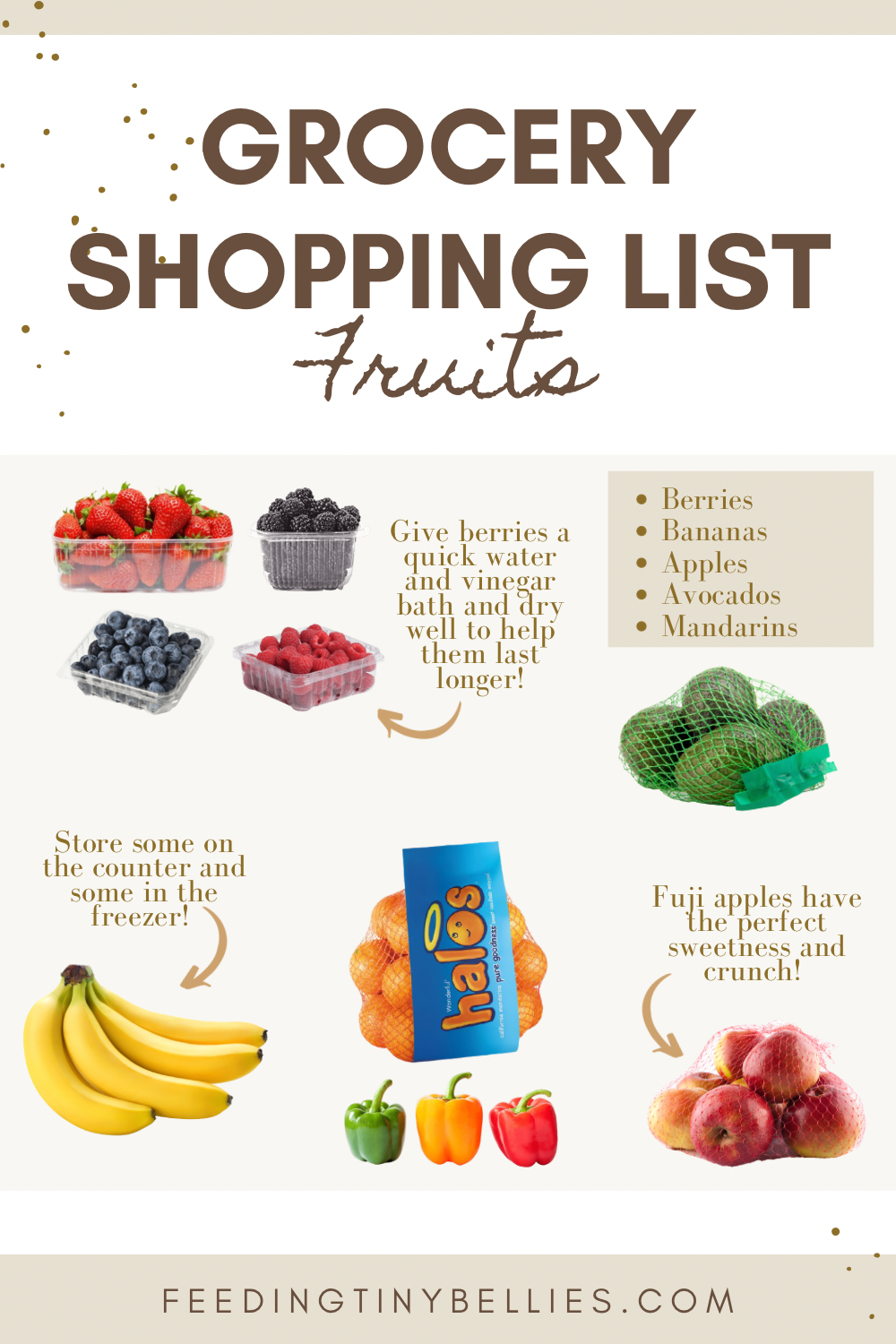 Berries - Both of my boys are and have always been berry lovers. Strawberries, blueberries, blackberries, you name it…they'll eat it. I pick up berries pretty often and find that if I give them a quick bath in a water/vinegar solution, they last much longer in the fridge. I also freeze some to use in some recipes or thaw to serve as a snack!
Bananas - Bananas are the base to many baked goods. They are the perfect natural sweetener and binder, packed with potassium. I like to store some in the freezer and leave some on the counter to ripen. The riper the banana, the more sweetness it provides in a recipe, so leave those babies out to ripen!
Mandarins: These are perfect to leave on the counter and throw in your diaper bag for an on the go snack. I usually peel mandarins, cut off the membranes, and serve my baby just the pulp.
Avocados: This creamy fruit is packed with healthy fats that are great for baby's overall development.
Apples: Packed with fiber and vitamin C.
Bell Peppers: Bell peppers are rich in vitamin C and so nutritious. Different colored peppers have different benefits in the body! They can be steamed, sautéed or served raw!
Vegetables
Veggies are so nutritious and are great to serve with meals or on their own. These are the vegetables that I tend to use most often throughout the week!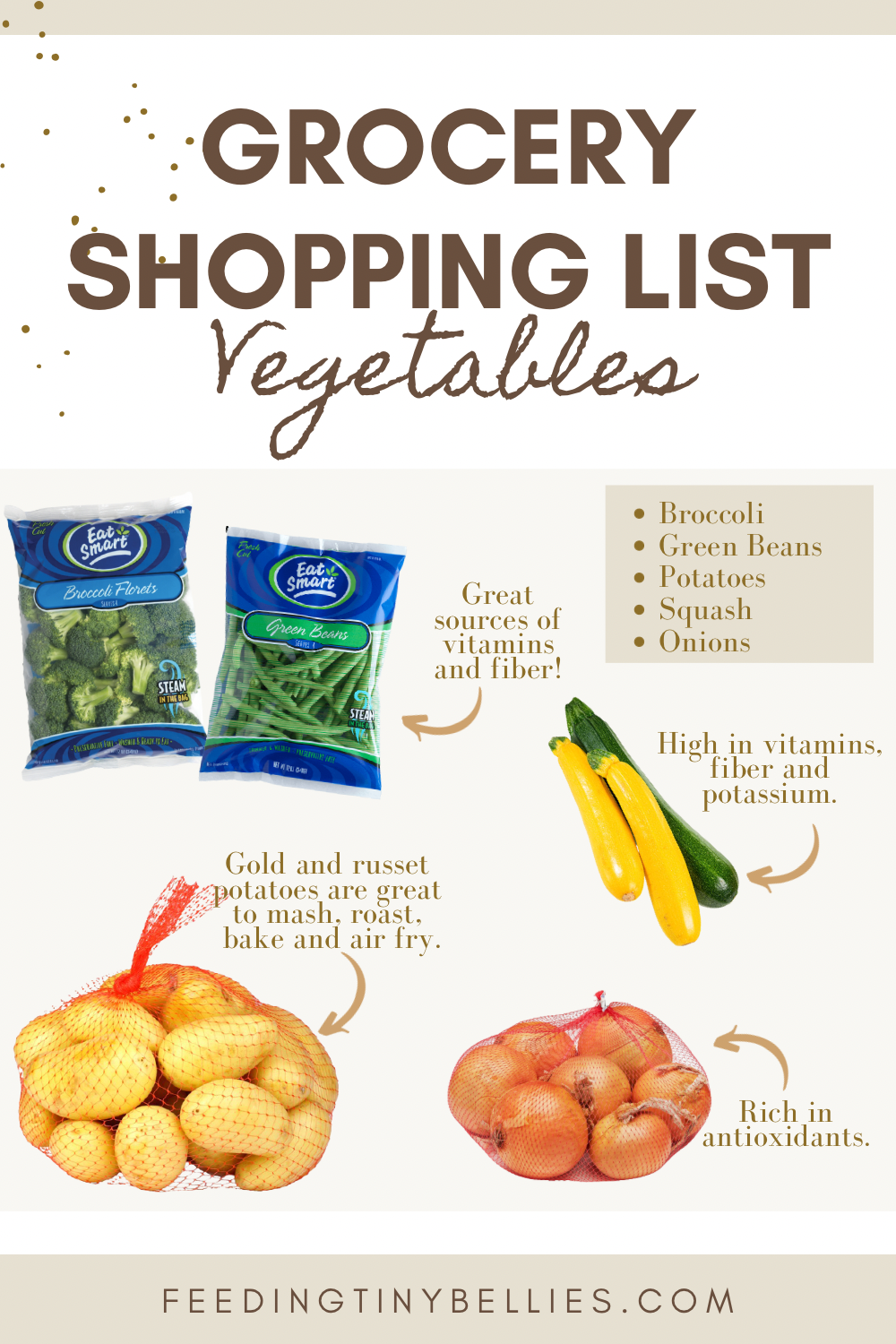 Broccoli/Green Beans: Packed with vitamins, iron and fiber, these greens are the perfect dinner side!

Potatoes: This nutrient-dense carb will keep baby full for longer!

Squash: Zucchini and summer squash make great side additions to any meal.
Onions: Packed with fiber, onions are great for added flavor in any meal.
Dairy
These dairy items are always stocked in my fridge ready to use in sweet or savory recipes.
Milk - I use full fat whole milk which is safe to incorporate into cooked recipes. Just be sure not to serve it as a drink as a replacement for breastmilk or formula to little ones under the age of 1.
Yogurt - I purchase unsweetened whole milk yogurt for my little one. You can always sweeten it yourself by adding in mashed fruits!
Cheese - Mozzarella cheese is a low sodium cheese great to use in savory recipes.
Butter - I use unsalted full fat butter to cook down veggies for added flavor.
*All of these items may be replaced with dairy-free alternatives!
Protein
I love experimenting with different sources of protein, but these are our favorites!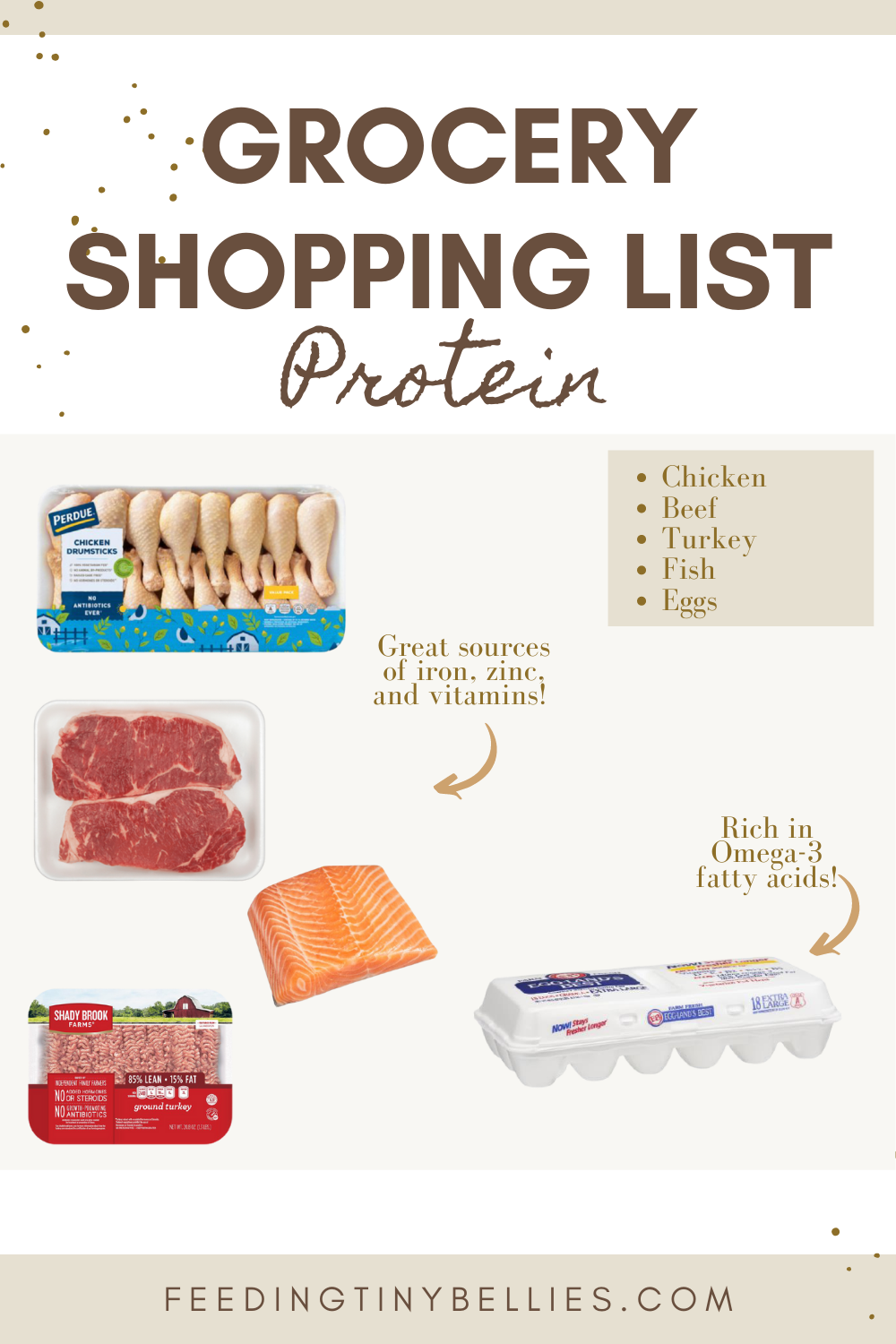 Meat: I alternate between chicken, turkey, fish, shrimp, and beef depending on what meals I'll be making throughout the week. I love purchasing different cuts of meat in bulk and freezing portions to have on hand when needed!
Eggs: Eggs are a great source of protein and serve as a binder in many baked recipes. If your little one is allergic to eggs, flax eggs are a great alternative!
Grains
I am a bread and pasta lover at heart and always have these items on hand!
Bread: I usually purchase whole wheat/whole grain bread. The Dave Killers brand is very nutrient-dense, but I pick up any brand that doesn't have too many grams of added sugars.
Rolled oats: Oats are so nutritious and rich in fiber and nutrients. They are a great alternative to all-purpose flour in baked recipes. To make recipes using oats gluten-free, use certified gluten-free oats.
Pasta: Chickpea and red lentil pastas are high in protein and nutritious. I personally love the taste of good old-fashioned normal pasta, but I usually like to mix up the varieties!
Rice: I love having jasmine rice on hand!
Oils
My favorite cooking oils to purchase are olive oil, avocado oil, and coconut oil. These are heart-healthy oils that provide great fats in a baby's diet. When it comes to baked goods, I love using extra light-tasting olive oil. Extra light-tasting olive oil is milder in taste compared to normal olive oil and doesn't affect the overall taste of baked goods.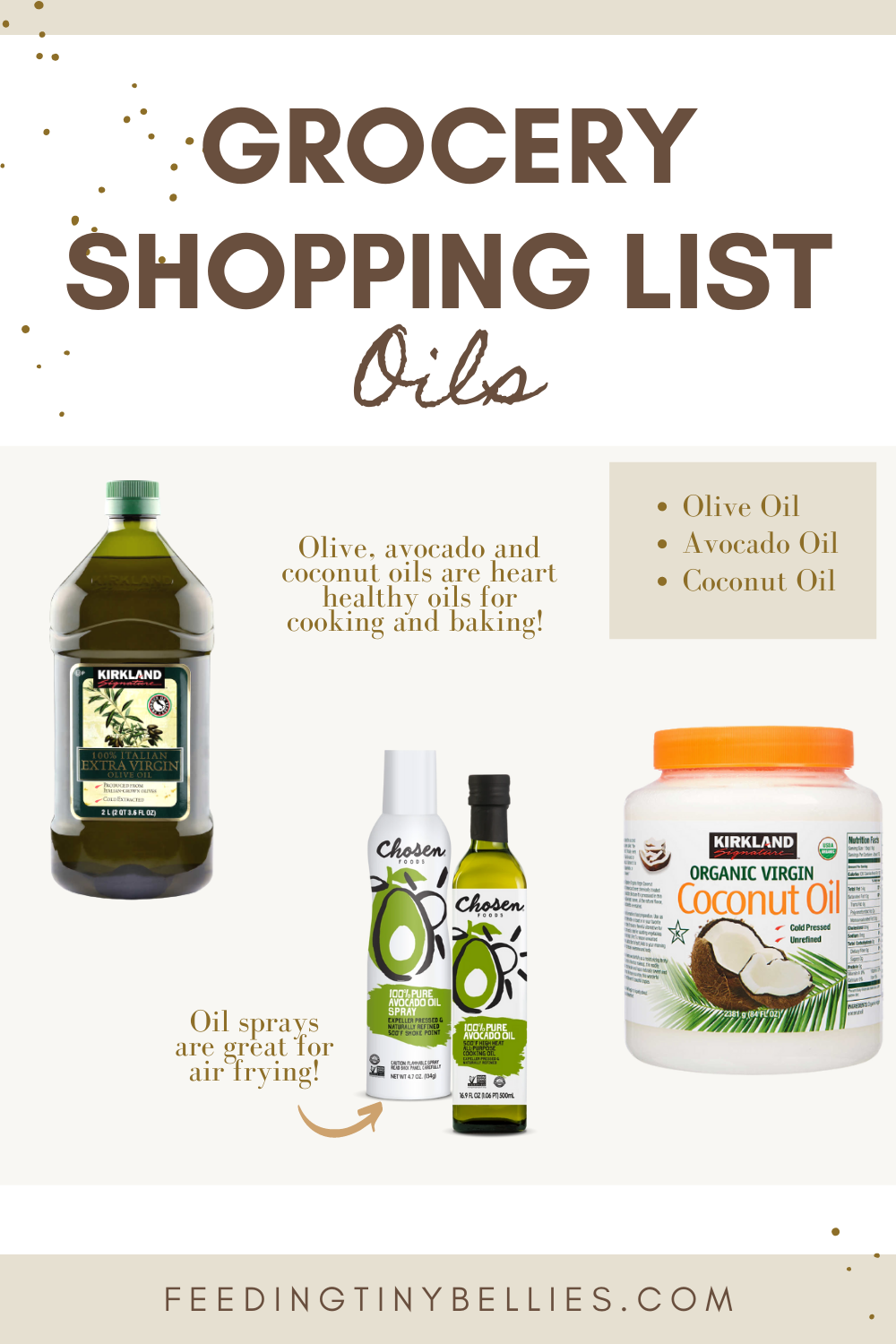 Pre-Packaged Items
These prepackaged items are staples in my pantry!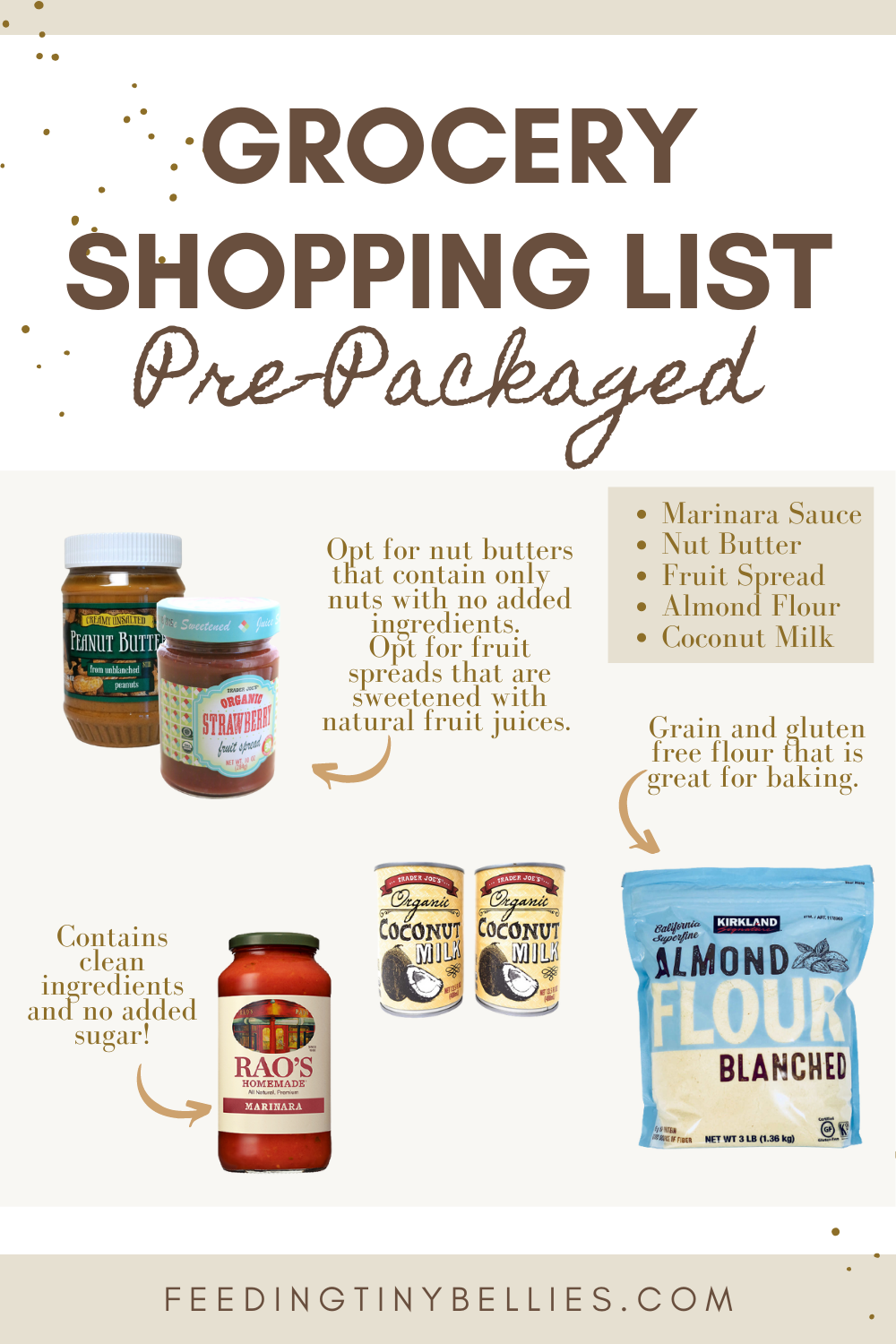 Peanut butter: I like to purchase smooth peanut butter that lists peanuts as the only ingredient. Some of them contain added salt, but I opt for the unsalted variety for my baby.
Pasta sauce: Many pasta sauces on the market contain added sugars and several artificial ingredients. I like to purchase sauces that list clean ingredients like crushed tomatoes and common seasonings. I love the Rao's brand marinara sauce!
Coconut milk: Great dairy free staple to have on hand to add to dishes and baked goods.
Almond flour: Grain and gluten free flour that I love to use in baked goods. This is also a great replacement for breadcrumbs.
Snacks
I'm pretty simple when it comes to snacks for my baby, but these are the items I offer him most often: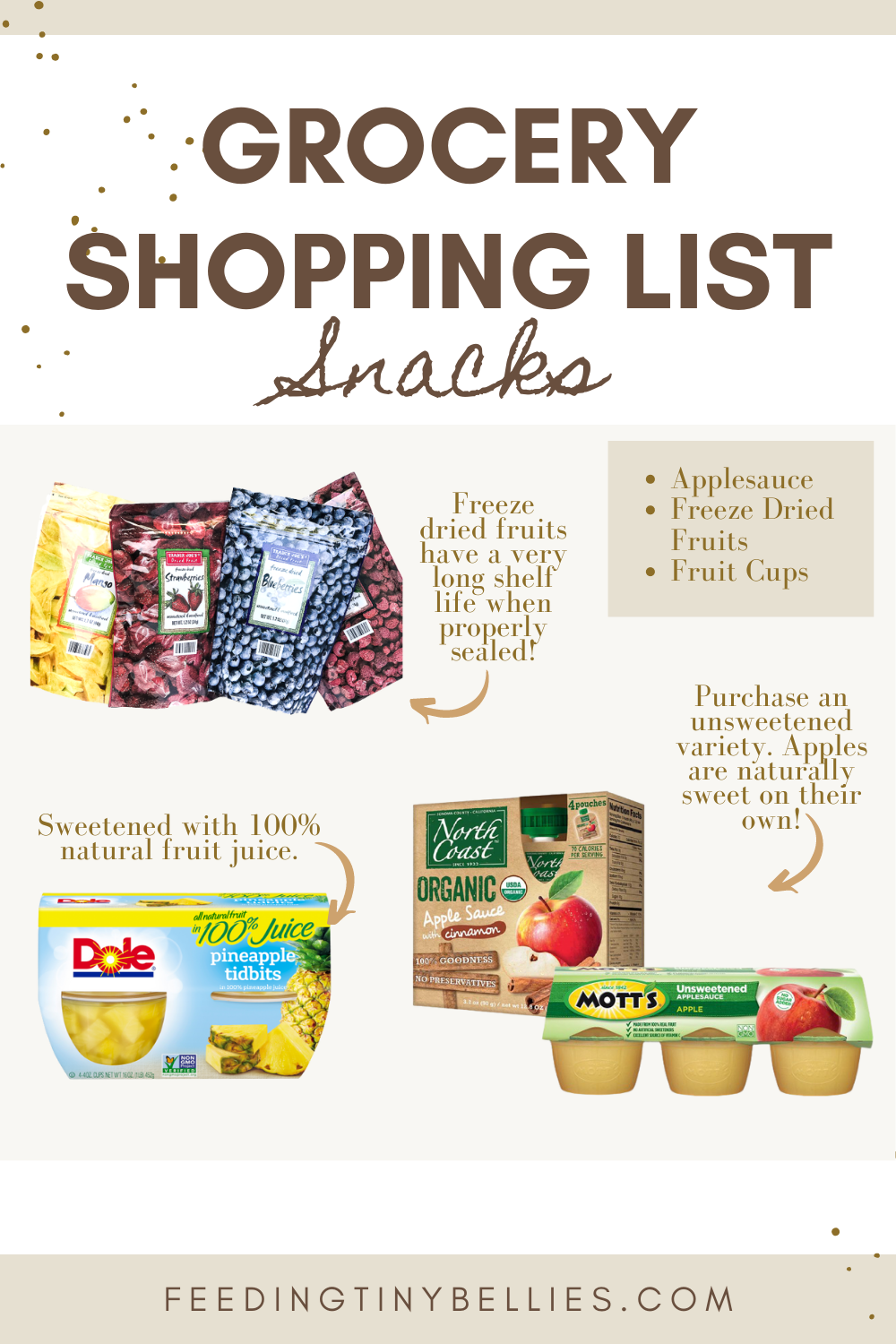 Freeze dried fruits: I love purchasing freeze dried fruits. Strawberries, mangoes and dried apples are my boys' favorites and they melt down in their mouths pretty easily.
Applesauce: I love purchasing applesauce pouches and cups for the boys. Be sure to look for the ones labeled "unsweetened" as many of them contain added sugars.
Fruit cups: Fruit cups are a lifesaver when I'm out of fresh fruits. I always buy the ones labeled "in 100% natural fruit juice" as many varieties contain added sweeteners.
Frozen Foods
My freezer is always stocked with frozen items ready to heat or thaw for a quick meal or snack!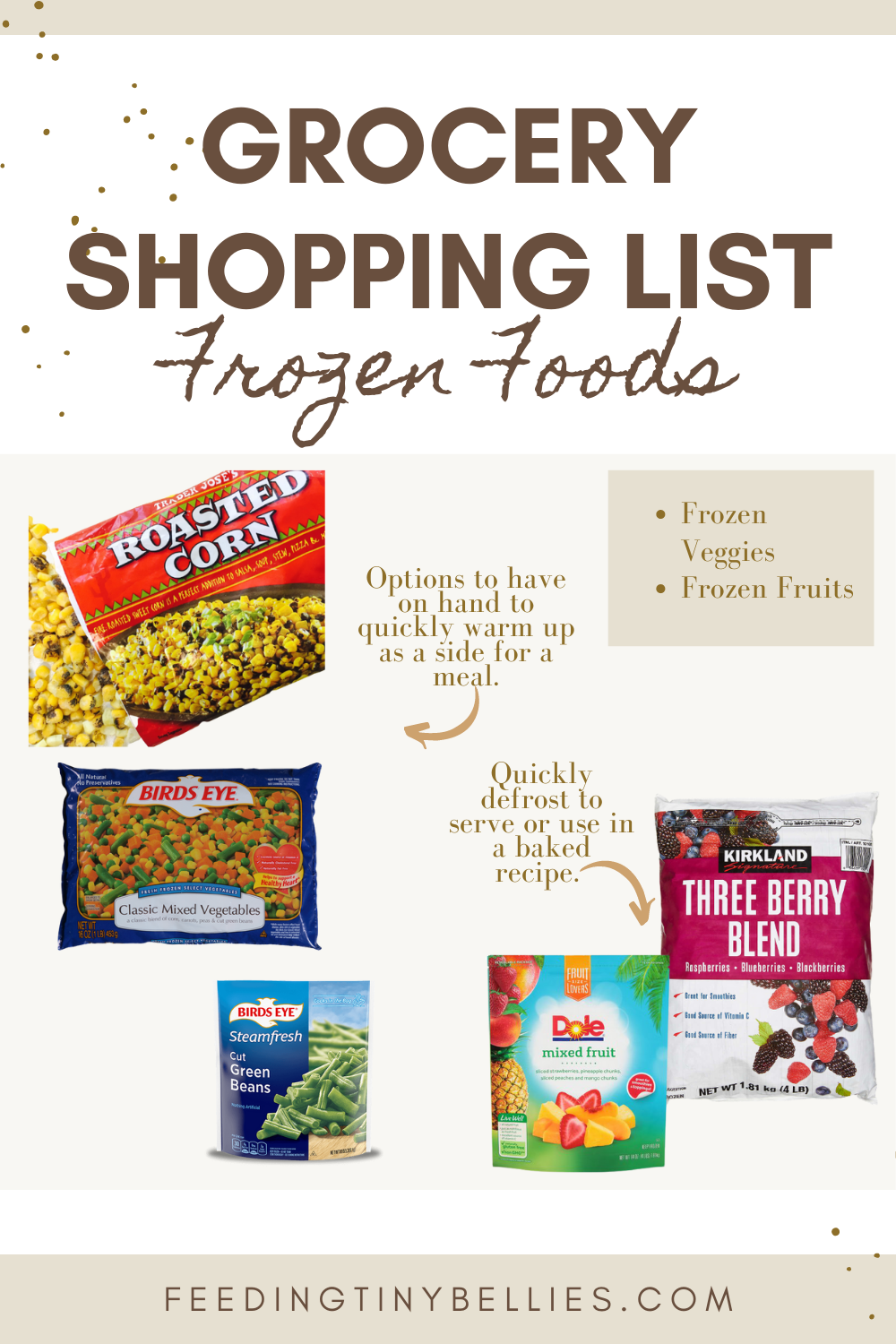 Frozen vegetables: Frozen veggies are a lifesaver when it comes to preparing quick sides. My boys particularly love the frozen roasted corn from Trader Joe's. I just heat up frozen veggies on a pan with a little butter and seasonings and they are ready to serve!
Frozen fruits: Great to have on hand when certain fruits are not in season. Frozen fruits also work great in baked recipes!
I definitely purchase more items on occasion than the ones listed above (ex: other veggies, fruits, more frozen foods, etc.), but the items listed are items that are my pantry and fridge staples. If you'd like to get into meal planning, you might like this weekly meal plan template!
I hope that this list helps you when deciding what items to pick up for your little ones!
You may also like: