These Valentine's Day snacks are healthy, fun treats to make for your little ones. From heart-shaped pancakes to easy bake cookies, I've got you covered this year with these easy-to-make sweet treats that your kids are sure to love!
This post may contain affiliate links. If you shop with one of our links we may earn small a commission.
With Valentine's Day around the corner, grocery stores are filling up with heart-shaped treats and red and pink decor. Whether you are celebrating with your little ones at home or sending treats to school, here are 10 fun Valentine's Day snacks and treats to make this Valentine's day special!
1. OATMEAL BANANA PANCAKE BITES
Start the day off with some fun pancakes! Use a mini heart-shaped cookie cutter to cut out small bite-size pieces! Use a normal-sized heart-shaped cookie cutter to make larger, fun heart-shaped pancakes. You can also serve your little one oatmeal banana pancakes with a fun heart emoji face. Use a mini heart-shaped cookie cutter to cut out fruit pieces to make the eyes and a few sliced berries to make a mouth! So many fun options with this simple pancake recipe!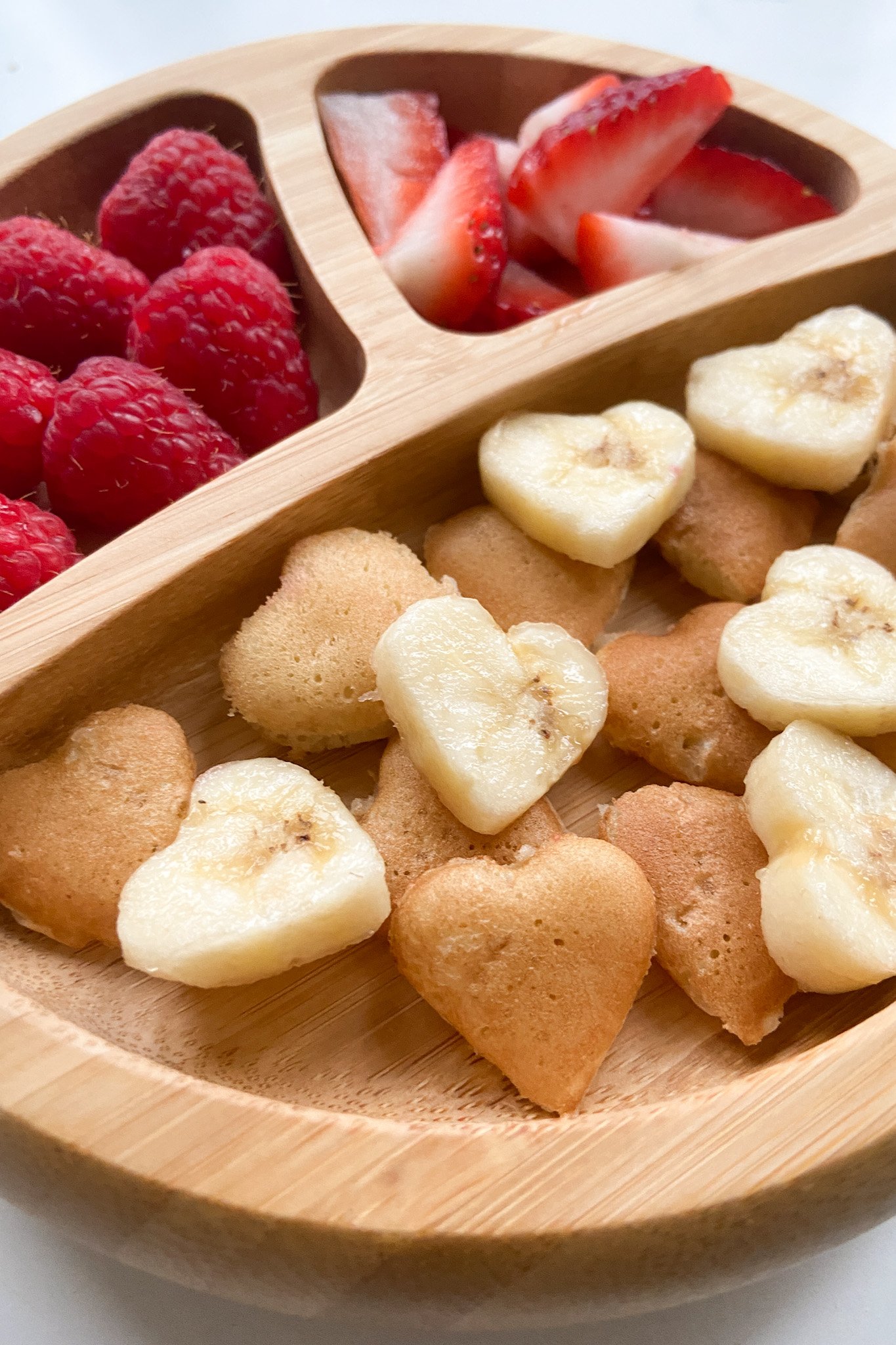 Oatmeal Banana Pancakes
Oatmeal banana pancakes are a perfect first food for baby-led weaning! They are quick to make and great to freeze and reheat to serve throughout the week!
Check out this recipe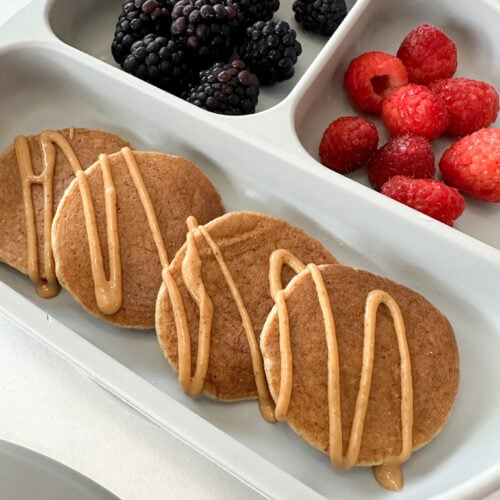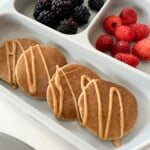 2. BEET BANANA PANCAKES
These beet banana pancakes are another fun breakfast item for Valentine's day with bright natural color from the beets. The bananas provide sweetness to these pancakes and the beets give the pancakes that vibrant pink color! Beets can be a hit or miss with little ones, but the natural sweetness from the banana helps to balance out the earthy beet taste!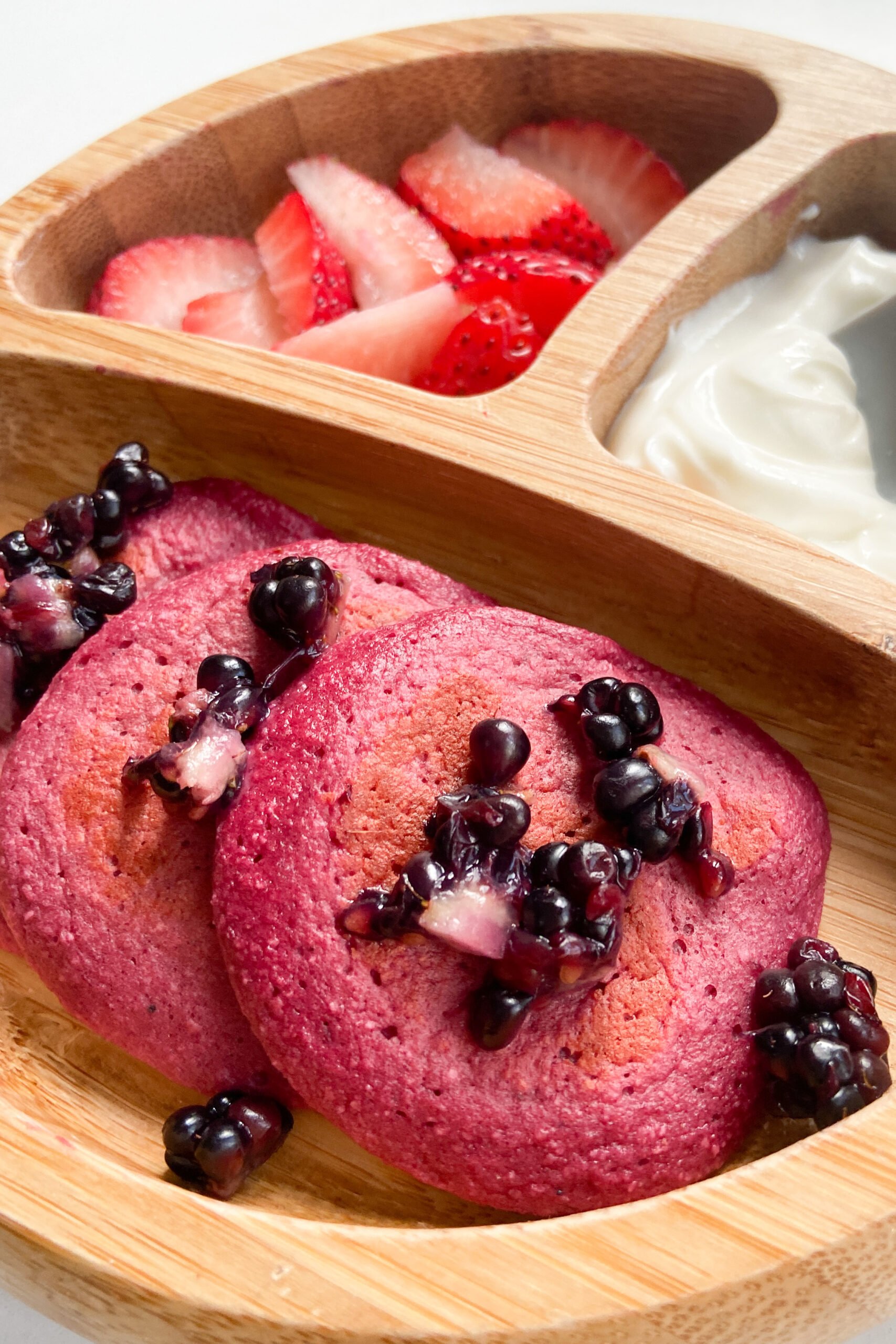 Beet Pancakes
Beets contain vitamins and minerals that are so great for a baby's development! These beet banana pancakes have a bright red color and subtle taste that your little ones are sure to love!
Check out this recipe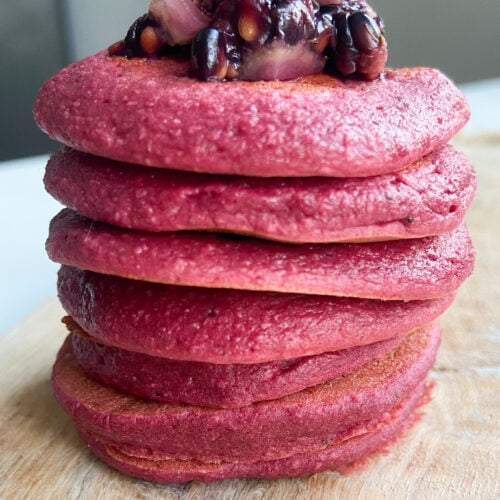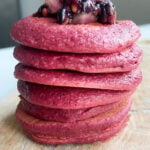 3. BERRY BLISS BALLS
These berry bliss balls are another fun breakfast option that can be prepped in advance. These balls are sweetened with raisins and fruits and the frozen berries help give the balls that vibrant color! Coat them in shredded coconut or powdered freeze-dried fruits for an extra sweet treat.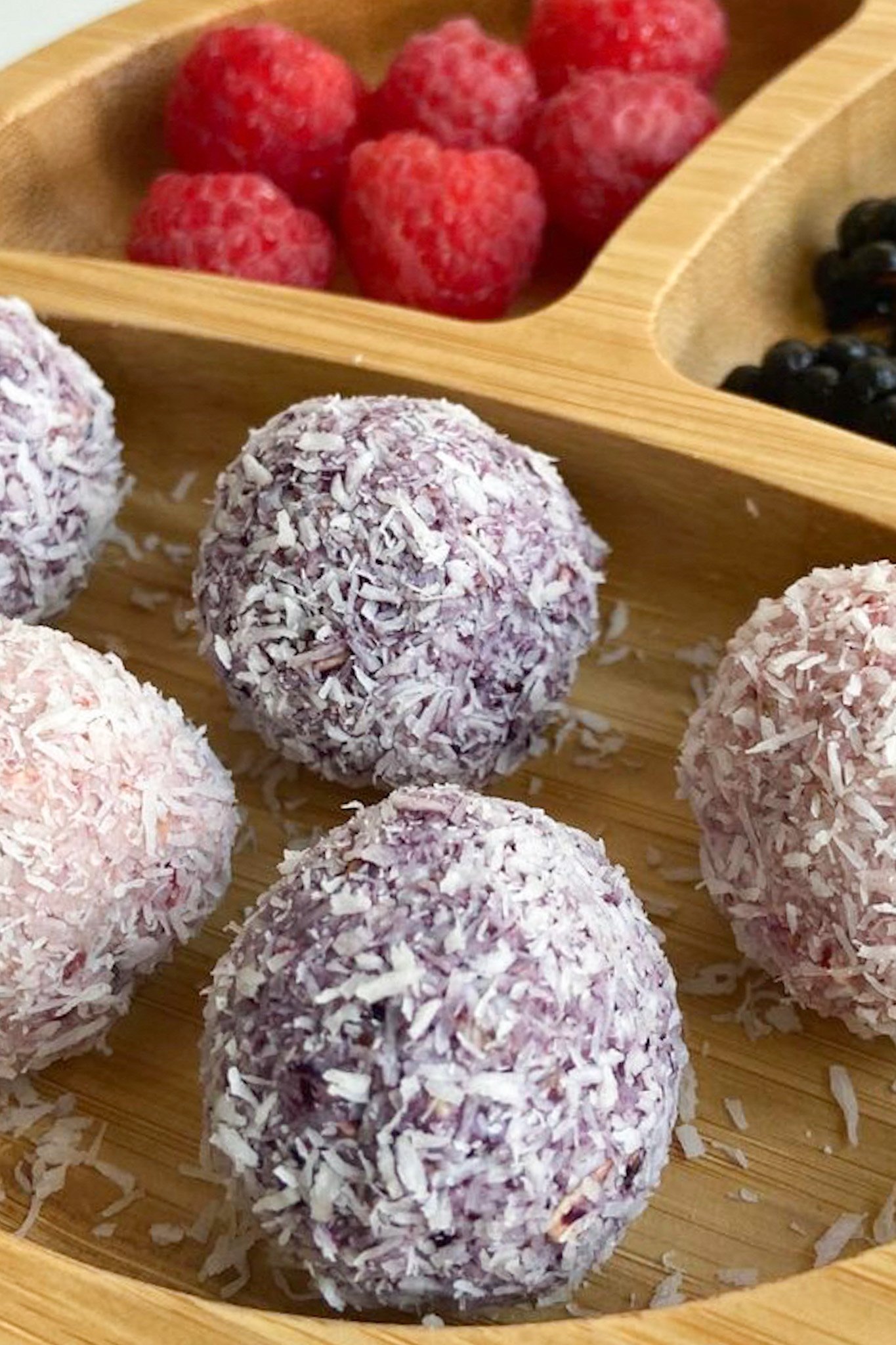 Berry Bliss Balls
These berry bliss balls are a favorite, no-bake, easy-to-make breakfast item. They are great for an on-the-go snack as well!
Check out this recipe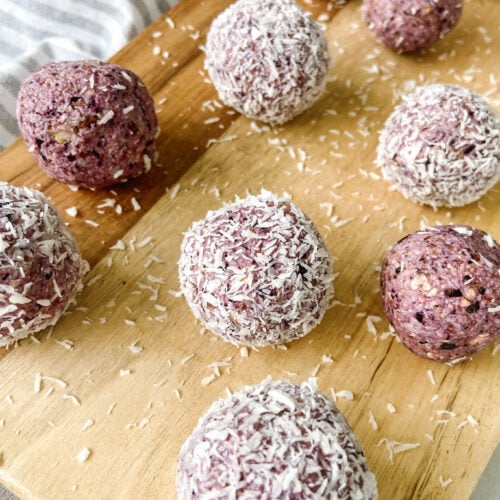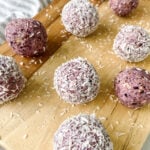 4. "HEART"Y FRUIT SALAD
Fruit salad is always a fun treat, so make it even more fun with mini heart-shaped cookie cutters! Cutting fun shapes out fruit is a small detail, but sometimes the smallest details are what get our little ones the most excited!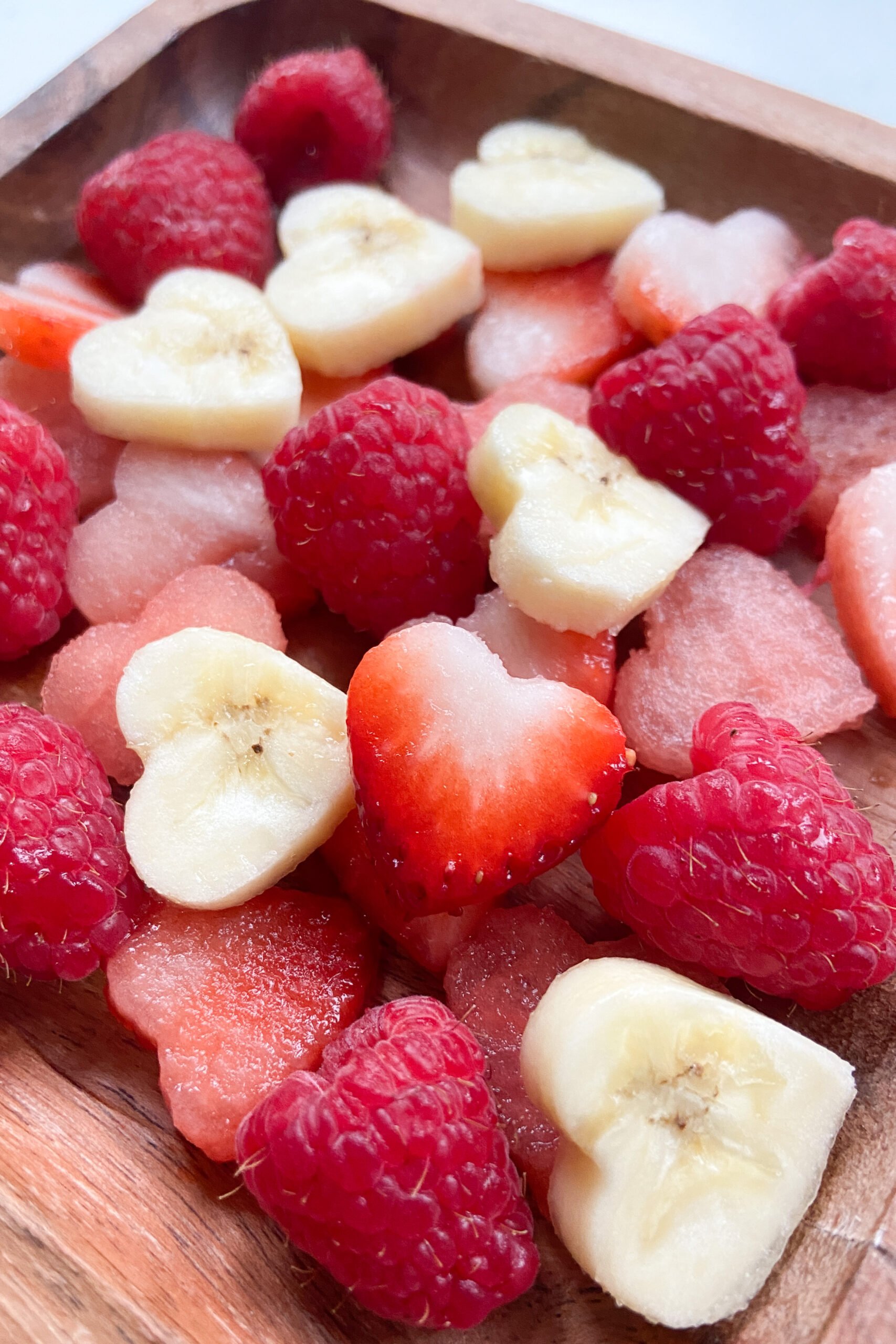 5. VALENTINE'S DAY SNACK MIX
This snack mix is a great treat to pack for daycare or school. It is so simple to put together but adds such a fun touch! I simply combined chickpea puff chips, freeze dried strawberries, raisins, and heart-shaped cheerios in a bowl to serve! Feel free to use any snacks that you have on hand! Your little one will be so excited to see all of their favorite snacks mixed together and the heart-shaped cereal and bright red strawberries add such a fun twist!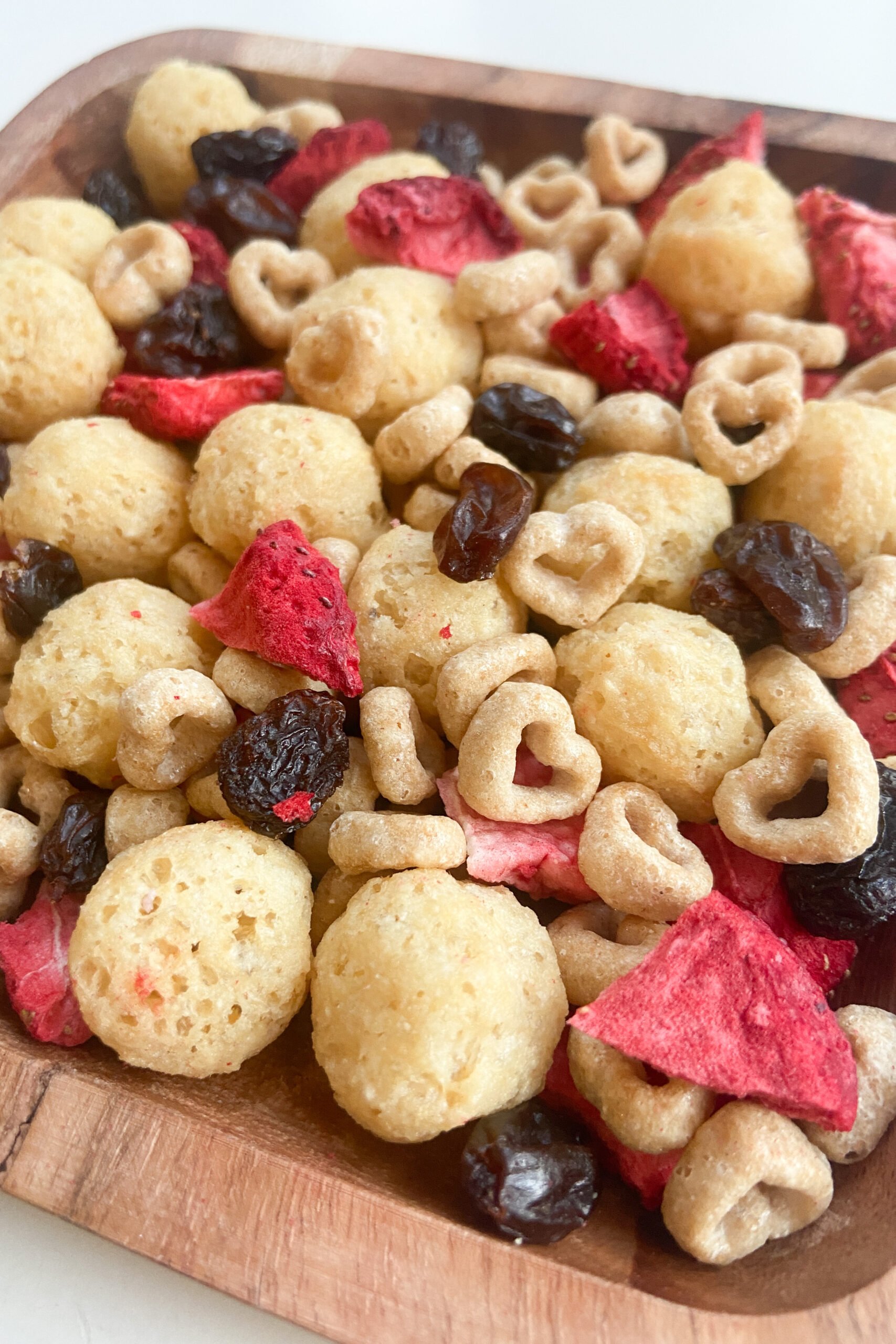 6. CHEWY COOKIES
These almond flour cookies are a FAVORITE in my house and so simple to make! They are egg-free, gluten-free, and sweetened with a little maple syrup. Top them with some pink and red M&M's or sprinkles for a special Valentine's day sweet treat! If you're looking for a cookie recipe that uses a different type of flour as the base, try these coconut banana cookies!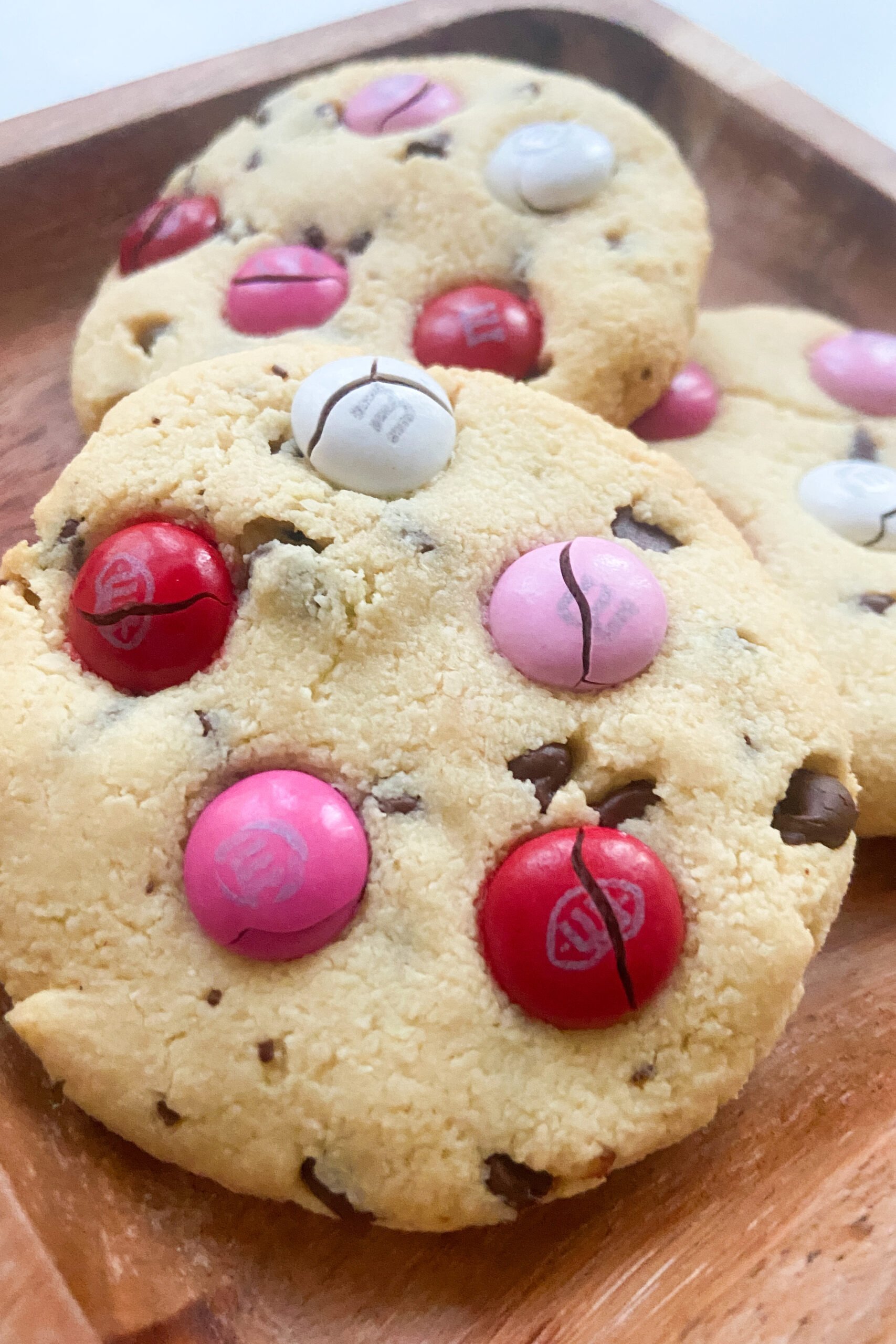 7. BERRY FROZEN YOGURT BARK
This yogurt bark is a frozen treat that your little ones are sure to love. You can get them involved with making it by customizing it with their favorite toppings. Top it with bright-colored berries for those fun Valentine's day colors!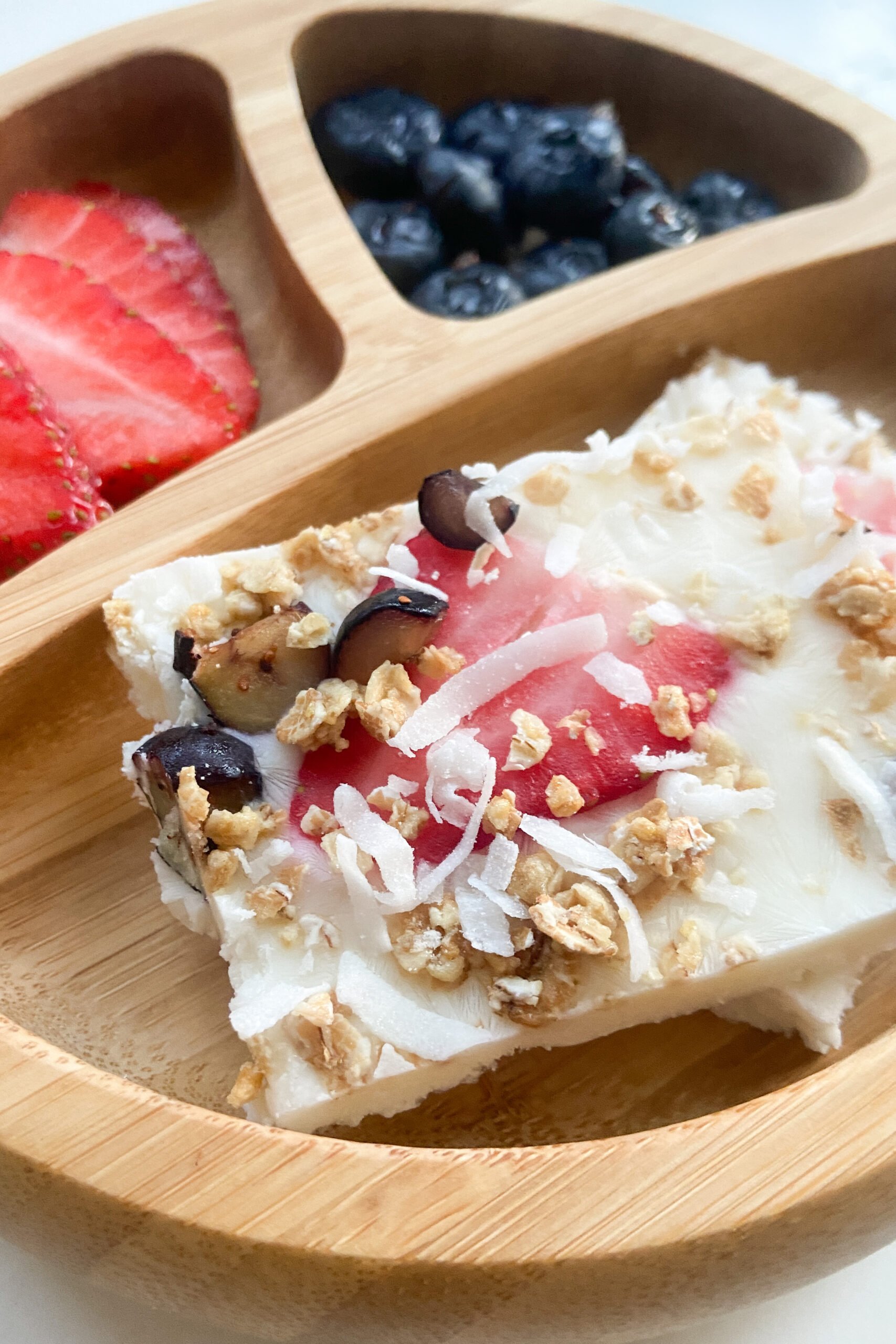 Yogurt Bark
This frozen yogurt bark is a mess-free way of enjoying yogurt with all of your favorite toppings. It is a refreshing sweet treat that your little ones are sure to love!
Check out this recipe
8. MIXED BERRY YOGURT MELTS
These 2-ingredient yogurt melts are so simple to make and refined-sugar-free. Freeze-dried fruits help these yogurt melts maintain a bright, vibrant color and refreshing sweet taste!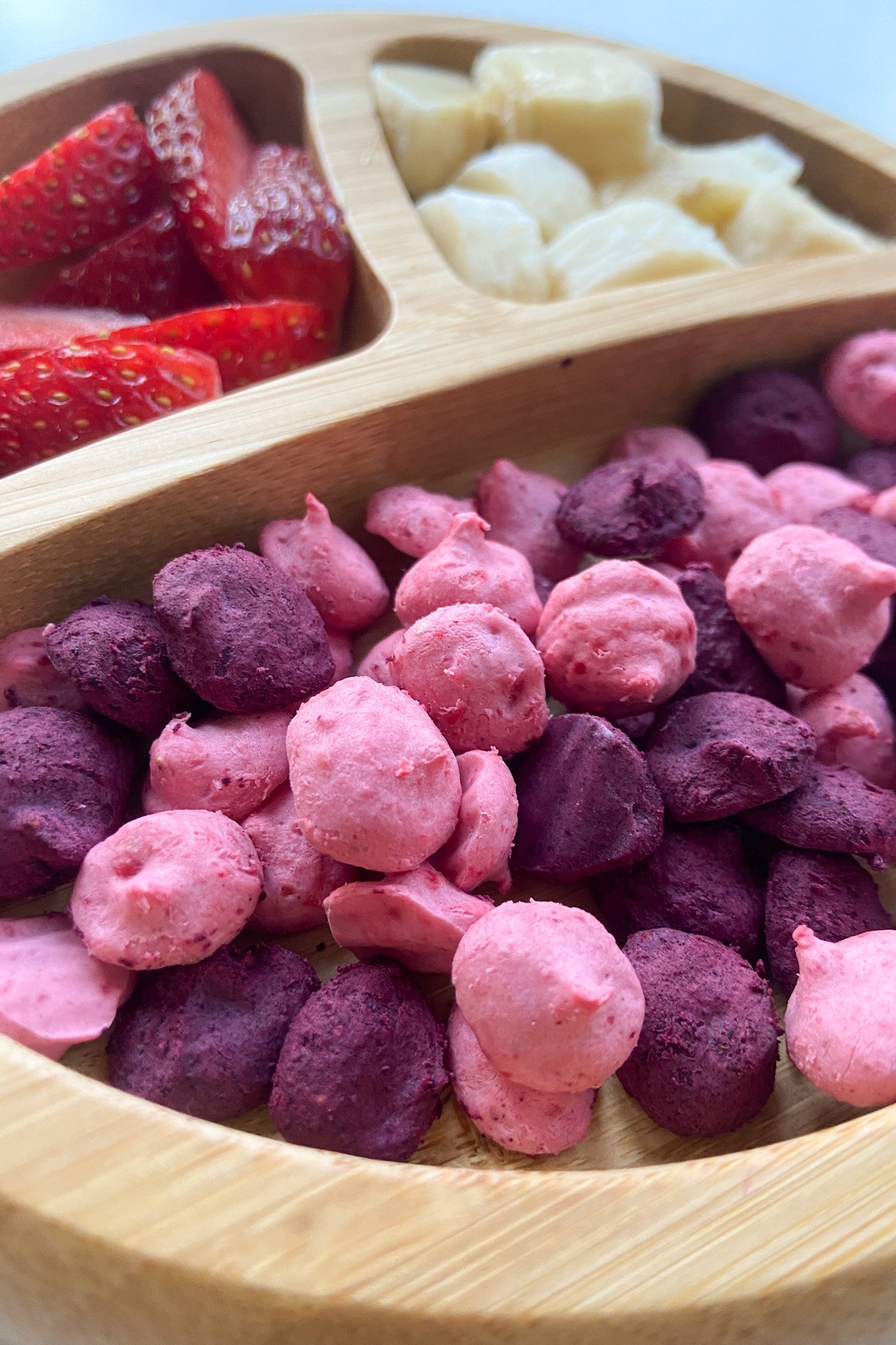 Yogurt Melts (With Freeze Dried Fruits!)
These baby yogurt melts only require 2 ingredients and are a perfect refreshing snack for your little one! They melt in your mouth quickly and are a great sugar-free treat!
Check out this recipe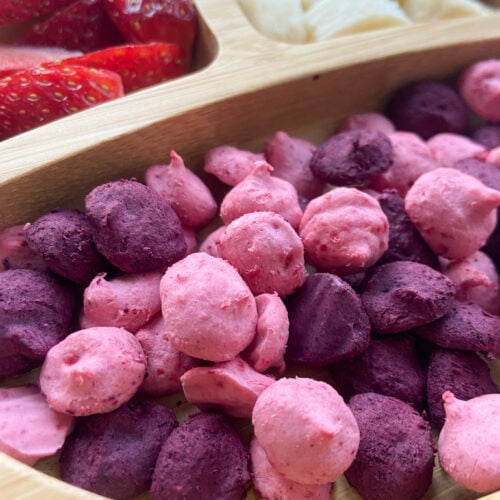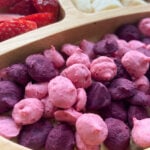 9. SWEET MUFFINS
What's Valentine's day without chocolate?!? These chocolate banana muffins are so moist and flavorful and are a decadent, healthy treat. Top the muffins with pink and red sprinkles or crushed freeze-dried strawberries for an extra holiday touch!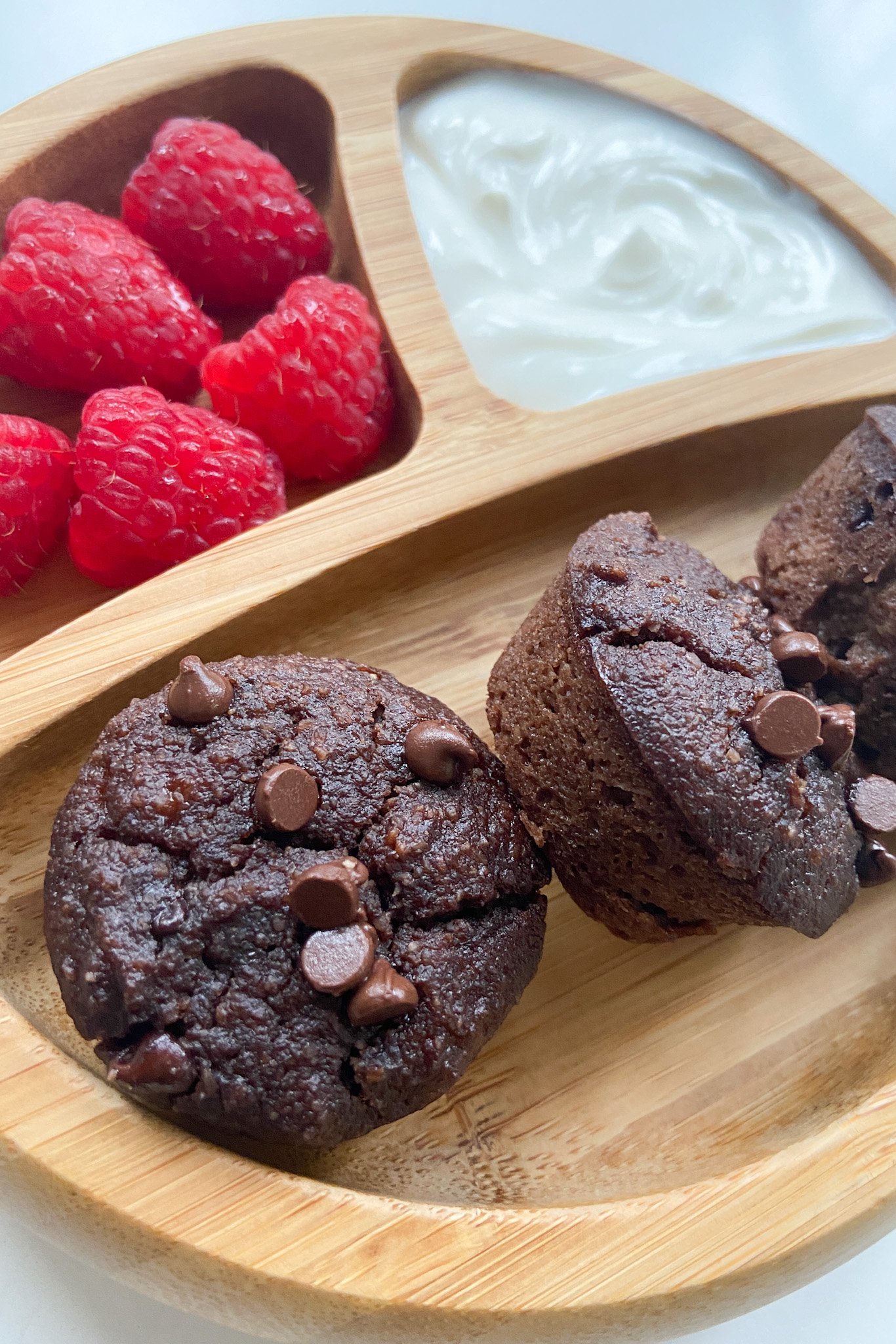 Mini Chocolate Banana Brownie Muffins
These mini chocolate banana brownie muffins are the perfect soft treat! They are so moist, full of flavor, and SO easy to make!
Check out this recipe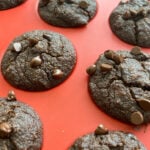 If you're looking for a chocolate-free muffin recipe, these peanut butter flavored muffins are so simple to make and naturally sweetened with bananas. Top them with a raspberry as the "jelly" and sprinkle with red sprinkles for a fun breakfast or snack!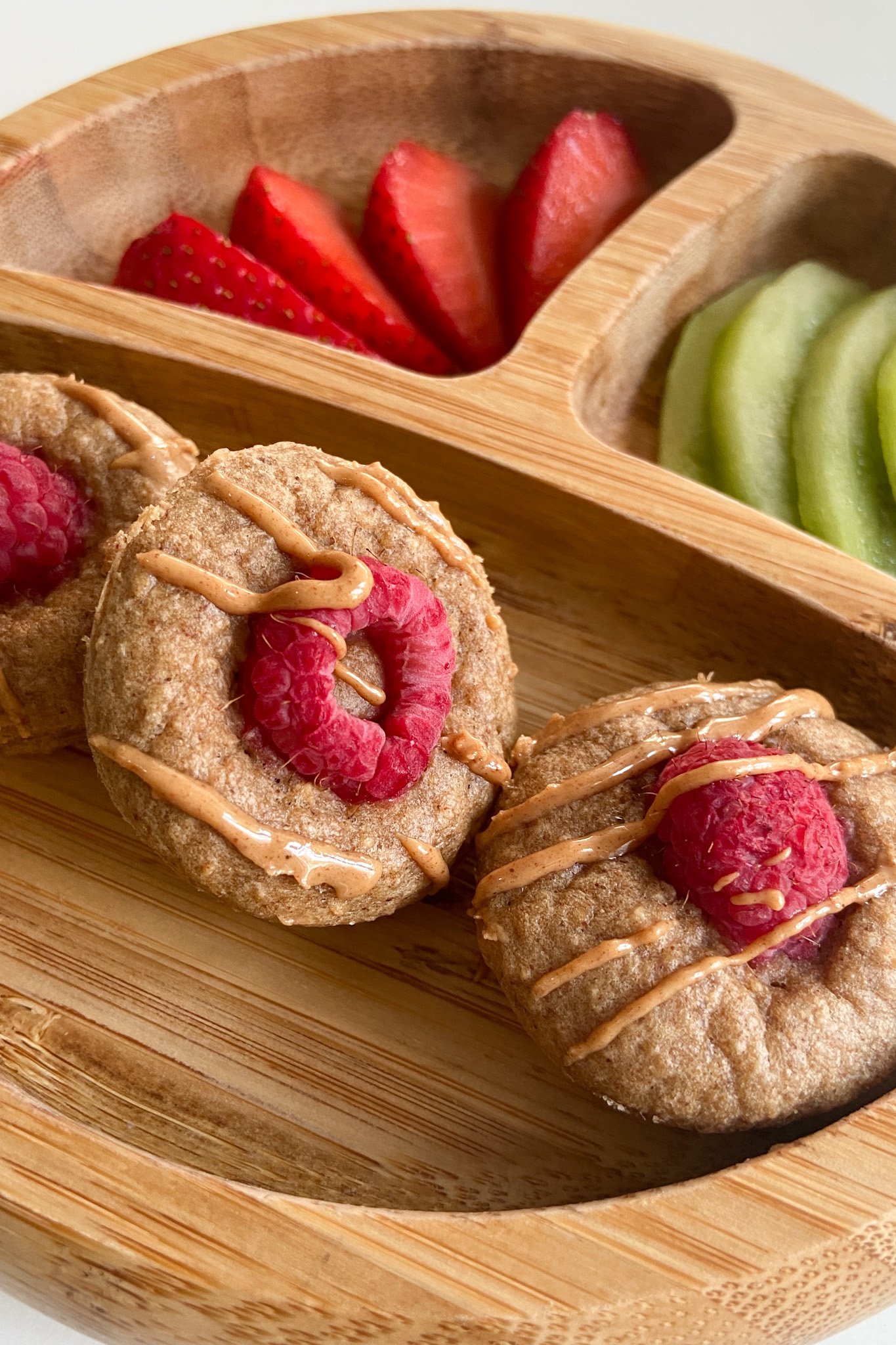 Peanut Butter and Jelly Muffins
These peanut butter and jelly muffins are a fun, baby-friendly take on the classic pb&j. They are great for batch baking and freezer-friendly!
Check out this recipe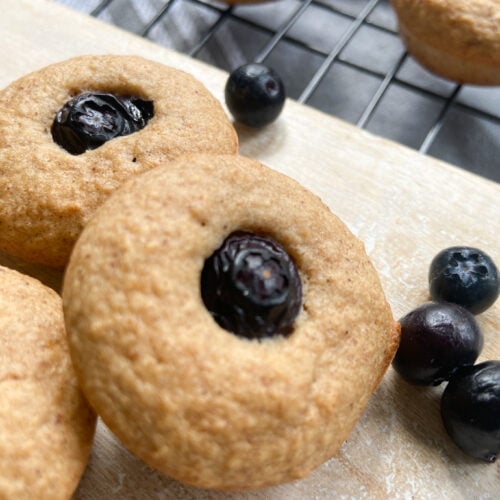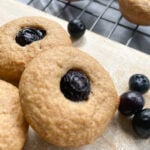 10. RAPSBERRY OAT BARS
These raspberry oat bars are egg free and great to serve for breakfast or a snack. Swap the raspberries with your favorite berry for a special treat!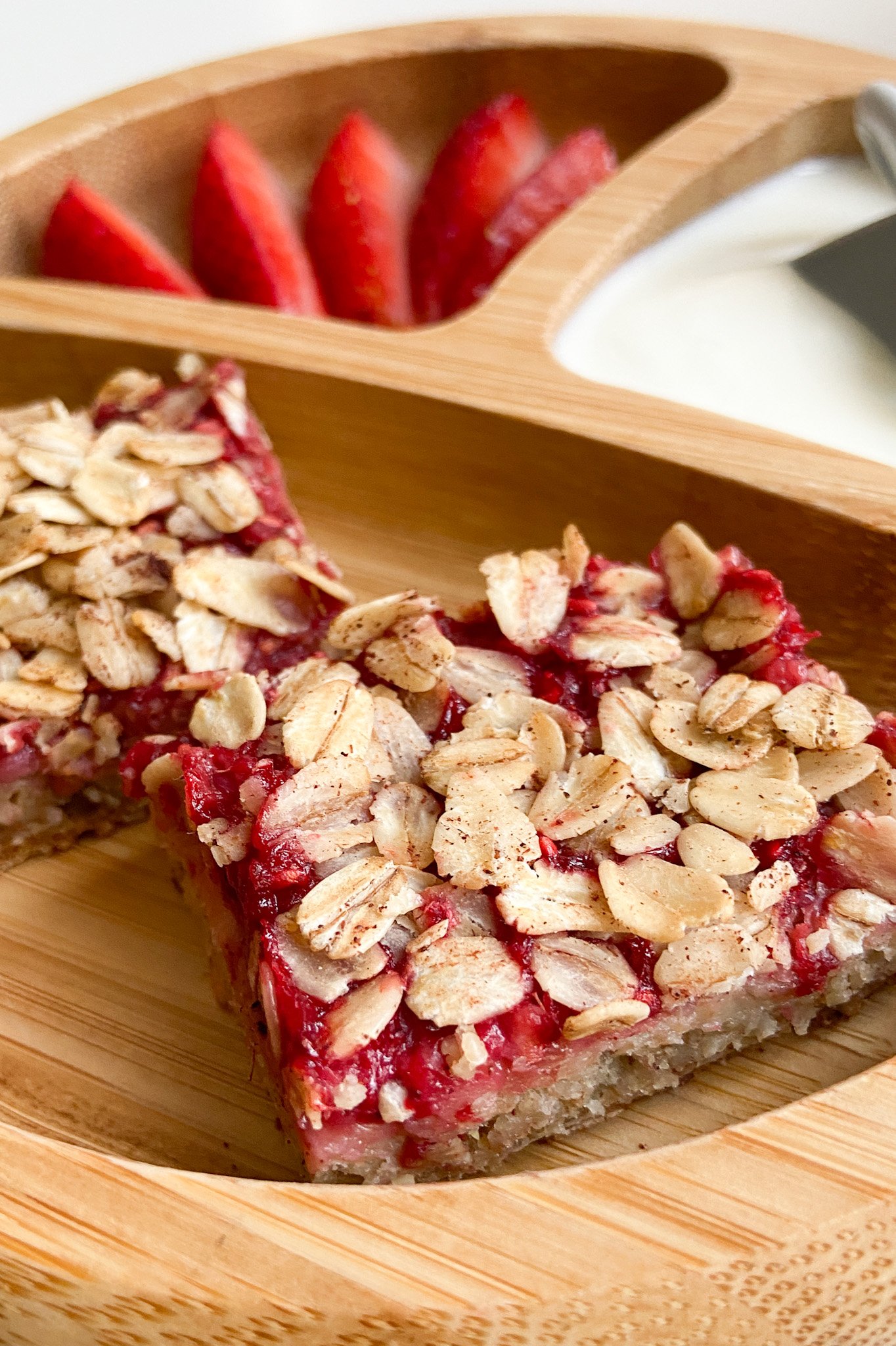 Raspberry Oat Bars
These homemade granola bars are egg-free, dairy-free, and gluten-free. They are great for breakfast or for an on the go snack!
Check out this recipe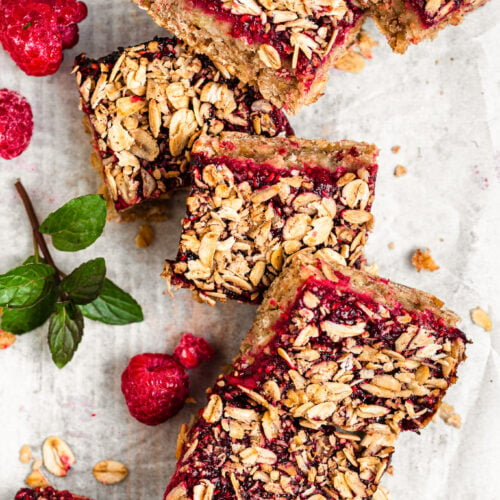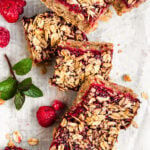 Looking for more Valentine's Day snacks and sweet treats? Here are some more recipes you may like!
What are some of your favorite Valentine's Day traditions to share with your little ones? Let me know down in the comments below!