Spinach is the perfect naturally green dye for baked goods and a simple add-in for savory dishes. Here are some simple spinach recipes for kids that are a great way of getting in that nutrient-dense veggie!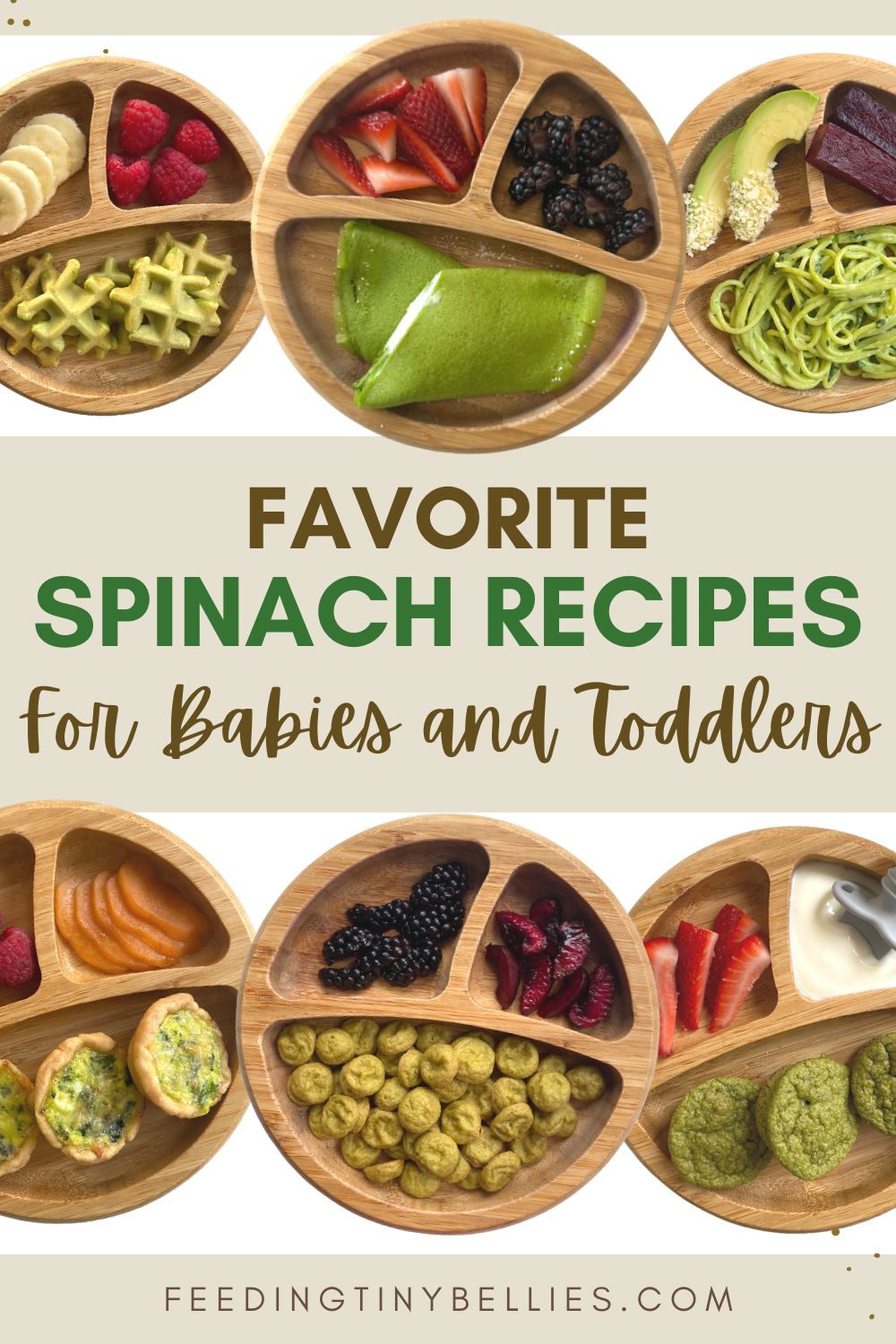 This post may contain affiliate links. If you shop with one of our links we may earn small a commission.
Incorporating spinach into recipes is a great way to boost the nutritional value of a meal while adding a fun, bright color. If your little one is obsessed with all things Hulk, if you're looking for some fun recipes to celebrate St. Patrick's day, or if you're just looking for ways to get more spinach into your little one's diet, I've got you covered with these 10 simple to make spinach recipes for kids!
BENEFITS OF SPINACH
Spinach is one of those veggies that people are always trying to include in their diets, but what exactly makes it so great? For one, it is an excellent source of iron. There are two types of iron, heme iron (which comes from animal flesh) and non-heme iron (which comes from plant-based foods). Spinach is a great source of non-heme iron which is essential for development. It is also rich in vitamins, folate, and potassium! These are some of my favorite spinach recipes for toddlers and babies that I hope your little ones love as well!
1. SPINACH BANANA PANCAKES
Blend spinach into your pancake batter for fun-colored, nutritious pancakes that your little ones are sure to love! These pancakes are soft and fluffy and the prefect way to start your morning!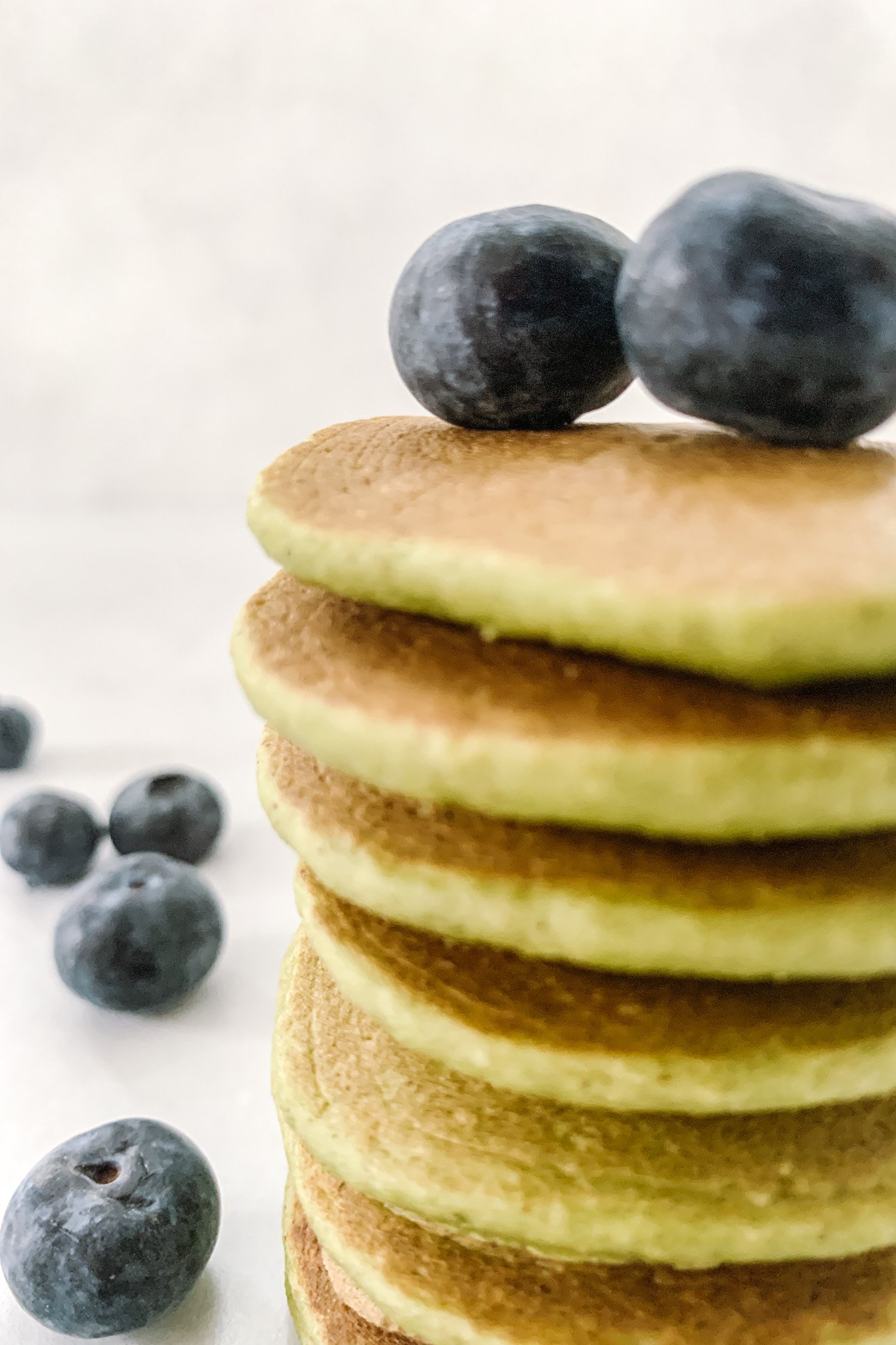 Spinach Banana Pancakes
These spinach banana pancakes are perfect for baby-led weaning! The bright green color makes them a fun treat your little ones are sure to love!
Check out this recipe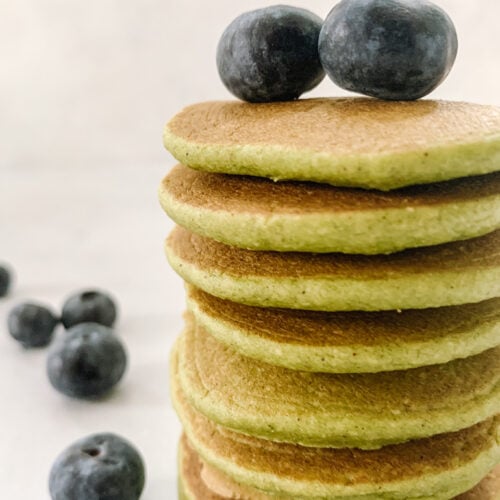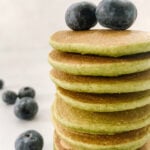 2. SPINACH MINI QUICHE
Quiche is a great option for a savory make-ahead meal. I love making mini-sized quiches so that I can pull out small portions as needed to serve on busy mornings instead of having to reheat a whole pie. Spinach is a great easy add-in, but you can use any add-ins you have on hand!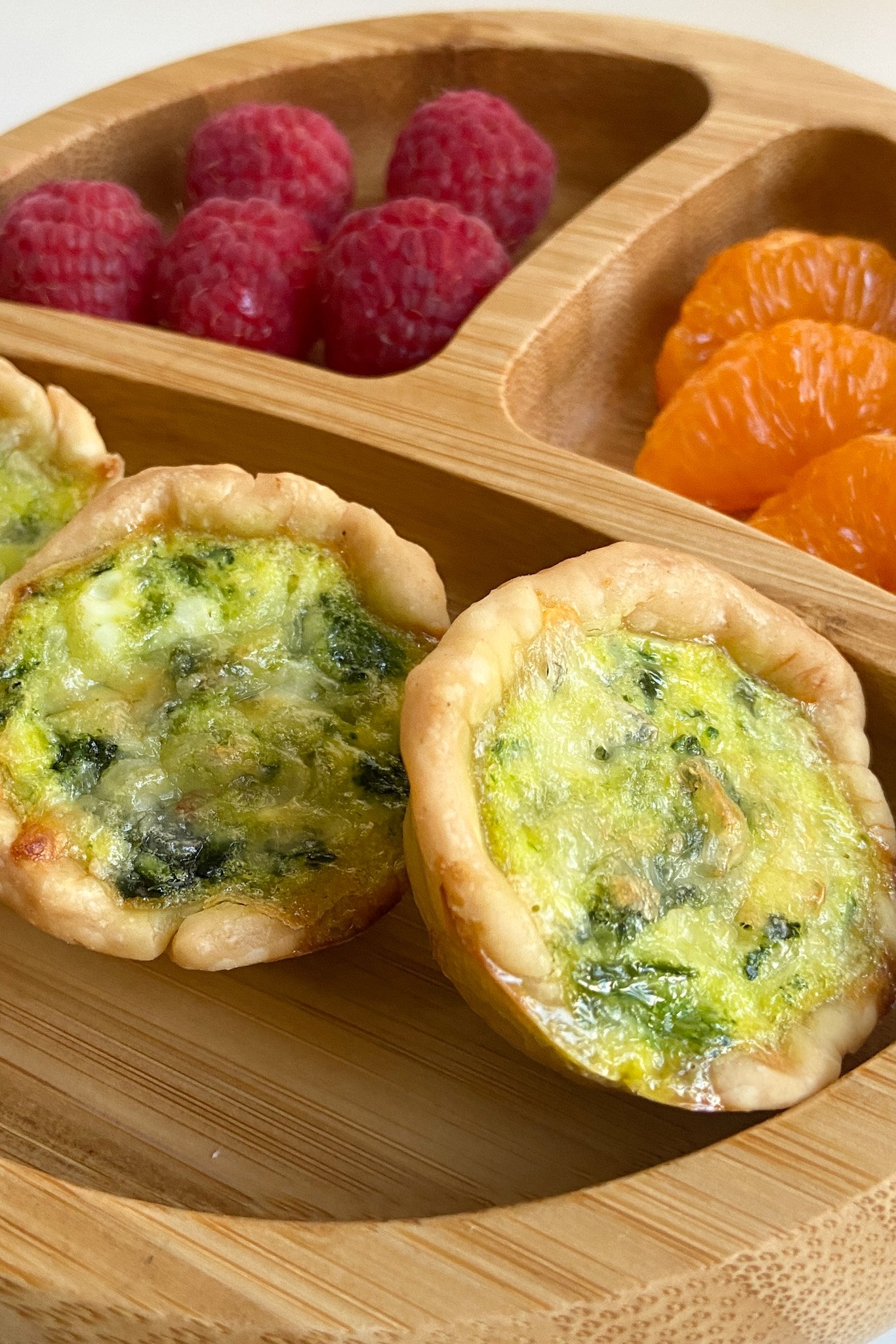 Mini Quiche
These mini quiche are perfect for little hands to pick up and hold! They can easily be customized for a variety of textures and tastes!
Check out this recipe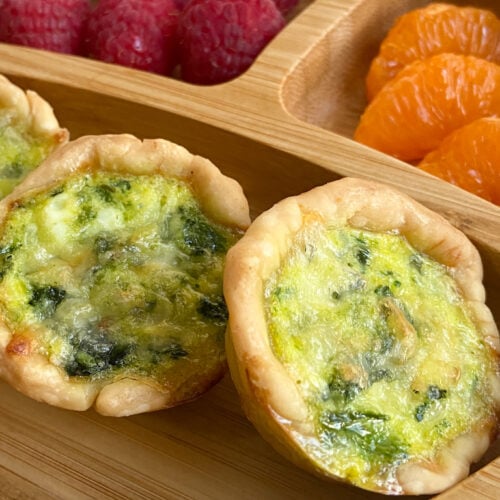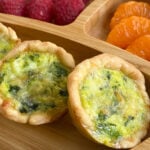 3. SPINACH BANANA WAFFLES
Spinach and banana is a classic flavor combo that is a great way to incorporate veggies into your little one's meals. Blend spinach into your waffle batter for fun-colored, nutritious waffles perfect for breakfast!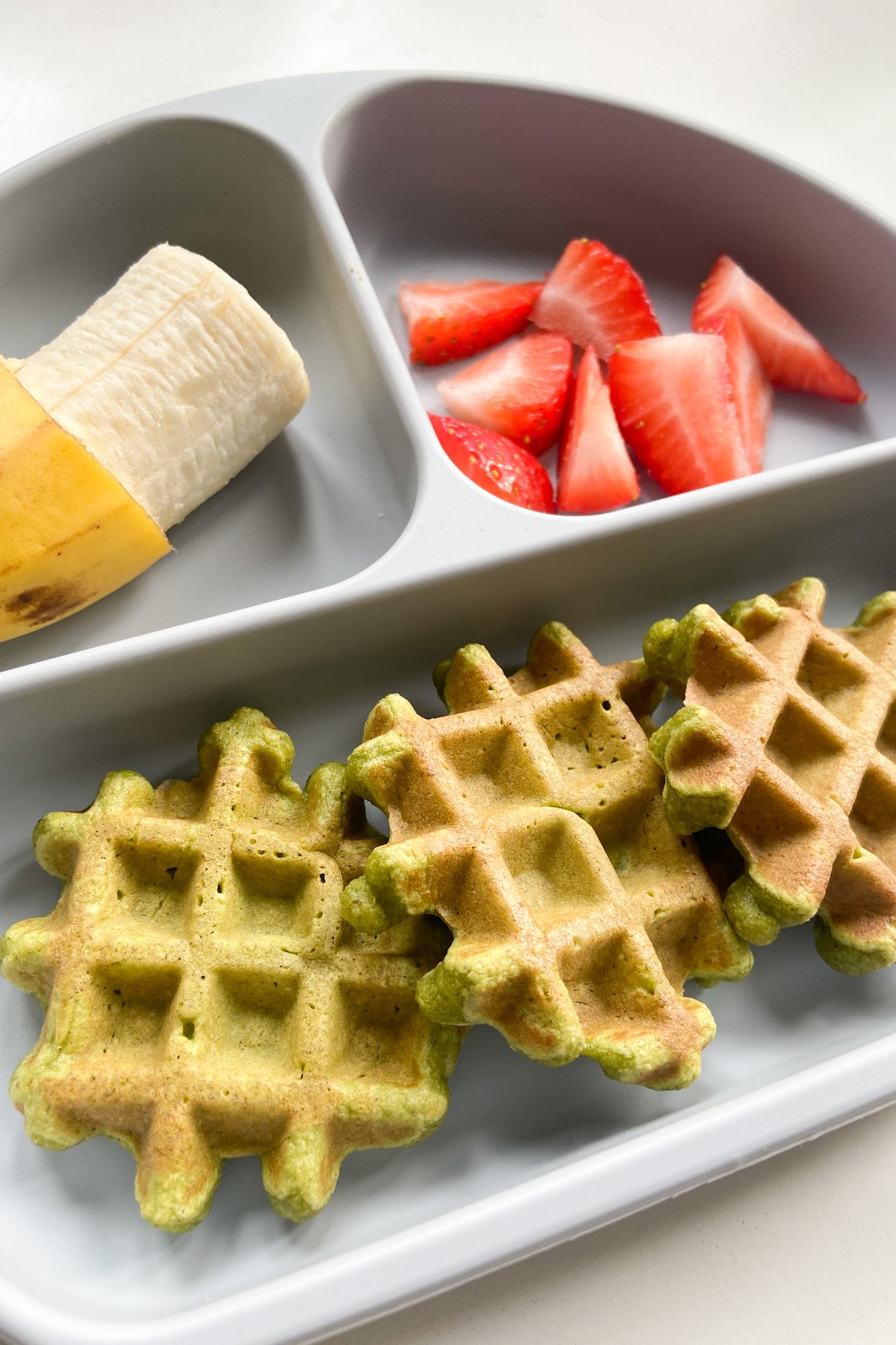 Spinach Banana Waffles
These Spinach Banana Waffles are a great first food for baby-led weaning. They are soft and fluffy with great benefits of spinach packed in every bite!
Check out this recipe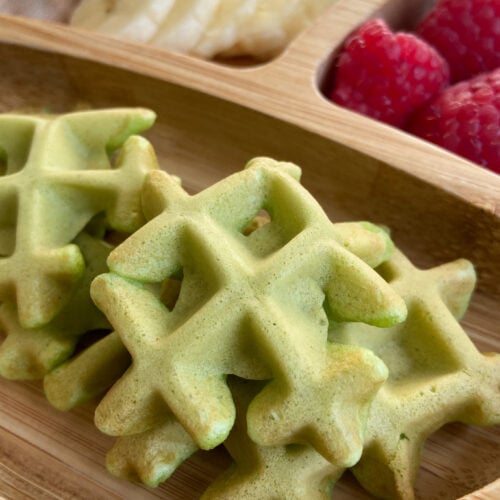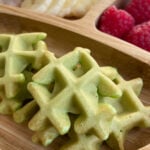 4. SPINACH BANANA MUFFINS
These spinach banana muffins are so simple to make and naturally sweetened with bananas. They are perfect to batch make and freeze for an easy grab-and-go breakfast or snack!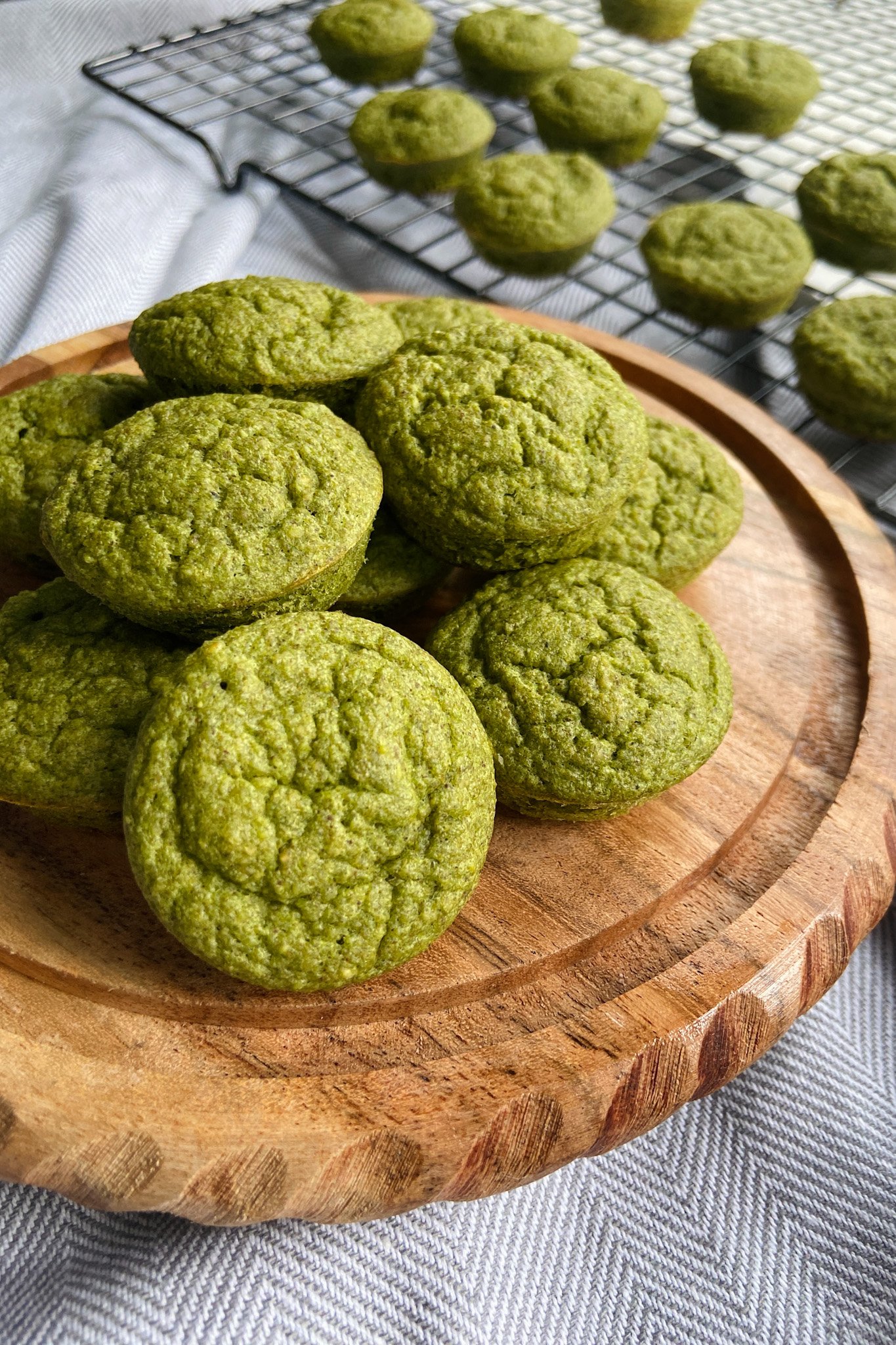 Spinach Banana Muffins
These spinach banana muffins taste like banana muffins and have a bright and vibrant green color from the spinach. They are great for baby-led weaning, freeze well, and make a great breakfast or snack!
Check out this recipe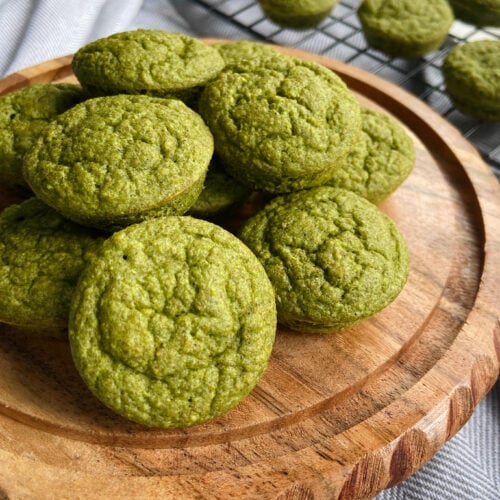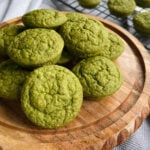 5. SPINACH COOKIES
Yes, you read that title right, Spinach Cookies! These cookies are bright green in color and sweetened with bananas. Add in a few chocolate chips for an extra sweet treat!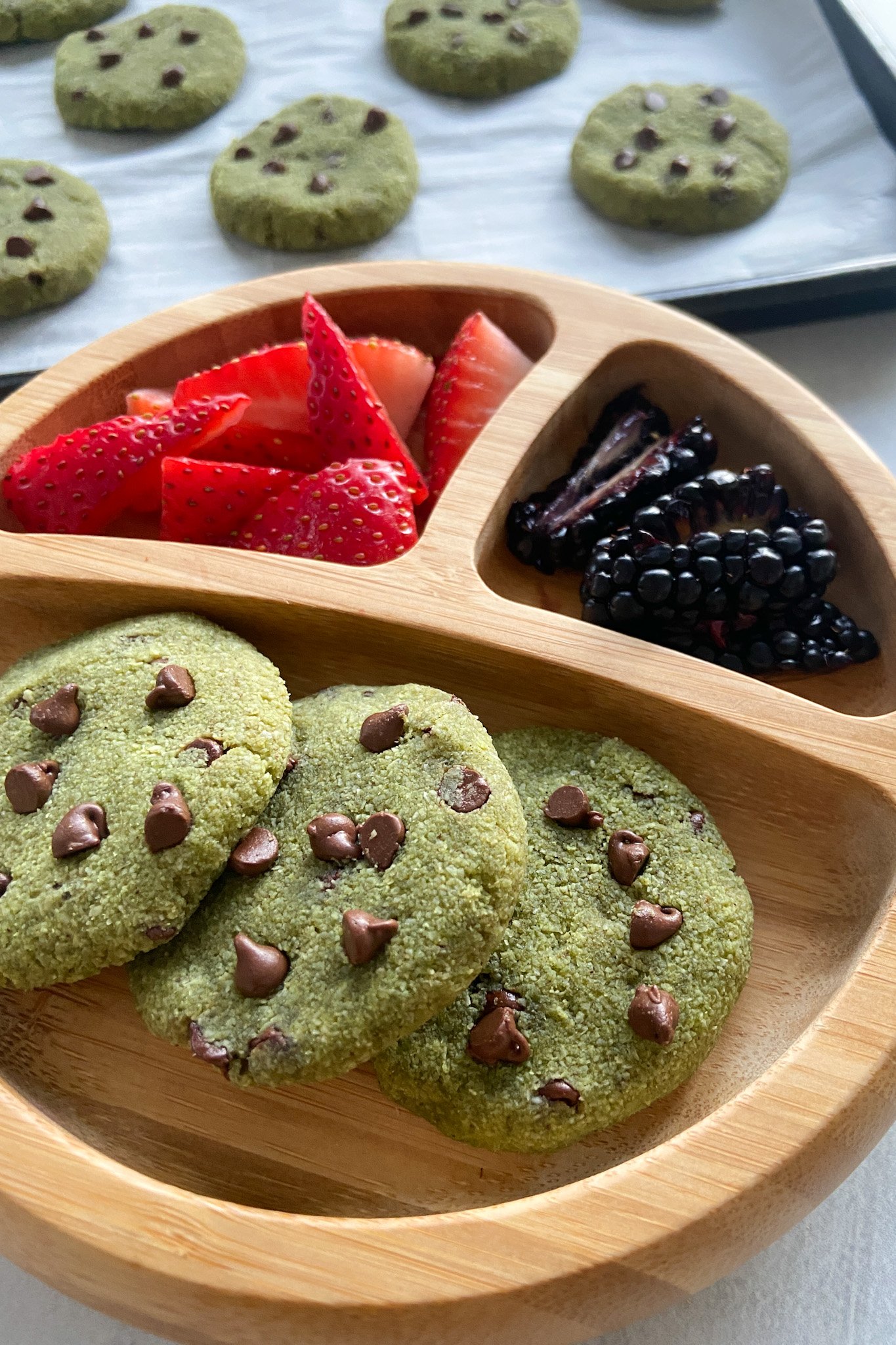 Chocolate Chip Spinach Cookies
These spinach cookies are a soft and chewy treat. They are egg-free, dairy-free, and gluten-free and only take a few minutes to whip up!
Check out this recipe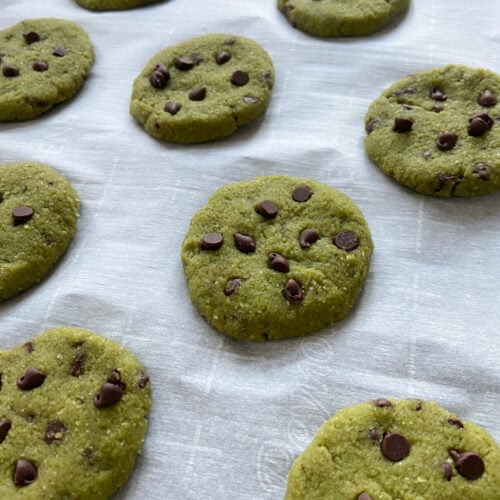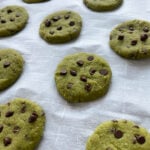 6. SPINACH APPLE PUFFS
These puffs are naturally sweetened with applesauce with a touch of cinnamon spice to bring out the apple flavor. They are the perfect snack for babies to develop and practice the pincer grasp!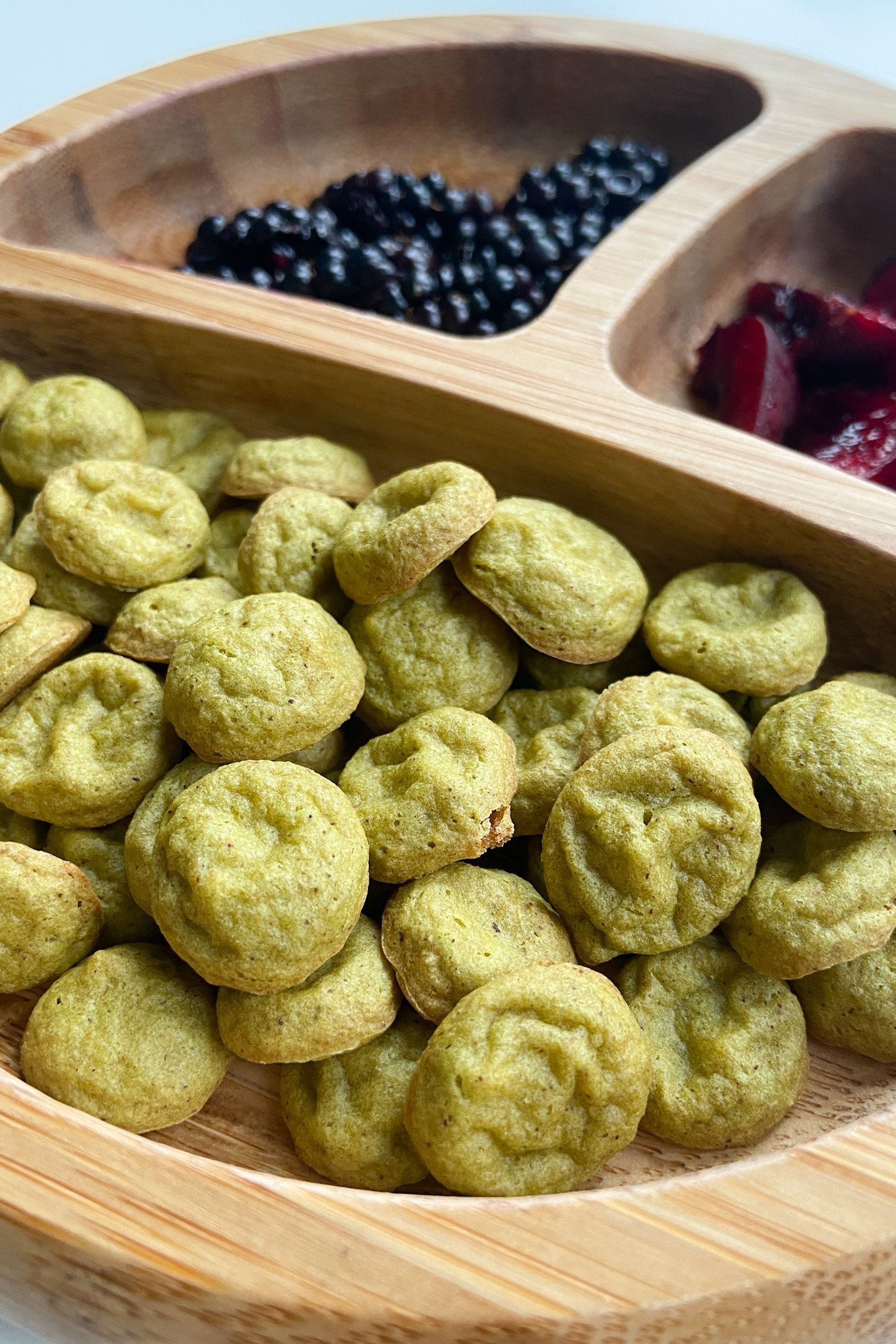 Spinach Apple Puffs
These homemade baby puffs are a great mess-free snack and perfect for on the go! They are dairy-free and nut-free, so a great allergy-friendly option!
Check out this recipe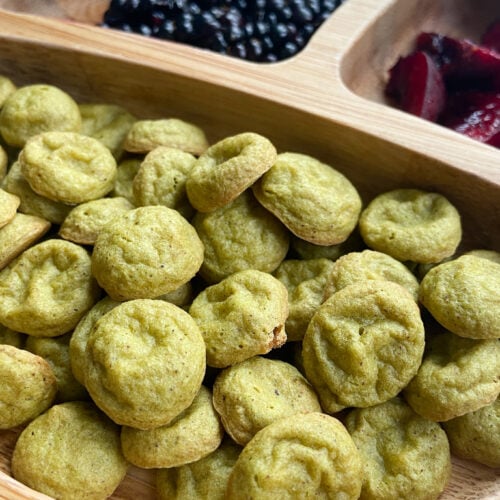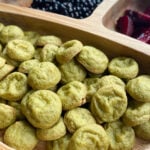 7. SPINACH SCRAMBLED EGGS
Inspired by Dr. Suess' book, these green eggs (without the ham) are a fun-colored breakfast idea. Their bright green color may not be that of your typical scrambled eggs, but they taste the same! Simply blend a small handful of spinach with 2-3 eggs and cook them like your normal morning eggs!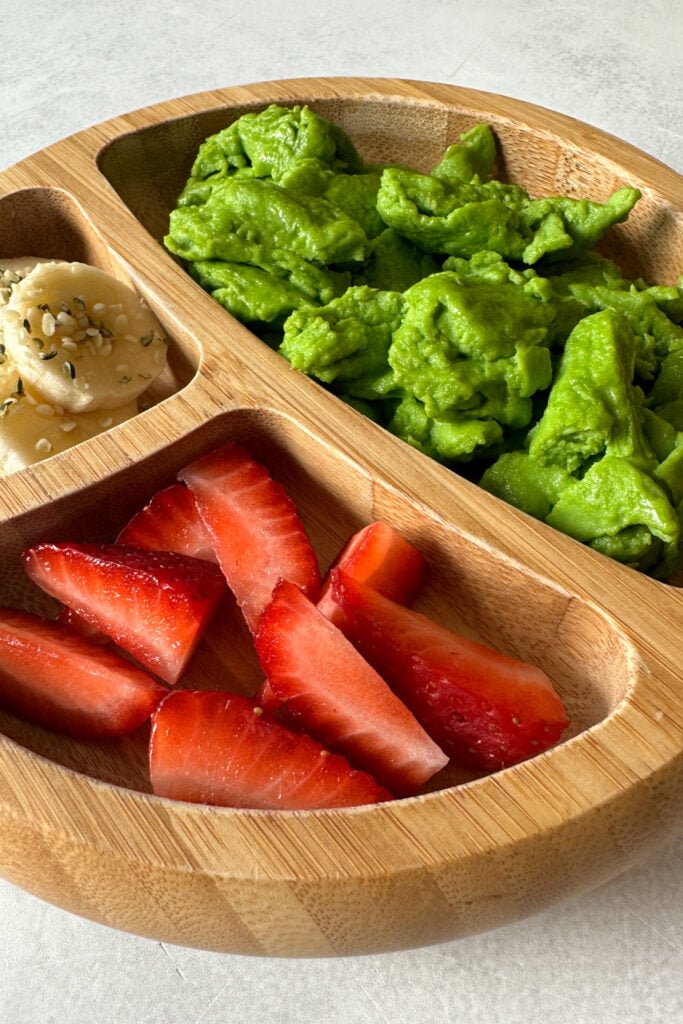 8. SPINACH PESTO PASTA
This spinach pesto sauce is so creamy and flavorful for a simple dinner meal. It is nutrient dense with a vibrant color that is a fun twist on standard tomato pasta sauce! I can't promise that it'll be less messy than traditional pasta sauce, but definitely tasty!
Hulk Pasta (Spinach Pesto)
This hulk pasta is a fun way to incorporate more veggies into your little one's meals! It is a savory and creamy the whole family can enjoy!
Check out this recipe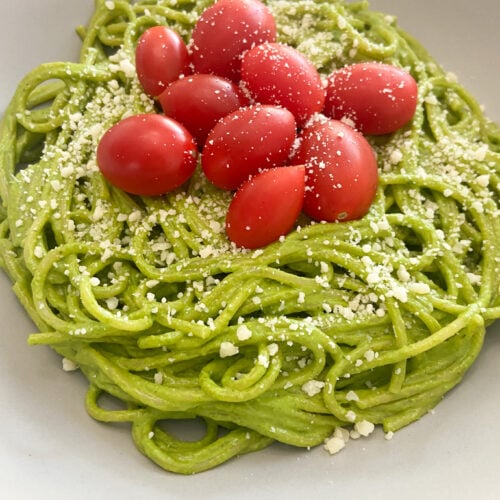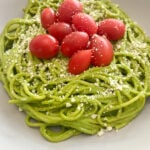 9. SPINACH CREPES
Crepes are a classic French treat, but blending some spinach makes them much more fun! I love filling them with yogurt and berries or using them as the base of banana rollups!
Spinach Crepes
These spinach crepes are bright green colored for a fun breakfast treat. They can be made savory or sweet and customized with fillings of choice!
Check out this recipe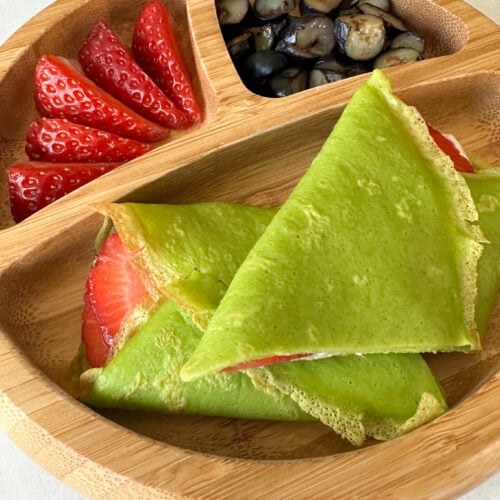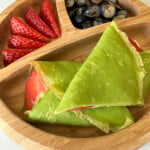 10. SPINACH "HULK" SMOOTHIE
Smoothies are a such and great and simple way to incorporate more fruits and veggies into your diet, and this spinach hulk smoothie is a favorite blend. It is packed with healthy fats and oats to keep your little ones fuller for longer.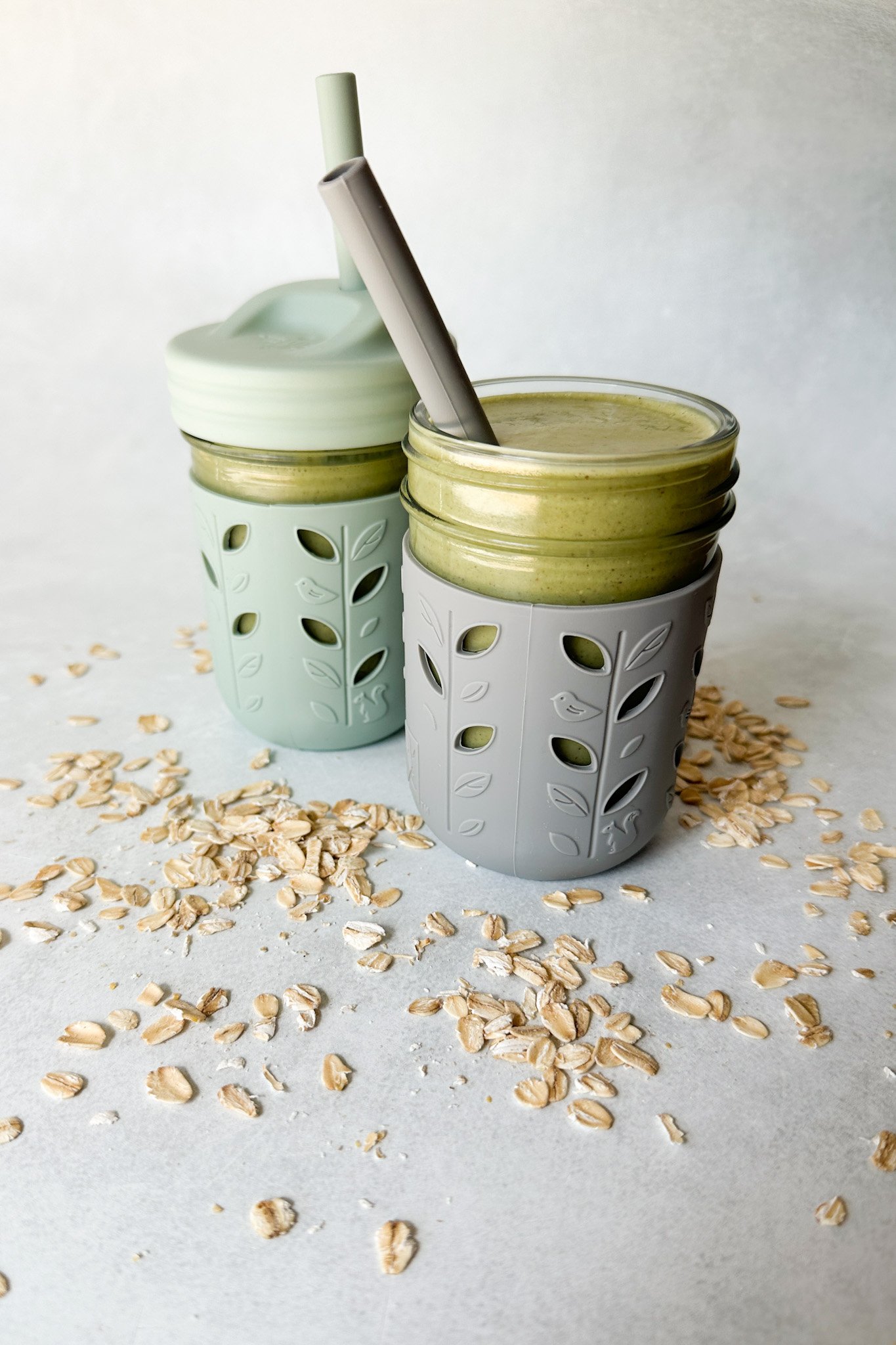 Spinach Banana Smoothie (Hulk Smoothie)
This spinach banana smoothie comes together in 5 minutes and is filling, balanced, and delicious! The bright green color makes it a fun drink for little ones!
Check out this recipe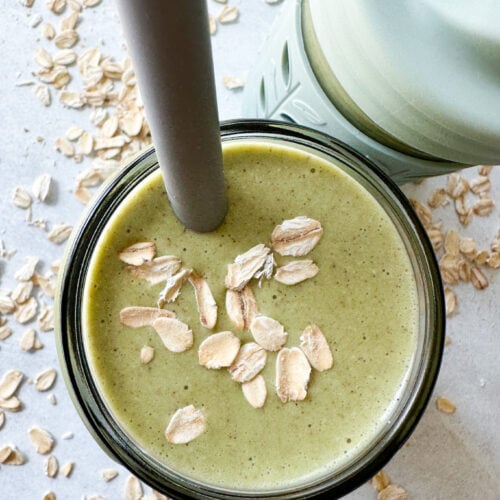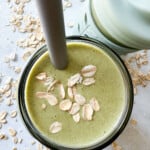 I hope that you found these spinach recipes for kids helpful and that your little ones love any that you try out!
Looking for more recipes? Click here for some other veggie-inspired recipes!