Having to plan 3 meals can sometimes be overwhelming on its own and trying to add snacks on top of that can seem like a challenge, but it doesn't have to be! Here are some quick snack ideas for toddlers and babies to make snack time a little easier!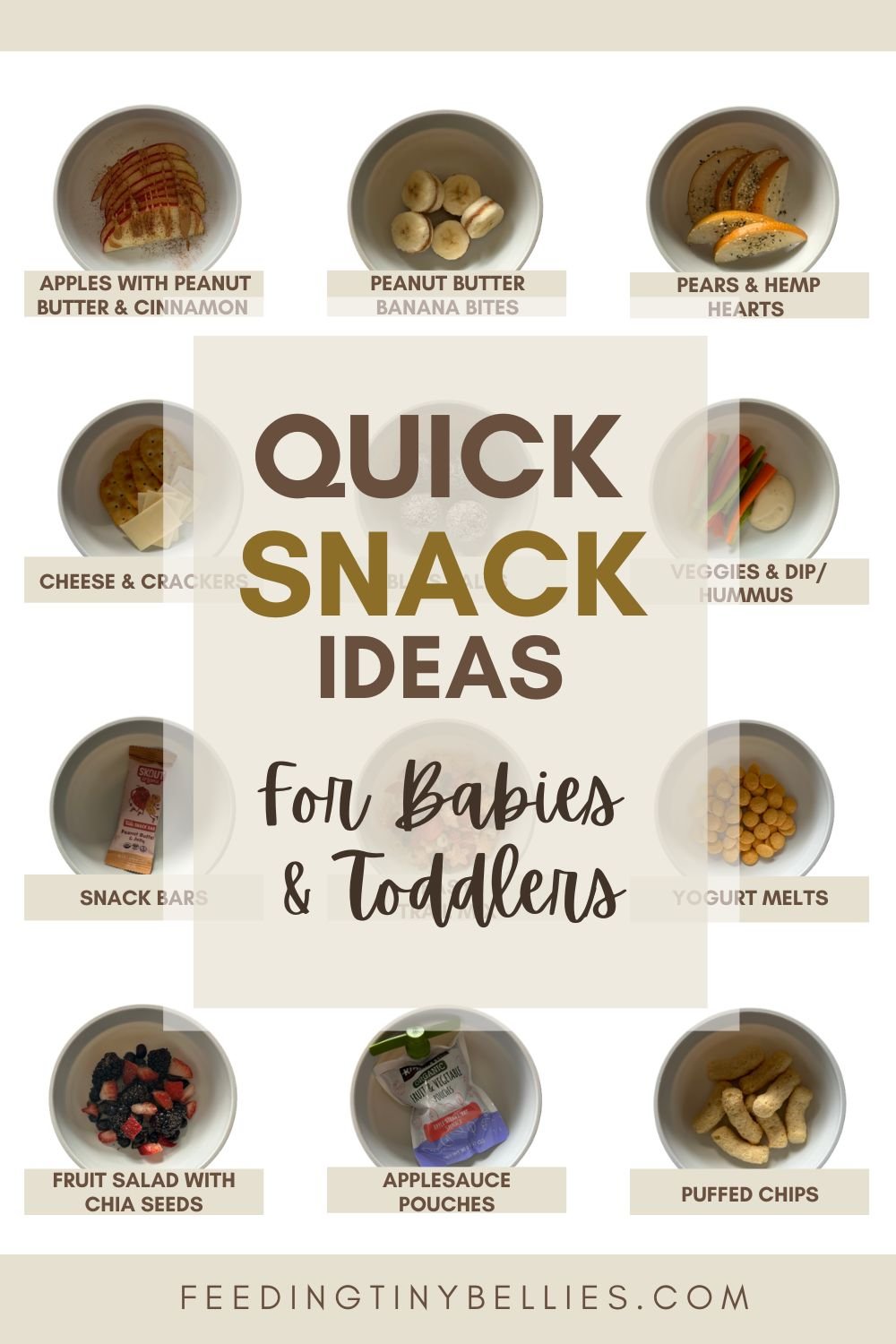 This post may contain affiliate links. If you shop with one of our links we may earn small a commission.
Sometimes we tend to overthink snacks. Homemade baked items are great, but sometimes we just don't have the time and need to get a snack served quickly. These snack ideas for toddlers are easy to throw together and with some added easy nutritional boosts will keep your little ones feeling full until the next meal.
Easy Ways To Boost Nutrition With Snacks
Here are some of my favorite ways to upgrade a basic snack to add a little more nutritional value:
Seeds: Flax seeds and chia seeds are great nutritional boosters that add healthy fats and protein. Sprinkle a few seeds wherever you can for an easy snack upgrade!
Hemp Hearts: Hemp hearts are rich in Omeg-3's and healthy fats.
Peanut Butter: Peanut butter and other nut butters add protein and healthy fats. If you are choosing to add peanut butter to a snack, make sure to serve either thinly spread or in a very thin drizzle. Avoid serving in globs as it is a choking hazard.
Dairy Products: Cheese and yogurt add protein and healthy fats.
1. APPLES WITH PEANUT BUTTER AND CINNAMON
Apples and peanut butter are a classic combo. Slice an apple as thin as you can and top it with a little drizzle of peanut butter on top. I like to sprinkle a little cinnamon on top as well to bring out the natural sweetness of the apples.
2. PEANUT BUTTER BANANA BITES
These peanut butter banana bites are a fun way to jazz up a plain banana. Slice a banana into coins, spread a thin layer of peanut butter on a slice, and top it with another slice to form a mini "sandwich." Pop it in the freezer for a few minutes so that it firms up a bit and you've got yourself a creamy sweet treat! For an extra treat, you can dip them into some melted chocolate before popping them into the freezer.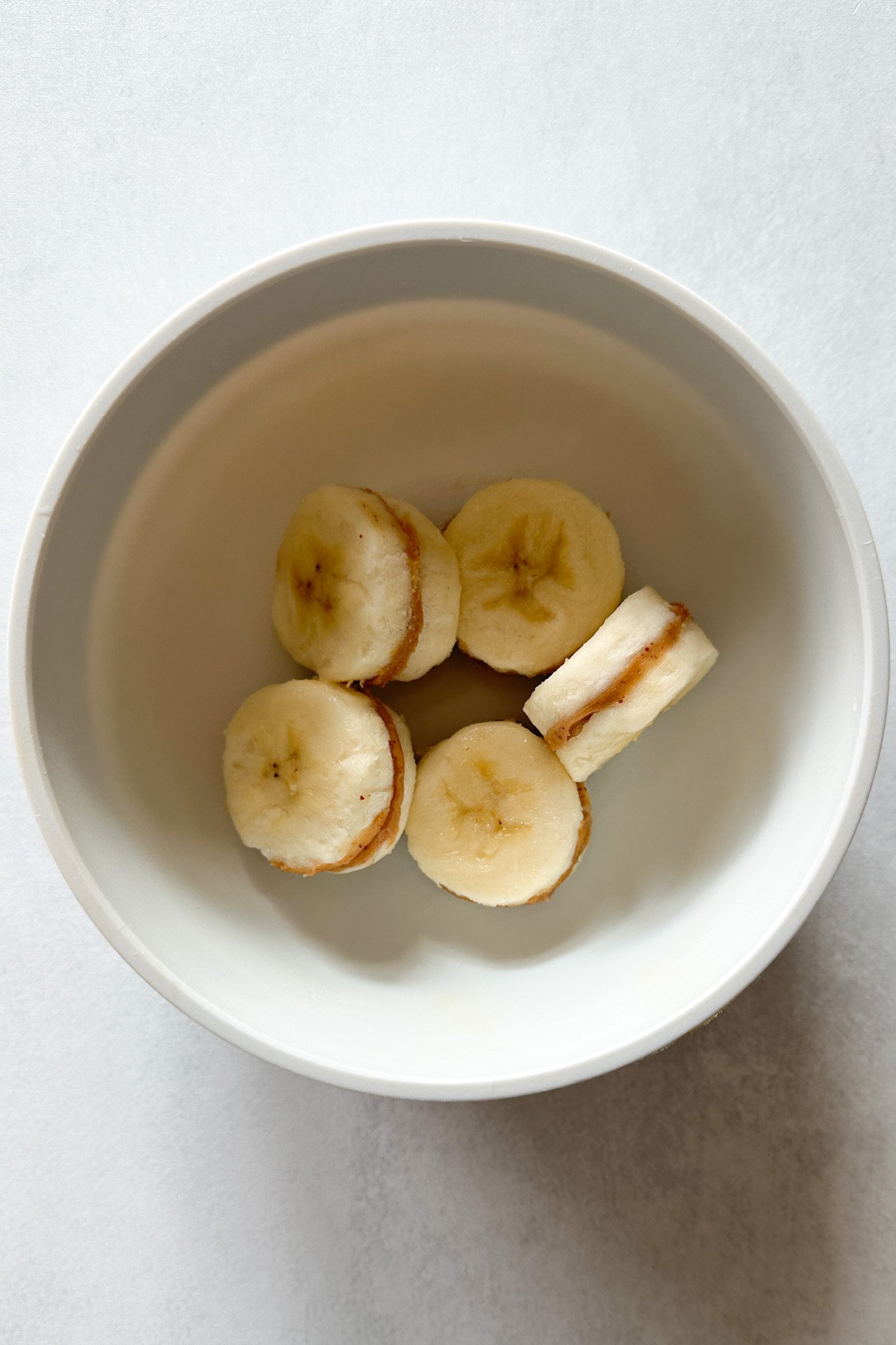 3. PEARS AND HEMP HEARTS
This may sound like a pretty basic option, but pears are often underrated! Slice a pear thinly and top it with a generous amount of hemp hearts for an easy sweet treat with omega-3's! Opt for softer juicy pears for a younger baby.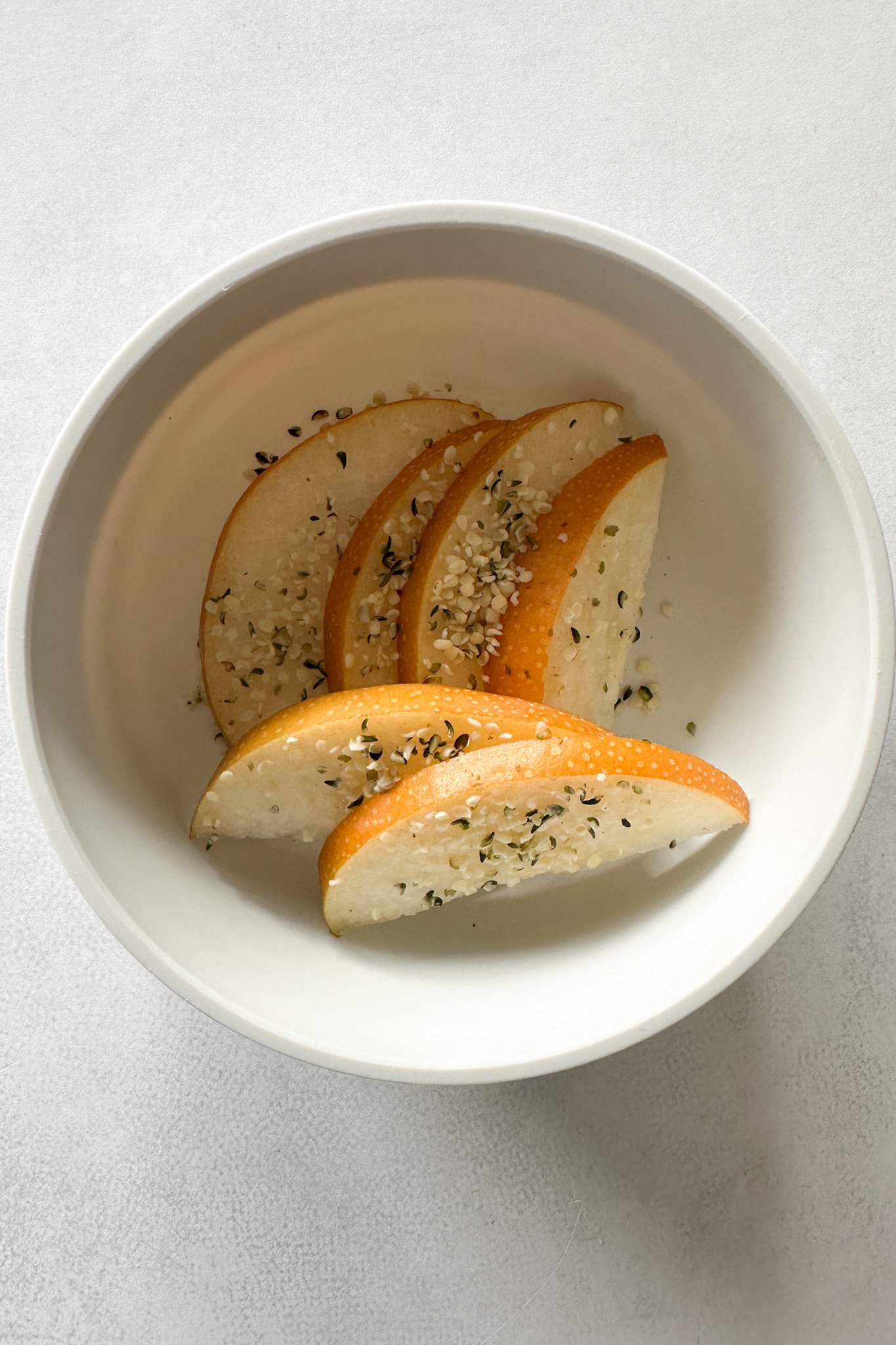 4. CHEESE AND CRACKERS
Cheese is a great source of protein and when paired with a carb, like crackers will keep your little one feeling full for longer.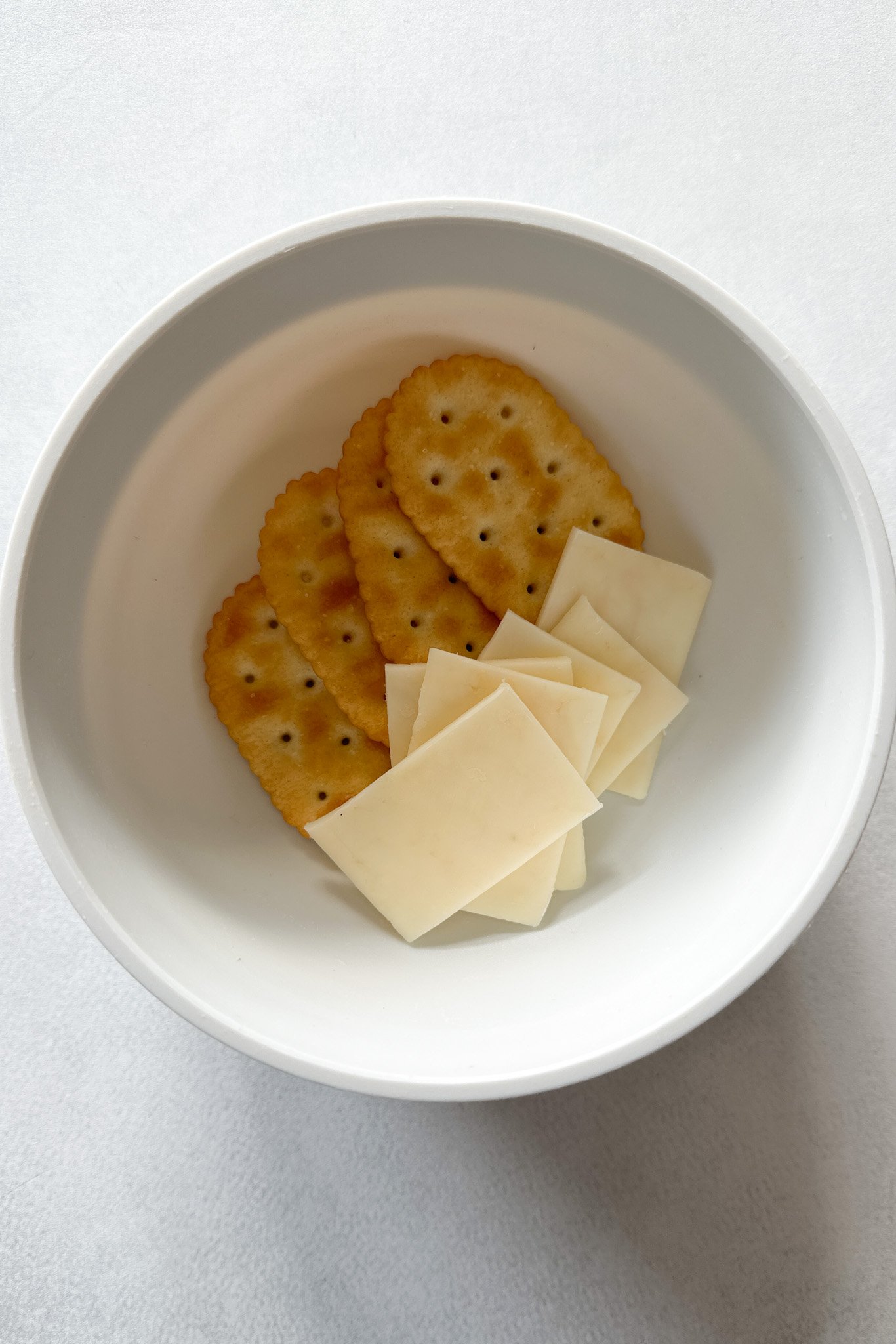 5. BLISS BALLS
These berry bliss balls are loaded with a great serving of oats and come together quickly in a food processor. They are especially great to batch match and store in the fridge/freezer for an easy grab-and-serve snack!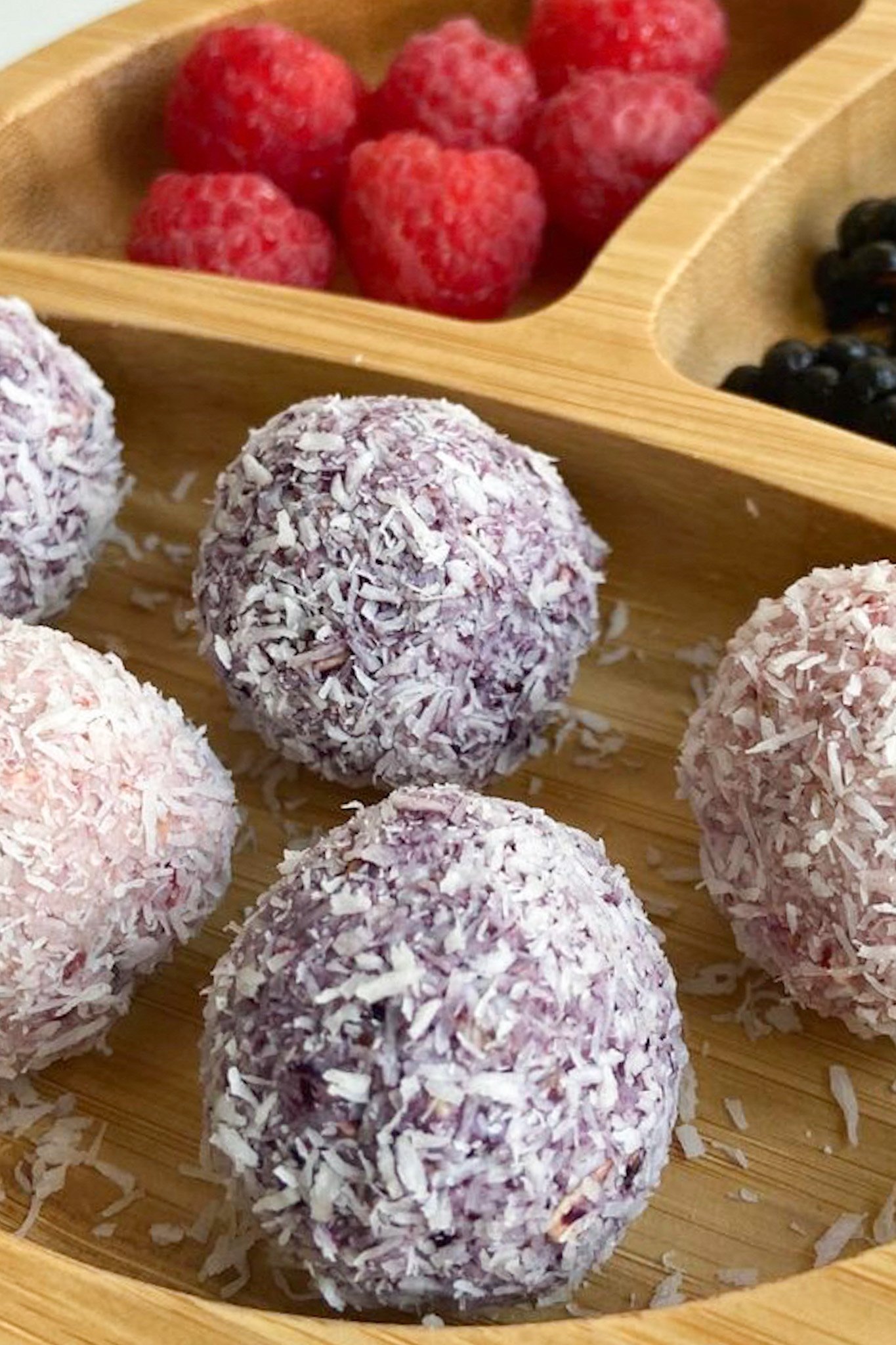 Berry Bliss Balls
These berry bliss balls are a favorite, no-bake, easy-to-make breakfast item. They are great for an on-the-go snack as well!
Check out this recipe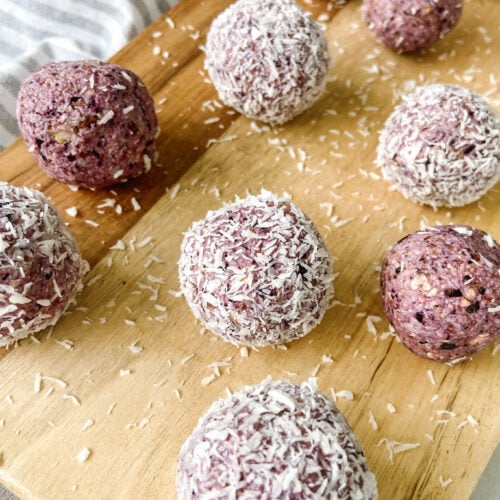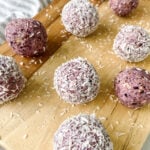 6. VEGGIES AND DIP
There are so many veggies that can be served raw and offering them with a dip may encourage your little ones to try and enjoy them. When serving raw veggies, slice them into thin slices/strips so that they are easier for your little ones to hold. With raw carrots, make sure to quarter them lengthwise to remove the roundness. If your little one isn't a fan of raw veggies, you can steam them in the microwave for a bit to soften them. Switch up the dips to offer some variety!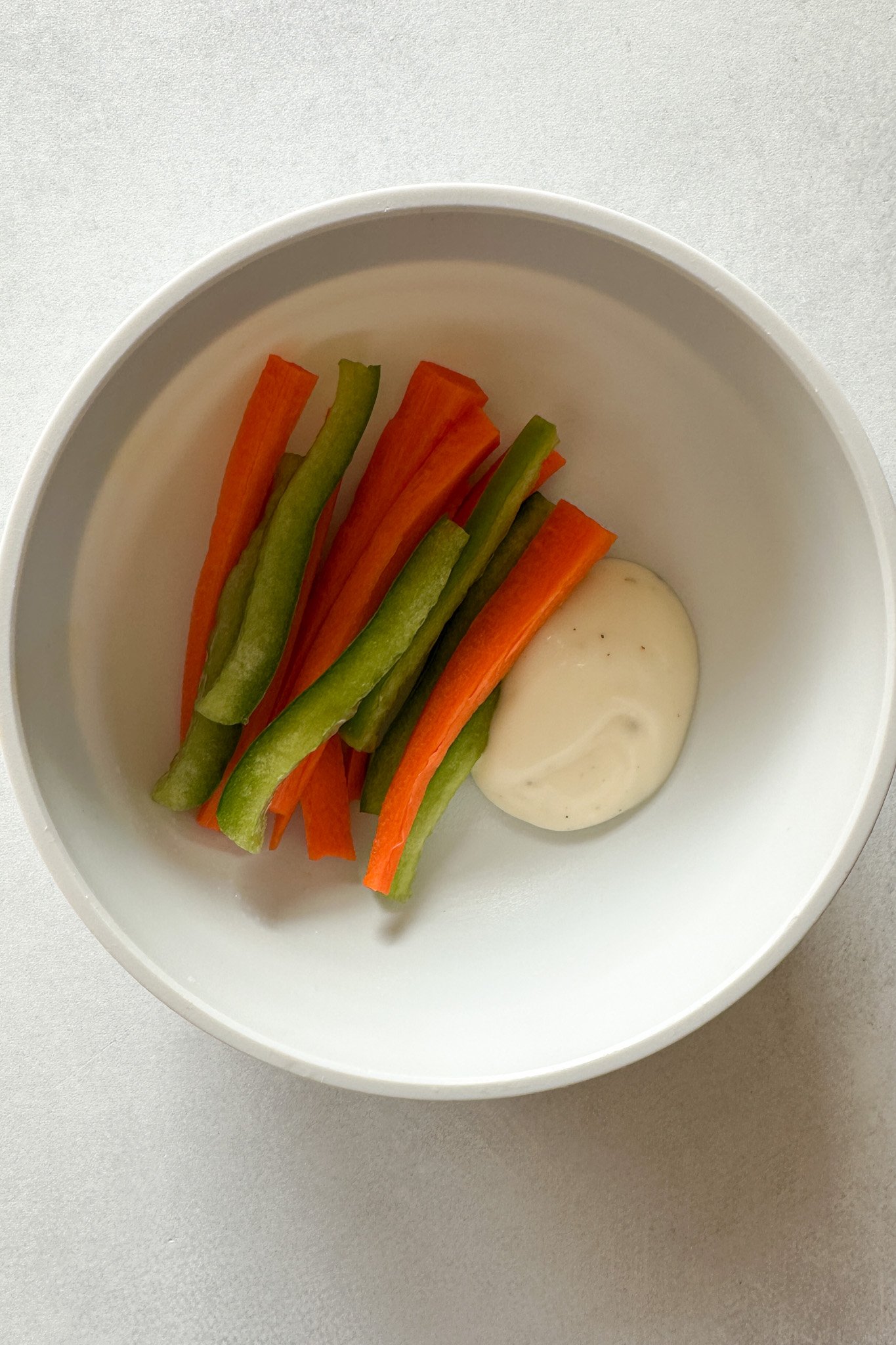 7. SNACK BARS
A snack bar is always an easy option to grab and go. I like to opt for snack bars that are naturally sweetened with dates, and there are many great brands that offer bars with a great serving of protein. These are my favorite naturally sweetened bars for on-the-go.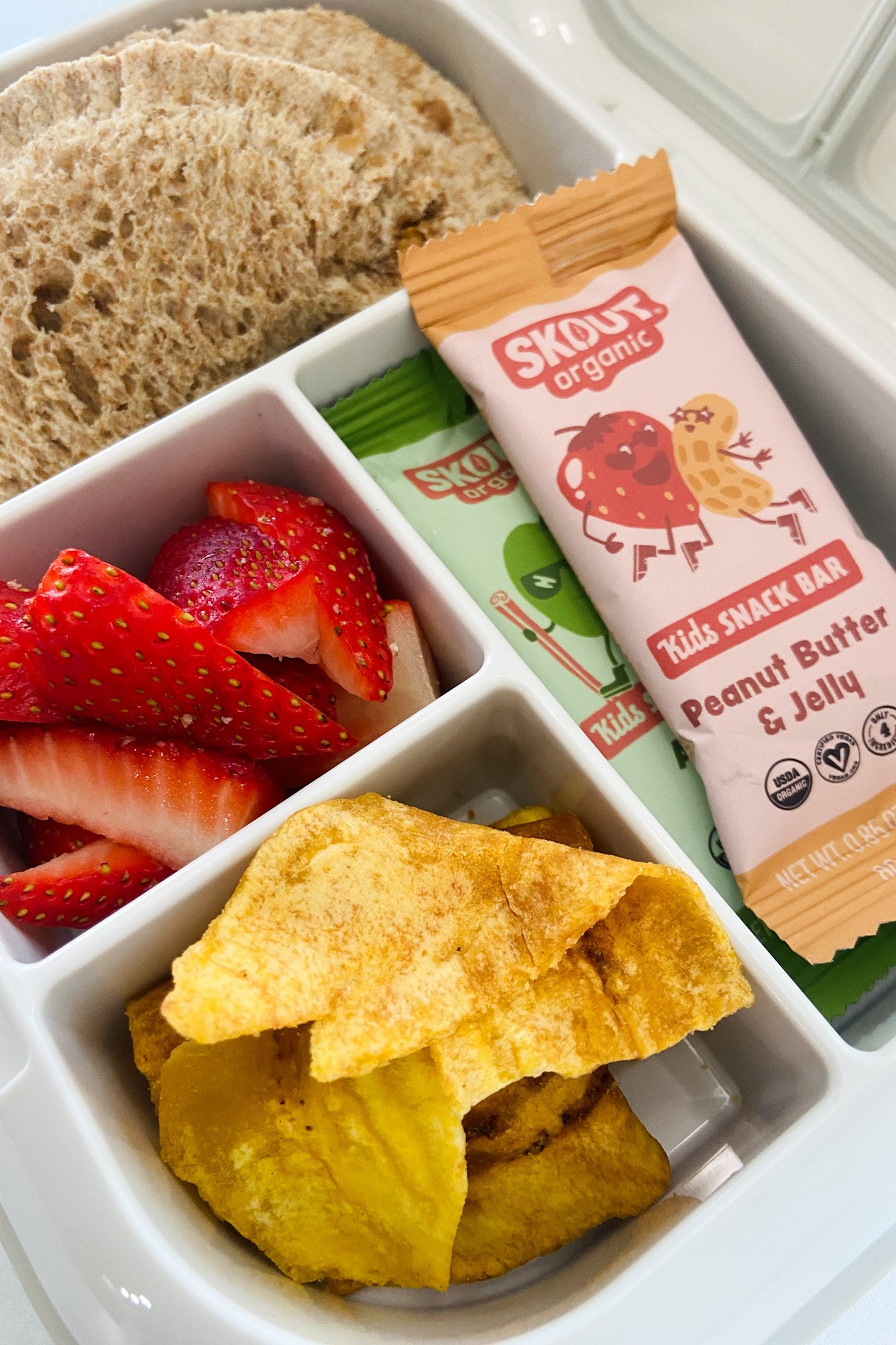 8. EASY TRAIL MIX
This trail mix is a great treat to pack for daycare or school. Combine some puffs, freeze-dried strawberries, raisins, and cereal in a bowl and serve! Feel free to use any snacks that you have on hand!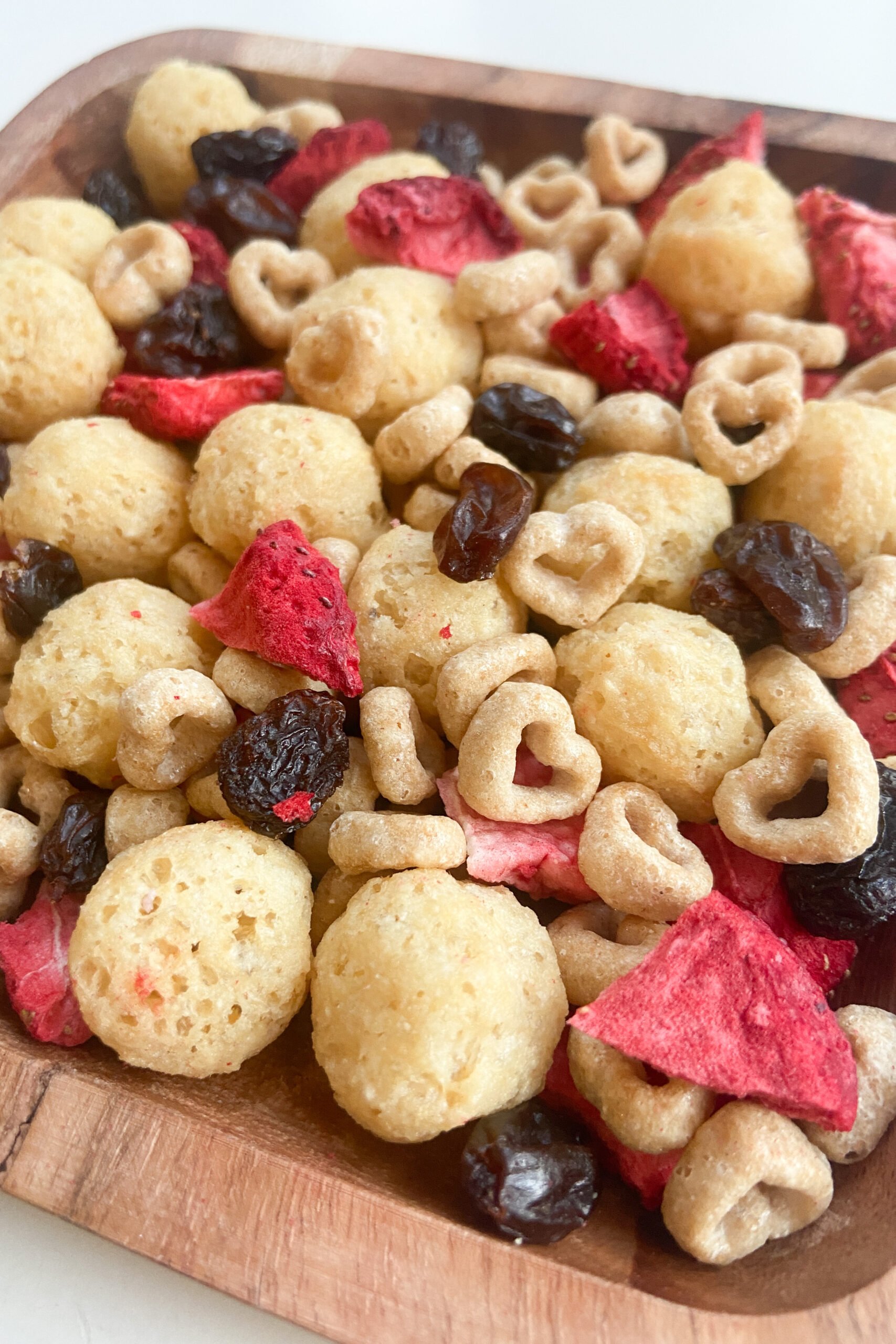 9. YOGURT MELTS
I like to make homemade yogurt melts, but when I'm looking for something that won't melt quickly for an easy on-the-go option, pre-packaged yogurt melts are the way to go! Yogurt melts are great for young babies because they dissolve easily and are naturally sweetened with fruits.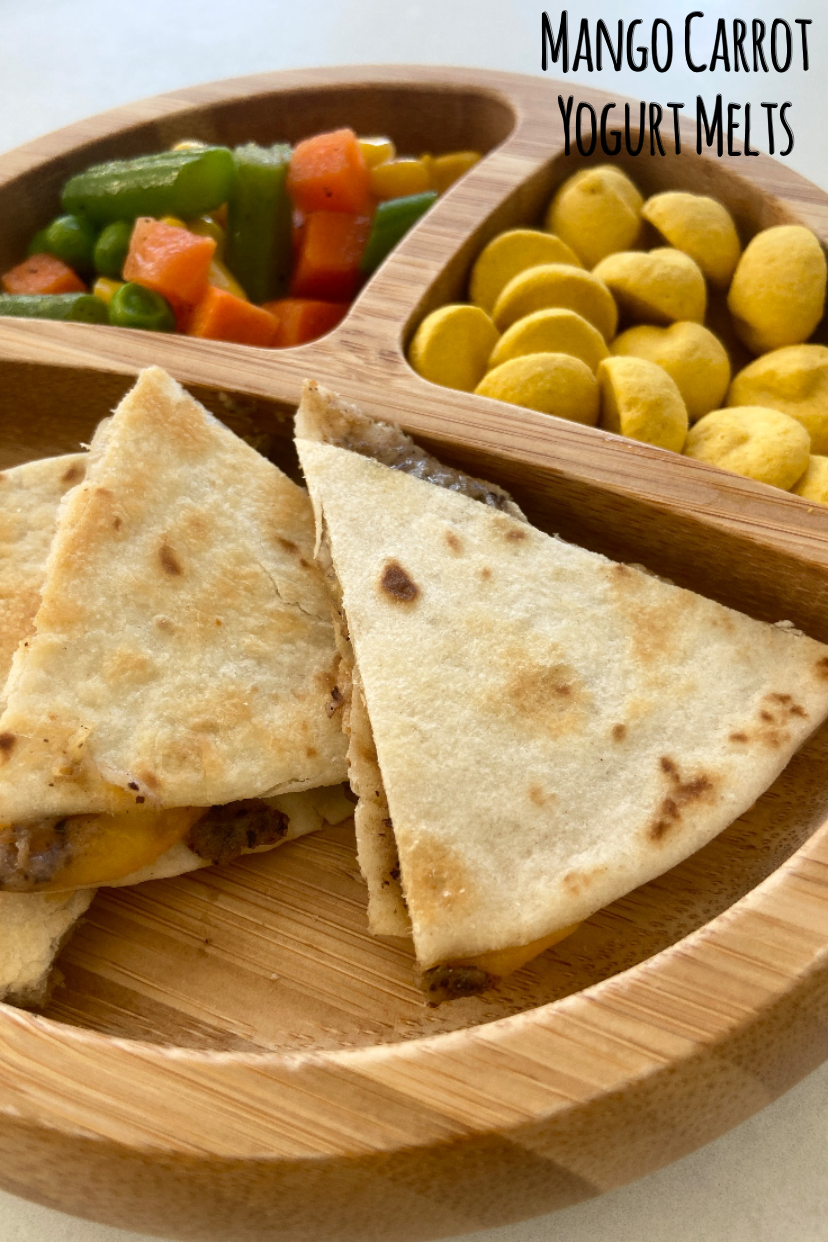 10. FRUIT SALAD
If your little ones are anything like mine, they probably love berries. They'll never say no to berries and when topped with a few chia seeds, they make an easy, refreshing snack!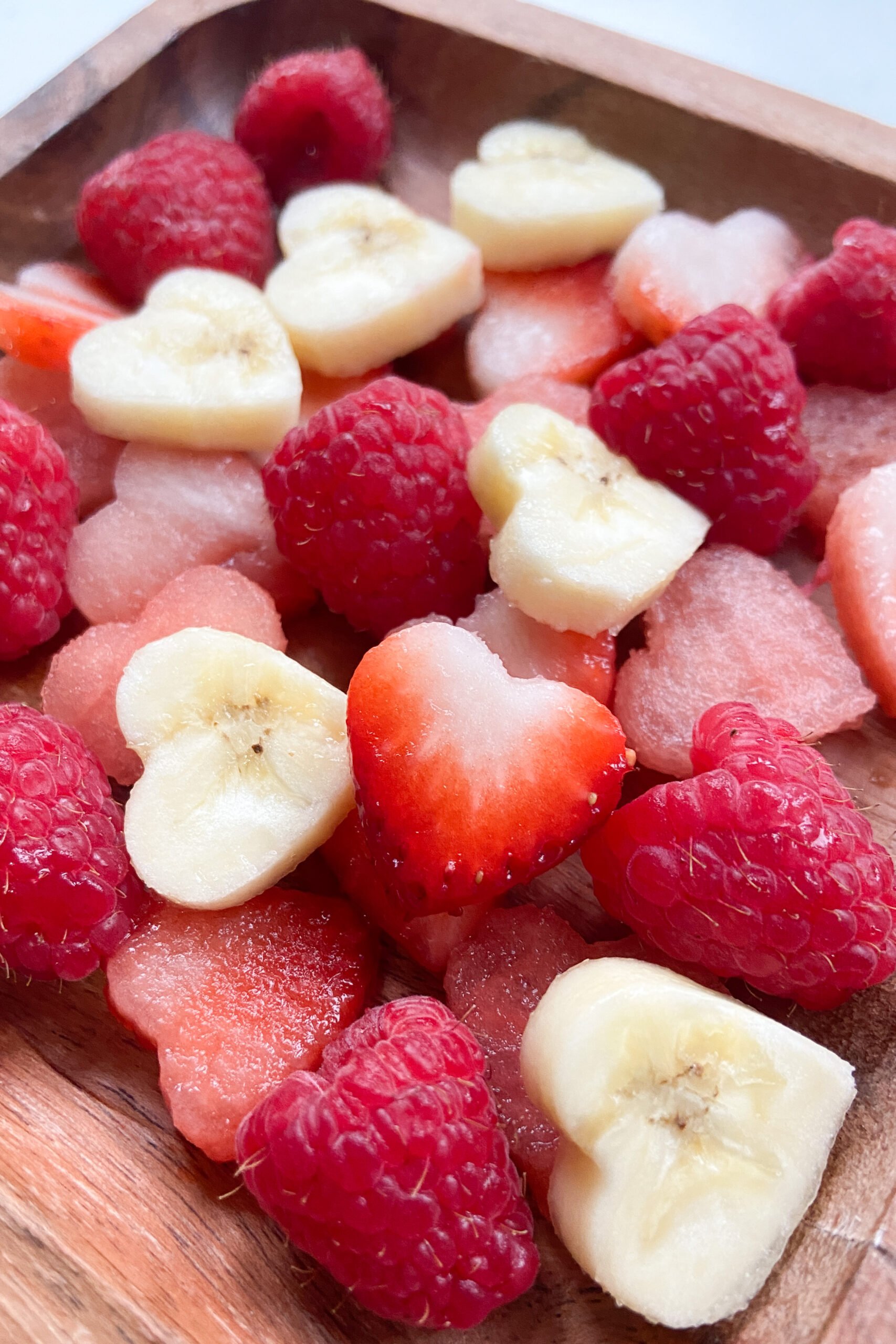 11. APPLESAUCE POUCES
You can never go wrong with an easy applesauce pouch. I love the Kirkland organic fruit and veggie pouches because they are an easy way to get a serving of fruit and veggies in one. They are naturally sweetened and a great allergy-friendly option to send to school.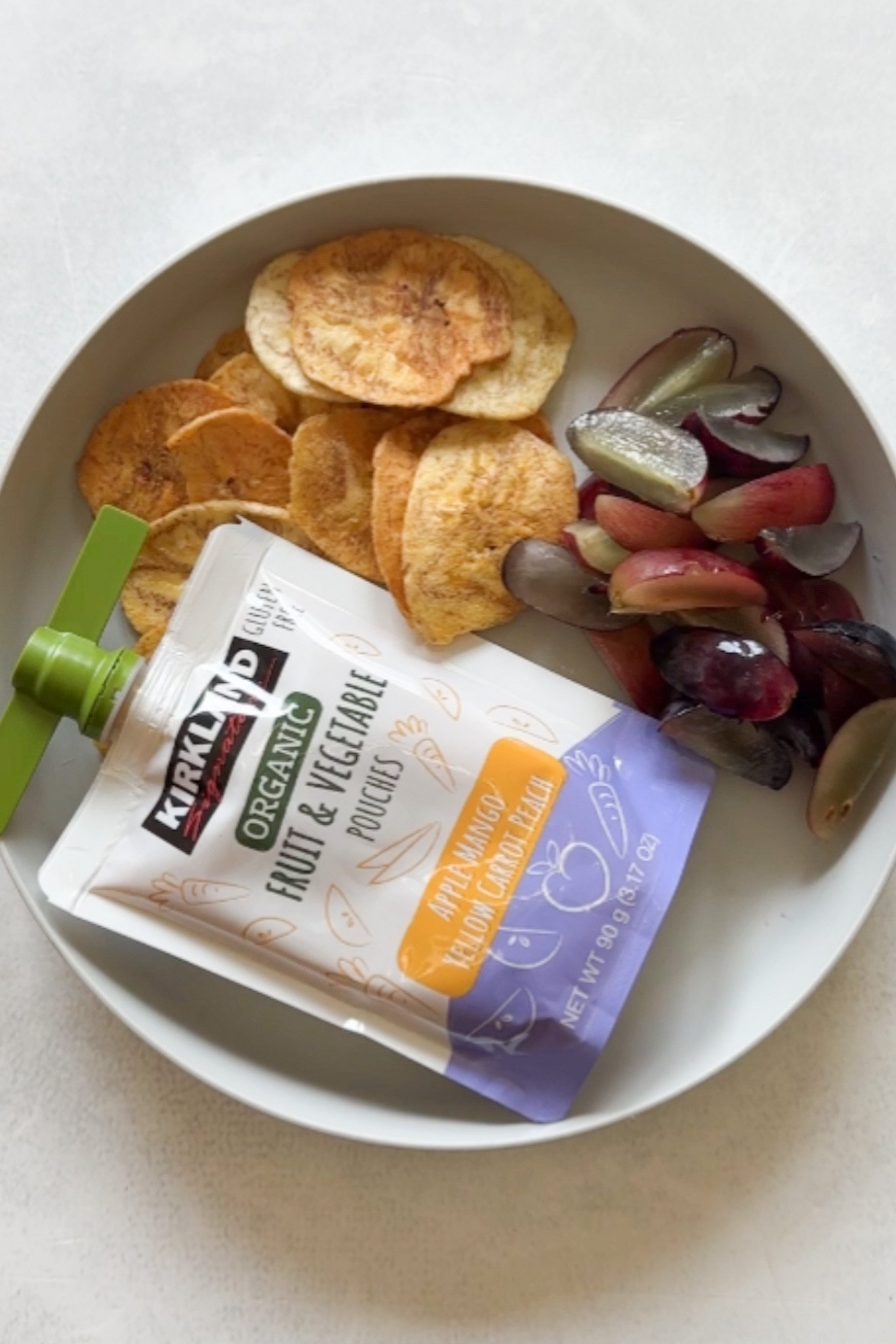 12. PUFFED CHIPS
Chips are another classic snack that most little ones tend to love. Opt for puffed chips for little ones as hard tortillas are a choking hazard for babies and young toddlers. I love serving both chickpea puffs and peanut butter puffs for added protein!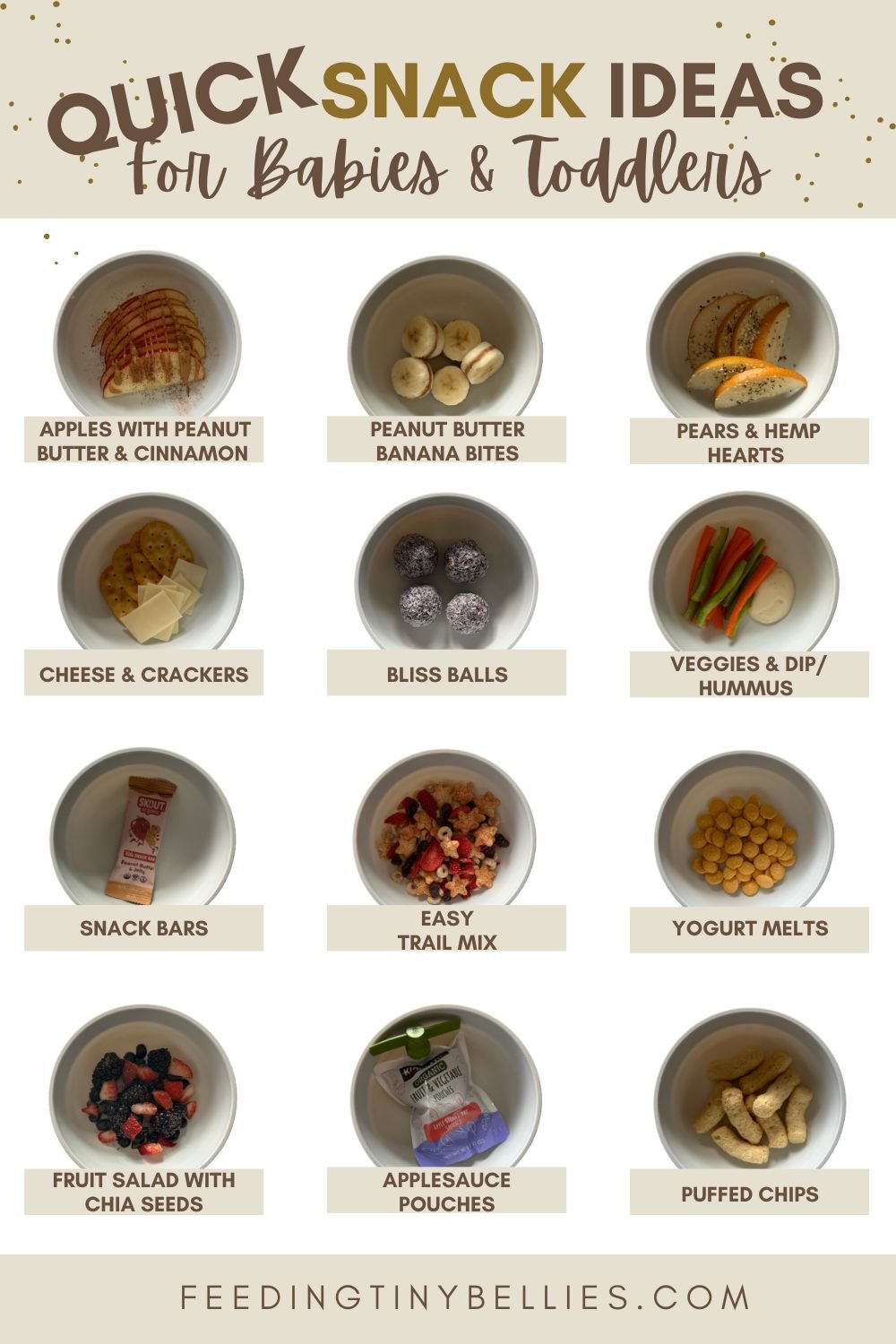 I hope that you found these snack ideas for toddlers helpful! If you're looking for some easy freezer friendly snack recipes to batch make, check out some of these simple snack recipes!